At Digipay we constanṣtly strive to excellence by providing our clients with robust digital FinTech solutions. We are providing our services to banks, small businesses, FMCGs, mobile wallet providers, e-commerce businesses, etc. The only aim of our highly skilled professionals is to provide robust digital wallet solutions to our customers.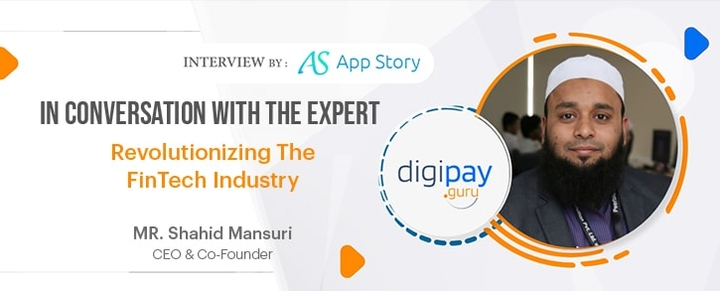 Recently, the popular app review and rating agency Appstory has featured our CEO Shahid Mansuri's interview. Appstory publishes its review on various topics such as IoT, Blockchain, AR, VR, Cryptocurrency, etc. It also takes the interview of the key persons of many leading software development companies.
In his interview with Appstory, Mr Mansuri has shared his views on the digital payment domains and his views on his life. At the beginning of the interview, Mr Mansuri gave detailed information about which services they are offering. Also, he explained how they are providing a round the clock support to their customers for resolving their queries.
Mr Mansuri told that their digital wallet solution allows their users to provide secure digital payment services to their customers in a seamless way. The user-friendly interface of Digipay's digital wallet solution makes it easy to use.
He also added that payment security becomes an important concern while making an eWallet solution. That is why they are using the GDPR, PCI-DSS and PSD2 compliances to secure their solutions.
After-sales services are the most important factor in any business. Mr Mansuri has emphasised the importance of the after-sales service by explaining their process. He told that they will generate a specific token for every complaint so that support executives can resolve it without any hassle.
Not only that, they are providing their customer support executives with multiple tools such as e-mails, Skype, Slack, chat, SMS, etc. to solve their customer query in minimal time.
Mr Mansuri has also told Appstory in the interview that there is a vast potential in the mobile payments market. He also added that they are planning to focus on emerging technologies such as Artificial Intelligence, Machine Learning, Blockchain, etc for making seamless digital payment solutions. Toll payments, Hospitality, Amusement Park, Restaurants, Cafes, Events, are some of the use cases of Digipay's digital wallet solution.
Apart from this, he said that Digipay offers its peer to peer payment solution that has several modules such as International Remittance, Cryptocurrency, Merchant Solutions, Reward Programs, Mobile Money, Top-up and bill payments, etc. Mr Mansuri further added that they have provided seamless digital payment solutions to Senda Lula and Fortune Pay, a Philippines based FinTech firm.
Apart from giving information about its business domain, Shahid Mansuri also shared his views on personal life. He has explained how he is striking a balance between his personal and professional life and what are the challenges he has been facing in doing so. He considers Prophet Muhammad as his biggest motivator.
Mr Mansuri has further revealed that he likes to spend his free time with his family. He further added that sometimes he plays table-tennis in his backyard.
Finally, Mr Mansuri ended the interview by giving a piece of golden advice to the young entrepreneurs to figure out their path to success on their own and start their business as early as possible.