The world has gone contactless. With the global contactless payment market expected to reach $10 trillion by 2027, scan pay and go payments are becoming the new norm. Consumers appreciate the convenience, speed, and security of tapping a card or scanning their smartphone to make purchases instead of swiping a card or using cash.
Retailers are rapidly adopting contactless point-of-sale systems to meet this demand. One innovative solution helping accelerate the contactless trend is scan and thru technology. With scan and thru apps, customers can use their smartphones to scan items as they shop, pay within the app, then simply exit the store without waiting in line.
In this blog post, we will explore the rise of contactless payments and how scan and thru solutions are transforming the retail landscape with their seamless checkout-free shopping experience. Let's dive in!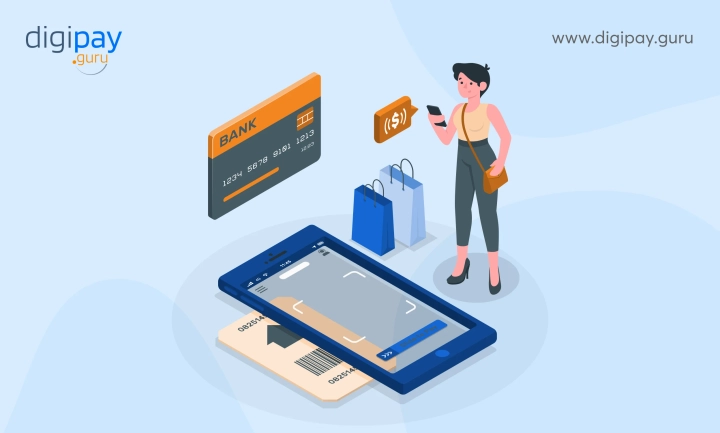 Benefits of scan and thru solutions for contactless payments
Scan and thru solutions provide numerous benefits that make contactless payments faster, easier, and more secure for both retailers and shoppers. By allowing customers to scan items on their phones as they shop, and then pay directly within a mobile app, scan and go technology streamlines the checkout process, which all in all amounts to scan pay and go.
Let's explore some of the key advantages driving the adoption of scan and thru contactless payment solutions.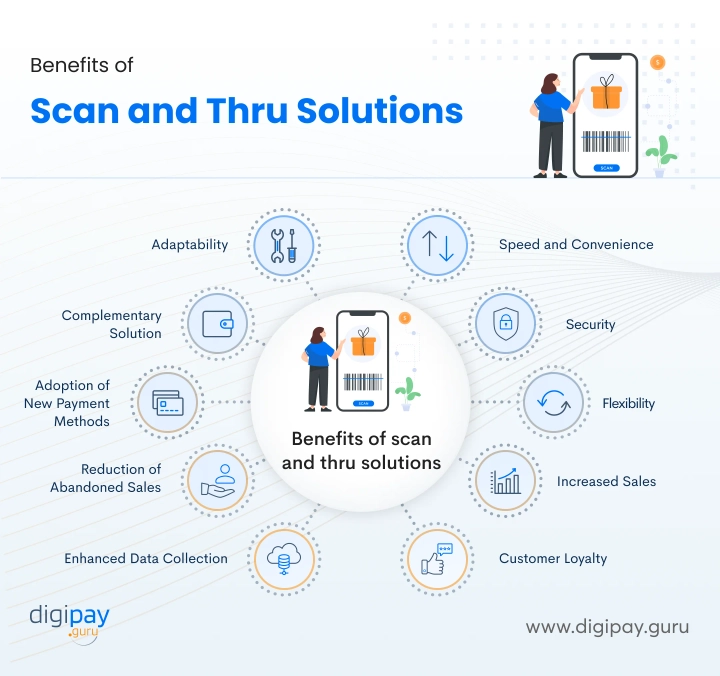 Speed and Convenience: Scan and thru eliminate checkout lines, allowing shoppers to quickly enter and exit the store. This improves customer satisfaction and saves a lot of time.
Security: Paying directly via a mobile app ensures payment details are encrypted and not exposed. Scan and thru reduces cash handling for added safety.
Flexibility: Shoppers can check out wherever they are in-store, providing ultimate convenience. Scan and thru works with various payment methods giving the flexibility to choose from.
Increased Sales: By providing a seamless experience, scan and thru encourages larger basket sizes and impulse purchases. Streamlined checkout gets customers back in the store thereby increasing overall sales and revenue in the long run.
Customer Loyalty: The personalized, convenient shopping experience promotes customer loyalty and retention as it is very easy to just scan and pay. Thus, shoppers seek out retailers offering scan and thru solutions.
Enhanced Data Collection: Mobile apps allow retailers to gain valuable insights into purchasing habits through customized promotions and location-based offers. This helps curate products in a manner that will make customers wowed to buy.
Reduction of Abandoned Sales: Scan and go app eliminates long lines that lead shoppers to abandon full carts as purchases can be easily completed anywhere in-store.
Adoption of New Payment Methods: Retailers can integrate emerging payment types like mobile wallets and cryptocurrency through scan and thru apps.
Complementary Solution: Scan and thru complements other contactless options like NFC payments and complements self-checkout.
Adaptability: Scan and thru solutions are scalable and adaptable to retailers of any size and across industries. The scan and go technology provides great flexibility.
How Scan and Thru Solutions Work?
Scan and go apps leverage various technologies to enable fast, seamless checkout experiences for customers. Let's explore some key technical capabilities powering mobile scan and go solutions and understand how scan and go work.
NFC Technology
Near-field communication allows short-range contactless data transmission between a customer's smartphone and payment terminals. This enables convenient scan pay and go style payments through mobile devices.
EMV Chip Cards
EMV-chipped credit and debit cards provide enhanced security compared to old magnetic stripe cards. Scan and go apps are optimized to securely accept EMV chip transactions using NFC.
Mobile Wallets
Customers can securely link their payment cards to mobile wallet apps like Apple Pay and Google Pay to make easy contactless purchases through their smartphones. Scan and thru solutions seamlessly integrate with these digital wallets.
NFC Tags
In this case, how does scan and go work is that NFC tags placed on store shelves and other locations enable customers' mobile devices to automatically recognize products when tapped. This powers the ability to quickly scan items into the app.
QR Codes
In addition to NFC tags, scan pay and go apps can also utilize QR codes to identify products for self-checkout. Customers simply scan the item's unique QR code through their smartphone camera and it's instantly added to their virtual cart.
Host Card Emulation
Scan and go technology allows payment credentials from credit, debit, and gift cards to be virtually hosted on a mobile device through a secure element. This enables payments to happen right within the scan and thru app itself.
Tokenization
Payment tokens are used to replace sensitive card details like account numbers with randomly generated numbers or symbols during transactions. Tokens are linked back to real accounts for processing.
Wearable Payments
Mobile scan and go apps work seamlessly with smartwatches, fitness trackers, and other wearables to enable ultra-convenient, wrist-based checkout experiences. Customers can pay right from their wearable devices.
Biometrics
Biometric authentication features like fingerprint and facial recognition add an extra layer of security while maintaining ease of use. Shoppers can securely validate payments with a simple scan of their fingerprints or face.
Implementing Scan and Thru in Business
Adopting scan and thru technology requires careful planning and execution to successfully transform the shopping experience. Here are some key steps for implementing mobile scan and pay in your business: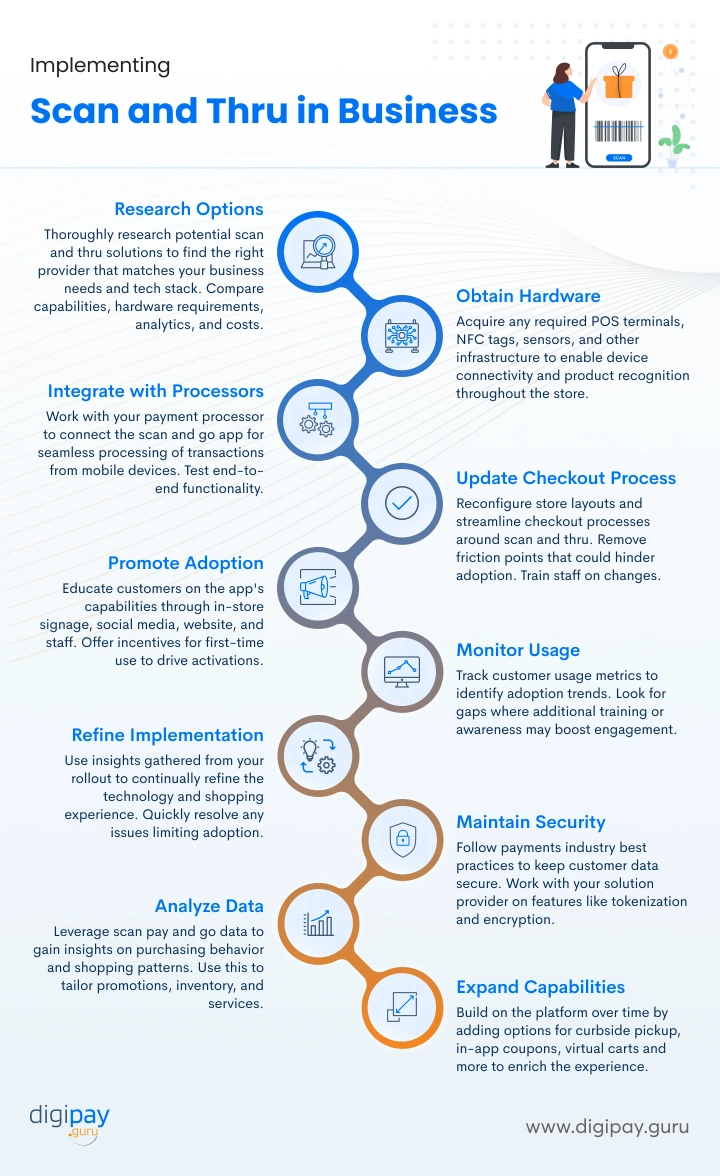 Research Options
Thoroughly research potential scan and thru solutions to find the right provider that matches your business needs and tech stack. Compare capabilities, hardware requirements, analytics, and costs.
Obtain Hardware
Acquire any required POS terminals, NFC tags, sensors, and other infrastructure to enable device connectivity and product recognition throughout the store.
Integrate with Processors
Work with your payment processor to connect the scan and go app for seamless processing of transactions from mobile devices. Test end-to-end functionality.
Update Checkout Process
Reconfigure store layouts and streamline checkout processes around scan and thru. Remove friction points that could hinder adoption. Train staff on changes.
Promote Adoption
Educate customers on the app's capabilities through in-store signage, social media, website, and staff. Offer incentives for first-time use to drive activations.
Monitor Usage
Track customer usage metrics to identify adoption trends. Look for gaps where additional training or awareness may boost engagement.
Refine Implementation
Use insights gathered from your rollout to continually refine the technology and shopping experience. Quickly resolve any issues limiting adoption.
Read More: Redefining Retail Shopping Experience With Scan & Thru
Maintain Security
Follow payments industry best practices to keep customer data secure. Work with your solution provider on features like tokenization and encryption.
Analyze Data
Leverage scan pay and go data to gain insights on purchasing behavior and shopping patterns. Use this to tailor promotions, inventory, and services.
Expand Capabilities
Build on the platform over time by adding options for curbside pickup, in-app coupons, virtual carts and more to enrich the experience.
The Future of Contactless Payments
Contactless payments have taken off around the globe, accelerated by the pandemic. This trend shows no signs of slowing down as more convenient payment technologies emerge. Let's explore the future of tap-and-go payments.
Mainstream Adoption
Contactless cards and mobile wallets will inevitably become the mainstream payment methods across most markets as the infrastructure and consumer comfort reach critical mass. Tapping a card or phone will dominate over inserting chips or swiping strips. Even cash usage will decline as more daily transactions go contactless.
In-Store Innovation
Retailers will continue innovating in-store experiences around contactless technology through options like scan pay and go apps, smart carts with built-in scanners, and cashier-less stores. The scan and thru apps market is projected to grow from $3.6 billion in 2020 to $11 billion by 2025.
Wearable Devices
Smartwatches, fitness trackers, rings, and other wearable devices will likely become increasingly common contactless payment tools. Wearable payments provide the ultimate convenience for quick scan pay and go transactions. As more consumers adopt smart accessories, tapping your wrist to pay will gain significant traction.
Internet of Things
As more appliances and devices become connected through the Internet of Things, your refrigerator may someday be able to automatically order milk via IoT-enabled contactless payment when supplies run low. Seamless IoT integration will drive further adoption of tap-and-pay technology.
Cryptocurrency
Cryptocurrencies could gain significant traction for contactless payments- thanks to quick, low-cost, decentralized transactions right from digital wallets. While volatility currently inhibits mainstream crypto adoption, improved stability and regulation in the coming years may help it become a serious payment option.
Biometrics
Biometrics like fingerprint, face, palm, and iris scanning will provide users with highly secure ways to authenticate contactless payments without PINs or signatures. As biometric sensors become more prevalent, tapping and scanning to pay will increase.
Emerging Markets
Contactless payments will help accelerate financial inclusion in developing markets where many individuals lack bank accounts but do own mobile devices. The technology overcomes infrastructure barriers.
Wrapping Up
Contactless payments deliver speed, convenience, and security to merchants and shoppers alike. As adoption accelerates, forward-thinking businesses should look to scan pay and go technology to stay competitive. Solutions like mobile scan and go apps provide a frictionless self-checkout experience that consumers love.
We, at digipay.guru, strive to make your and your customers' lives easier with our cutting-edge scan & thru solution. Our solution enables checkout-free experiences consumers love. We make it easy to implement a seamless scan and thru platform to take your stores into the future.