Mobile wallet payment has certainly become the most preferred mode of payment for tech-savvy millennial and Gen Z. According to a report, as much as 67% of the millennial are using mobile wallets.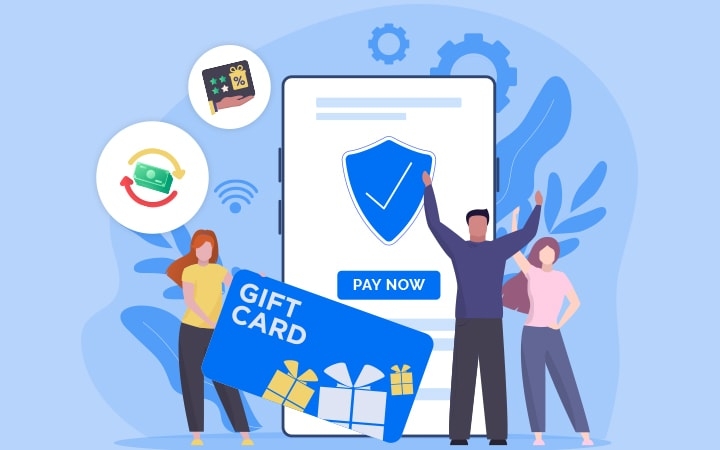 It's also interesting to note that nowadays, the applications of mobile wallets are not only limited to making payments. With mobile wallets evolving with time, the customer's expectations from it have also increased rapidly.
This is the reason why customers want more than the speed and convenience at which mobile wallets can make their payments for medicine, coffee, or airlines tickets. Now, they desire that all their retail rewards balances, airline miles, and other loyalty point to be incorporated in their mobile wallet.
This latest desire or demand of the customers is already met by some big names like Starbucks, Wyndham, and Walgreens which are offering customers with rewards for each time they make payments from their mobile wallets.
More and more customers are now using their mobile wallets for gaining loyalty rewards as shown in the below graphic which shows diverse adoption of mobile wallet by the customers.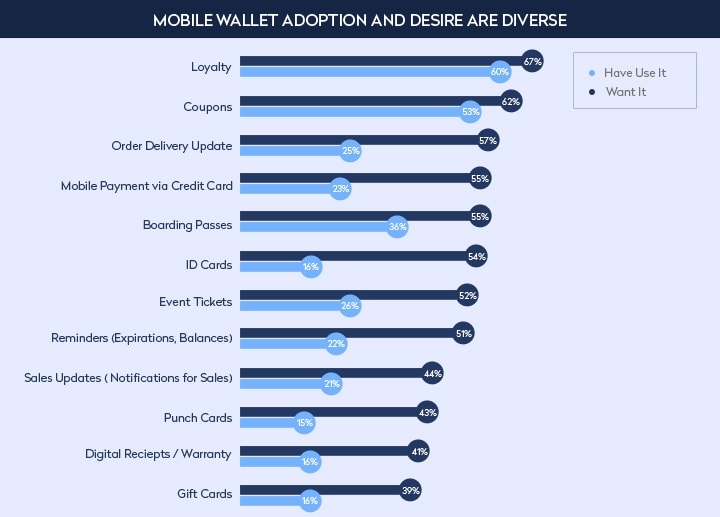 And this shouldn't come across as a surprise as loyalty programs can help retailers and other businesses in customer retention. Moreover, mobile wallets offer a suitable infrastructure on which businesses can run their loyalty programs efficiently.
How mobile wallets boosts customer loyalty
Around 69% of the consumers are more likely to use a loyalty card if it's on their phone. Similarly, 73% of the users are more likely to join a loyalty program if their rewards and points are automatically visible and updated on their mobile loyalty cards.
These stats indicate that mobile wallet can act as a catalyst for your loyalty programs. They can rapidly increase your customer loyalty and in turn the overall revenue.
Mobile wallets offer a messaging channel on your customer's smartphone which allows you to get your customers attention effectively along with establishing a seamless engagement.
Wallet passes which comprise coupons, loyalty cards, membership cards, etc. can be easily updated in real-time. Furthermore, these cards are location-aware, so they can send a message on the customer's phone's locked screens.
One major problem that loyalty programs faced were that the users tend to forget the fact that they are actually the members or else they would forget the card. Mobile wallet solved this problem as users can now use mobile wallet passes for their loyalty membership.
Read More: Moving towards a Cashless society: Types and major benefits
Now, let's have a look at the different ways by which you can incorporate loyalty programs into your mobile wallet:
Send a notification alert to your customers whenever they progress to the next level of their rewards and loyalty program.
Offer additional benefits like unique promotional discount code or early access to an upcoming sale.
Enable your customers to easily view and access their rewards and loyalty points.
Exhibit special discounts and promotions to drive traffic at your store like a link to exclusive access.
Remind users that they have rewards available whenever they open the mobile wallet or are in proximity to your store.
Pathways to mobile wallet loyalty success
Capco report suggests a few ways to ensure wallet loyalty success. First of it is to have point-ubiquitous and streamlined redemption process which has an easy-to-use experience that helps in triggering the emotional attachment of the users.
This process must consist of straightforward earning and use policies, easy-to-access experience, frictionless redemption, and most importantly it should be devoid of old-fashioned rewards such as gift cards and cash.
Secondly, the companies must drive the adoption of new mobile payment platforms by integrating digital payments into their existing rewards program. They must also try to offer unique, novel, and personalized experiences to their customers like geo-location-based offers that are tagged to the previous online shopping cart.
Read More: Offer seamless top-up and bill payments with DigiPay.
For example, Capital One has partnered with Foursquare to send offers to their shoppers through mobile apps whenever their phone indicates that the users are in the partner stores.
And lastly, institutions must come up with new ways that can play a major role in shaping customer behaviour. These new methods must ensure that the customers prefer their cards in their mobile wallet apps. This preference could be from plastic to mobile or among the digital cards of other competitors.
Another example is of American Express, which is inviting its corporate cardholders to make payments from their smartphones via a partnership with Apple Pay. Furthermore, they have also created offers tied to Uber, so that the riders use their payment card for all their Uber rides.
Why mobile wallet loyalty is a Win-Win
According to Danielle Brown, the integration of loyalty points into the mobile wallet enables "users not only track all of their loyalty programs in one place but also exchange those points across multiple programs and redeem seamlessly with every transaction." Mobile wallet loyalty is a win-win situation for both customers and businesses as it:
Provides your business with a competitive edge as you're offering something fresh and unique.
Offers utmost convenience to your customers as they can collect rewards and purchase points on the same application. It also makes customers more loyal to the brand.
It makes your business an inevitable part of your customer's daily routine and thus increases customer engagement.
Designing an advanced and next-gen loyalty program
While launching or designing a loyalty program, one must consider factors like customer base, brand, and cost structure. According to experts, you would require customization for each plan.
Furthermore, they also say that all the programs that are built on customer needs and which are integrated with the company's marketing goals could very well result in lower costs and higher returns.
Designing of next-gen and advanced loyalty program benefits both the parties by:
Customer segmentation which helps you to focus on your most loyal users.
Integrating transactional, behavioural, and geo-location history data that helps you to create better programs that are based on customer interests and demographics.
Providing personalized and real-time loyalty programs which helps you to address the various needs of your customers.
Sending personal and relevant messages via multiple devices and channels.
Enabling customers to earn rewards in return for referrals, online reviews, and product feedback.
The mobile wallet loyalty outlook
For a business owner who wants to improve his merchant services by accepting payments from multiple forms, giving away rewards to their customer for their loyalty is no longer a luxury. It has become a necessity.
The combination of mobile wallets, loyalty, and customer service is proving to be a winning combo and has resulted in the creation of new customer-facing experience. Moreover, it also provides the company with a chance to get to know more about their users.
With the help of smartphones and the ability of mobile wallet passes to send notifications ( location-aware information, expiration reminders, loyalty updates, etc.) there's a massive potential to transform consumer behaviours.
Consumers have already realized the advantages of using mobile wallet passes. Furthermore, it also gives the opportunity to combine those benefits with even greater benefits like integrated loyalty updates.
Integrating loyalty and rewards programs has proved to be an effective way to gain an edge among the competitors. It allows you to establish customer engagement along with building long-lasting relationships with the customers.
Mobile wallets have surely gone beyond campaigns that form messaging channel for lock screen passes and notifications. Mobile wallets have made extremely easy for the businesses to gain persistent attention and establish a constant mobile connection with their customers. In future, we might see new ways pertaining to loyalty programs by businesses would retain their customers.