Enjoy DigiPay's faultless security with full compliance
Offering advanced security is DigiPay's top-most priority and that's why our solution is compliant with various security requirements and regulations.
1
PCI DSS
We are PCI - DSS compliant and eliminate the chances of storing sensitive data.
2
GDPR
DigiPay is completely compliant with the GDRP data protection regulation thereby increasing the trust and credibility of the platform
3
DSP2
DigiPay is compliant with various regulators ensuring DSP2 compliance.
What does DigiPay's advanced security system offers?
DigiPay has an exclusive and advanced security system that protects data the moment it enters our system. Below are the few of DigiPay's advanced security system's offerings.
Application Security
DigiPay.Guru platform supports and utilizes unique user IDs along with secure authentication for all kind of access whether it's administrative access or access to service authentication data. Secure authentication is imposed to all the accounts generated and managed by application.
Restricting privileges with group access management
The DigiPay.Guru platform also comes with User Access Management which restricts the access to required resources or functions along with enforcing the least privileges for the built-in accounts.
Securing data transmission
DigiPay.Guru comes with a robust AES encryption method that secures data exchange in every transaction that takes place between 'Administration Application' (Server) and 'Service Distribution Application' (Client). The AES encryption ensures high security of Sensitive Authentication Data which is used for each transaction.
Securing data with SHA algorithm
DigiPay.Guru uses SHA algorithms for the process of verifying the data integrity stored at the database level. This method compares the message digests which are calculated before and after the transmission. If the results don't match then the server simply rejects the data.
Our success stories
DigiPay.guru has successfully delivered numerous top-notch digital wallet solutions to its clients from all over the world. Get a glimpse of a few of our success stories from here.
Digipay.guru has provided a dynamic e-wallet feature solution to its South African client
Coincidently, our client has the same name as ours. The only similarity that he lacks in the name is ".guru". Our client "DigiPay" is a leading e-wallet service provider in South Africa Ivory Coast backed by Digital Afrique Telecom (DAT).
South Africa
Explore more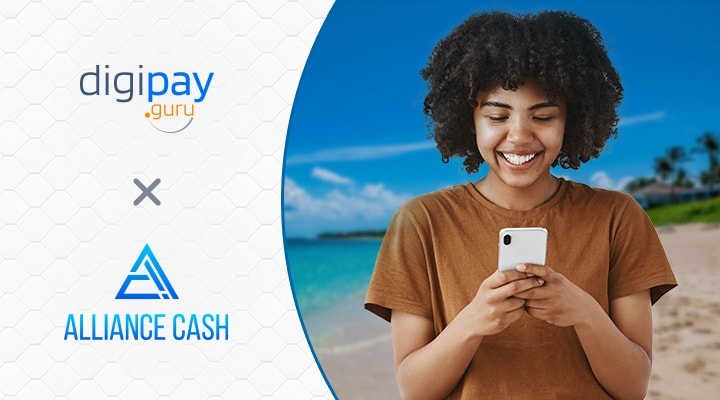 DigiPay.guru provides a feature-rich digital wallet solution to its Bahamas-based client
Alliance Mobile Solutions is a FinTech startup based in the Bahamas. It aims to offer utmost ease and convenience in person-to-person transfer, bill payments, and merchant payment services via a robust mobile wallet solution.
Bahamas
Explore more
Look through your eyes of insight to our insightful thoughts
Digipay.guru is born to simplify financial transactions. We love discussing the latest FinTech Solutions. We write regular blogs where we cover insightful topics with our insightful thoughts to cater you with imperative informations.