DigiPay.Guru is thrilled to announce that it will be attending Fintech Surge at the Gitex Global Week this October! DigiPay.Guru is a digital payments solution provider for enterprises, businesses, and startups. It is globally recognized for its digital wallet and payment solutions.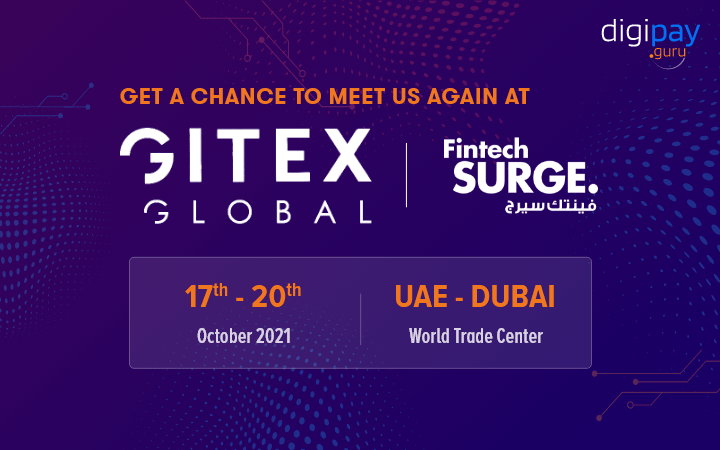 DigiPay.Guru has been empowering the financial world, fintech businesses, and startups with its solutions for industries like banks, NBFCs, MNOs/Telcos, and enterprises.
The customized, white-labeled payment solutions bring innovation and digital transformation to businesses. Over the years, Digipay.Guru has delivered successful digital wallet solutions to its various clients across the globe.
DigiPay.Guru actively attends tech and finance events around the world such as Seamless Series, Money 20-20, ADGM, Singapore Fintech Festival, AfriCom Event, FinTech Festival India, among others. It has significantly contributed to reshaping the future of finance, technology, and digital transformation.
About Fintech Surge at GITEX Global Week
GITEX Global Week is organizing Fintech Surge, MENA's most impactful and visionary event that will redefine the fintech ecosystem. This event will see the fintech industry's biggest path-breaking sessions and talks hosted by speakers from some of the most well-known companies in the world.
Major celebrities and speakers are all coming together to create a pathway for digital banking, paytech, insuretch, and wealth and asset management. Some of the major organizations in attendance are STRIPE, Bank of Dubai, Red Hat, HSBC, Mastercard, Bahrain Fintech Bay, etc.
The event is packed with a summit, workshops, and even investor programs. Over 80+ leaders will be speaking live on digital trends across banking, payments, and e-commerce.
What can you expect from Fintech Surge?
Fintech Surge is power-packed with a Digital Banking Summit, Workshop, Supernova Challenge, and an Investors Programme. A little bit about each of these exciting events.
Digital Banking Summit
The Fintech Surge Digital Banking Summit will explore deeply the most pressing challenges faced by the banking sector in all its aspects and discuss and offer solutions to the financial institutions and corporates on how to best navigate an ever-changing future.
Workshop
In a session held with Confirmation, part of Thomson Reuters, Anders Jensen, Managing Director MENA will explore "How to mitigate Financial Statement fraud risk in the age of Covid-19."
They will be hosting this workshop to help navigate through the risks of traditional communication processes and the role of technology in helping to detect and prevent financial crime.
Supernova Challenge
The Supernova Challenge at GITEX gives global startups a chance to pitch their ideas, be a part of the battle and win cash prizes worth USD 99,000. Besides cash winnings, the biggest achievement in this event is that you will catch the eyes of big-ticket investors and multinational corporation heads, government chiefs, and media.
This is a perfect opportunity to gain recognition, network with your industry peers, and build international relationships which in turn will be beneficial for your business.
Investors Programme
This program is aimed at connecting everyone from venture capitalists to investors and heads of new fintech companies. You can raise funds, get new deals, bring together startups, and accelerate your business forward.
Get ready to be a part of the most awaited tech event of 2021.
About DigiPay.Guru
DigiPay.Guru is a globally recognized tech partner, delivering digital wallet and payment solutions to a wide spectrum of industries like banks, NBFCs, MNOs/Telcos, and enterprises.
DigiPay.Guru is committed to providing services of P2P transfers, branchless banking, or boosting revenues, with its three major offerings Mobile Money, Agency Banking, and Scan&Thru. The solutions come with brilliant cutting-edge technology, data, and user security, standard compliance, and an accommodating product core that is ready to launch.
The custom, white-labeled solutions are adaptable to multi-currencies and are also multi-tenant. They can be integrated smartly across various platforms and also marketed faster with integration and customization.