DigiPay.Guru is glad to announce the latest product update as a versatile virtual prepaid card as a part of extending this tradition. Now, DigiPay.Guru's clients can pay seamlessly in a fast, secure and simple manner. But before we get into the details of the latest product update, let's understand the meaning of a virtual prepaid card first.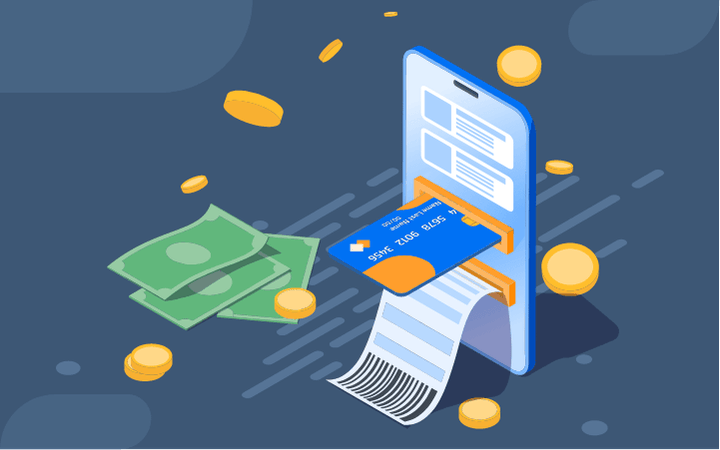 A brief overview of virtual prepaid card
As the name suggests, virtual prepaid card is a contemporary one-time debit card that has no physical existence. You can use it to carry out online transactions only. So basically, a virtual prepaid card comprises a unique 16-digit card number, CVV and valid date that has been exclusively created for remote purchases.
Apart from this, you can create a unique virtual prepaid card for every user or the user can create multiple virtual prepaid cards. You can set an expiration date or restrict the usage of virtual prepaid cards to particular suppliers or merchants. After getting an insight into virtual prepaid cards, let's dive deep into its features.
Make the most of a virtual prepaid card with these striking features
With technological progression in the method of payments, cyber-crime and fraudulent activities have also multiplied. To help customers with online transactions, banks have come up with virtual prepaid cards.
Make instant online transactions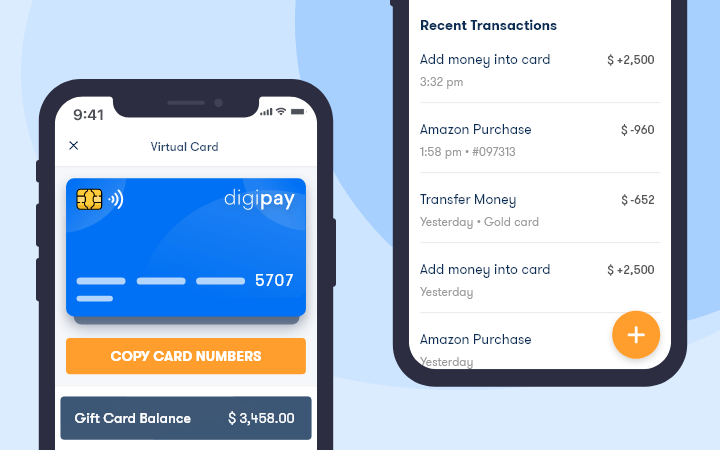 A robust virtual prepaid card enables the users to transact easily anywhere. Along with this, you can also add balance to the virtual card directly from your mobile wallet without any hassle.
Remove card whenever you need
Card removal is often an issue with the online payment platforms. But with DigiPay.Guru's virtual prepaid card, users can effortlessly remove the card as per their need.
Hasslefree card blocking or unblocking
With DigiPay.Guru's virtual prepaid card, all your blocking and unblocking requests are processed instantaneously. Because of this, you can easily block your virtual card to keep your account safe from monetary frauds.
How does a virtual prepaid card work?
DigiPay.Guru's virtual prepaid card enables clients to make bulk payments in an easy, fast, and secure manner. Now, let's see the working of a virtual prepaid card:
Adding fund to a virtual prepaid card
Firstly, the user has to add funds in the virtual prepaid card before carrying out the transaction. To add funds, the user has to visit the card section first. Here he can find all the cards.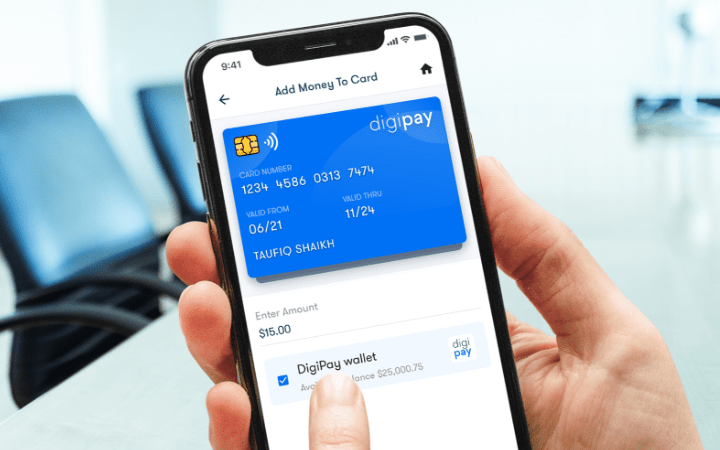 After that, the user has to select the card in which he wants to add the money. Then he needs to enter the amount and confirm the same. The amount will be debited from the user's wallet and gets credited in their virtual prepaid card.
Withdraw funds from a virtual prepaid card
To withdraw funds from a virtual prepaid card, users have to choose the virtual prepaid card that they want to use for withdrawing funds. Then he needs to enter the amount he wants to withdraw and confirm it accordingly. After that, the amount will be withdrawn from the virtual prepaid card and transferred to the user's wallet.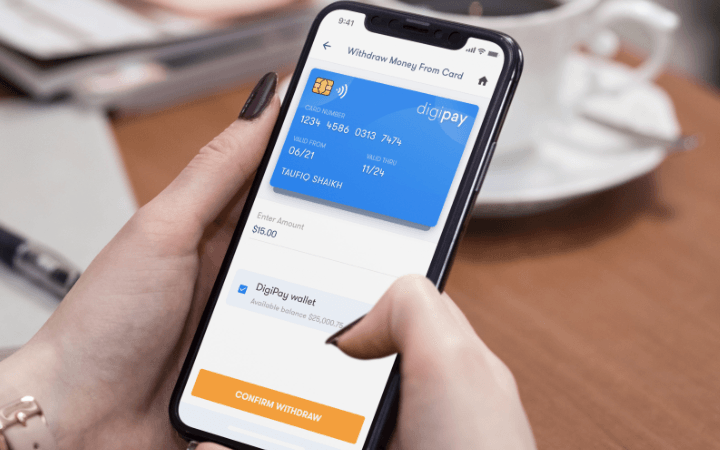 After discussing the working of virtual prepaid cards, let us now move on to the reasons as to why virtual prepaid cards are going to dominate the payment landscape in the future.
4 reasons virtual prepaid card is the next payment revolution
Ever since their inception, virtual prepaid cards have eased up financial transactions for everyone. It enables you to access the funds of your wallet within a single swipe. Here is how DigiPay.Guru's virtual prepaid card would bring a world of benefits to you:
Convenient payment experience
Convenience is what a customer always looks for and the same can be said about the virtual prepaid card. All you need to do is set up an online account of your customers to accept payment.
As the virtual credit card doesn't contain any physical form, it can be saved directly on your smartphone. You can use this virtual prepaid card to carry out transactions. It will entirely eliminate the hassles of carrying a physical card.
Protect transactions with securecode
Virtual prepaid cards contain a secure password for enhanced payment protection. Now, you can generate an OTP automatically when you attempt to make an online payment. You can get this OTP to your smartphone via SMS. Once you enter the code, your transaction gets confirmed and your purchase is complete.
Deliver funds instantly
Virtual cards are comparatively more convenient than physical cards, as they allow users to make faster payments through their phones without the hassle of carrying a traditional card. It frees the users from the hassle of misplaced cards too.
The mobility of virtual cards makes it easier for the users to shop online. Along with this, it becomes more convenient for businesses to sell anything online along with protecting their sensitive information.
Hasslefree online shopping
Virtual cards can be the best bet for online shopping. As long as your customers have access to phone or computer, they can always have virtual cards handy. As it is virtual, you can easily change details of your new phone number or have switched jobs.
Moreover, even a single typos can cost you a lot while you are using traditional cards for transaction. But virtual cards let you edit your cards at any time, so they are always up-to-date with your latest information.
Hope now you get a clear understanding of multiple virtual prepaid card features. Now it's the time to check out some most sought-after virtual prepaid card use cases.
Popular use cases of a virtual prepaid card
Generally, virtual prepaid cards are used for online shopping of products and services. But there are few more purposes of a virtual prepaid card that are as follows:
Gaming platforms
Who doesn't love to play games? However, the trial version or version of game purchases may carry risks of data breaches. Even smartphones are at risk of hacking. But now gaming will become safer with the help of a virtual prepaid card. Now the gaming platforms can easily accept payments from their users as virtual prepaid cards can be used for a single time only.
Staff Empowerment
Now you can issue virtual prepaid cards to your staff members who are required to make payments regularly. You can set the spending limits on each virtual prepaid card to keep a firm hold on your payment budget. This will eliminate the payment bottlenecks so that your business can move at a much faster pace.
Freelance professionals
Freelancers mainly use several online services to manage their projects and clients. This can be stock photo and video platforms, freelance job platforms, apps and various software for automation, using the virtual prepaid card tied up with VISA or Mastercard.
Financial Traders
Traders in cryptocurrencies, foreign exchange and stock fund their trading accounts with virtual prepaid cards. Apart from this, online payment carries a huge risk, that is why proactive users prefer to choose virtual prepaid cards.
Digital entertainment platforms
Digital entertainment platforms can use virtual prepaid cards to collect monthly subscriptions and to provide free service trials. In this way, they provide subscribers with a great convenience of deleting a virtual prepaid card to cancel the service rather than looking for customer support.
At DigiPay.Guru, we always strive to give our best and this product update was also a part of it. In the coming times, we will level up the payment game by introducing major and advanced updates which will make our mobile wallet solution stand apart from the rest. Till then, stay tuned for more updates.