We are living in a digital age where convenience, rich shopping experience, and faster transactions have become a norm. eCommerce sites and applications powered by fast and secure payment solutions are majorly responsible for bringing this digital revolution in this space. This is the reason why many customers now prefer to shop online than going to a brick-and-mortar store.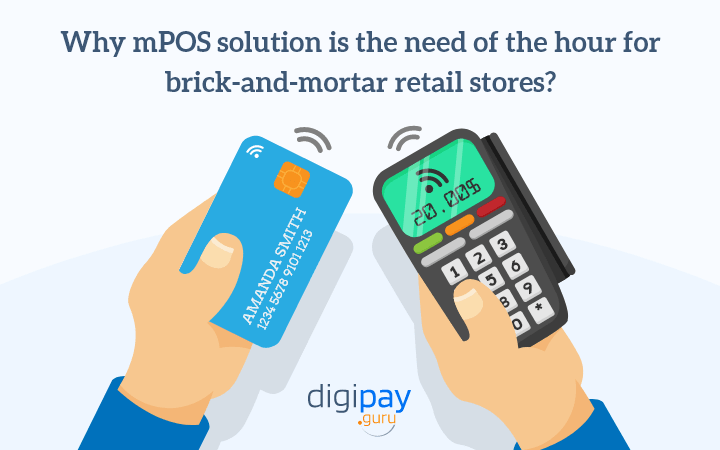 This digital revolution has also pushed brick-and-mortar stores to reinvent their offerings in such a way that they can offer an online shopping experience at their retail stores itself. And that's the reason why retail stores across the globe are now adopting mPOS solutions to offer a rich shopping experience to their customers.
But what is the mPOS solution and how does it work? In this blog, we will discuss the same along with discussing the reasons why retailers must go for an mPOS solution if they want to survive in this digital era.
What are mPOS solutions?
mPOS (mobile point-of-sale) is simply a tablet smartphone or any dedicated wireless device which performs all the functions of a cash register or an electronic POS terminal. mPOS is generally used by businesses that take transactions on the go.
This means that any business like food trucks and market vendors which interact with their customers outside their organizations' location can find mPOS beneficial.
Implementation of mPOS requires a credit card & debit card reader, internet connection, and a device where the application has to be downloaded for transactions. First, the user needs to download a POS app.
Second, they must connect the reader to the mobile device. Users can also pair mPOS with additional POS hardware such as a cash drawer or a barcode scanner.
How does it work?
It's possible to convert any tablet or smartphone into an mPOS with the help of a downloadable mobile app. Generally, a business owner who wants to use the mobile POS system is provided with a card reader which processes debit and credit cards. This card reader is plugged into the mobile device's audio jack.
There are also a few mPOS software providers which offer optional hand-held docking stations which are also referred to as sleds. These sleds enable mobile devices to print receipts and read barcodes.
The application and usage of mPOS depend upon the type of software. For example, mPOS can either operate as a stand-alone device that is linked to the bank account of the business or it can be integrated as a part of a bigger legacy POS system.
mPOS also comes with high security as it protects the data of customers and cardholders by encrypting it and storing it in the cloud instead of the device.
How retailers across the world are making mPOS their top priority
Retailers are now more interested in omnichannel offerings and this is clear from the data of PYMNTS mPOS Tracker. The data shows that almost 67 percent of surveyed candidates have mentioned mPOS as their priority. Furthermore, 45% of respondents see mPOS as essential for their omnichannel efforts.
If we have a look at the global market for POS terminal then it's expected to reach $109.5B by 2023. Not only this but also the market's projected CAGR from 2018 to 2023 going to be 11.2 percent.
This boost is mainly caused due to the collaboration between technology and payment firms. For example, HP announced in January that it will be teaming up with PayPal to release its "all-in-one" point of sale (POS) unit.
GM of Retail Solutions Aaron Weiss said "as per reports, the company is leveraging the success that we've had in the upper tiers of the retail and hospitality market and bringing that together in a way that addresses needs of SMB retailers and hospitality operators."
From Walgreens to HP, technology providers and retailers are embracing mobile payments via mPOS payment solutions. More than tens of thousands of Walgreens stores based in the US have announced that they will soon accept Alipay. It will become available in more than thousands of Walgreens locations throughout the U.S.
Walgreens is not the only example, there are many other companies that are now looking to adopt mPOS solutions for their business. For example, Square announced its Square Terminal mPOS solution which is an all-in-one card processing device.
From Walgreens to Square, payment providers and retailers across the world are now working towards bringing innovative mPOS offerings. With this growing interest and demand in mPOS, various mPOS solution providers are now coming up with new products to establish their presence in the markets along with fulfilling the needs of customers and retailers.
Top 5 benefits of using mPOS solution at your retail store
mPOS solution comes with several benefits that help retail stores to streamline their operations and offer a rich shopping experience. Let's have a look at some of these benefits.
Line busting
Today, customers are no longer patient when it comes to shopping. That's the reason why they expect a smooth checkout process that helps them to make payments in a hassle-free manner.
If the checkout process is cumbersome and time-consuming then they don't hesitate to abandon their purchases. A study by Omnico Group shows that over 77 percent of consumers are less likely to return to a store if they have encountered long queue lines.
mPOS payment software resolves the issue of long queue lines and helps the retailers to manage store traffic at checkout points efficiently. mPOS solution enables the retail employees to use smartphones and tablets to process payments and complete sales from any corner of the store.
Furthermore, with mPOS employees can also provide customers with services outside the stores at pop-up shops or at sidewalk sales.
mPOS delivers top rich shopping experience to shoppers with on-the-spot service and reduced waiting time. This ultimately helps retail stores to reduce customer dissatisfaction and lost sales.
mPOS solutions also enable retailers to accept returns in store aisles. They can also use the mPOS solution for setting up temporary additional lanes dedicated only for returns.
This can prove to be handy during periods of high volume returns such as after a long weekend or holidays. This helps in creating a positive experience for your customers where they are more likely to replace the unwanted items and buy new items from the store.
Staff empowerment
Today, customers have a high expectations when it comes to sales associates. This is mainly because of the advent of eCommerce sites where shoppers have the power to access all the details about the product like a list of items browsed, purchase histories, loyalty rewards update, shipping information, and many more from the same place. And they expect similar kind of information from the staff associate too.
Furthermore, customers expect the staff associate to have in-depth knowledge about all the products available in the store. mPOS technology comes to the rescue here as it puts all the information about the various products at the fingertips of sales associates. mPOS solution empowers the staff by enabling them to respond quickly to all the needs of customers.
For an instance, they can provide quick answers to questions regarding the availability and prices of the products, the latest offers, and many more. In this case, if the item is not available that a customer is looking for, then the staff member can check its availability in other stores and warehouses and get it shipped to save the sale.
Improved customer experience
The mobility feature of mPOS devices enables merchants to offer a highly personalized experience to their customers. It empowers sales staff with the ability to assist customers within the aisle instead of the check-out points.
This accessibility increases the chances of cross-selling and upselling. For an instance, the sales executive can help the customer at the aisle can also suggest other accessories that fit well with the product that they bought.
In this way, they not only increase the overall sales but also enhance the customer experiences which can ultimately drive greater sales opportunities in the future.
Apart from this, mPOS also helps retailers to fill their CRM (customer relationship management) solution with insights and information that helps them to understand the market in a better way. Furthermore, this also helps in demand forecasting and merchandise replenishment which again increases the customer's shopping experience.
Minimal setup
mPOS are very easy when it comes to setup. You only have to download and launch an app ensuring that the card reader is compatible with every other mobile software and card type.
Unlike other complex systems that require top-notch technical expertise for setting up a local server, an mPOS solution is a lot easier. If we compared mPOS with the traditional POS system, then it's comparatively less expensive, technically less challenging, and more appealing.
Secure and fast transactions
mPOS solutions enable retailers to have a more organized checkout area that can help the sales staff to serve their customers more efficiently and quickly.
Furthermore, mPOS also supports multiple payment modes which also includes cutting-edge payment technologies such as contactless payments which are powered by NFC technology that is used in mobile wallets such as Android Pay, Apple Pay, Google Pay, etc.
This means that users having NFC-enabled smartphones can make payments by just tapping their phones on the mPOS solution. mPOS solution can also accept payments via EMV chip card payments that protect against fraud and scams taking place in card payment transactions.
mPOS solution also comes with a scanner that helps sales staff scan QR or barcodes from a digital coupon or paper. With this, discount coupons can be easily applied. Similarly, retailers can easily integrate loyalty programs with the mPOS system.
Also, it also stores all the loyalty information on the mPOS, so that the associates can communicate with customers about their total points and help them to redeem the same.
Conclusion
mPOS solutions have emerged as a savior for brick and mortar retail stores that were facing stiff competition from their online counterparts. It has empowered these retail stores to provide omnichannel offerings that help these stores to enter the online space at the same time keep continuing their business in the traditional way.
mPOS solutions make payments easy, reduces long queues at checkpoints, empowers staff with vital data, and improves the shopping experience all at the same time. In today's digital era, investing in an advanced mPOS solution is a no-brainer.
There are many mPOS solution providers that retailers can go for; however, they must choose a solution provider which has an excellent track record, experience, and expertise.
DigiPay.guru is an exact embodiment of all these. Over the years, DigiPay.guru has delivered several mobile wallets and payment solutions. DigiPay.guru also has a new-age mPOS solution that comes with cutting-edge features and state-of-the-art technology. If any retailer is looking to transform their retail stores with an mPOS solution then DigiPay.guru is the way to go.