We are living in the time of a great transition. The transition from cash to cashless. The digital payment solutions have challenged the century-old supremacy of cash with the help of cutting-edge technology which makes payments simple, fast, and secure.
This is the reason why we are seeing many industry verticals going cashless. Following the footsteps eCommerce, food delivery, and taxi industry, the amusement park industry is also adopting cashless payment solutions at a large scale.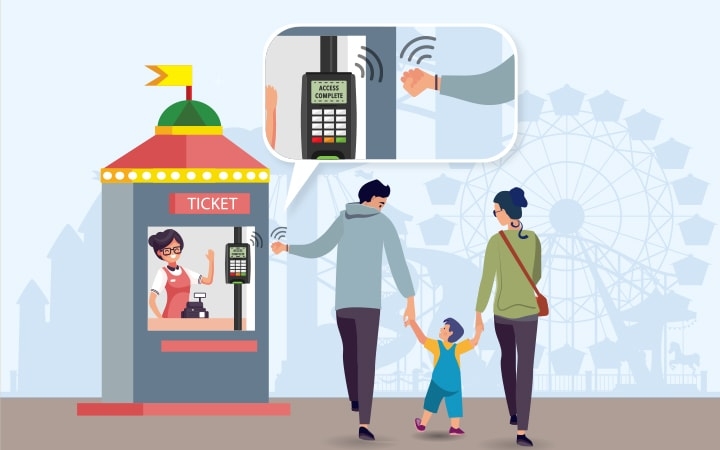 Over the past few years, many amusement parks around the world have started to leverage cashless RFID ticketing solutions. The trend began with Disney when they started issuing MagicBand in the year 2013. Soon a lot of amusement parks did the same.
Many of you might think that using regular paper tickets might be a cheaper option for the theme parks. However, RFID cards and wristbands offer a way more benefits. In this article, we are going to see how RFID based cashless solutions can help amusement parks.
Top 7 reasons to adopt RFID-based payment solutions
As discussed earlier, RFID-based payment solutions offer a plethora of benefits to the amusement parks. We'll discuss these benefits one by one here.
Improved entry experience for customers
During peak hours, customers have to stand in the never-ending queue to buy tickets and then have to wait again in a long queue to enter the park. This long waiting period just ruins your customer's entry experience.
But, with RFID wristbands and cards in place, you can boost this process significantly along with reducing the operational costs. You can leverage wristband printing kiosks to enable your customers to buy their ticket with utmost ease and convenience as they can enter the park by just making a simple tap at the gates.
Complete cashless operations
RFID wristbands are highly convenient and unique as they act as a ticket as well as a payment solution. It allows guests to make payments for food and beverages without carrying any bag or wallet along with them.
Furthermore, RFID card and wristbands enable customers to have a peace of mind as all their belongings are safely placed in an RFID locker which is connected to the RFID wristband itself. This locker doesn't require any physical key. This stress-free and easy purchasing experience ensure that customers spend more.
Read More: Moving towards a Cashless society: Types and major benefits
Hands-free experience
One thing which makes RFID wristbands more relevant and necessary than ever is the fact that it can enable you to have contactless payments. Due to the COVID-19 pandemic, people are scared to use cash or any other mode of payments which includes touch.
In such times, RFID bands are the way to go for all the amusement parks where the customers can make payments seamlessly without needing to touch any surfaces. Furthermore, RFID bands are also waterproof which means that they can work very well in the wet environment of water parks as well.
Complete family experience
With RFID wristbands in place, you can offer a wholesome family experience to your customers. You can offer separate wristbands for children which will give them a sense of independence. Furthermore, these bands are completely customizable, which means that the parents can set spending limits or can disable purchase option completely.
These bands also let parents have peace of mind as they know that even if their child gets lost, the wristbands can help to trace their last known location.
If the RFID wristbands are equipped with long-range technology then they can be used to personalize action-cam photos that are families and friends take while enjoying their rides.
Instead of searching for your photos from tons of random shots, the RFID bands can help you to show the photos of only you and anyone associated with your entry ticket.
RFID bands can also be used outside the park in case you're staying at the nearby hotels. These wristbands can also act as a key to your hotel room.
Enhanced security & control
Amusement parks can leverage RFID technology to gain complete control by eliminating the possibility of fraud and theft. This helps the park authorities to make significant savings over time.
It also allows the guests to focus solely on having fun rather thinking about their money getting stolen. Furthermore, if an RFID band is lost or stolen then it can be quickly disabled and a new one can be issued.
Read More: How to fight digital payment frauds in the COVID-19 times?
Actionable data and insights
With the help of RFID technology, you can receive highly actionable and relevant data and insights which can help you to take insight-driven business decisions. These data also helps you to streamline your overall operations. With RFID technology in place, you will get to know the exact number of guests that visited your park.
You can monitor and analyse how they move around the park and interact with various attractions and rides. Not only this, but you also know exactly how much time they are spending at various attractions.
The park owners can also have data on the purchases of food, beverages, and merchandises. These insights are very crucial as it helps the owners to cut their operational costs along with enhancing their guest experience.
Cost-effective operations
Going cashless by adopting RFID technology can help owners to significantly reduce their operational costs. Managing and handling of cash also cost money.
Just think of the employees who need to make cash out during their shift or when they need to make deposits at banks. Moreover, cash management is highly prone to human errors.
Switching to RFID wristbands and cards can have a major impact on the operator's bottom line. It's because the RFID wristbands can boost the speed of transactions by around 50%.
This increase in the speed of transaction can result in increased spending by the guests. Amusement parks around the world are witnessing an average increase of around 15% to 30% in the customer spending after they adopted RFID wristbands.
Conclusion
Amusement parks around the world are embracing innovative technologies and methods to offer the best customer experience to their guests. Adoption of RFID-based payment via cards and wristbands is the latest trend that has emerged in the recent past. With COVID-19 pandemic and social distancing norms, the case for using cashless payment becomes even stronger.
The benefits of cashless RFID ticketing are only going to compound over a period. In current times, all the modern amusement park must adopt and incorporate RFID technology since it has become a minimum expectation from the guests.
If you're also an amusement park owner who is looking to leverage the benefits of RFID payment solutions then DigiPay is here to help. DigiPay has a robust and advanced RFID-based cashless payment solution which will skyrocket the profits of your amusement park.