DigiPay.Guru is stoked to announce that it will be attending Seamless Middle East 2022 at the Dubai World Trade Centre from 31st May to 1st June. DigiPay.Guru is a digital payments solutions provider for enterprises, businesses, and startups. It is globally renowned for its digital wallet and payment solutions.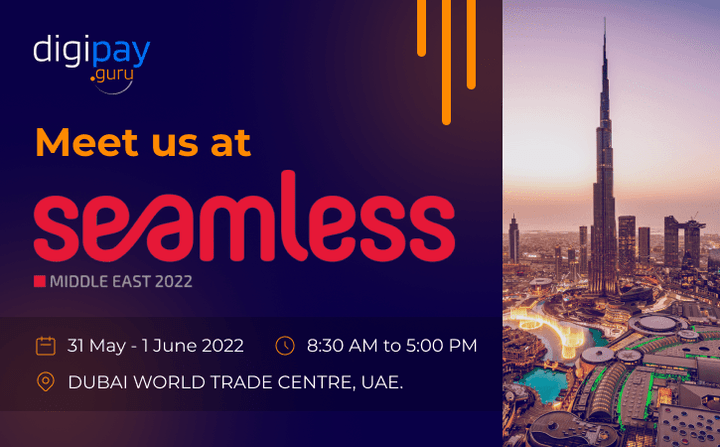 DigiPay.Guru has been empowering the financial world, fintech businesses, and startups with its innovative and efficient solutions for all sectors and industries including NBFCs, banks, MNOs/Telcos, and enterprises.
Over the years, DigiPay.Guru has made a significant contribution to reshaping the future of the fintech industry and digital payment solutions across the globe. As a next-gen company, we are looking forward to participating in a variety of global events that enable us to gain a fresh perspective on various experiences and challenges that we can solve using our creative minds and innovative solutions.
DigiPay.Guru proactively participates in tech, eCommerce, and finance-related events worldwide. DigiPay.Guru has attended numerous prominent and remarkable events such as GITEX GLOBAL (Fintech SURGE), Seamless Middle East, and Money 20/20 in 2021.
About Seamless 2022
For the last 22 years, Seamless, a gigantic event held in the Middle East, has become a meeting place for some of the world's innovative and brightest minds, especially in the Fintech, eCommerce, Retail, Payments, and Identity sectors. The event will be held at the World Trade Centre, Dubai, UAE from 31st May to 1st June 2022.
With more than 300 speakers, 10,000 attendees, and 350 exhibitors, Seamless provides a golden opportunity for entrepreneurs to network with some of the biggest and most renowned players in the fintech and banking industries such as Morgan Stanley, Gulf International Bank, Western Union, Citibank, Accenture, HSBC, and many more.
Some of the 2022 speakers are Kost Peric (Deputy Director-Financial Services for Bill & Melinda Gates Foundation, USA), Ashish Sood (Chief Supply Chain Officer, Landmark, USA), and Mala Gorgiladze (Deputy Chief Digital Officer, Bank of Georgia, Georgia), among others.
The major exhibitors and sponsors of the event are Amazon Payment Services, Stripe, Salesforce, Oracle, Futurebank, NeoSoft, and Verisoft.
What can you expect from Seamless?
By gathering some of the smartest and brightest minds from retail, payments, eCommerce, fintech, and identity industries, Seamless will empower fresh ideas and encourage the entrepreneurs to think outside of the box, differently.
Thousands of attendees will be stimulated by business leaders, innovative thinkers, industry disruptors, and entrepreneurs from all around the world.
Taking advantage of their industry experience and business relationships, attendees will be inspired and encouraged to bring a new change. Networking, creative ideas, forums, and modern product profiling, being the crux of the event, Seamless wants to challenge the limits of existing market thinking.
Entrepreneurs can expect to network with the right people, especially in an environment that drives opportunity.
DigiPay.Guru at the event
DigiPay.Guru is a globally renowned digital payments partner, delivering unparalleled digital wallet and payment solutions to a comprehensive range of industries and sectors including NBFCs, banks, MNOs/Telcos, and enterprises.
Offering custom, white-labled unmatched solutions that are easy and simple to adapt to multi-currencies and are multi-tenant. All DigiPay.Guru's solutions allow for a smart integration of a variety of platforms, enabling to reduce the go-to-market time.
Since its inception, DigiPay.Guru has been successfully delivering custom white-labled solutions to clients across the globe. Being a vital element of fintech events has helped us in growing and contributing to the future of digital payment transformation. We will never miss the opportunity to interact and engage with the industry leaders and gain helpful insights.