In today's digital era, people demand the freedom to purchase anything from anywhere without having to carry cash in their pockets. With the emergence of smartphones, faster internet connection, and mobile banking, technology is evolving towards making payment methods digital.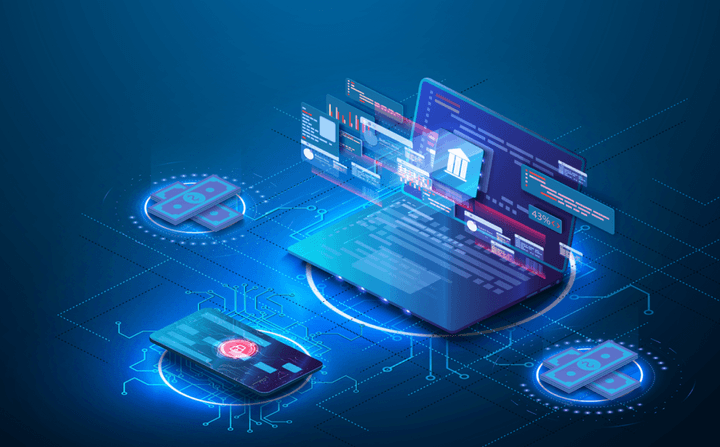 People are gradually moving away from traditional forms of payment and turning to more advanced methods like credit cards, net banking, and e-wallets. Digital Transformation is driving innovation in the e-wallet market by providing users with innovative and creative financial management applications.
Entering the wallet industry is a sensible move as it is the future of digital banking and proving to be a boon for users at both ends — customers and merchants. Since a digital wallet keeps track of each transaction and gives a wide range of discounts and cashback, it is one of the best forms of payment method.
If you are thinking of launching a digital wallet app, you will need to put in a lot of effort and have well-thought-out and strategized steps to become the next fintech disruptor. Only then your app will be a standout in the fintech market.
In this post, we'll look at the essential aspects that will increase your digital fintech solutions chances of becoming the next big-shot fintech application. Let's start with the digital wallet market overview.
Digital Wallet Market Overview
The COVID-19 epidemic had a huge impact on the adoption of digital wallets. As the technique of cashless payment solutions does not require any physical interaction between the two individuals, the trend for digital wallets expanded at a fast pace.
The digital wallet business sector was valued at $1,043.1 billion in 2019 and is expected to increase at a CAGR of 28.2 percent from 2020 to 2027, hitting $7,580.1 billion.
According to Finaria, the digital wallet business was expected to rise to $2.4 trillion in 2021 at a massive growth rate of 24% year on year. It is further estimated to reach $3.5 trillion by 2023.
It had stated that whereas Asian markets, particularly China, had already been leading the way in contactless payment acceptance, the United States had previously struggled due to retail outlets' delayed adoption of mobile payment technologies.
However, with $465.1 billion in mobile payment transactions in 2017, the United States has surpassed China to become the second-largest market, with $698 billion projected by 2023.
Here are some interesting statistics about the e-wallet market's quick growth:
32% of digital wallet users utilize three or more digital wallets.
Digital wallet-based transactions increased by 7% worldwide in 2020. According to the report, digital wallets will account for more than half of all eCommerce payments globally by 2024.
67% of merchants accept contactless payments at point-of-sale terminals.
In addition, the features of E-Wallet mobile apps have improved as technology has developed. Many mobile app wallet development companies incorporate Bluetooth, Beacon, Blockchain, Scan QR code, and Near Communication Field technologies in online wallets.
Read More: Digital Wallets Solution Helps to Creating Future of Digital Banking
Examples of Successful Digital Wallets
Let's look at what the market leaders are doing before you launch a mobile wallet app.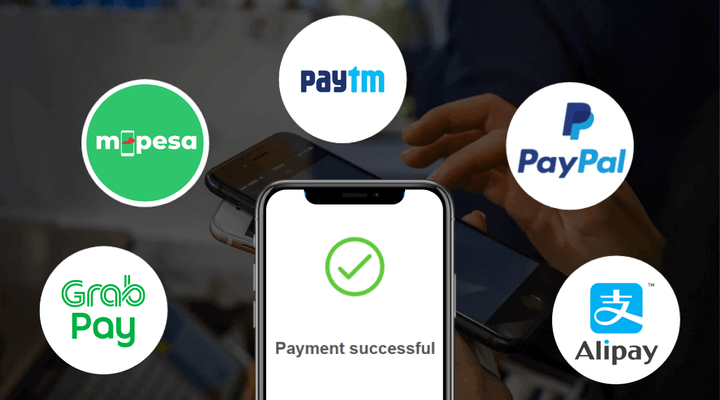 GrabPay
GrabPay is one of Malaysia's leading eWallet providers. Grabpay enables users to pay for everyday services such as bills, groceries, foods items, rides, prepaid reloads, etc – all within one app.
M-PESA
M-Pesa is a mobile phone-based money transfer service, payment, and micro-financing service launched in 2007 by Vodafone. It is preferred to make payments across the continent for both banked and unbanked customers with a safe, secure, and affordable way to send and receive money.
M-Pesa is a mobile phone-based money transfer service, payment, and micro-financing service launched in 2007 by Vodafone. It is preferred to make payments across the continent for both banked and unbanked customers with a safe, secure, and affordable way to send and receive money.
Paytm
Paytm is India's one of the most popular payment apps. It is setting the standard by making UPI and digital wallet payments faster, smarter, and safer for customers.
PayPal
PayPal is the market leader in payment solutions. It's One Touch software allows you to use your smartphone to make both online and offline payments. The app is available on both Android and iOS devices.
AliPay
Alipay is China's largest third-party payment provider. Alipay enables users to store credit/debit card details to make online and in-store payment transactions using their smartphones.
Alipay has quickly dominated a large section of the Chinese market and is now gaining traction in Hong Kong, Russia, Singapore, and other parts of the world.
Want to make a mobile wallet app that will be secure and meet all your requirements?
Implement the Right Strategy for Digital Wallet App Development
Research & Analysis
Market research and competitor analysis are typically the first steps in mobile wallet app development. During this stage, you must decide for which industry you will design an app, who your target audience will be, what type of digital wallet you will offer to your audience.
What features & functionality do you want to incorporate, and who your competition will be. Market research will assist you in conceptualizing your application and deciding how to differentiate it from the competitors.
Decide on the Type of Wallet you will Offer
Before you consider developing a digital wallet, you must first determine the type of digital wallet you will provide to your target audience. There are three sorts of digital wallets, each of which differs from the others in terms of payment methods. Let's take a closer look at each of them separately:
Closed wallet is issued by a corporation that sells goods or services for its consumers to buy goods and services exclusively from that company. Users of a closed-loop wallet solution may utilize the spared money to conduct online transactions with the wallet's provider.
The payments from returns, cancellations, or refunds are transferred to a secure server that is accessible via the wallet. Amazon pay is one of the best examples of closed wallets.
A semi-closed wallet enables users to conduct transactions at listed merchants & locations. The wallet can be used for both online and offline purchases. To accept payments using semi-closed mobile wallets, merchants must first sign agreements or contracts with the issuers. Paytm & Mobikwik are examples of semi-closed wallets.
Open wallets are issued by banks or institutions that have cooperated with banks. Users employing open wallets can utilize them for all transactions that a semi-closed wallet allows, including withdrawals from banks and ATMs and financial transfers. Square Wallet, Google Wallet, and MasterPass are examples of Open-loop wallets.
Learn About the Regulations That Your Mobile Wallet Technology Must Follow
Each country has designed its certain FinTech regulations which you must adhere before developing mobile finance solutions. To make you better understand, below we have mentioned the example of an Indian Regulations.
According to Indian Government Companies Act of 2013, the entity must be registered with the Registrar of Companies.
Application for approval in Form A in accordance with Regulation 3(2) of the Payment and Settlement Systems Regulations, 2008, as well as fees paid to the RBI to obtain a license.
RBI issues the license "in-principle" for a period of six months upon meeting the appropriate criteria and other legal requirements, during which the company must submit a satisfactory audit report to the RBI.
Moreover, Fintech development companies must comply with the PCI Standard i.e. Payment Card Industry Data Security Standard(PCI DSS). It is a set of legal standards aimed at safeguarding cardholder data both within the application and within the entity that stores the data.
Read More: How mobile wallets boost financial inclusion
Scope out the detailed overview of your customer requirements
Customers create market demand. Businesses must identify customers' needs and demands with different preferences. To begin digital wallet app development, you must first have a clear vision of your target customers' needs and expectations from the wallet.
Data mining of targeted clients will aid in evaluating different criteria such as ease of use, round-the-clock online assistance, improved UI interaction, one-click payment options, transaction history, wallet security and encryption, and so on.
Remember, when customers' needs are met, digital wallet business growth soars to new heights.
Develop Customer-centric App
After establishing data governance and creating digital personas, a further move is to build an app that connects to all of the information available about the customer's needs and preferences.
Include a plethora of different options for customers to make them more engaged, such as promotions, offers, reviews as well as mobile wallet loyalty program.
The importance of 'customer-centric' development should be emphasized to ensure a seamless customer experience and an appealing E-Wallet solution.
Prioritize Key Features
When creating a strategy for developing a digital wallet, it is indeed important to know the difference between core and non-core features. Mobile wallet solutions typically include features such as, customer loyalty programs, and mobile transactions.
Here are a few essential functionalities to incorporate while developing your finance-based application.
P2P/P2M/P2A/P2G The wallet should be capable of transferring funds with Friends/Relatives, Merchants, Agents or Government Disbursements.

TUB – Topup and Utility Bill Payments Top-Up and Bill Payment service allows the consumers to electronically top-up their prepaid service accounts and pay bills for their post-paid accounts like: Mobile, Fixed line, DTH.

NFC/QR/Biometric payments User should have the access to pay through multiple option based on its available resources like QR code, NFC cards, biometrics etc.

Loyalty & Rewards To meet changing goals of Service Providers like facing increasing competition, changing technology, and savvy consumers Loyalty and Rewards based customer engagement is highly sought.
For creating loyalty, Service Providers need to really understand their customers—how, what, and where they spend—so that what is offered is right for their needs.
Bulk Payments Bulk disbursement option facilitates the disbursement of e-value to multiple users in a single go. It can be useful in disbursing the grants, salaries, subsidies etc.

Split Payments Consumers can split their merchant bills between two or more customers by entering the number of customers and total bill amount that they're supposed to pay.
For each transaction, an invoice will be generated that the consumers can view and download from their mobile application.
Auto Reconciliation Manager Mobile money systems are usually integrated with many third-party systems like: Billing systems, IN, Banks, Payment gateways etc. Now at the end of the day it results into a mammoth task to reconcile the transactions happening with various systems.
It is a laborious task which requires a lot of manpower from the operator side. So the system must have automatic periodic reconciliation feature, Trust account reconciliation with partner bank, System e-value & biller's reconciliation and Bank to wallet and Wallet to bank reconciliations.
Financing Analysis This feature enables customers to track their spending, encouraging consumers to better manage their expenditure and set spending limits.
Read More: Enhance your customer experience with digital wallet solution
Top-notch Security Standards
According to ABI Research, customers using digital wallets are most concerned about the safety of their account details. It is critical to have a comprehensive data security model for the success of digital wallet software platforms.
Every transaction should be protected employing application-layer authentication and industry-standard techniques.
Since the mobile wallet app stores users' payment card data, it's become critical to follow the KYC and AML guidelines set forth by global regulatory authorities. KYC stands for "know your customer." It is the process of remotely verifying a customer's identity.
The KYC process is carried out on a continuous basis, triggered by circumstances such as big transactions or the opening of a new account. AML adherence necessitates the verification of clients' backgrounds against criminal watchlists, Politically Exposed Person (PEP) lists, negative media headlines, and international sanctions.
Furthermore, Future of Fintech companies rely on the use of biometric technology for real-time identity authentication, fraud prevention, and adherence to worldwide KYC/AML compliance standards.
By effectively tackling the security issue, your merchant payment solution will become hack-proof and, as a result, gain market confidence.
Read More: A foolproof platform for all your digital transactions
Collaborate With a Fintech App Development Company
To make your idea a reality, you should collaborate with a Fintech development company that can assist you in reaching your goal. You should work with an organization that has a proven track record with digital wallets.
They should be able to turn your groundbreaking ideas into an interactive, user-friendly layout that your users will adore.
Make sure the company you are collaborating with must be an industry leader who must provide end-to-end services from strategy to development to implementation and ongoing support. Furthermore, you may also partner with a white label digital wallet software platform to make your online wallet more efficient and within a time frame.
Build advanced fintech apps to deliver reliable solutions for your bank and financial institution's users.
The Digital Wallet Mobile App Development Process
Design & Prototype Phase
The mobile wallet app development process starts with design and prototype. You must describe the design format in a concise manner and provide it to your design partner.
You must create a complete project review, establish the key objectives and target audience. You need to outline the features you intend to implement, explain your product's visual concept, and include your recommendation prohibitions, among other things.
Mobile Wallet App Development Phase
After the completion of designing and having a virtual version of the wallet that users will probably value, it is indeed time to begin developing a digital wallet. The end aim of this process is to develop a live digital payment app with all the features that were decided upon during the research phase.
App Testing Phase
During development, programmers perform a test suite to the software to determine if specific features are functioning as planned. Nevertheless, during the formal testing process, developers must evaluate the entire program for functionality and user experience.
App Launch & Promotion Phase
After the completion of the digital wallet app development and testing process, now is the time to launch your digital wallet solution. To make your app live on the app stores, you must first pass through a few hurdles set by Google Play and the App Store.
Additionally, the server-side should be connected to the app and switched to a development site.
In addition, once the app is released to the market, it is time to think about the promotion. However, the development of a marketing plan should begin long before the app is made available to end customers.
You may utilize social media marketing, content marketing, sponsored ads as well as neighborhood marketing for your app promotion.
Ongoing Maintenance Phase
Once the application is on the app stores, it will be your responsibility to maintain it. You must keep your app updated by accommodating the latest operating system features, fixing minor issues, and simplifying the user experience. To be successful, you must update your app regularly in addition to developing it.
Cost of Developing a Digital Wallet App
The cost of E-Wallet mobile app development is determined by a number of factors, including the app's complexity, wallet type, number of supported platforms, the functionality you want to include, and the developer team you are working with.
In addition, if you want your app to be more robust and include advanced features that will cost you much higher.
The cost of hiring a developer is also determined by the region from which you are recruiting. Development costs are high in some regions of the world, while low in others. According to several assessments, India is the most cost-effective place to hire talented developers.
Wrapped up
This blog has addressed all of the things you should think about when developing a mobile money solution for your business. However, finding a development partner who understands all of your requirements and all of the compliance details isn't easy.
You're only a tap away from having your concept turned into a flawless mobile wallet application that will allow you to take advantage of the various digital wallet perks.
Digipay.guru is a leading digital wallet solution provider, having fintech industry professionals on a variety of solutions including digital wallets, peer-to-peer payment apps, mobile money, agency banking, merchant solution, and other facets of the industry.
Our dedication to trustworthy, high-quality development is complemented by our ability to determine how your app may give the most value to your consumers.