The COVID-19 pandemic has majorly affected all our lives. Use of masks, sanitizers, and following social distancing protocols has become part of our daily lives. Even the businesses have adopted social distancing norms to survive in these dire times.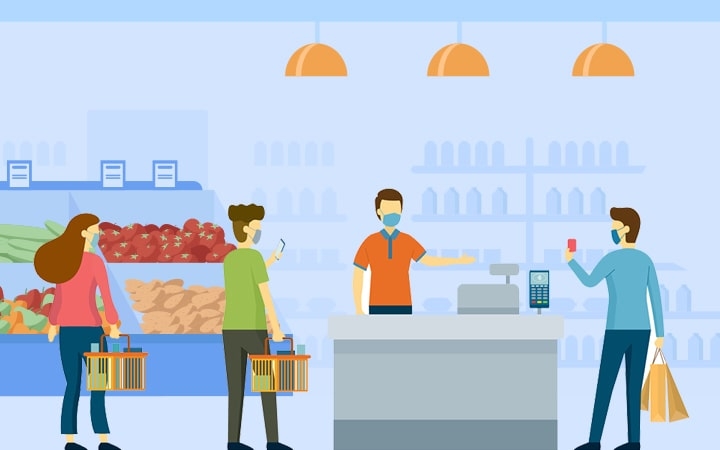 Switching to social distancing mode has been difficult for those businesses which rely more on cash transactions and other payment modes which involve physical touch. The retail industry is a perfect example of this. However, the retail industry has found its saviour in the form of contactless payments.
In this article, we will see how contactless payments are becoming the new normal for the retail industry.
COVID-19 boosting the adoption of contactless payments
To understand how customers and retailers are heavily adopting the contactless payments, let's have a look at some stats.
A new survey conducted by National Retail Federation and Forrester had the following findings:
67% of the total retailer respondents accepted the use of some form of no-touch payment.
58% of people used contactless cards which is an increase of 40% as compared to the last year.
Around 94% of retailers expressed that they anticipate the rise of contactless payments in the next 18 months.
19% of the retailers said that contactless payments accounted for more than half of their in-store transactions.
This wasn't the only survey. PYMNTS also reported a study conducted by Visa which showed that there was an increase of 150% in the use of contactless payments like digital wallets, credit cards, etc. from March 2019 to 2020.
Another study showed that around 30% of consumers tried contactless payments for the first time during the pandemic.
How contactless payment became the customer's first choice?
There has been mass adoption of contactless payments by both customers and retailers. If we talk about consumers, then a huge portion has now started to make their first foray into the no-touch payments. According to a survey, around 30% of Americans made their first contactless purchase during the initial stage of the pandemic.
The fear of catching the COVID-19 was the biggest driving force behind this shift. People feared that they would catch the disease if they use cash for payments. Not only this, for many customers non-availability of contactless payments has now become a deal-breaker. Many customers also said that they are more likely to visit a retail store if it has contactless payment option.
How did retailers respond?
Retailers have positively responded to this shift in consumer behaviour by accepting the contactless payment mode. Consumers are not the only one who is concerned about their health, even employees working in the retail store are well aware of the risks that are associated with the handling of cash and credit cards.
Many retailers have decided to reject the entire physical payment instruments. They have started to allow their customers to make payments only via contactless options such as NFC card, P2P payments apps, and many more.
More than 47 per cent of SMBs have added devices like terminals to accept mobile wallet and other contactless payments.
Technology that makes touch-and-go payments possible
Contactless payments are also referred to as tap and go and tap-to-pay since it requires a user to tap the payment card or a device like a smartwatch, smartphone, fitness tracker to a reader which is equipped with contactless payment technology.
Contactless payments are gaining popularity among users as they don't need to swipe, sign in, or enter the PIN number for making payments.
Contactless payments can be categorized into two types.
The first type involves digital wallets such as Google Pay and Apple Pay which secures the credit and debit card information and leverages NFC (near field communication) technology to enable your device to exchange the data with the payment terminal.
The second type is when the RFID (radio-frequency identification) technology is embedded in the credit and debit card. These RFID-enabled cards have a symbol on them which resembles the Wi-Fi logo. Both NFC and RFID technologies enable readers and devices to communicate and offer touch-free and secure payment transactions.
Now that you have understood what contactless payment is? Let's have a look at how it works.
How it works
Whenever a merchant asks the user to make a contactless payment, then the user brings his smartphone or card close to the payment terminal. The information from the smart device or card's chip is then transmitted to the bank.
The customer is notified with a green light, beep, or a checkmark the moment system accepts the tap. The transaction is marked as complete as soon as the approval is received.
One must remember that for a contactless payment to take place, the merchant must have a payment terminal with NFC capability.
Benefits of contactless payments
Contactless payments are more than just a temporary alternative to conventional payment options. This is because contactless payments come with a plethora of benefits for both users and retailers.
These benefits are what make contactless technology the future of payments. Let's have a look at these benefits one by one.
For retailers
Enhanced operational efficiency
Contactless payments are faster and need fewer workforce requirements. According to research, contactless payments take an average time of 12.5 seconds as compared to 33.7 seconds and 26.7 seconds for cash and card transactions respectively.
This shortened transaction time results in increased revenue and shorter queues.
Improved customer experience
Retailers that offer contactless payment options offer quicker and smoother checkout experience thus gaining their customer's loyalty. Retail stores can also improve their customer relationships by optimizing loyalty programs.
No additional cost
Retailers don't have to bear any additional cost or processing fees for setting up contactless payment facility. Retailers have to pay the same fee which is applicable for regular credit card transactions.
Protection from fraud
Contactless payments come with cutting-edge encryption technology which makes every transaction safe from hackers or any other frauds.
Marketing opportunities
Contactless payments enable retailers to explore several marketing opportunities such as integrating customer loyalty programmes, location-based marketing, and utilizing personalized mobile couponing.
For customers
Ease of use
Contactless payments offer utmost convenience to the user since they have to simply wave the card or device in the proximity of the reader. Furthermore, it involves shorter queues and quicker transactions at the checkout point which makes the customer's shopping experience rich.
This is the reason why 85% of the contactless payment users said that they would happily recommend this technology to their family and friends.
Secure transactions
Tap & Go payment technology is way more secure when compared to the modes of payments. It's because it leverages the chip technology which offers protection through dynamic data technologies and encryption.
Furthermore, in contactless payments, the chances of the user losing a card are less since it never leaves the customer's hand when he's making the payment.
Contactless payments also eliminate fraudulent practices like "skimming" where employees steal the magnetic strip of the card to obtain card data.
Flexibility
Contactless payments offer utmost flexibility to customers since it's available in various forms such as key fobs, stickers, mini-cards, mobile wallets, etc. This reduces or eliminates the need for carrying physical wallet all the time.
Conclusion
It might be true that it's the fear of catching the virus that has compelled customers as well as retailers to adopt contactless payments. However, contactless payments are here to stay for long even after the fear of pandemic gets over.
This is because retailers and customers would choose contactless payments over other payment modes for its ease of use, convenience, and safety.
We mustn't be surprised if in coming years contactless payments become an integral part of our lives. This shift might also be a precursor that pushes human civilization towards a fully-fledged cashless society. But only time will tell if that ever happens.