The payment landscape has gone digital. Gone are the days of looking for cash in your pockets or even swiping up a credit card. According to a Juniper Research Study, the global number of digital wallets is going to increase exponentially by 2026 with a whopping 53 percent growth rate. In 2022, the figure was 3.4 Billion and it is expected to rise to 5.2 billion in 2026.
As more customers embrace these digital payment methods, e-wallet solutions are evolving from a new mode of payment convenience to an absolute necessity for customers and businesses worldwide.
Whether it's mega-retailers like Amazon rolling out their own branded apps or solopreneurs selling handmade crafts online, implementing e-wallet technology could be the competitive edge your business needs. When a business accepts payments through secure and reliable mobile wallets platforms like PayPal or Google Pay, it is directly going to cover the large mass of the population looking to make ewallet payments.
So, let's not get left behind in this new digital economy. In the blog post, we will discuss the importance of e-wallets in business, their key benefits, and some popular players in the market. We will also explore how you can implement an e-wallet solution into your business, some of the already implemented case studies, and the future of e-wallet solutions.
Key Benefits of e-Wallet Solutions for Businesses
Many retailers and service providers are adopting eWallet payment options due to the benefits they offer. Some of the key advantages of e-wallet that make them an essential part of the business are: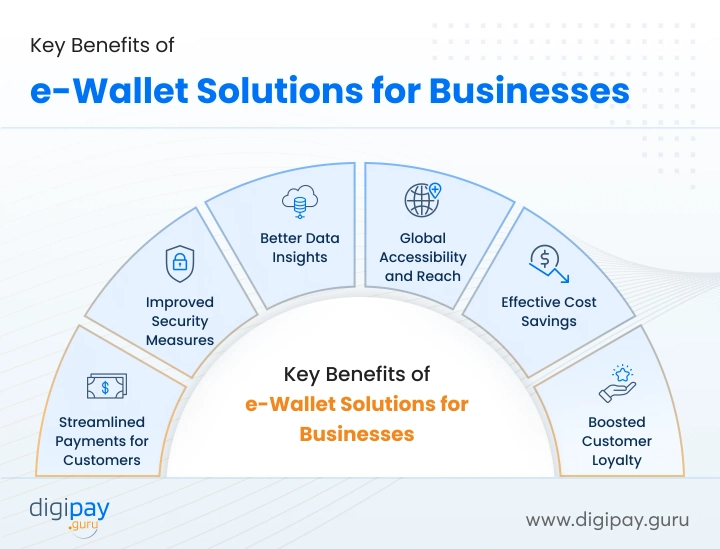 Streamlined Payments for Customers
Integrating eWallet checkout eliminates payment friction that frustrates customers. Instead of laboriously entering card details and billing info, eWallet users can finish transactions with just a click or tap. This simplifies the entire buying process and makes it hassle free thereby encouraging more frequent purchases.
Improved Security Measures
eWallets utilize advanced encryption, tokenization, and other measures to securely protect financial data shared with merchants. Customers can feel confident their payment information remains safe from compromise or misuse. This builds their trust in your business making ewallet development the right choice for you.
Better Data Insights
eWallets can generate valuable data and insights on consumer behavior and patterns. Knowing the spending and buying patterns allows businesses to better understand the customer for improved marketing and operations.
Global Accessibility and Reach
One of the advantages of e-wallet is that because eWallets are digital, they allow even small businesses to easily expand their customer base and sales worldwide. There are no geographic barriers to using mobile wallet payments. Tapping global markets is now possible for merchants of all sizes thanks to the digital nature of ewallet development technology.
Effective Cost Savings
Businesses that integrate eWallet payments can realize substantial savings on transaction fees and payment processing costs compared to traditional methods. Lower fees mean improved profit margins on sales. Enticing customers to adopt eWallet use results in ongoing savings.
Boosted Customer Loyalty
Providing a smooth, secure eWallet payment experience builds satisfaction and loyalty with customers is one of the major advantages of e-wallet. When checkout is easy and their data is safe, customers are more likely to purchase again. eWallets enable businesses to create the seamless omnichannel experiences customers have come to expect.
Some Successful e-Wallet Solutions
With the rise of mobile and digital payments, several e-wallet platforms have emerged as go-to choices for both consumers and businesses. Understanding the key capabilities of some of the best e-wallet solutions can help guide integration decisions.
PayPal - The Pioneer
PayPal pioneered mainstream e-wallet payments and remains the dominant choice worldwide. Users can securely link PayPal to their bank accounts, debit/credit cards, and mobile devices to easily pay online or in-store.
PayPal allows easy P2P transfers and provides robust fraud protection and purchase guarantees for extra security. The platform offers an affordable merchant plan with advanced analytics and sales tools. PayPal balance withdrawal to debit is instant.
Apple Pay - Seamless Mobile Transactions
Apple Pay is among one of the best e-wallet solutions integrated directly into Apple devices like iPhones, iPads, and Apple Watches. Users simply add eligible credit/debit cards and then authenticate payments using Touch ID or Face ID.
Apple Pay offers seamless tapping to pay in stores, in apps, and online. Its ewallet app development is that all the transactions are encrypted with dynamic security codes for robust protection. Apple Pay Cash also enables P2P money transfers between users.
Google Pay - Payments on Android
Google Pay is also one of the best e-wallet solutions and is the Android counterpart to Apple Pay, enabling contactless mobile payments via Android smartphones and tablets. Users can store debit/credit card info to pay in-store by tapping their device.
Online merchant integration is easy with Google Pay API. Google Pay also supports P2P sending or requesting of funds between users. As a globally popular e-wallet, Google Pay provides a recognizable, convenient option.
Implementing ewallet solutions into your business
With digitalization at its peak, convenience, and efficiency in payment become the need of the hour. And implementing ewallet solutions into your business can be extremely beneficial. This section is your compass to navigate the integration journey, breaking down the steps into a smooth implementation.
Assess Your Business Needs
Laying the groundwork starts with understanding of what your business truly needs. Scrutinize pain points, customer preferences, and areas that could use an upgrade. This insight becomes the cornerstone on which you build tailor-made e-Wallet solutions aligned with your unique goals.
Choose the Right eWallet Provider
Picking an eWallet provider is just like finding the right business partner. Delve into the options available, assessing their security features, user base, and compatibility with your business. Opt for the best e-wallet solution partner whose values sync with yours, ensuring a seamless partnership.
Integrating With Your Existing Systems
A puzzle piece that should fit perfectly – that's how eWallet integration should feel. Make sure your chosen solution harmonizes with your current ewallet payment systems, whether digital or physical. A frictionless transition ensures your staff and customers feel at ease from the beginning.
Educate Your Customers
Educate your customers through the mediums they frequently use, such as social media, emails, or even informative blog posts. Illustrate the advantages: from smoother transactions to enhanced security, painting a picture of a brighter future with eWallets.
Train Your Staff
Empower your workforce for a smooth transition. Comprehensive training sessions are non-negotiable. Equip your team with the know-how to guide customers and troubleshoot problems if needed. With proper training, the staff will be confident enough in handling the new ewallet payment system that will be reflected in their customer interactions.
Test and Optimize
Rigorous testing under diverse scenarios discovers potential glitches or bugs in the system, which will help you fine-tune the user experience for a flawless eWallet experience for customers.
Monitor and Analyze
Post-launch is where the journey truly begins. Monitor the eWallet's performance religiously. Metrics like transaction volume, user feedback, and engagement hold the key to understanding the landscape. You can find repetitive patterns, and areas for growth, & betterment.
Real-world Implementation Case Studies
Successfully integrating e-wallet solutions can transform customer payment experiences and business operations. Examining use cases across industries provides valuable insights for implementation.
Retail Industry Transformation
Major retailers like Starbucks and Walmart have adopted ewallet app development services to great success. Starbucks saw mobile payments surge in popularity after launching its own branded e-wallet app. Customers can pre-order, collect rewards, and earn free products all through the app.
Walmart Pay reduced checkout times significantly for in-store shoppers who linked cards for contactless tap payments. Retailers experience faster transactions, lower processing fees, and branded engagement with proprietary wallet solutions.
Seamless e-commerce Transactions
Online merchants integrating PayPal, Apple Pay, Google Pay, and other branded e-wallets into their checkout flows remove friction for customers. Shoppers can securely checkout quickly without repeatedly entering card information.
Data shows lower cart abandonment when e-wallets are offered. Square integrated Apple Pay and Google Pay into its online store builder, letting merchants enable mobile wallet payments easily.
Contactless Payments in a Post-Pandemic World
Health concerns around COVID-19 have increased demand for contactless payments using mobile wallet solutions. In surveys, many respondents switched to contactless for touchless and hygienic interactions while avoiding high-touch shared PIN pads.
Small businesses also benefited by enabling contactless e-wallet payments quickly. As consumers grow accustomed to touch-free transactions, e-wallets provide the experience they now prefer.
The future of eWallet Solutions
The eWallet revolution has only just begun. As more businesses adopt mobile and digital wallet technology, we can expect to see exciting innovations that further optimize and secure the payment experience. Let's see what the potential future for e-wallet solutions looks like.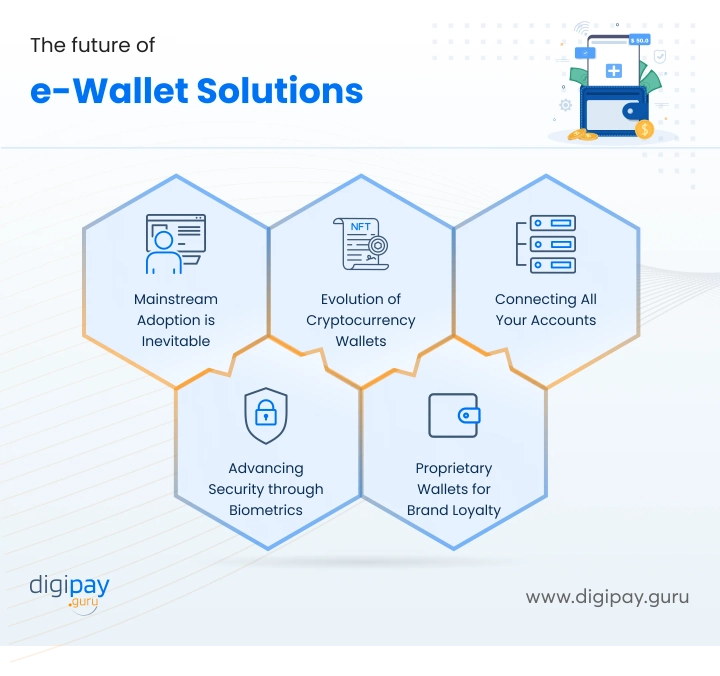 Mainstream Adoption is Inevitable
For consumers, the convenience and ease of eWallet solutions are incredibly appealing. As more retailers integrate the ability to pay with a quick tap or click, customer expectations will make eWallet usage completely mainstream. Soon, whipping out a physical wallet to pay will feel antiquated.
Advancing Security through Biometrics
eWallets will utilize advanced biometric authentication like fingerprint, facial, or even voice recognition for seamless, highly secure identification. This takes mobile payments to the next level, with authorization requiring a person's unique biological traits.
Evolution of Cryptocurrency Wallets
Blockchain-based cryptocurrency wallet solutions will emerge, allowing decentralized digital currency transactions. Paying via crypto wallets provides enhanced security, global accessibility of funds, and innovative features like smart contracts.
Proprietary Wallets for Brand Loyalty
More retailers will develop branded, customizable e-wallet solutions that integrate directly with their own payment systems. Features like free delivery for wallet users and targeted promotions will drive consumer engagement.
Connecting All Your Accounts
The most innovative eWallets will link credit/debit cards, bank accounts, loyalty programs, coupons, and more all in one place. This creates an integrated payment hub customized to each user.
Want to implement a bespoke ewallet solution into your business?
We, at DigiPay.Guru, constantly work dedicatedly to provide the best-in-class digital payment solutions to banks, financial institutions, fintechs businesses, and startups like yours. In that process, we have developed the most trusted and reliable eWallet solution for businesses.
It is a one-stop digital eWallet software solution designed to offer you extensive features that can help you cater to all your financial and fintech services. Your customer can perform all sorts of payments from billing to the top-up along with budgeting, expense tracking, multi-currency payments, and earn rewards & cashbacks.
If you are interested in such extensive ewallet services in one solution, it's the best e-wallet solution for your business.