A safe, simple, and smart way of managing your children's finances
DigiPay. Guru's smart parking platform offers better and more efficient way to facilitate and collect parking related payments.
This platform gives parking customers a convenient alternative payment option to coin-operated meters.
Challenges faced in traditional parking
DigiPay's
parking payment solution
DigiPay. Guru makes parking simple by enabling its users to seamlessly pay for parking spots in a jiffy. Users can download the app and create an account with their vehicle and payment information and then can start a parking session. Users receive a notification once the time has expired. Moreover, they also have the option to extend the session without having to return to their vehicle.
The drivers can park, pay directly from their smartphones. DigiPay helps millions of people to easily find and pay for parking on their mobile devices.
Major features of DigiPay's parking payment application
DigiPay's parking payment application comes with a plethora of critical features that makes yours and your customer's life easy.
How it works?
To park the vehicle, user first taps on the 'parking' icon present on the application's homepage. After that, the user adds his vehicle details such as vehicle registration number and many more. After adding the vehicle, the user searches for the nearby parking garages.
After the selection of parking garage , the user sets the parking duration and clicks on 'pay parking now' to initiate the payment process. The user can pay via NFC, RFID, or by simply scanning the QR-code. Once the payment process is concluded the user receives the payment confirmation on the app.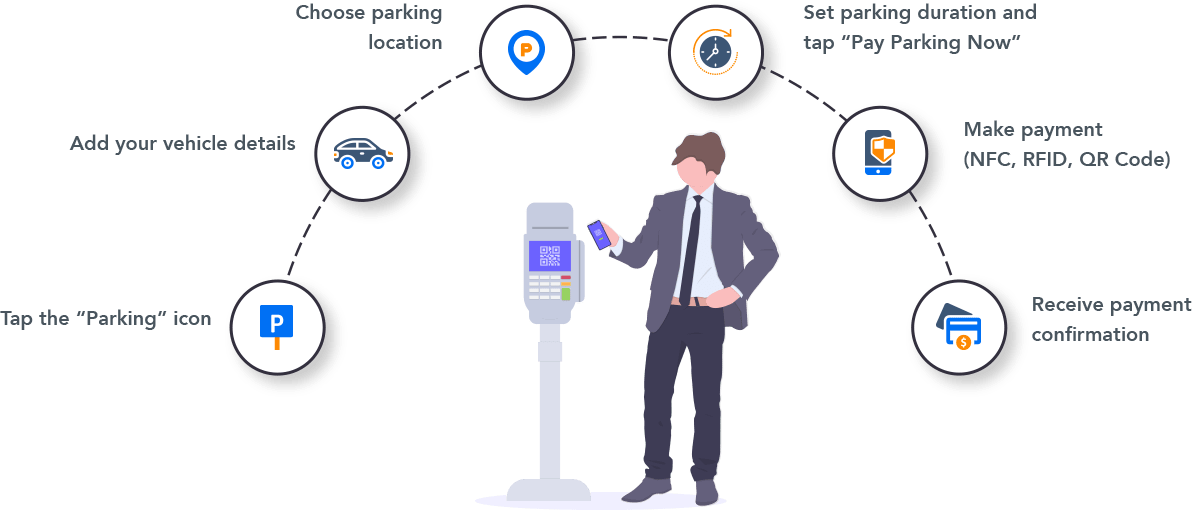 What can you achieve with DigiPay's parking payment solution?
What can you offer to your customers?
Additional features
DigiPay's parking payment system is not only limited to the payments. With the help of parking APIs, you can offer additional features such as:
Book your parking spot
Customers can easily reserve a parking spot by searching the area where they're visiting. They can choose the date/time to complete their reservation. This feature is dependent on the availability of the respective parking APIs.
Extend Session Time
In this feature, the customers receive an alert when their parking session is about to get over. Instead of running down the parking garage to feed the meter, the users can easily extend time directly from their phone. This is dependent on the availability of the respective parking APIs.
Park Now
In this feature, the customers can park by simply entering the zone number and the amount of time they want to park their vehicle. This is dependent on the availability of the respective parking APIs.
Look through your eyes of insight to our insightful thoughts
Digipay.guru is born to simplify financial transactions. We love discussing the latest FinTech Solutions. We write regular blogs where we cover insightful topics with our insightful thoughts to cater you with imperative informations.