mPOS Mobile Payments Made Simple!
Access mPOS mobile payments with an extensive range of administrative tools and resources, empowering your business to simplify growth & enhance the network in an easy & efficient way.
Streamlined Payment Processing
Experience effortless payment processing with a mobile point-of-sale solution ensuring seamless transactions and efficiency.
Effortless Card Acceptance
Easily accept payments via contactless cards and devices with advanced mPOS solutions to experience seamless transactions.
Enhanced Security
Empower your business with a robust set of security features to meet industry-leading security standards.
Unlock
mPOS Potential

for Your Needs
Get Started With These Simple Steps
DigiPay.Guru's mPOS solution is very easy to use. But, we're still here to guide you through it. The process involves
1
Merchant Initialization
The merchant taps the NFC card reading operation, enters the transaction amount, and taps on 'Request Payment'.
2
Customer Payment
The customer approaches with their smartphone, wearable, or card. The request is sent to the system and the acquirer Bank.
3
Transaction Confirmation
The mPOS solution receives a response on the successful transaction - 'Operational Successful'
4
Receipt Options
The customer can receive an e-receipt of the transaction via SMS link, or e-mail.
Merchant
Merchant-Friendliness
Get a simple infrastructure for payment acceptance reducing costs effectively. Also, it liberates merchants from location constraints, fostering innovation & adaptability in operations.
Mobile App
Feature-rich Mobile App
Elevate your business operations with a feature-rich mobile app for enhanced productivity & engagement. Cutting-edge technology streamlines the payment process, enhances user experience, and gives you a competitive edge.
Logistics
Streamlined Logistics
An mPOS solution to eliminate device-related expenses and optimize your operations effortlessly. Streamline logistics for smoother processes, reduced costs, and improved efficiency in your business.
Management
Enhanced Management Capabilities
An mPOS solution's with advanced management capabilities to elevate your merchant oversight. Take precise control over devices, thresholds, and usage for optimized efficiency and peace of mind.
Analytics
Real-time transaction reports
Get access to real-time transaction reports. Access comprehensive, up-to-the-minute insights into your transactions, empowering you to make informed, data-driven decisions for your business's success.
Multi-Device
Multi-device platform support
Discover versatility with mPOS solution's multi-device platform support. Whether it's smartphones, tablets, wearables, or card readers, get the flexibility to choose what works best for your business.
DigiPay.Guru's success over the years
Over the years, DigiPay.Guru has successfully delivered several customized and top-notch digital wallet solutions for its clients. You can get a glimpse of a few of those works here.
DigiPay.Guru has provided a dynamic e-wallet feature solution to its South African client
Coincidently, our client has the same name as ours. The only similarity that he lacks in the name is ".guru". Our client "DigiPay" is a leading e-wallet service provider in South Africa Ivory Coast backed by Digital Afrique Telecom (DAT).
South Africa
Explore more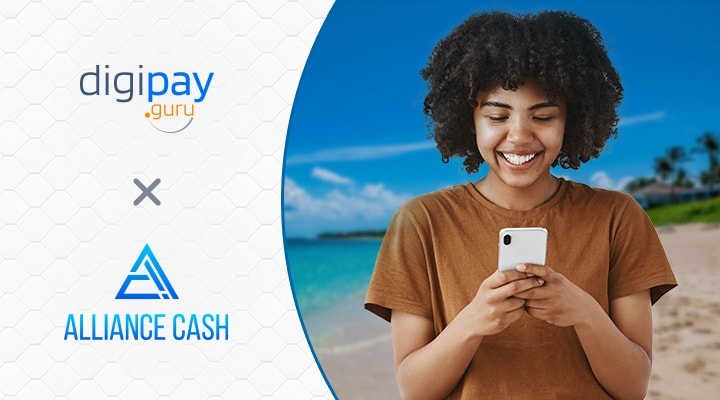 DigiPay.Guru provides a feature-rich digital wallet solution to its Bahamas-based client
Alliance Mobile Solutions is a FinTech startup based in the Bahamas. It aims to offer utmost ease and convenience in person-to-person transfer, bill payments, and merchant payment services via a robust mobile wallet solution.
Bahamas
Explore more
Look through your eyes of insight to our insightful thoughts
DigiPay.Guru is born to simplify financial transactions. We love discussing the latest FinTech Solutions. We write regular blogs where we cover insightful topics with our insightful thoughts to cater you with imperative informations.