Making payments seem easy as we do this activity all the time whether it's paying bills, rent, fares, tickets, and many more. But what if I tell you that you have to make payments to hundreds of people at once? Sounds difficult? Isn't it? Making payments to such a massive number of payees efficiently and without any error is a tough ask. This tough task is known as bulk payments.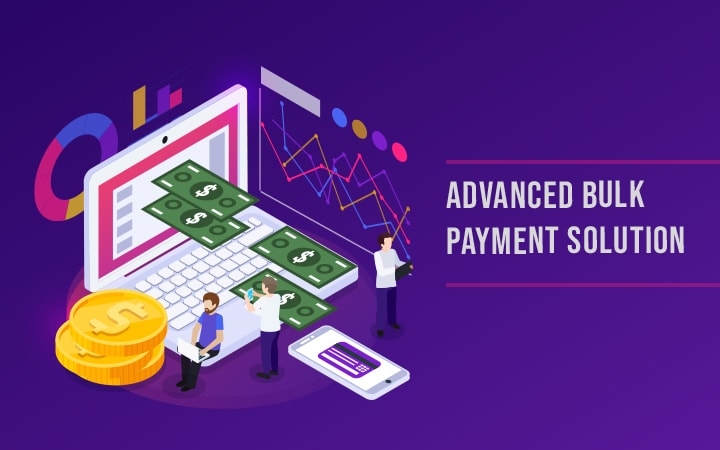 Companies and government authorities have to make bulk payments quite frequently. Bulk payments generally include commissions, payrolls, contractors, etc. This is exactly what makes bulk payments challenging because these types of payments must be devoid of any kind of error or delay since it's the livelihood of several people.
What are the different ways to make bulk payments?
Generally, there are three popular ways to make bulk payments:
Bank transfers (ACH)
PayPal
Card payments
Let's understand how bulk payments work all these three categories.
Bank transfers (ACH)
Bank transfers are the most common way of making bulk transfers. It has different names in different parts of the world. For example, in the US, it's known as Automated Clearing House (ACH). Similarly, in the UK it's called BACS or Faster Payments. They are also called SEPA Credit Transfers in the Eurozone Bank Transfers.
The major advantage of bank transfers is its speed and low costs. Another major advantage which bank transfer comes with is wide acceptance in Western countries. Almost everyone in western countries has a bank account. This makes it easy for the businesses to pay their employees as they know that the salary would be deposited directly into their bank accounts.
Bulk Payments with PayPal
PayPal is another popular means for making bulk payments. One major advantage of PayPal is its popularity. It has over 200 million active accounts worldwide. In countries like the UK and the US, around one-third of the population uses PayPal. Moreover, PayPal is also popular in the freelancer community as most of the freelancers prefer being paid via its services.
Few potential drawbacks for PayPal include the fact that users have to sign up into PayPal to receive payments. This might become a point of friction in the payout process. Another thing which might stop people from using PayPal for bulk payments is that the money doesn't get directly deposited into their bank accounts.
First, the amount is deposited to the PayPal account. The user has to then withdraw that money from his PayPal account into his bank account.
PayPal also performs various fraud checks for bulk payments and that's the reason why it takes around a couple of days for it to release the money.
Card payments
Generally, cards are meant to collect money from a customer instead of sending. However, there are some workarounds which enable people to send money directly to cards.
Refunds are an important exception which we must discuss. If a customer asks for a refund, then the merchant can send the money directly in their card. Few people use this functionality to send money to the card. However, it comes with a limitation you cannot send an amount which greater than the amount previously paid by the customer.
Why is the Bulk payment solution needed?
We all are aware of the fact that how technological advancements have changed the landscape of the payments industry. However, we still far away from becoming cashless society as paper check are still prevalent when it comes to payments of personal debts, vendors, employees, and customers.
Making bulk payments via paper checks is also time-consuming and expensive. And with the increased demand for bulk payments across the world, the need for a bulk payment solution that can perform real-time bulk payments has become more prevalent than ever before.
In the year 2019, the total number of users who made transactions using mobile wallets were 2.07 billion. This huge number clearly indicates that digital payments are no longer a luxury but an expectation. And this shift is also anticipated in the bulk payments methods as well.
Bulk payment software is a one-stop solution to overcome all the challenges associated with bulk payments. It can deliver secure and fast payments by simplifying the time-consuming task associated with the payments of a large number of employees and consumers.
Benefits of bulk payment solutions
Bulk payment solutions are a boon for businesses and employers who have to make payments to a massive number of people and that too on a frequent basis. Bulk payment solution brings a digital approach with real-time tracking and reconciliation which enables every faction to track their payment status at each step of the process.
Bulk payments software optimizes bulk payments by streamlining time-consuming processes, enhancing customer satisfaction, and reducing operational overhead. These are not the only benefits of bulk payment solutions. Let's have a closer look at some of its other benefits as well.
Cost-effective
Deployment of bulk payment solution is highly cost-effective as it reduces the cost associated with issuing physical prepaid cards or sending checks. Apart from bulk payments also offers businesses with the flexibility to change their payout options depending on the various requirements of different use cases.
With this flexibility, businesses can strike the perfect balance between optimizing and enhancing customer satisfaction and managing costs.
Quick payment disbursement
If you own a company that has employers in thousands and is still using checks for payments, then you must understand that you're spending a massive amount of time in the payment process. With the help of bulk payment solution, you can save your precious time by replacing the cumbersome process of issuing paper checks with an efficient and streamlined workflow.
Less prone to errors
Managing a massive number of payments is very difficult as it's highly susceptible to errors. However, it's also an essential task so businesses and the governments simply can't avoid it. This is where bulk payment solution comes as a saviour as it enables businesses and governments to execute bulk payments with zero errors.
High manageability
Any person who owed money would like to get their money back in their bank accounts as soon as possible. Moreover, this urgency increases by many folds in cases like salary disbursements, insurance claims, etc. Bulk payment solution reduces the time consumed in the paper checks or cash transfer and ensures that all those stakeholders get their money in quick time.
Conclusion
Over the past decade, the introduction of technology in businesses has given birth to the on-demand and gig economy. This has also made the payments of these marketplaces way more complex than before. In such times, bulk payment software has emerged as a one-stop solution for the complex payment demands.
If you own a business where you have to manage a massive number of payments on a frequent basis then get DigiPay's next-gen Bulk Payment Solution which comes with all the cutting-edge feature. With this one solution, you can manage bulk payments for loan disbursement, payment to suppliers, employee payment, insurance claims settlements, dividend payments, etc.