Did you know? The first move towards cashless payment was a credit card. Credit cards came into existence in the 1990s. In the same decade, the electronic banking system became common in daily life. Then after the global financial crisis of 2008, at the start of 2010s digital payments started spreading in many countries.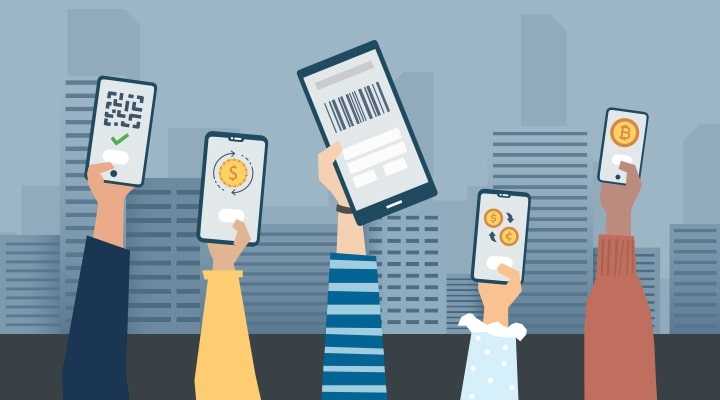 Some of the popular digital payments at that time were payment intermediaries like PayPal, Digital wallets like Apple Pay, banking, and electronic cards. All these were accessible through smartphones.
And today, it's pretty evident that no one wants to carry cash until it's mandatory to pay in cash someplace. Everyone wants to reap the benefits of cashless payments. However, cash still has its significance in many places as the world is still in transition towards a cashless society.
The latest study by Statista gives the number of cashless transactions worldwide by region, year-on-year from 2013 to 2023. The stat clearly shows an increasing graph of cashless payments in every region which means that slowly but surely the world is shifting towards cashless.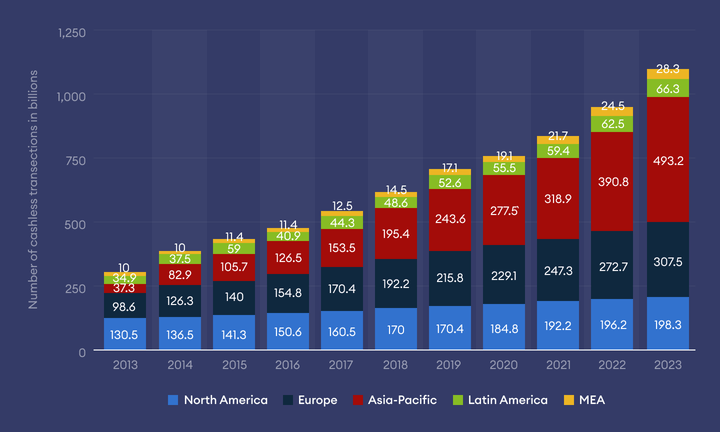 The study also shows that the most cashless regions in the world are Asia-Pacific and Europe, followed by North America, Latin America, and MEA, in that order.
Apart from this, in another study by The Guardian, as of 2020, in the UK, there were only 17% cash transactions, down from 45% in 2015, and 56% in 2010. This stat is reason enough to believe that cashless payments are the new normal.
In this blog, we will discuss what a cashless society is, the benefits of cashless society, its major types, and use cases across various countries.
What is a cashless society?
A cashless society is a system where all payments and transactions are made digitally rather than using bank notes or coins. Here, people rely on electronic payment methods like credit/debit cards, mobile payments, and online payments for making purchases or conducting financial transactions.
A cashless society can also be called a society using less cash. In this society, physical currency or cash is used less frequently and may eventually become obsolete. The more people use cashless payment modes, the stronger the cashless society will become. This will eventually lead to economic development and financial inclusion on an extended scale.
There are many types of cashless payments in today's world. So further in this blog, we will discuss the most prominent types of cashless payments across the globe.
Which are the prominent types of cashless payments?
Credit/debit Cards
Credit and debit cards are one of the most convenient modes of cashless payments ever since it was invented. Rather than paying in cash for goods and services, the user can use a credit or debit card to make payments without cash. This can be done in person, by card swiping or inserting the card in the card reader, or it can be done online, by adding the card details to the website/app's payment page.
Credit/debit cards can be used to make payments in retail stores, restaurants, online stores, gas stations, salons, health care, and many more. The most popular credit and debit cards are Visa and MasterCard.
Read More: Top digital payment trends for 2023
Mobile wallet apps
Mobile wallet applications are quickly gaining traction due to their fast, secure, and convenient cashless payment methods. These apps allow users to store and manage credit, debit, and other payment cards digitally. The mobile wallet app allows users to send, receive, and store money. It also provides storing and redeeming loyalty rewards, coupons, and other offers.
The user can add or store money in his wallet by simply linking his bank account. Also, a user can send money to his friends, relatives, or any other person by entering a phone number, email ID, or unique ID or scanning a QR code.
Moreover, a user can also make payments to merchants and pay various utility bills like water bills, electricity bills, mobile recharge, and many more directly from the mobile wallet app.
Some popular mobile wallet applications include Apple Pay, Google Pay, and Samsung Pay.
Mobile banking applications
With a mobile banking app, you can check your account balances, pay bills, transfer money, and perform much more banking activities, all from your mobile device. This eliminates the need to visit a bank branch or ATM in person, making it easier for users to manage finances on the go.
Mobile banking apps also include features like person-to-person (P2P) payments, which allow users to send money to a friend or family member directly from their mobile device. This can be a convenient alternative to using cash or checks for small transactions.
In addition, some mobile banking apps allow you to make purchases or payments to merchants that accept mobile payments, thereby reducing the need for cash. Today, almost every bank has mobile banking apps in developed countries. Also, developing countries are almost hand-in-hand with developed ones in adopting the same.
Virtual cards
Virtual cards, also called digital cards or virtual payment cards, are a type of payment method that allows you to make online purchases or payments without using a physical card. Instead of using a physical card, you can use a virtual card by providing the card information, such as the card number, expiration date, and security code, during the checkout process.
There are varied benefits of virtual cards. It offers a convenient and secure way to make payments online, which can help to reduce the need for cash, hence promoting a cashless society.
QR Code Payments
QR code payments are one of the most popular mode of online payment. It uses QR codes to facilitate transactions. A QR Code is a two-dimensional code that has a pattern of black squares which are arranged on a square grid. This code can be scanned with a smartphone or other device to access information or make a payment.
QR codes are widely used for making cashless payments in which a user just has to scan the QR code of the merchant service to complete the transaction.
NFC or Near Field Communication for payments
NFC, or Near Field Communication, is a technology that allows users to make payments to devices in close proximity of a few centimeters. NFC can be used for a variety of purposes, including contactless payments, ticketing, and access control.
NFC is a convenient and secure way to make payments. With NFC payments, a user can simply tap their phone or other NFC-enabled mobile phones against a point of sale (POS) terminal to make a payment, eliminating the need for cash or physical card payments.
NFC payments are becoming increasingly popular and are being accepted by numerous merchants, making it easier for customers to use this payment method. In addition, NFC payments can offer an additional layer of security, as they are encrypted and require a secure connection to process the transaction.
Users can make payments via NFC-enabled phone at various places such as:
Read more: Know all about NFC payments
Unstructured Supplementary Service Data (USSD)
Unstructured Supplementary Service Data (USSD) is a cashless payment for those who don't have a smartphone or proper access to traditional banking services in their location. The USP of this method is that the user can make payments without a smartphone or internet.
USSD can be used for cashless payments by dialing *99# to initiate a financial transaction. When a user dials this code, he reaches an interactive voice menu via mobile phone. The transaction is then completed by following the prompts sent back via USSD. However, to use this service, the user must ensure that his mobile number is linked to the bank account.
With the help of USSD, users can make payments, transfer money, top-up mobile phone credit, and much more.
Electronic Clearance Service
An electronic clearance service (ECS) is a type of electronic payment system that is used to facilitate the transfer of funds between banks. ECS is widely used for making bulk payments, equated monthly installments, paying off utility services, and disbursing payments like dividend interests, pensions, and salaries. ECS can be used for both credit and debit services.
ECS allows the transfer of funds between bank accounts without needing physical cash. It is a convenient and secure way to make payments, as it can be set up on auto-pay and can be easily tracked.
To initiate this service, authorization has to be provided by the bank for making periodic credits and debits. ECS is a safe method as you can provide instructions for the maximum sum of debit, the validity period, and the purpose of the transaction.
POS and mPOS systems
Point-of-sale (POS) systems and mobile point-of-sale (mPOS) systems are electronic payment systems used to process transactions at retail locations. POS systems are installed at a fixed location, such as a checkout counter, while mPOS systems are portable and can be used with a mobile device, such as a smartphone or tablet.
Both POS and mPOS systems provide a variety of payment options such as credit/debit cards, mobile payments, mobile banking, wallets, QR code payment systems, and many more. The m-POS system is more suitable for small businesses as it reduces the cost to install POS terminals.
Moreover, both these payment systems are safe, secure, and convenient to use, which makes them the essential type of cashless payment.
Benefits of moving to a cashless society
Now that we are aware of the most prominent types of cashless payments, let's know what are the benefits of moving towards cashless.
Convenient and time saving
Cashless payments are done without the need for cash or traveling to a bank or ATM. So it is very convenient to use and can be done from anywhere and saves users time as everything is done online through a smartphone.
For merchants, it reduces the time of payment processing to their account as the payments are received directly in their business account from cashless payment methods like mobile banking, QR code payment, NFC, and many more.
Reduces costs and risks for businesses
Cashless payment systems can reduce business risks by providing increased security, speed, and record-keeping, as well as improving customer convenience and facilitating international transactions. These systems offer multiple layers of security to prevent unauthorized access, fraud, or theft. Moreover, it also reduces the costs of security systems for withdrawing cash from the bank, transporting, and counting.
Facilitates faster transactions
Making cash payments is time-consuming for customers as well as merchants or employees. With cashless payments, customers can simply swipe their cards, enter a PIN, or use a mobile payment app to complete a transaction. This makes cashless payments faster and more efficient.
For businesses, the adoption of cashless payment methods helps them receive funds in their account much faster by eliminating the long payment processes.
For example, Atlanta's Mercedes-Benz Stadium is a company that decided to go cashless and found out that it resulted in faster transactions, lower waiting times, and reduced end-of-day reconciliation time.
Cross-border payments become easier
Whenever someone visits a foreign country, they need to buy foreign currency. However, with cashless payment solutions, they don't need to do it any longer as they can make transactions directly from their cashless payment apps according to the currency exchange rate.
Moreover, cashless payment systems make cross-border payments easier by facilitating automatic currency conversion, reducing fees, and increasing speed, security, and accessibility. These systems are more convenient, cost-effective, and secure than traditional methods of cross-border payment and can be accessed from anywhere with an internet connection.
Easy data collection and record-keeping
With cashless payments, when users make any payment for the purchases of goods or services, it gets recorded online, in the payment apps' system. These records can be easily stored and accessed for a variety of purposes, such as accounting, tax preparation, and business analysis.
Also, it helps the government to easily track the movement of money. And businesses can use the collected data for innovation and improvement in their services and experience.
Fights corruption efficiently
As discussed earlier, as all the transactions performed are cashless, there is a record of every payment that happens digitally. Be it a QR payment or mobile banking transaction, everything is on record. This builds an environment of transparency in the flow of money for the merchants, customers, and the economy.
Generally, bribery and other corrupt activities happen in cash. With a significant shift towards cashless payments, the need for cash is minimized, and the chances of corruption are reduced.
Minimizes crimes and fraud
Cashless payments come with multiple security layers, such as OTP, PIN, tokenization, biometric authentication, 3DS, and PCI security standards. These security layers minimize the risk of fraud as the fraudsters find it very difficult to enter into the payment process framework.
Also, as all the transactions can be tracked, it's easier to identify suspicious activities and flag them immediately. And the customers do not carry cash due to these payment options, so the risk of money theft also reduces.
Promotes better money management
Cashless payment methods like digital wallet apps allow users to track their transactions and expenses and to formulate a spending budget, category-wise. This allows them to be more thoughtful towards their money. In addition, there are many other cashless payment systems that offer budgeting tools, thus the user can manage their finances in a better and more efficient way.
Countries that are close to being a cashless society
With digital payment trends promoting cashless and its numerous benefits, many countries have managed to reach a closing point of being a cashless society. Here are some examples.
Sweden
It was the first country to issue banknotes, but it has now become the most cashless society in the world. This is due to the high percentage of citizens owning debit and credit cards (over 98%) and the widespread use of mobile payments in the country. In addition, there are only 32 ATMs per 100,000 people in operation. As a result, Sweden could potentially become one of the first countries in Europe to fully eliminate the use of banknotes.
China
In 2020, the Chinese finance ministry unveiled a pilot program for the digital Yen. Under this program, they provided thousands of citizens with money equivalent to US$40 to spend in an ewallet to test how well a Chinese digital currency can function. By February 2022, the experiment had collected data for two years and had processed around $13.68 billion worth of payments.
Moreover, for a long time now, Chinese residents have relied on Tencent's WeChat Pay and Alibaba's Alipay over cash. Thus it's expected that the country will aim to become entirely cashless in the coming years.
Finland
Finland is accelerating towards a cashless future and could even overtake its current European rivals on the leaderboard. Currently, Finland is ranking high in so many aspects of cashless. Finland ranks second to Ireland in the use of credit/debit cards, with 98% of citizens having debit cards and 63% having credit cards.
In addition, it stands in the fifth position in eCommerce spending as a percent of GDP and 3rd position in the adoption of online banking. Even the Bank of England predicted that Finland will become completely cashless by 2029.
Norway
According to the Global Economy study, 98% of Norway's citizens have embraced debit cards. Also, a study by Norges Bank shows that only 4% use cash for point-of-sale payments. The study also says that there were around 2582 million card transactions through Norwegian payment cards in 2021.
Apart from that, most locals in Norway pay for everything with credit cards or digital payment solutions like Apple Pay. The above points show how Norway is moving rapidly towards a cashless society and is about to be cashless soon.
Want to help your customers go cashless?
DigiPay.Guru provides your customers with an outstanding digital payment experience with our cashless payment solutions like digital wallets, QR code payments, mobile banking, contactless payments (NFC), virtual cards, POS, and mPOS.
We aim to help you become the pioneer of a cashless society and increase your revenue by providing an end-to-end solution to manage all payment needs with our advanced mobile money solutions. If you are a business or merchant looking to deliver a cashless payment experience to your customers, get in touch with our digital payment experts.