The world of digital payments is changing. People are shifting towards simple and automatic payment processes. The QR payment technology is making lives easy for customers, businesses, banks, and financial institutes. You can find a QR code everywhere you look. It is at restaurants, airports, tickets, documents, and much more.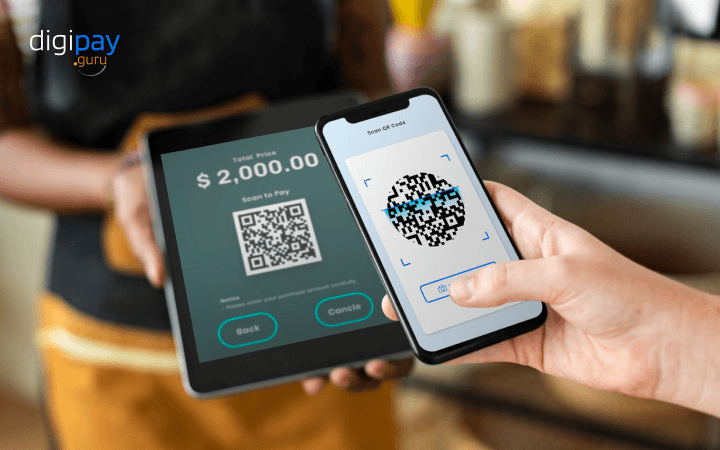 According to a study by Business insider, in the US, the number of mobile users scanning the QR code will increase to 99.5 million by 2025 up from 83.4 million in 2022. As generally, every smartphone's camera can Scan a QR code, this number is most likely to increase.
Why do banks and financial institutes need QR codes?
Seamless Payments and Transactions
A few years back, QR Code payments were not the payment method that was preferred due to slow internet, minimal usage of smartphones, and overall usage. However, now the scenario has changed. The future of digital payments is contactless. QR codes are making it possible.
Be it online transactions, paying bills, or processing international payments, QR codes make it simple and easy. You can create a unique QR code or a code for a POS terminal for your customers, for online payments. This makes the payments quick and effortless.
The best examples of easy payments through QR codes are Apple Pay, PayPal, and Venmo.
Offer seamless mobile money transactions to your customers anywhere.
Enhanced Security to the Customers
Security breaches in payments are increasing and still prevalent in digital payments. So, banks and financial institutes constantly keep working on maintaining secured digital transactions for their customers. QR codes can secure your customer's information and payments.
QR codes' end-to-end encryption feature keeps the money involved in the transaction safe and secured. As the transactions are in the customers' hands to make, their personal information and bank details remain secured at all costs. Your customer can also access their bank accounts, and withdraw money via QR code.
The best example of this is Singapore's OCBC bank's QR code, which can be used as an alternative to ATMs and PINS
Quick and Easy Loan Processing
A faster loan process was too good to be a true statement in the past. There was a time when people had to wait for weeks or months for loan processing. But, QR code's advanced technology can fasten the loan processes for the customers.
Nowadays, many banks and financial institutes are adopting QR codes for loan processing and approving loans to enhance the customers' experience. The loan applicants can access the necessary documents, submit the documents, fill out the forms, or keep track of the loan application status through one single QR code.
The best example of this is India's Bharatpe QR codes, as they offer loan application, processing, and repayment by the way of QR codes.
Customers Can Retrieve Bank Statements Instantly
Bank statements are required for keeping the track of finances, and verifying the income source and net worth. The customers have to be responsible to retrieve the physical statements from the bank. This can be time-consuming for customers as well as banks.
You can create a unique password-protected QR code for your customers for accessing bank account statements. This makes the retrieval of statements an instant and seamless process for your customers.
For example, America's chase bank provides QR codes to customers to retrieve their bank statements
Enhancing the Customer Experience
Advancements in QR codes can enhance the customers' experience of digital payments by making it a touchless and seamless experience for their customers. The ATM habits of customers have started changing with the introduction of QR codes for ATMs.
QR codes are the best digital payment option to improve customer experience in the banking industry. It is creating a truly touchless experience for the customers by integrating ATM with the use of API tech and microservices. This has the potential to essentially transform the QR payment landscape.
For Driving Customized Marketing
There are many times when banks or financial institutes organize a limited offer or some promotional events. The main motto of such events is new customer onboarding in banks or enticing existing customers to buy their new products. But for this, they have to make changes to their web pages which can be time-consuming.
By creating a unique QR code and sending the link to the offer or promotion you can drive customers to your product or service without that extra hassle.
Digitalized Processes
QR codes are the best Scan and thru solution to minimize your usage of printed papers and documents required in the deposit and withdrawal of money in loan applications. You can create a QR code where customers can scan and easily fill out the editable forms digitally.
For example, Paytm has a complete digital presence and uses QR codes for many transactions.
Digitize your enterprise startups and businesses with our top-notch payment solutions.
How are small vendors benefiting from QR Codes?
In the past years, QR codes have proved to be one of the best online payment solutions for small businesses. There are so many benefits of QR codes for small businesses.
Reducing the Setup Cost
With technological advances, even small vendors need to upgrade their payment methods for keeping up with the competitors, and for customer satisfaction in these fast-pacing markets. But, setting up payment methods like POS terminals can be costly for small merchants and vendors.
With the advent of QR codes, this problem can be easily eliminated. Setting up QR codes is very affordable and simple. So the vendors can create a code, print it, and put it up at their store or shop. Their customers can use this scan to pay QR codes to make instant purchases.
Acquiring Customers
Since digital payments became common, not everyone carries cash all the time. So, when the small vendors set up the QR codes for their store or shop, they make their way to every customer with cash as well as digital payment options on their smartphones.
Be it a small stall, a shop, or a store, with a QR code feature, the customer footfall increases a lot. For example, an ice cream stall owner with a QR code option will increase sales because of the multiple payment modes available. The QR codes can support multiple financial institutes and wallet apps.
Convenience for both the parties involved
While visiting a store or a shop, there are many instances when customers do not have the change of small money to pay and may only carry a higher denomination of cash.
Also, the small vendors generally receive payments in small amounts. So, they may have to wave off a certain amount of money and incur losses. This becomes inconvenient for the small vendors as well as their customers.
But, with the incorporation of QR codes, their customers can directly pay the exact amount payable. So, it becomes suitable for both parties to finish the transaction without any stress of cash or loss.
Easy Usage
Many small vendors were hesitant to start using the QR codes and wallets at first. But during the covid time, people were afraid to make payments in cash. So, various vendors started doing contactless payments during covid.
This influenced other vendors too and they followed the trend. Now even a small tea stall around the corner of the street has QR codes.
It is free and simple to use for all shop owners. All they have to do is just paste the code in an area visible to everyone, and keep a check on their phone after their customers make the payments and everything is done.
Final Thoughts
With ever-increasing digital fintech solutions, the demand for scan-to-pay contactless payment is also increasing. Every big and small merchant or bank is using and promoting the QR codes. The easy, simple, affordable, and most accessible payment mode that has ever come into the digital payment world is QR code payments.
This payment solution is more facilitated because of the wallets integrated with it. These wallets are linked with banks and are made available by financial institutes. So ultimately everyone, using QR codes is acting as an added advantage for banks and financial institutions.