The banking industry has undergone many changes in the last three decades. The cutting-edge competition, ever-changing banking landscape, and over-the-roof customer expectations are the primary reasons the banks have pledged themselves to customer experience transformation.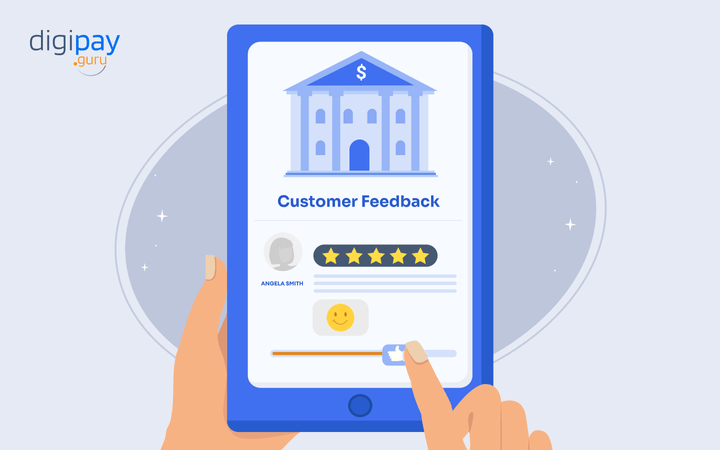 Customer habits have constantly been changing. They change daily, and with customers expecting frictionless and instant access, banks and financial institutions must consistently keep up with the latest trends to tend to their customers promptly. Customer experience in banking is essential to every strategic approach to meet customers' demands. And this isn't limited to just the banking industry.
What is customer experience (CX) in banking?
The customer experience (CX) in banking is nothing but the efforts employees, along with the banks, put into making every customer important while tending to their needs. This customer experience can either get better or worse depending on how the customer feels after receiving a service or along the journey.
Due to this, almost all major banks are pouring enormous resources into transforming their customer experience. But results are not always positive. From opening a savings account to transactions and ongoing support, various services can affect a customer's experience.
What are the customer expectations from banking institutions?
Apart from a smooth service, customers expect their banking institutions to understand their particular requirements and needs and offer them customized offers. In 2022, customer experience technology has reached a level that can make or break companies, and customers no longer look at their experiences in an industry silo.
Regardless of the country or continent, customers expect their banks to create an experience that encourages their needs, builds trust, provides tailor-made services, and exceeds their expectations.
Below are the top customer expectations that they expect from a digital banking experience.
Easy accessibility
Regardless of the type of service or need, a customer should not search where the nearest branch is and run towards it. Banks should provide their customers with ease of use through digital platforms so that they can access services anywhere, anytime, such as branchless banking. Bank of America has 30 million active mobile internet users.
Empower financial inclusion with branchless banking
Real-time assistance
Of all industries, customers of the banking industry need more real-time assistance. Almost 50% of customers say instant customer support is vital in building customer loyalty. Banks can seamlessly provide real-time assistance using chatbots, AI-ML tools, etc., to up their support game.
Personalized services
No two customers' requirements are the same. Customers always look for customized and tailor-made services and products that match their current requirements. By identifying the critical business drivers, banks can seamlessly offer tailored support that will assist in shaping the customer experience.
Data security
Especially for banks and financial institutions, data security is one of the crucial aspects. No matter who your customers are, they want to feel secure and safe as they share sensitive information with the bank. Banks should build trust to retain a healthy, long-term customer relationship.
Customer experience trends in the banking industry
World Retail Banking 2020 Report - 57% of customers choose internet banking over traditional post COVID.
Accenture Banking 2020 Report - 30% of customers changed their banking institutions last year due to better services, high-quality customer support, and competitive rates.
Accenture Banking 2020 Report - 61% of customers expect to have online access for any queries or interactions throughout the customer lifecycle.

Capgemini World Retail Banking Report -

37% of banking customers trust that banks understand their requirements correctly.
Salesforce - 66% of customers are willing to pay more for a great customer experience.
Now that we have seen what customers expect from the banks, let's dive into trends that help banks improve the digital customer experience.
8 ways to improve customer experience in banks
Offering a top-notch customer experience is no cakewalk, especially in today's modern era. Customer experience is more than enabling customers to open a savings account. Providing customers with a flawless customer experience might not be so simple for banking institutions will all the ever-changing requirements of the digital transformation era. So what can be done by banks that can improve the customer experience?
Proactive engagement for improved financial management
Instead of providing customers with the same old location-based offers, banking institutions should be able to assist customers with compelling insights so that they can avail products and services faster than ever. But how to help customers with proactive customer engagement?
Educate customers : Educate your customers on your comprehensive range of products and services and what makes them different and better from their competitors.
Notify customers : Let your customers know the status of their loan status, credit card application, or any other related service. Keep them up to date about all their banking transactions.
Questionnaires and surveys : Collect feedback and reviews from time to time to identify and understand the gaps between expected service and perceived service.
Offer live assistance
Providing support in real-time is a fantastic way to get an in-depth understanding of your customer's experience. One example for live assistance is video KYC. Real-time assistance can help banks in:
Identifying even the most minor and insignificant issues
Understanding how to enhance the customer journey
Finding the pain points of customers and issues they are facing with the bank
Knowing your customers better
Understanding the customer's experience through their journey can help banks identify the touchpoints and provide better customer support consistently. You can offer live assistance to your customer using cutting-edge tools so you can solve most of their problems right then and there.
Utilization of chatbots and Artificial Intelligence
Your customers may forget anything but not the assistance they received in real-time. According to Gartner, 85% of banking institutions use AI and chatbots for customer engagement.
Lately, the usage of chatbots and Artificial Intelligence is found not only on digital platforms of banks but also in numerous businesses across the globe. A chatbot is the best and most effective media that banks and financial institutions can deploy to streamline and automate their simple tasks.
For instance, mobile banking, checking savings account balance, last three transactions, credit card bill payments, digital money transfer, etc. Human interaction is not required for most of these activities. Chatbots can handle basic conversations to minimize the number of support requests and enhance team efficiency.
Omnichannel customer experience
From websites to mobile applications, modern-day customers prefer a variety of channels to connect with banks and perform banking operations. Studies say 73% of global customers use online banking at least once a month. Whether offline or online, banks should provide consistently superior customer service across all channels.
Offering an omnichannel customer experience is all about making the same services and products available to customers regardless of the platform or channel.
Understand the customers' journey
When will you be able to offer unparalleled customer service? Only when you know what your customers go through throughout their journey. Then how to provide a superior customer experience? The answer is an end-to-end customer journey.
A customer journey is a bunch of experiences that customers go through while getting services from the bank or interacting with the bank regarding a service or product for a period of time. Understanding customer requirements, challenges, etc., at each stage of the customer journey will help you identify the areas of improvement and improve customer service, therefore, better customer experience.
Leverage big data and analytics
Numbers don't lie. They never do. Enhancing your customers' banking experience requires understanding what they want and their expectations. For this, banks need to gather as much information as possible.
With the help of analytics, banking and financial institutions can gain actionable insights to bifurcate customers, evaluate opportunities, and analyze current models to improve interactions and enhance the customer experience of digitized banking services.
Customized customer experience approach
Nobody cares about general services these days. Personalization is everything. In the end, it's all about delivering value to customers. Identifying customer needs is a critical part of delivering customized services. Banks can use offline and online channels to offer better banking services to their customers.
Transparency and security as ultimate CX tools
Not being transparent about a policy or a failed security measure can bring your bank down. Your customers should feel valued and confident. And maintaining 100% transparency about terms and conditions or providing that extra layer of security to the financial details can build trust and reliability in customers. As a result, your customers will turn into brand ambassadors to recommend your products and services to others.
Read More: Strengthening data and payment processing security
Closing thoughts
Unmatched customer experience cannot be achieved in a day or two. Neither can it be accomplished after making a sale. Providing a great customer experience is not a destination; it's a continuous journey.
By constantly understanding the various areas of customer experience, banks can develop effective and efficient customer engagement strategies and approaches that minimize the gaps between expectations and reality. In other words, the customer experience in the banking industry has a lot of untapped growth potential. And there are disruptive technologies and tools that banking institutions can leverage to deliver a better customer experience.