Cutting-edge technology and evolution in FinTech sector have completely transformed the way banks operate today. It has made banking simple, convenient, and fast for users by digitizing most of the banking operations.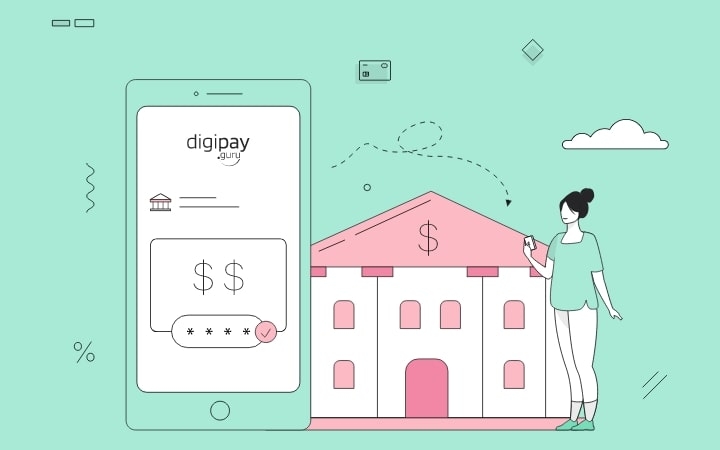 The impact of technology on traditional banking has been something of a mixed bag. On the one hand, Neobanks are posing existential threats to the traditional banks. Whereas, on the other hand, mobile banking is helping banks to streamline their workflow, increase efficiency, reduce costs, and get access to wider audiences.
Mobile banking is surely a win-win for both banks and users. Below are a few stats that show the prominence and potential of mobile banking:
82% of bank clients believe that mobile banking applications can help in improving their financial state.
41% of Americans said that mobile banking apps have minimized their concerns about managing finances.
Around 23% of millennials use mobile banking apps on a daily basis.
Around 49.2% of total mobile phone users use mobile banking apps.
62% of respondents said that they would like to see loyalty programs in mobile banking applications.
Not only users, but mobile banking has also been beneficial for banks. And in this blog, we are going to discuss the same. But before we deep dive, let's understand the history of mobile banking.
History of Mobile Banking
The history of mobile banking goes back to the late 90s and early 2000s when the internet just began to gain popularity. Before the enablement of mobile web services in 1999, mobile banking was also referred to as SMS banking as it was operated primarily through SMS or text messages.
At that time, only a few large banks like Wells Fargo and Wachvia began to offer mobile banking services on their websites which helped their customers to view their account balance and find the nearest ATM.
Mobile web and SMS banking were the most popular mobile banking products until 2010. After that, the rise of smartphones with Android and iOS operating systems gave birth to mobile banking apps which revolutionized mobile banking forever. There were also many other factors that resulted in the evolution of mobile banking which we will discuss later.
Mobile banking apps offered unprecedented convenience to their users by enabling them to access major banking services directly from their smartphone. Furthermore, it offered high convenience with the help of improved transactional abilities and sophisticated interfaces.
Even today, many banks and financial institutions leverage mobile applications and SMS to notify their users of their various account activities which includes alerts for potential frauds and updates regarding maintenance.
How mobile banking works?
Mobile banking operates over multiple platforms. But SMS service is the most basic use of this technology. In this, customers can send a predefined text code as a request to a number specified by a bank.
Once the request is received, the bank replies accordingly. One major benefit of this feature is that it works across the mobile device, model, and network carrier. This is beneficial for those users who lack access to smartphones and internet connectivity.
IVR (Interactive Voice Response) is another facility that mobile banking offers to its customers. In this, banks set up a helpline number which consists of an electronically stored menu of options. These options can be accessed via text-to-speech format by simply pressing the number on the mobile keypad that corresponds to the service. However, IVR is only used for emergency assistance and enquiries.
There's also Wireless Application Protocol (WAP) which is similar to internet banking system for mobile web browser. The major advantage of WAP is that users can use all the services without downloading any software.
Then, at last, there's a mobile banking application that is highly customizable and secure. This application enables users to access several banking services directly from their smartphone.
Factors causing the evolution of mobile banking
As discussed earlier, mobile banking had already become a reality in the late 90s. But then it saw rapid evolution and adoption due to the combination of the factors mentioned below:
Increased penetration of smartphones
Over the years, smartphones have become an important part of all our lives. The application of a smartphone is no longer limited to making calls. Today, we use smartphones for sending/receiving text messages & emails, use social media, browse on the web, and perform numerous activities by downloading various mobile applications.
According to Statista, the global smartphone penetration has reached to 46.45% in 2020. And in the coming years, this percentage is estimated to go further up.
Change in consumer preferences
Mobile banking has increased the banking convenience for users by manifolds as they can access banking services at any time and anywhere. This has top-notch convenience has made users to choose mobile banking over ATMs and physically going to the bank's branch.
Growing mobile money infrastructure
Many prominent banks have already made substantial investments to upscale their mobile banking capabilities. Even the smaller financial institutions are not far behind in the race. Furthermore, there are many non-bank entities that are looking to position and leverage this fast-growing space.
These non-bank entities include credit card processors, mobile network carriers, and online personal finance services which enable customers to assemble their accounts on a single app or website.
Innovative features and services
Mobile banking enables banks to offer innovative features to their customers which they couldn't have been able to offer online. With mobile banking, they can offer person-to-person (P2P) payments, remote check deposit, real-time fraud notification, etc. These features make the mobile money experience even richer and more convenient.
How mobile banking is boosting banks' revenue?
Mobile banking has unlocked several revenue-generating opportunities for banks. Moreover, it also enables them to reduce their overall costs and increase user-base. Let's have a look at these benefits one by one.
Increasing distribution and coverage models
With mobile banking in place, banks are no longer restricted to geographical constraints. Banks can leverage mobile banking to increase their geographical footprints by up-selling and cross-selling products to their existing customers.
All those banks that have employed mobile banking to gain additional mobile financial capabilities have experienced a profound impact on the nature the banking relationship.
Monetizing customer analytics
Banks are in a unique position when it comes to customer analytics. It's because unlike supermarkets and department stores which only have the ability to monitor customers' spending habits, banks can have a wider view of what their customers buy and from where they buy.
This wider view of customers' spending activities is crucial as it gives banks an opportunity to build and offer data analytics to retailers and other entities which are looking for customer intelligence. It's important to note that, banks offer these data while maintaining the privacy of each individual's information.
Retailers and merchants can use this intelligence to target their customers more efficiently by providing them with personalized offerings. Furthermore, banks can leverage this data to upgrade their capabilities to acquire new customers, offer better customer service, and improve decision-making capabilities.
Offering discounts
Banks can establish relationships with retailers and manufacturers that can offer discounts and purchasing incentives to their bank customers. This would help banks to offer a rich customer experience and increasing their customer retention ratio.
Read More: How to cash in with customer loyalty programs on your mobile wallets
Efficient marketing channel for targeted campaigns
Mobile banking can be used as an alternative yet effective marketing channel. Banks can inform their customers about their new offerings like insurance package, new type of savings account, and cashback directly from the mobile banking apps. Banks can also use push notifications to inform users about their new products and offers.
Banks can also use mobile banking for conducting highly targeted marketing campaigns for their users. For an instance, they can simply pin point the physical location of shoppers to their customers along with relevant offers. Moreover, banks can use mobile banking interface as a real-time engine that can compile campaigns as per customers' shopping preferences.
Saves time
Implementation of mobile banking helps banks and financial institutions to save a lot of time. It's because people can manage their accounts directly on mobile banking apps. This decreases the number of users coming to the bank branches thus helping the bank employees to assist those people who need more personal attention.
Mobile banking significantly reduces the long queues in the banks thus enabling banks to improve their overall workflow and offering a better customer experience.
Reduces costs
Mobile banking helps banks to reduce their operational costs. With mobile banking, banks get an opportunity to go paperless thus eliminating the cost of printing. Also, banks can utilize the mobile banking platform for advertising their products and services thus saving their advertising costs.
Major challenges in mobile banking
It's true that mobile banking is at the tip of its evolution; however, its implementation will still have several hurdles. What are these hurdles exactly? Let's have a look.
Unawareness and scepticism
Mobile banking has been popular among the youth section; however, the story is quite different when it comes to the older generation of users. It's because the older generation of users is still sceptical of using mobile banking or any other cutting-edge banking tools. They still prefer the traditional way of banking as they perceive it to be safer.
This reluctance has become one of the major challenges to employ mobile banking. To resolve this, banks and financial institutions must educate their customers especially that of older generations about the benefits of mobile banking. They must emphasize on convenience and safety aspect of the mobile banking to drive more adoption.
Platform scalability
Platform scalability is another hurdle in the mass adoption of mobile banking. To resolve this issue, third-party mobile banking app developers and banks must build a software application that has the capability to support multiple mobile operating systems such as Windows, iOS, Android, etc.
Furthermore, this software must be also compatible with multiple telecommunication standards, multiple form factors (iPads, smartphones, tablet computers).
Complex integration
Banks need to integrate all their existing bank platforms such as customer relationship management, core banking, and payment hubs with mobile banking solutions to achieve operational efficiencies and to realize the optimum growth potential.
Partnership model
Banks must manage multiple partners such as social media outlet, telecommunication provider, retailers, data analytics providers, payment networks, mobile device manufacturers, etc. Banks must also establish relationships with merchants and push mobile payment solutions.
Furthermore, they must educate them about the benefits of installing POS terminals that allow the customers to make payments directly via their mobile phones which are equipped with NFC chips.
Conclusion
Mobile banking was lurking behind the curtains for almost two decades now. And now finally, it's on the cusp of major transformation. The rapid evolution of the telecommunication industry has laid the roadmap for mobile banking to change the user banking experience forever.
However, there lie few challenges which banks must solve first before reaping the benefits of mobile banking. And to do this, they can partner up with mobile banking solution provider to build a new-generation mobile banking solution that has all the latest features and technology stack.
DigiPay.guru is a leading FinTech solution provider which shapes the FinTech leader of tomorrow with its state-of-the-art solutions. If you're a bank or financial institutions that want to transform its operations via an advanced mobile banking solution then DigiPay.guru has you covered. Contact DigiPay.guru to know more.