A secure financial system is one that does what it is supposed to. And it is supposed to empower all stakeholders and ensure a secure and seamless environment for digital payments.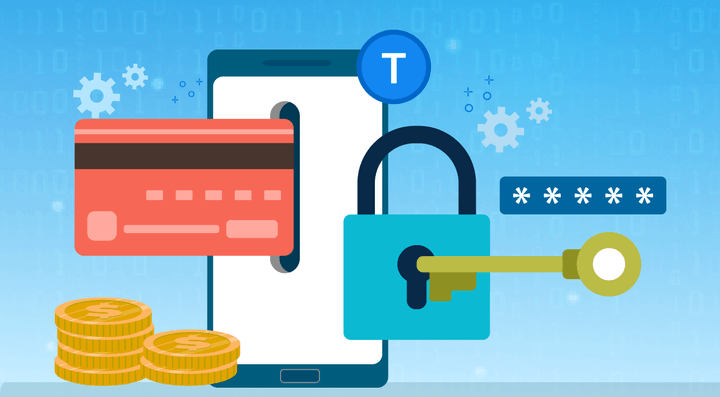 Tokenization is a modern and trusted technology in the digital payment industry that brings together both convenience and security for every customer. Today we are going to learn about tokenization, the revolution it is bringing into the financial system, and why it is a need for digital wallet solution providers.
The increased use of mobile has increased the use of the internet & online shopping across the globe. This led to an increase in fraudulent activities which has resulted in a challenge for the credit/debit card industry. Identity theft, affiliate and clean, phishing, pagejacking, counter-attacks, merchant and triangulations are some shouting threats and frauds for businesses and customers both.
Tokenization helps ensure the continuity of customer experience, protects businesses from the negative financial impact of data theft and maintains fraud prevention levels. With the promising result that the tokenization solution has delivered so far, it is one of the most trusted technologies used by existing and new businesses.
As per MarketsandMarkets, the global tokenization market size is expected to reach USD 5.6 billion by 2026 from USD 2.3 billion in 2021 at a compound annual growth rate (CAGR) of 19%.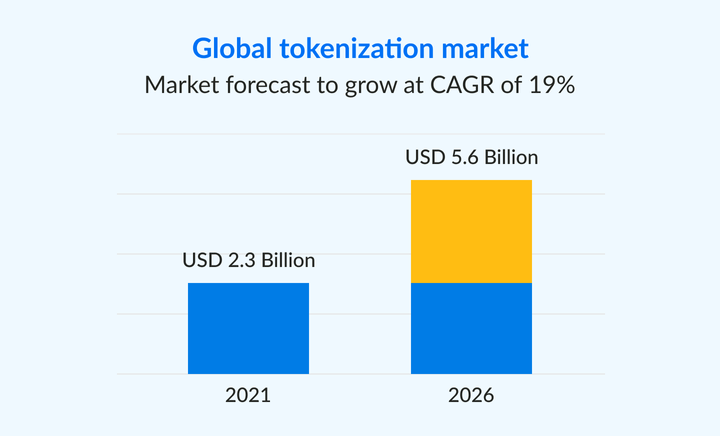 As the future of tokenization seems to be bright as per the stats, let us discover more about tokenization.
What is Tokenization?
Tokenization is a process where your sensitive payment information is replaced with a non-sensitive unique set of characters known as a "token" without compromising the security in mobile and online transactions.
In contrast to an encryption system, a tokenization system generates a new token for every new user, links the original data to a token but does not provide any way to decrypt the token and unveil the original data.
For example, think of a casino where gamblers get tokens in exchange for their real money. The casino allows them to gamble with the token (chips) without needing the actual cash. If the tokens are stolen then those tokens cannot be used in other casinos. This is called "devaluation" which acts as a foremost crime deterrent.
Where is Tokenization used?
Tokenization is used in multiple industries. It has many different uses. As the aim of tokenization is to protect sensitive data while preserving business utility, it is primarily used in the Payment Card Industry (PCI).
Google Pay, Samsung Pay, Apple Pay, and many other mobile banking solutions use tokenization. The PCI opts for tokenization over encryption due to the extra layer of security. It is cost-effective compared to other sensitive data protection methods, ensures a better user experience, and is easy to integrate.
The add-on reason for choosing tokenization is it meets the compliance standards and helps digital payment service providers get licenses with ease.
Now that you know what tokenization is? And where it is used? It is a time to know how actually it works?
How does Tokenization work?
Tokenization works differently from the encryption method. It has a specified algorithm that is not mathematically reversible and ensures the security of the cardholder.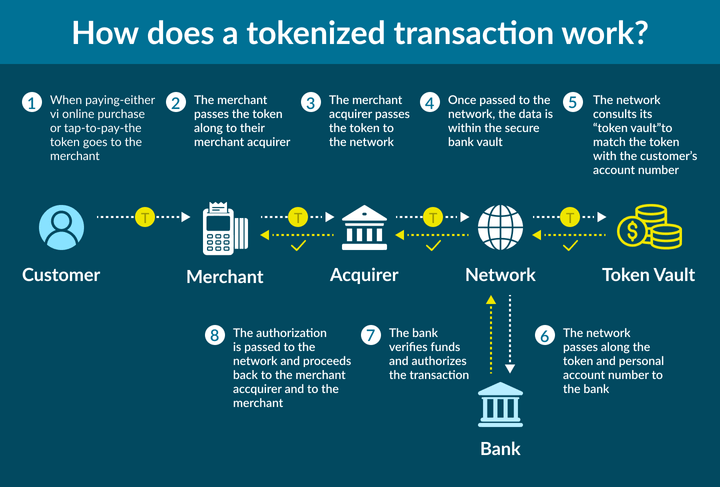 The payment tokens are themselves a unique string of numbers generated using cryptographic functions or static tables.
In order to make you understand in a simple term, below is a breakdown of how tokenization works.
Customer input name and credit/debit card information
The customer allows the payment service provider to save detail
Details then are sent to the service provider
A token is requested from the digital payment service provider
Tokenization generates a substitute of the payment detail
The requested token is shared with the bank
When confirmed, the token is authorized with users PAN
The token can now be utilized for future online purchase
Still confused? Let me help you with an example.
Payment tokenization example:
When a digital wallet processes the debit/credit card of a customer, the tokenization substitutes the PAN with a token.
3224-2276-4452-5541 is replaced with a unique set of identifiers with an exact number of characters that could be 7f4ghg45Ee295Yhr.

The merchant can apply the token ID to process the payment. This will have a process of verifying the token in the backed to retain the records of the customer.
For example, 7f4ghg45Ee295Yhr is connected to Robin White. The token is shared with the payment processor to identify the token. The payment processor de-tokenizes the token to confirm the payment. If verified successfully, 7f4ghg45Ee295Yhr becomes 3224-2276-4452-5541.
The payment processor (bank or card issuer) is the only party that can read the token. It is absolutely meaningless for anyone else. No matter if the token is hacked, it will be useless for the hacker.
In addition to the security, the token will be different for the different merchants, thus it reduces the risk of getting scammed.
Why Tokenization and how is it evolving?
Tokenization in mobile payments provides an added layer of security in digital payment trends. It creates a secure environment for the payment processor and customers to store their card details as it eliminates the risk of hackers accessing sensitive information.
One of the main reasons why tokenization is evolving is it is an advanced version of the encryption security method. It ensures a better user experience, increases payment authorization rates, and works as a strong shield for online purchases to prevent fraud.
eMerchants and payment processors should consider tokenization as a solution for card payments with tokens. It helps all the stakeholders in the payment ecosystem deliver a better customer journey with a frictionless payment experience.
How Tokenization is enhancing the digital payment system
The PCI council has issued several standards and guidelines towards enhancing the security of the digital payment ecosystem. There are several threats to mobile banking solutions provider, e-wallets, and their users.
Face the fact
There is always a risk in using digital payment systems and doing online transactions. Technology is upgrading day by day and so do hackers. No one can make a digital wallet 100% secure. But it is possible to reduce the risk to a minimum. And here comes the tokenization.
Read More: Potential security threats of mobile financial solutions
Tokenization is a clear new trend defeating data breaches substituting card numbers with a "useless" token.
Tokenization generates a token using several techniques to strengthen the digital payment system
A one-way mathematical cryptographic hash
A ciphering function
A random number generator
Format-preserving encryption (FPE) and data from database storage are the 2 key technologies behind the tokenization of cards to make card transactions secure.
Using modern technology, meeting the increasing demand of customers, and providing maximum security guarantees, payment tokenization solution has proved one of the most trusted technologies in enhancing digital payment systems.
Tokenization secures mobile payments
Tokenization secures mobile payments by allowing customers to securely store their highly sensitive debit and credit card detail in eCommerce sites, point-of-sale terminals, and mobile wallets.
It increases the authorization rate by eliminating the need to enter and re-enter the card or account number for subscription accounts & future payments as card renewal is managed automatically.
So, now you know the insights about tokenization and how it is empowering the payment processing industry. It is also important to know what benefits it brings and why brands like Apple Pay, Google Pay, Samsung Pay, and more are using it.
Imperative Benefits of having Tokenization
The benefit of tokenization adds on when you foster great relationships with your customers. It does not just defend your sensitive payment information but it:
Boost trust in your customers
With multiple options available in the market to make online transactions, customers only choose one that ensures security. By implementing mobile payment tokenization, the debit/credit card details are kept secure, which facilitates return business. Recurring payments can easily be made by providing risk-free transactions and cultivating trust between customers and vendors.
Read More: Customer loyalty programs for mobile wallet solution
Minimizes the risk from data breaches
The hackers recently attacked the Key Ring, a digital wallet application provider, and had exposed nearly 14 million Key Ring app users' data. With tokenization, you can protect your customer's sensitive information from hackers and mitigate the damage from a data breach.
Protects other sensitive information
Not only your card number is sensitive but other details like your documents, user name, passwords, personal identity are also equally important and need protection. By integrating tokenization, you can protect the card and other sensitive information of your customers.
Is compatible with the latest technology
Tokenization is adaptable. NFC is one of the latest examples with which tokenization can easily adjust to bring extra security during transactions.
Final Thoughts
Data tokenization solutions have re-modernized the digital payment system. It has introduced a new standard in the finance industry that provides fast, convenient, and secure mobile money solutions for your business with security being the number one priority.
Tokenization is enabling the digital wallet service provider to optimize their system and make it a competitive, secure, and able platform for users. It may sound complicated, but its simplicity is its beauty. It is a cornerstone to digital wallets, eCommerce, and more by making payment highly secure and providing a seamless user experience.