The finance and banking sectors are digitally transforming their operations. As a result, fintech companies are investing heavily in the latest technological trends and techniques to facilitate remote banking operations. The Video KYC for Banks are aimed at making the lives of banks and their customers easier.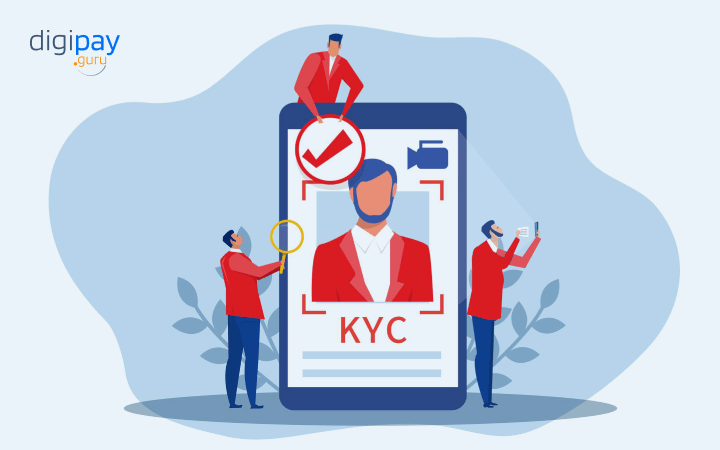 Financial institutions have to address many challenges to accelerate digital transformation. KYC and other compliance procedures are one of them. In this tech world, you will find many digital fintech software solution supervising the banks and financial institutes. It is stable and secure enough for financial firms to adopt across the board.
With "Know Your Customer," banks can initiate an identification process to onboard their customers. video KYC solutions are a recent development that allows customers to verify their identity in a video format. Banks are facilitating video KYC system for many events, including applying for a loan, creating a bank account or buying insurance.
Let's understand a detailed prospective about video KYC and how banks can unleash its potentials for future success.
What is Video KYC?
Video KYC or Know Your Customer is a top trends in digital payment industries that is revolutionizing the identification process for banks and lending institutes. By capturing footage of an individual's facial features, video KYC allows banks and other financial institutions to combat fraud and identity theft more effectively.
This technique enables you to compare this footage to previously captured images of the same person, which creates a complete record of their identity.
By implementing video KYC into the digital money transfer solutions, banks will be able to reduce the number of customer complaints, secure the onboarding process and improve customer service. Some of the spoofs that can be avoided by video KYC are listed below.
Spoof attacks
Video KYC helps banks and financial institutions combat spoof attacks - where criminals pose as customers to fraudulently access accounts or other sensitive information. By using video verification, banks can also ensure that only the real customer interacts with the institution.
A recent study has found that spoof attacks have increased by 300% over the past two years! This means that more and more people are being duped out of their money due to fraudulent activities carried out through videos.
To stay safe and increase customer loyalty, it's important for everyone - including consumers, businesses, and online service providers -to be up-to-date on the latest security measures so they can protect themselves from these nefarious activities.
Synthetic identities
Video KYC is a process where you can easily verify a customer's identity through video. This helps to protect both customers and banks alike, as it eliminates the need for written documents. While there are many benefits associated with this process, one of the most noteworthy ones may be its accuracy rate - which stands at 98%, retaining the interest of top banks in Europe and the Asia-Pacific region.
Deep fakes
With the evolution of digital wallets and mobile payment, deep fakes have serious consequences for banks and other financial institutions as they could be used to carry out money laundering and other illegal activities.
To combat deep fakes, businesses must take the necessary steps, such as developing online money transfer solutions and training employees to identify them. Additionally, in the video, KYC customers are required to provide biometric identities, including retina and face recognition, to prevent online attacks.
Prevent digital payment frauds with a secure payment solution
It's also crucial for online payment solution that video verification processes are implemented so that customers can be sure about the authenticity of any video content they view online.
Impact of Video KYC on banks and businesses
Video KYC can entail banks to perform remote KYC through video calls and verify important authenticity details through video assistance software. Video KYC assess the potential risk for banks before entering into a business relationship with the client.
The sole aim of video KYC is to reduce financial crimes like money laundering and other online thefts.
As per recent studies, the global market share for Video KYC is expected to reach $500 million by 2026, enabling banks to unlock its potential. It does this in the following way:
This process is ideal for remote onboarding through digital platforms. The method is extremely cost-effective. But before adopting this virtual onboarding, you should understand the cost included in video KYC.
The Aadhaar license, which requires financial institutions to authenticate customers using their Aadhaar cards, is no longer necessary as video KYC is digital.
Companies can reduce the hardware cost needed for verification, as video KYC requires only a camera and a device with internet access.
Authorities won't need to travel to different locations to verify customers so that companies can save on travel costs.
How does video KYC work?
KYC (Know Your Customer) is a processing bank and other financial institutions used to verify customer identities. With video verification, they're able to do this more efficiently. Video KYC is also more secure than traditional methods, which is why it's becoming increasingly popular among institutions.
The benefits of video KYC for banks and financial institutions are clear - it's faster, easier, and more secure! Furthermore, by using video technology, banks and other financial institutions can verify customer identities through biometric parameters, including facial recognition, Retina. And here's how you can integrate it into your operations.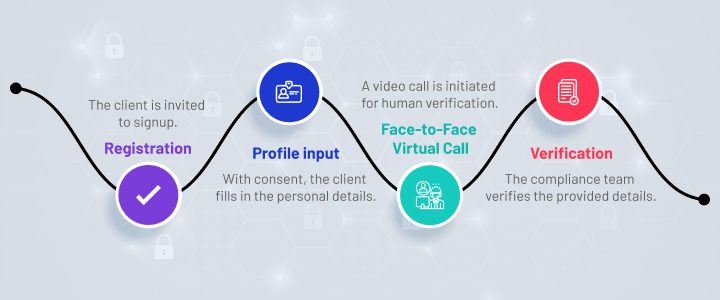 Step 1: Registration
Banks are now requiring all customers who want access to bank accounts, loans, insurance policies, to register for various purposes such as ID verification, loan applications.
Registration is thus becoming an essential part of maintaining trust and security for initiating the customer onboarding process. Video KYC also helps improve customer experience by reducing the time it takes to complete a transaction or open an account.
Step 2: Profile input
From increased security to faster transactions, banks need to gather profile information by collecting important details like customer name, security number, contact number, and address.
Video KYC has emerged as one of the most efficient and secure ways of conducting KYC, owing to its many advantages such as speed, convenience, accuracy, scalability, and usability in advanced mobile money solutions.
Step 3: Face-to-Face Virtual Call
Video KYC allows for identification through video footage instead of just a photo ID. This technology has revolutionized the way bank officials can verify customer identities. It has become so reliable that many banks are now using it as the primary method of identity verification.
This means that not only is video KYC less time-consuming and costly, but it also reduces the chances of fraudulence or misuse of personal data by customers.
Step 4: Verification
Bank executive can virtually verify the customer by examining the physical document on call. The customer needs to present all important physical documents like address proof, ID proof, and security number to finalize the verification process.
A video KYC process helps protect customer data and boost security. Plus, by verifying identity online, customers can increase the conversion rate by opening up new doors for them to explore your offering further. Ensuring that all necessary procedures have been followed is crucial in maintaining trust with current and potential customers.
How do you distinguish Video KYC from a conventional one?
Video KYC is different from traditional KYC, which is a process that banks use to verify the identity of their customers through documents like passports and driver's licenses. Overall, video KYC will help banks reduce costs and improve their customer service while unlocking the technical potential for their businesses.
High Efficiency: High turnaround time improves efficiency with fewer documentation errors. AI-assisted technology helps humans do their jobs better.
State-of-the-art Technology: Using state-of-the-art technology, video KYC offers an AI-powered liveness check and face match algorithm to match a live person's face with the customer's photograph.
Difference between traditional KYC and Video KYC
Whether you're a bank or a financial institution, video KYC is an important step in ensuring that your customers are safe and compliant. Here's how banks and financial institutes can count on Video KYC.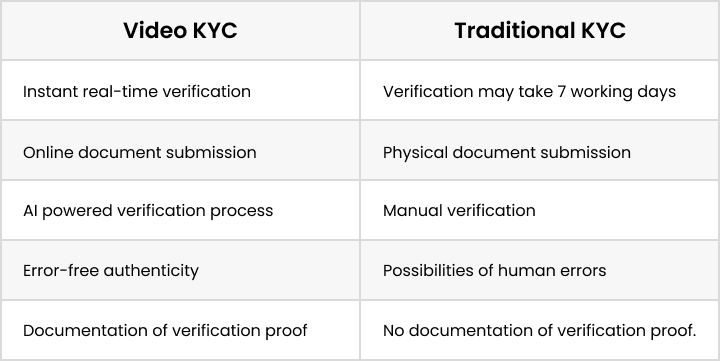 Benefits of video KYC for banks and financial institutes
There are several reasons why video KYC is becoming increasingly popular for digital wallet software solutions. Some of the benefits for both the customer and institution include:-
Bottom Line Effect: KYC is a cost-intensive process and is mandatory. There is no mistake, so if it can be done with digital assets (paperless and video-based), without the logistics cost of going to the location of KYC officials, nothing. As per recent reports, banks can save up to 50 percent by implementing a digital onboarding process, including video KYC.
Fast Turnaround Time: Finance is a competitive sector. For any reason, if a company cannot complete KYC, it leads to potential business loss. The KYC verification process, which usually takes around 10-20 days, can now be completed in 10 minutes, all with a high degree of automation and digitization.
Seamless customer onboarding: Thanks to video KYC checks, many new-age fintech companies are growing rapidly, offering excellent customer onboarding, Know Your Customer (KYC), and eventually, a range of financial products. This is in favour of a customer as now they can access better financial product services with the convenience of staying indoors. It also means inheritance businesses ought to quickly adjust and digitize their operations or risk missing out on the next era of business.
Secured transaction: Controllers require KYC verification, especially to control forgery, money laundering, and financial crimes. Once concluded, the videotape can be accumulated for KYC record keeping and access.
Reduced operating costs: Today, video KYC is a big step forward in making this process more efficient and secure. With video KYC, banks can verify customer identities in a safe and video-based environment. This technology can potentially reduce the costs of processing and verifying customer identities by 90%. Additionally, video KYC is simple to use, so there is little training required for employees.
Now you have learned the pros of integrating Video KYC in your banking, but you should understand the important aspects before investing in Video KYC. This guide can help you determine the characteristics of the best product for your financial operations.
Want to know the best product that can automate your financial operations?
Selecting the best KYC solution for your business
Video KYC is your key to success when it comes to enhancing your customer base with a fast and secure method. Although video KYC can be conducted in just three minutes, here's what you should consider while selecting the right video KYC platform for your financial organization.
Data security
For financial institutions and banks, nothing is more important than protecting their data and ensuring that there are no fraudulent activities in the onboarding process. You need to follow strict rules while selecting video KYC to ensure that there is no data tampering.
As a financial business, you should guarantee full data security and customer privacy. Video KYC can help you apprehend customers in real-time, avoiding the risk of breaching customers' privacy. Select Video KYC that offers end-to-end encryption and AI-assisted tools for physical identification.
Read More: Secure payment processing with Tokenization Technology
Forgery detection
Customers can now provide pre-recorded video in case of life verification fails. Questions must be indexed and typed to eliminate the possibility of phishing and fraud or misidentification.
High dropout rate
Although the process does not take more than 3 minutes, video calls can get disconnected for various reasons, such as system errors, internet fluctuations, manual hang-ups, and more. This can lead to poor customer experience and take longer to complete KYC.
KYC accuracy monitoring
The banks and financial organizations can easily monitor the accuracy of the KYC process by accessing the video data. They can also watch the key metrics in terms of KYC completion rate and accuracy rates, helping them in the decision-making process.
Conclusion
Video KYC is the ideal option for banks to maintain accuracy and authenticate customers' identities. With the right video KYC for digital Wallet solutions, you can also enhance the security features by adding facial recognition and other biometric aspects.
Thus, selecting the right video KYC platform is the key here, and you should invest in the best tool that yields successful results for decades.