Even before the COVID-19 pandemic inflicted a massive health and econsomic catastrophe, contactless payments were already a widely used payment method. However, once the businesses reopened, they had to keep in mind the germ-conscious customers and adapt to the new normal of social distancing.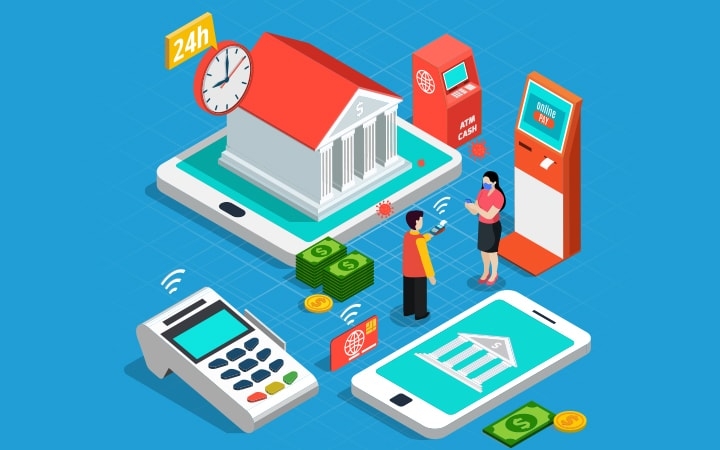 Contactless payments have emerged as an essential solution for all the businesses as it enables them to drive their business forward along with ensuring safety to combat the coronavirus pandemic.
According to a survey that took place in mid March, around 30% of the respondents have started to use contactless payments since the pandemic began. And 70% of those users are likely to continue using contactless payments post-COVID-19.
COVID-19 pandemic has actually acted as a catalyst in the adoption of contactless payments. But how? Let's have a look.
COVID-19: The catalyst in the contactless payment adoption
There has been a steep rise in the adoption of contactless payments all around the world. The below stats are the testimony to this fact:
In the US, 51% of people have resorted to use mobile wallets like Apple Pay and other tap-to-go credit cards.
Around 58% of the people in the United States are now more likely to use contactless payment methods than they were before the pandemic.
MasterCard has witnessed a surge of 40% in the contactless payments in the first quarter of the year.
60% of Visa users who live outside of the US have used 'tap-to-pay'
79% of the MasterCard users all around the globe have used contactless payments during COVID-19 pandemic.
There has been a +40% of 'year to year' global contactless growth between Jan to March this year.
This rapid adoption of contactless payments have also impacted the banking sector of the US, as some of the biggest credit issuers like Bank of America, Wells Fargo, Citibank, U.S. Bank, Capital One, and Chase have increased their issuance of EMV cards. Visa estimates that more than 300 million contactless cards would be in circulation by the end of 2020.
In Germany, contactless payments boomed from 35% to more than 50% due to the pandemic. China saw the highest adoption rate where e-wallet purchases were 23% higher than that of the cash purchases.
Contactless payments are now seen as an effective way for helping businesses to overcome the ill-effects of the COVID-19 pandemic. Even the WHO seems to suggest the same. According to WHO, "When possible it would be advisable to use contactless payments to reduce the risk of transmission."
Moving towards a cashless society brings exceptions and benefits for your business in various ways.
What's the technology behind contactless payments?
We saw the reason behind the rapid adoption of contactless payments. But what is it that makes contactless payments the first choice for business owners and customers in times of the pandemic? To understand this, let's understand in detail about the technology behind contactless payments.
Generally, there are two types of contactless payments in use. Let's have a look at them one by one:
Contactless cards
When a user uses a contactless card for making a transaction, then the card establishes communication with a point of sale (POS) terminal via NFC (near field communication) or RFID (radio frequency identification). After that, the card generates a unique code for each transaction which makes the process safer.
Since there's no requirement for a signature or a PIN, contactless payments come with a limit per transaction which is also known as Cardholder Verification Limit (CVM). The CVM is an effective way to protect users' accounts.
As contactless payments gain popularity, financial institutions all over the world are increasing their CVM limit to enable customers to successfully make transactions during lockdowns with utmost safety.
MasterCard is already working with the regulators to increase the CVM to satisfy customer's needs along with boosting the trend of contactless payments. MasterCard is planning to enable contactless payments up to $250 CAD in Canada itself. Moreover, the CVM went from £30 to £45 in the UK which is equivalent to that of 29 other European nations.
E-wallets
E-wallets, electronic wallets, or mobile wallet solutions enable users to make payments easily, safely, and conveniently. There are several mobile wallets available in the market such as Google Pay, Apple Pay, Venmo, Mastercard, and Masterpass.
Tokenization makes mobile wallets one of the most secure mediums to make payments. During this process, all the sensitive data is replaced with a token or value. This value or token then protects the sensitive data like the card number and others which are prone to frauds and scams.
It also means that the device never stores the actual account number on it. Tokenization in combination with radio-frequency identification offers a quick, easy, and safe way of making transactions to users.
Read More: Why eWallets are more popular in developing countries
Contactless technologies: a part of a bigger transformation of digital financial services
Fintech enterprises and banks need to expand and evolve their technological capabilities to meet the ever growing demands of the customers. Let's see how this can be achieved.
Adopting a collaborative approach between traditional banks and FinTech
Fintech companies have achieved massive success when it comes to the payments. Over the years, they have successfully offered highly valuable and top-notch user friendly services to the users. This has also resulted in increased collaboration between FinTech enterprises and the banks.
This collaboration is a win-win situation for both the parties as FinTech companies can access large scale of banks and existing infrastructure. Whereas, banks can learn new skills and create innovative FinTech solutions.
This collaboration is not only limited to just payments. We are witnessing various strategies like bank incubators and offering mentorship to startups who are in their early stages.
Innovation labs and accelerators are other collaborative forms which are helping banks in adopting emerging technologies that lead to development of applications that can support innovative and touch-free transactions.
Increased digital innovation with open banking
Open banking along with European Payment Services Directive (PSD2) have been the key drivers of digital services over the past few years. These regulations have third party providers and banks that harness customer financial information permitted by the customers which enables them to make their relationship stronger with the users via innovative applications and services.
Open banking also involves decentralized practices which enables users to share their data with the banks ensuring top-notch security. This also enables users to manage their finances in a better way and to access various payment methods.
Financial institutions and banks can also leverage APIs to analyse customer's transactions and their financial history which helps them to offer better suited products and services to their users.
Read More: What is Fintech and what is its impact on banking?
Enhanced personalization and customer experience
Customer experience is a top priority when it comes to providing improved digital financial products and services. It's because the user experience is a key factor which would determine if there would be a widespread adoption of contactless or digital wallet services by the consumers.
Digital wallets have an edge as it enables payment providers and banks to understand their users' purchasing habits well. This provides them with the opportunity to offer top-notch personalized services and products.
However, one must have a robust customer onboarding strategy to encourage the adoption of digital payments. Implementation of an effective eKYC process is a vital part of it. As per the research, more than 50% of retail banking customers simply abandon the new financial services due to the longer onboarding process.
Conclusion
The COVID-19 pandemic has tremendously affected our social and economic well-being. However, it's also true that it has been one of the biggest drivers of digitalization across the globe. Digital payments, especially contactless payments have emerged as a fool proof way for businesses and enterprises to operate in the new normal post COVID-19.
In coming days, we might see acceleration in the adoption of contactless payments. This might also result in rapid innovations in the contactless technology that might encourage FinTech startups and enterprises to heavily disrupt the financial sector.