Today's consumer demands a top-notch convenience, speed, and a wider-range of choices on how they can manage all their transactions and payments. Such high demand from the customers coupled with cut-throat competition makes it extremely difficult for businesses to even survive.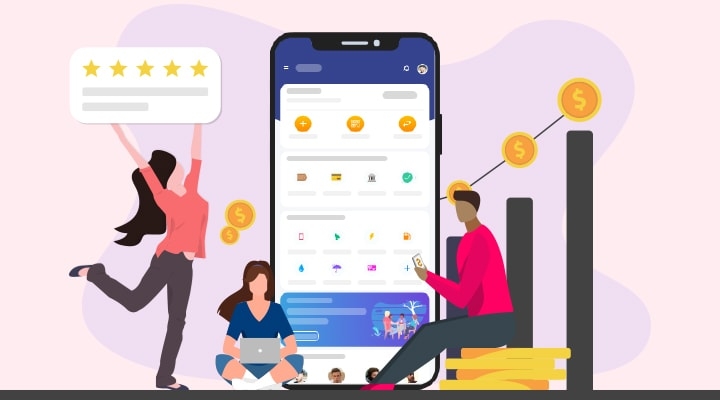 Mobile money has emerged as a perfect solution for not only banks but also for various FinTech businesses to deal with the above-mentioned issues. It has reduced the dependency on cash and has powered customers to access banking services at utmost ease.
But what mobile money actually is? And how it has driven both revenue and customer experience. In this article, we are going to discuss the same. So, without any further ado, let's start.
What is mobile money?
Mobile money can be simply defined as the payment service that operates under financial regulation and is performed via using a mobile phone device. Mobile money services enable users to pay directly from their mobile for a wide array of goods and services. With mobile money in place, the users no longer depend on making payments via cash, cheques, and credit cards.
Mobile money has gained immense popularity around the world which is evident by the fact that there are more than 270 different mobile money services across the globe. Mobile money has emerged as a popular alternative for both banks and cash since it's secure, easy to use, and can be accessed anywhere with the availability of mobile signal.
Boosting revenue with a mobile money solution
A mobile money solution can prove to be an important element in increasing the overall revenue. Let's see how?
It's obvious that to increase the overall revenue, you must also increase customer retention and customer loyalty. The mobile money solution is well adept in achieving the same. Mobile money makes the process of making transactions extremely easy, convenient, and fast which in turn results in a greater number of customers making payments to your business. Below mentioned are few of the ways by which you increase your customers with mobile money payments.
Loyalty program
Due to cut-throat competition, customer retention has become a difficult task. Moreover, the fickle-minded nature of customers makes customer retention even more difficult. This is the reason why it becomes essential to establish long-term and sustainable relationships with your clientele by leveraging the endless possibilities that technology has to offer.
Read More: Achieve greater customer retention with loyalty and reward programs.
With mobile money, you can make customer loyalty programs that can help you to achieve the above-mentioned customer goals. Your loyalty program can consist of several things like exclusive discounts and deals, giving away free items occasionally, giving away redeemable points, providing referral bonuses, and many more.
Generally, a customer keeps coming back if the services or goods that they have bought add value to their lives. If you have such a pool of customers then it won't hurt to reward them with your loyalty program that can motivate them to buy more and encourage them to invite more of their friends and family members to do the same. Apart from being a smart strategy to retain existing customers, it is also cost-effective.
According to the Forbes magazine, it's almost five times costlier to acquire new customers than to retain the existing customers. This proves that it's cost-efficient to find ways to ensure that your customers keep coming back to you rather than going on a search for the new customers.
Mobile coupons
A mobile coupon is another essential component of a beneficial strategy that can play a pivotal role in retaining existing customers or attracting new ones. Mobile money solutions offering mobile coupons add an extra layer for rich customer experience. A mobile coupon is nothing but an electronic coupon that is sent to the mobile phone of the customer. The customer can exchange that electronic coupon for a financial discount whenever he makes a purchase.
Generally, retail stores use mobile coupons as a part of their sales promotions. Many other businesses are also known to send these mobile coupons annually to their customers, especially on their birthdays. Mobile coupons are an effective way for businesses to show their customers how much they matter for them.
Mobile app
Mobile apps help customers to purchase and access goods online. The customer has to simply download and install apps on their mobile phones. Many mobile applications are available that are designed for a cluster of business needs that ranges from time tracking, general productivity, team communication, and project management.
Branding
Branding is an essential subset of mobile apps. Many things can be included in the branding such as the application's user experience, user-centric app design, icon, and catchy brand name. All these components play a crucial role in determining whether they will attract the users to download your business mobile application or not.
It's also important to note that establishing the brand name is not the end of it. You must ensure to maintain the consistency that will help you to keep your business' brand name flourishing which will allow your customers to refer your app to their friends and family and thus ensuring your brand's longevity.
Enhancing customer satisfaction with mobile money
Apart from increasing revenue, mobile money systems are also known for increasing customer satisfaction. Let's see how?
Seamless transaction experience
The inception of FinTechs has changed banking forever. It has redefined the meaning of a convenient and seamless transaction experience for all their customers. It has also pressurized the banks to ensure that their mobile banking apps provide the same seamless transactional experience to their customers. Nowadays, users can access many of the banking services by sitting at their homes and tapping a few buttons. This ease and convenience make mobile money a prominent future of banking.
Offering one-touch access to customer support
Banking can prove to be a difficult task. The last thing you want is your user leaving your mobile banking app because he didn't find a solution on time. Many of you might think that providing users with FAQ would do the job. But it won't, as there's still a possibility of the user being unable to resolve the issue. That's why it becomes essential to provide your customers with one-touch access to customer support where the customer can resolve all their issues.
By providing one-touch access to customer support you not only avoid several users from leaving your app but also enhance their user experiences by many notches.
Intuitive user navigation
Offering highly intuitive user navigation saves a lot of user's time and effort and hence increases user satisfaction. Many banks keep on trying innovative ways to make their user experience better. For example, Ally Bank came up with a virtual assistant that helps its customers by conducting transactions via voice commands.
Improved financial management
The advanced mobile banking solutions come with a financial analyzer that provides easy-to-understand graphs and charts of income, expenditure, and investment performance. These graphs and charts provide users and business owners with crucial insights. These insights increase transparency and help users to make better decisions in future.
Conclusion
The mobile money systems have had a huge impact on banking all around the world. It has made banking simpler, faster, and more secure than ever. Apart from that mobile banking is also used as an effective tool for financial inclusion of the unbanked people.
Mobile banking is not only beneficial for the users but it's a boon for banks, financial institutions, and FinTech solutions as well. With the cutting-edge mobile money solutions, all these stakeholders can drive their revenue and enhance their customer experience as mentioned in this article.
If you're also a FinTech entrepreneur then don't waste any time in getting your business with robust mobile money software that can transform your FinTech startup into one of the greatest FinTech success stories.