Africa is a global leader when it comes to mobile money. Over the years, it has become an inevitable part of Africa's financial services landscape. Since the past decades, the mobile network operators (MNOs) have dominated the mobile money services in the entire continent.
In addition to that, FinTechs have also laid their strong foundation in the market which has caused many banks to compete aggressively for the mobile banking customer. So, is it safe to say that Africa is the new market for mobile money and FinTech solutions?.
We'll try to answer the same question by discussing the mobile money and FinTech success stories of Africa. So, without further ado, let's begin.
Africa: The global leader in mobile money
When we talk about the Mobile financial services (MFS) then it covers the entire spectrum of financial services right from current accounts and payments to investments, loans, insurance, and savings. Whereas, mobile money is just a subset of MFS provided by telco companies that enable users to receive, send, and store money with the use of their mobile phones.
According to GSMA, more than half of total 282 mobile money services operating around the world are located in Sub-Saharan Africa. Today, there are around an estimated 100 million mobile money accounts in Africa. This customer adoption is way more than that of South Asia which is the second-largest region in terms of mobile money market share with around 40 million active mobile money accounts.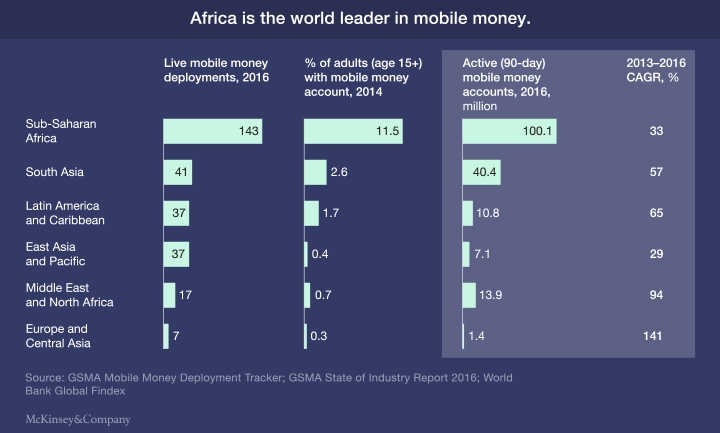 Mobile money in Africa is now way more than Safaricom's initial M-Pesa offering which played a crucial role in enabling small businesses and consumers who had little or no access to banking service to send and receive money in a quick and secure manner at great distances.
Today, mobile finance management services have included a wide array of financial services like insurance, credit, international remittance, and M-Pesa which has less than a quarter of total MFS users in Africa.
Many people might think that certain markets are on the verge of saturation and hence there's no more room for the growth of mobile financial services in Africa. However, this assumption is absolutely wrong.
It's because, in the past years (2013-2016), mobile money penetration has increased by more than 30 per cent annually. Moreover, the margins on payments in Africa are also the highest in the entire world with approximately two per cent of the transaction value.
But the main question here arises is why? Partly it could be due to the leapfrogging phenomenon in which the developing nations leap over the obsolete technologies and goes straight to the latest technology.
However, in the case of Africa, the growth of FinTech can be credited to the rapid decline in the cost of mobile phones for the past couple of years. This decline in the cost of mobile phones has created a boom in the ownership of mobile phones.
According to estimates, the rise in the ownership will be exponential. By the year 2020, more than 634 million people which is 52% of the entire population in Africa will have a mobile phone subscription. All these users with FinTech accounts.
The diversified market of mobile money providers
Africa's mobile money market has expanded, diversified, and matured in the few past years. Now, all the mobile money providers can fall into one of the below five types.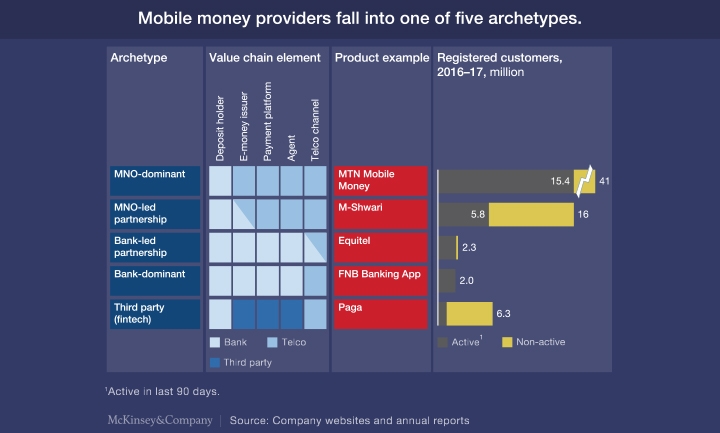 MNO-dominant
In this type, the MNO is responsible for most of the steps in the value chain that includes the physical agent network, telco network, and payments issuing and processing. In this, a bank acts as a deposit holder. M-Pesa and MTN are two of the most successful names in this category. We'll discuss them later in the blog.
MNO-led partnerships
In this type, an MNO gets the support from a banking partner for providing products that are beyond payments like deposits and consumer loans. M-Shwari in Kenya is one of the examples in which there's a partnership between CBA (mid-sized Kenyan bank) and Safaricom (Leading telco company in Kenya).
Bank-led partnerships with MNOs
Equitel is an example of this model which is a partnership between Airtel and Equity Bank. It has over two million customers in Kenya. Equitel offers its customers to send money from their bank account to any account in Kenya. Moreover, it allows banking services like taking out loans and maintaining deposits. Apart from banking, Equitel also offers airline ticket purchase.
FinTech solutions
Paga in Nigeria that has grown its customer base by 81 per cent annually is the best example of a FinTech solution. This company allows customers to send money through their phones. It also allows them to pay for all the online purchases on merchant websites.
Tech startup boom
In recent years, Africa has proven to be the best place for FinTech startups. Rapidly increasing internet penetration is one of the main reasons for it. In the year 2011, internet penetration in Africa was just 13.5% which increased to 39.3% by the end of the year 2019.
I understand very well that this number is way below the world average. But it's also important to notice that the number of internet users grew at a whopping 3600% between 2000 and 2012.
This trend of the immense growth of internet users has motivated and boosted African entrepreneurship. African startups have grown by a massive 32% with the funding of more than 70%. In the year 2018, the total funding for African startups touched the $1 billion mark.
These big figures prove that FinTech companies in Africa have massively benefitted by investing in their FinTech ideas. These numbers are now also attracting companies all over the world who now see Africa as a paradise for FinTech startups.
How is FinTech changing lives in Africa?
The foundation for the transformation driven by FinTech was first laid in the year 2007 with the inception of M-Pesa. Over the years, M-Pesa has emerged as the most successful FinTech firm in Africa. It has revolutionized mobile transacting starting from Kenya and now in East and West Africa as well.
Whenever we think of FinTech, we generally see in the western context. We need to understand that there are a vast number of people who still can't access banking services. This is a major problem not only because the unbanked people find it extremely difficult to access utilities but also because they carry a huge amount of cash which makes them vulnerable and unsafe in various parts of Africa.
In such a scenario, FinTech emerges as a saviour as it empowers many such vulnerable people. What M-Pesa did in Kenya is a perfect example of this.
It not only empowered people, but also whole communities who lacked the access to basic banking facilities like having a bank account, sending & receiving money, making payments for essentials like water, electricity, etc., and starting their own new business. Moreover, it also ensured that no one carried a large amount of cash with them thus preventing them from the risk of robbery.
According to Michael Joseph, who was the CEO of Safaricom when M-Pesa was launched, M-Pesa now processes more than 1.7 billion transactions annually which is more than 50% of Kenya's GDP value. He also added that the M-Pesa revolution has empowered many tens of millions of African people which also includes some of the world's poorest communities.
According to a study conducted in 2016, FinTech has lifted an estimated number of 200,000 households from extreme poverty. Moreover, it has also motivated and empowered women to move to business from farming.
Not only people but also the nation's economy has been greatly impacted by mobile money. Kenya's Central Bank recently reported their citizens have moved as much as half of the country's GDP via their mobile phones in the year 2018.
The FinTech story of Africa is one of the greatest tech-success stories that you'll ever find across the world. How this story will shape in future is a fascinating question which only time can answer. However, one thing is for sure that it has massive potential in Africa. And in the coming years, we might have many other FinTech companies emerging.