The advent of FinTech dates back to the 1950s when the first credit card was invented by a diner's club. Yet, the official use of technology in financial services can be traced back to 1967 when Barclays bank installed the first ATM. This marked the real shift from technology to digital technology.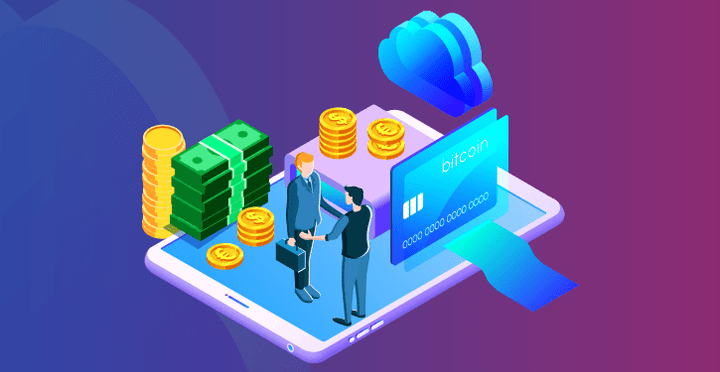 If we talk about the banking industry, finTech is no longer jargon. Instead, it has become a familiar term in technology. Global investments in FinTech topped $210 billion in 2021. This stat is more than evidence to prove that the digital revolution is at the doorstep of the financial services or banking sector.
The digital revolution created a huge impact on all banks and financial institutions globally. But what exactly is FinTech? Let's understand this in the blog below.
What is FinTech?
The term FinTech or Financial Technology is derived from two words: financial services and digital technology. In simple words, FinTech is the innovative use of technology in the formation and delivery of financial services.
FinTech encourages the use of digital technology in startups so that they can come up with innovative products and services, such as mobile payments, alternative finance, online banking, big data, Robo advisors, peer-to-peer lending, crowdfunding, and overall financial management.
FinTech was introduced as a back-end system technology for financial institutions and banks. However, since then, its definition has changed significantly. Today it encompasses several consumer-based applications which can help you trade stocks, manage funds, and pay for your insurance and food via this technology.
FinTech for banking has impacted myriad applications and transformed the way of assessing finances for customers. Its impact ranges from mobile payment apps like Square to investment and insurance companies. This profound impact of FinTech can also be seen as a potential threat to brick-and-mortar or traditional banks.
Additionally, in today's digital era, customers are not keen to go for services provided by traditional banking systems. Instead, they prefer services that are quick and safe. Due to this, FinTech is gaining popularity and is disrupting the banking industry.
The statistics about FinTech
Now, let's see some stats about fintech:
According to a study by Fortune, in 2021, a vast majority of Americans (90 percent) used FinTech for managing their finances. A study also says that by 2021, there were 10,000+ fintech startups registered in the United States alone and over 26,000 globally.
Currently, there are approx 2 billion people worldwide without bank accounts or formal financial services. FinTech came as a savior for all those people by providing an easy option to participate in and access financial services.
Also, FinTech is the best option for boosting financial inclusion as it's developed to provide consumers direct access to their finances through simple yet cutting-edge technology.
Moreover, Fintechs and banking services are interlinked with each other. Fintech can integrate banking services with its advanced innovations, making them more accessible and useful for the general population.
Discover the top FinTech solutions transforming the banking industry
Why Fintech And Banks Should Work Collaboratively
Now that we are clear about what fintech is and the stats that make it an essential aspect of banking, we must understand why fintech and banks should work together:
Increase in the use of smartphones
A study says that there were around 7.26 billion smartphone users as of 2022. This statistic is enough to interpret that there is a significant increase in the use of smartphones in the modern world.
So, all these users are potential customers of both banks and fintech. But, banks could not reach every location owing to operating costs. Here's where fintech helps banks to reach and acquire more customers.
Almost every service is available online
Today, people can buy anything and everything online. Be it the products like medicines and groceries or the services like cleaning and grooming, everything can be found and bought online.
For banking services, fintech's payment solutions are linked with the respective bank account of the user, and then the user can use the funds in the bank to make online payments for services available on the fintech app, such as ticket booking, bill payments, EMIs, and many more.
Security is the priority
Fintech companies are utilizing advanced technologies to protect customers' financial information. They use AI for fraud detection, blockchain for secure data storage, RegTech for compliance, and multi-cloud and IoT for smarter security solutions.
These measures ensure that customers' financial information is safe from threats like fraud and hacking. Fintech companies are taking a holistic approach to security by implementing a range of technologies and solutions to keep customers' data safe and secure.
Better Branding
Fintech companies are utilizing modern tools such as gamification to make financial tasks, such as budgeting, more engaging for customers. This refreshing approach to branding legacy services is something that banks should take note of, as it can help them attract and retain customers.
By incorporating these modern techniques, banks can improve their customer experience and stay competitive in the market.
Enhanced Customer Satisfaction
Fintech companies have disrupted the financial services industry with their innovative approach to customer experience. They have a reputation for being faster, more efficient, and more secure than traditional banks, while also having lower costs. This has led to many fintech companies earning the trust of their customers through exceptional service and referral-based client acquisition.
Banks can leverage this by taking a cue from fintech and focusing on improving their own customer experience. This can lead to better service for customers, and ultimately, increased trust and loyalty to the bank. In short, Banks can improve their services by adopting the customer-centric approach of fintechs.
How FinTech is changing the banking and financial industry
E-wallets
E-wallet is one of the top fintech solutions in the financial industry. The immense growth of E-wallets is an indicator of the rise of FinTech services. The Worldpay Report indicates that e-wallets remain a preferred payment method among global e-commerce consumers, registering 44.5% of global e-commerce transaction volume by 2020, an increase of 6.5% from 2019. By 2024, digital wallets are projected to represent 51.7% of e-commerce payment volumes.
While Samsung Pay, PayPal, and Apple Pay are some of the well-known e-wallet companies in the world, these wallets are used for a plethora of purposes, namely P2P payments, utility bills, top-ups, ticket booking, international remittances, and many more.
In addition, there are also some standalone wallets, such as Starbucks and Walmart Pay. E-wallets have attracted users due to their tempting offerings like exciting offers, lucrative cashbacks, reward points, and many more.
E-wallets are positively impacting the banking industry by being the major source of digital payments as the users need to add their bank account details to the wallet for adding funds to it. Also, e-wallets have increased the number of users making digital payments, ultimately benefiting the banks.
Moreover, the huge success of E-wallets has led many banks to realize their importance and recognize e-wallets as a collaborative measure to embrace technological advancements.
Read more: How digital wallets are creating the future of digital banking
Smart Chip Technology
According to Thales Group, as of 2020, there were around 10.81 billion EMV cards. Smart chip technology, also known as EMV (Europay, Mastercard, Visa) technology, is a type of chip-based payment system that uses microprocessor chips to secure payment transactions. These chips are embedded in credit and debit cards and are designed to make it more difficult for fraudulent transactions to occur.
One of the most noticeable impacts of smart chip technology on the banking industry is that it has increased the security of payment transactions. These chips create unique codes for each transaction, which makes it difficult for fraudsters to use stolen card data to make unauthorized purchases.
Hence, there has been a significant reduction in card fraud and has increased consumer confidence in electronic payments.
Additionally, smart chip technology has also made it easier for banks to comply with Payment Card Industry (PCI) security standards, which require banks to take steps to protect cardholder data. This has reduced the risk of data breaches and the associated costs for banks.
Biometric Sensors
FinTech in the banking industry has given birth to many innovations, and biometric sensors are one of them. Almost all the top fintech predictions and trends have mentions of this innovation. Biometric sensors, along with Iris scanners, are two technological advancements that ATMs are witnessing.
According to ABI Research, the number of biometric sensor cards is estimated to reach up to 20.6 million by 2025. These advancements are path-breaking since they eliminate the need to carry a plastic card and there's no need to remember the PINs. This offers immense convenience and ease to the customers.
Apart from providing convenience and ease, these advancements also make ATMs more secure than ever since the user can access their account without any password. The biometric ATMs use integrated mobile applications, fingerprint sensors, palm scans, and eye recognition to identify the account owner.
For more accurate and secure identification, ATMs also use micro-veins which eliminates the errors made by ATMs in customer recognition.
The biometric technology brings a huge sigh of relief to all the customers who panic at the thought of losing their ATM card. With biometrics, they can access their funds even if their card gets lost. Thus, there is a significant impact of biometric technology in the banking sector.
Mobile Banking
The increase in the use of smartphones has compelled banks to come up with mobile applications that offer convenient FinTech banking services. The use of these applications is called mobile banking. According to a study by Allied Market Research, the global mobile banking market is expected to reach around US Dollars 1824.7 million by 2026.
Today, most banks have a mobile banking application that has a user-friendly interface and delivers almost every service available in traditional banks. They have also introduced a feature of fingerprint recognition for users. The application performs this function without any biometric app or hardware.
A mobile banking app provides quick access to funds, and the user can perform several banking functions such as quick bill payments, check deposits, account balances, statements, and many more.
Read more: How mobile banking is transforming banks across the globe
Artificial intelligence
Over the years, AI has become essential in FinTech banking services. According to Business Wire, the global AI in the banking market is estimated to reach $ 64.03 billion by 2030, up from $ 3.88 billion in 2020, with a CAGR of 32.6% during the forecast period. And AI combined with machine learning is vital for fraud detection. Banks use software for fraud detection that generates alerts whenever there is a potentially fraudulent transaction. Later it is backed up by the human investigation that determines if the attack was real or false.
However, with time the detection of attacks is becoming difficult since the attacks are becoming more sophisticated as the day passes. So, the old method is only costly and time-consuming. Moreover, the risk of customer data loss is always there. To combat this issue, banks are now adopting AI technology.
Moreover, with AI and machine learning algorithms, banks can leverage historical data to predict and determine fraud attack patterns. This will reduce half of the manual effort. And the increasing use of AI and ML in financial services can also help banks in automating their processes and get detailed insights for making informed decisions.
Read more: Increasing use of AI and ML in financial services
AI-powered service chatbots
FinTech providers have also come up with AI-based customer service chatbots that have become popular in the recent past. According to a study by Juniper Research, it was found that the service conversations by chatbots were expected to deliver around $8 billion worth of cost savings by the end of 2022. Chatbots are nothing but software that uses machine learning and natural language processing to impersonate human conversation, either by voice or text communication.
Chatbots can be used to deliver fast and efficient customer service, responding to frequently asked questions and helping with simple tasks such as account balance inquiries and bill payments.
Chatbots can handle a high volume of customer inquiries simultaneously, freeing up human employees to focus on more complex tasks. It can also provide personalized guidance and help, leading to a more positive customer experience.
Hence, chatbots have become an integral asset for all banks as it reduces costs, enhance customer satisfaction, and allow their agents in the call centers to focus on value addition.
Final Thoughts
The advent of cutting-edge technologies coupled with customers' demand for a safe and more user-friendly banking experience has led banks and financial services to adopt FinTech and its services.
Today FinTech is bigger and more successful than ever, as it includes everything we mentioned in this blog. In the coming years, it is all set to become ever bigger with its fintech solutions for businesses, retail banking software, financial core banking software, and many other components coming under it. Only time will tell how big of an impact FinTech will have on the banking world.