FinTech, or Financial Technology, was first introduced in the technological world when Barclays installed its first ATM in the 1970s. In the same decade, the NASDAQ, the digital stock exchange, and SWIFT, the protocol of financial communications also established. Online banking began in the 1980s, and through the end of the 1990s, PayPal was up and running.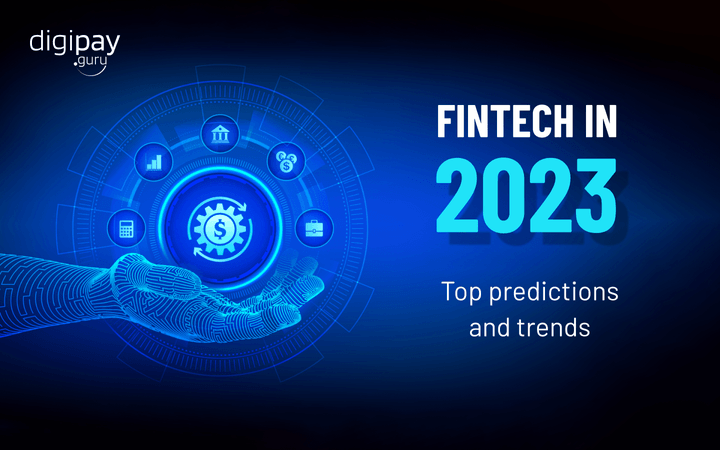 Then after the global financial crisis of 2008, fintech picked up at a fast pace, and innovations started surfacing in the field of fintech, with smartphones and the internet being the center of prominence. In 2009, bitcoin and other cryptocurrencies came into existence.
Post that, the era of startups and innovations started. Since then, the fintech industry is only growing with so many latest technologies and innovations.
According to a Global Fintech Market Report by Expert Market Research, the fintech market exceeded US Dollars 194.1 billion globally in 2022. It is predicted to reach up to US Dollars 492.81 billion by 2028 from 2023 to 2028 at a CAGR of 16.8%. This stat is evidence enough to represent the exponential growth of the global fintech industry.
Furthermore, a study by Statista states that as of November 2021, there were around 10,755 startups in the US alone. This stat represents that fintech innovations are at their peak with so many startups growing in the fintech industry.
It is pretty clear that fintech is the new normal in the financial world. Every year, there are so many top fintech predictions and trends in the industry.
In this blog, we will go through top fintech trends and expert predictions about fintech for the year 2023.
Top FinTech trends of 2023
FinTechs have been revolutionizing the financial industry for the past few years, and the trends in this field continue to evolve and shape the future of finance. As we enter 2023, we can expect to see a number of new and emerging trends in the FinTech space. Some of the top FinTech trends to watch for in 2023 include: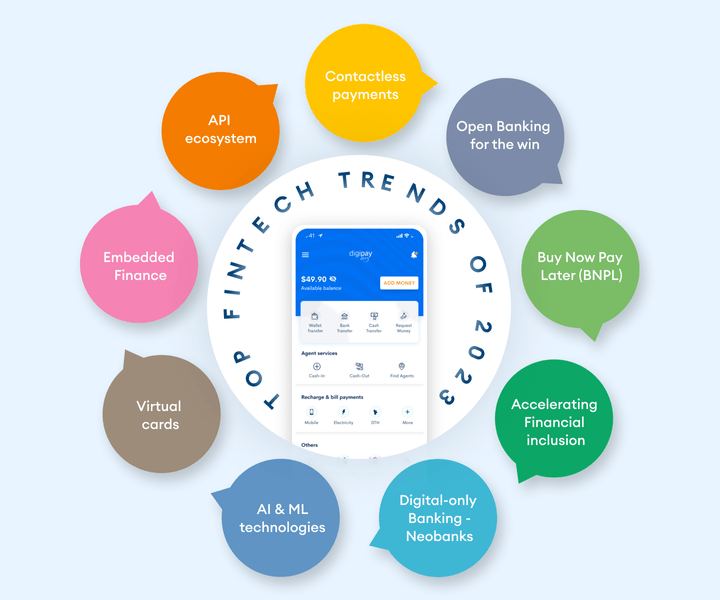 Contactless payments are gaining momentum
Contactless payments have gained momentum in the previous year and will continue to be a trend for 2023. The increased use of contactless payment solutions began during the COVID-19 wave because of the rise in people's demand. Today so many customers and merchants have started adopting it.
The latest study by Juniper Research says that by 2027, 99% of smartphones globally will be capable of making contactless payments. This means that contactless payments are growing at a fast pace while making the lives of customers and merchants easier and more convenient.
NFC-enabled devices, smartphones, and bank cards, along with QR code payments are the most prevalent contactless payments for 2023.
Open Banking for the win
Open banking allows third-party financial service providers access to bank account data securely via API, with the customer's consent, in order to provide more personalized financial services and products.
With the constant growth in demand for financial services, traditional banks are under constant pressure to compete with fintech companies. However, open banking presents an opportunity for banks to counter this pressure by joining forces with fintech instead of competing against them.
In Europe, the UK, and Australia, open banking has grown as a result of regulatory freedom. While in the US, Japan, and Canada, open banking has grown due to increasing customer demand and competition.
According to a study by Open Bank Project, by May 2022, there were more than 6 million open banking users globally. This stat suggests that banks and fintech are collaborating increasingly to extend innovative banking services to their customers.
Buy Now Pay Later (BNPL)
Over the years, BNPL, or Buy Now Pay Later, has been growing constantly. Many fintech companies are focusing on providing this service to their customers because of the ease of purchase and convenience.
Moreover, BNPL is becoming more popular among Gen z and millennials because of its core features. Furthermore, a study by Juniper Research found nearly 360 million people using BNPL in 2022. And this number will increase to more than 900 million by 2027.
Moreover, the fintech companies have been collaborating with various industry players to provide BNPL services. For example, Klarna collaborated with Expedia to provide a service called 'travel now, pay later.' Also, the banks (like Santander's Zinia) and super apps (like ZoodPay) are also adopting the BNPL model into their business. Thus, BNPL's future is ever-changing and growing. It is transforming the way credit works.
Read More: Buy Now Pay Later - changing the way credit works
Accelerating Financial inclusion
According to the Global Findex Report 2021, there are almost 1.4 billion people in the world who are unbanked as they don't have access to banking facilities. Most of these people are from developing nations.
Yet, the penetration for mobile phone users is very high in these areas, which makes it the right destination for FinTech apps and branchless banking. And this is exactly what's happening. FinTech solutions like agency banking and mobile money are playing a crucial role in improving financial inclusion in these regions.
Digital-only Banking -Neobanks
Digital-only banks, also known as neobanks or challenger banks, have been gaining popularity in recent years as more consumers prefer to conduct financial transactions online or through mobile apps.
These banks provide various virtual banking services like P2P transfers, international remittance, contactless MasterCard with free transaction fees, and the ability to buy various cryptocurrencies like Bitcoin, Ethereum, and many more.
The digital-only bank is a digital fintech solution that has gained immense popularity in a short period. It's because it offers the utmost convenience to the customers by eliminating tedious paperwork, waiting in long queues, and the need to visit a bank physically.
Digital-only banks will see a huge surge in the year 2023. As per a study by statista, the market size of neobanks and challenger banks was around 47 billion in 2021. This number is expected to rise to 2.05 trillion by 2023 at a CAGR of 53.4 percent.
Read more: All you need to know about neobanks
Artificial Intelligence & Machine Learning technologies
Artificial Intelligence and Machine Learning are potentially disrupting the financial industry and its services. Its automation and technological capabilities help reduce overall business expenses and streamline processes.
Banks and financial institutions are adopting AI & ML to improve the customer experience, reduce costs, increase productivity, retain customers, provide innovative services, and ensure foolproof & secured payments.
For example, AI and ML are providing chatbots with natural language processing. This makes the customer handling process very smooth and efficient. Looking at this, banks and fintech with AI capabilities are partnering to yield benefits.
To back this, according to Insider Intelligence, by 2030, chatbots will be so rooted in the banking process that customers will not be able to reveal if they are interacting with the bot or a human.
Virtual cards enhance digital banking
According to a study by Future Market Insights, sales of virtual cards in 2021 were valued to be $338 billion. The virtual cards market was around USD 338 billion in 2021. This figure is predicted to rise to USD 1.3 Trillion by 2032.
As digital banks are growing, we will also see a rise in the use of virtual cards for business related payments this year. Moreover, virtual cards provide a layer of security by generating a unique card number for each transaction, making it much more difficult for someone to steal a customer's credit card information.
Another reason for the growing popularity of virtual cards is the increasing use of online shopping platforms, more people are likely to use virtual cards for online purchases rather than physical cards.
Embedded Finance for the non-financials
Embedded finance is becoming widely popular among non-financial businesses to integrate specific banking services into their business through BaaS (Banking as a service) products. For example, a shopping site integrating Buy Now Pay Later on their app or website.
Embedded finance helps businesses to facilitate and improve the customer's experience and gain their loyalty. Hence, many businesses have been embarking on the journey to integrate it into their businesses.
Also, a study by Bain says that around USD 2.6 trillion worth of embedded finance in e-commerce and other businesses is used, and this number will rise to $7 trillion by 2026. This stat shows that embedded finance is going to be a big trend in 2023.
API ecosystem growth
API or Application Programming Interface is used widely in the fintech sector today. It includes data exchange APIs for providing innovative services or improving current services, Security APIs for improving the security of the fintech service, or any other such fintech requirement.
Today, APIs facilitate financial services, banking it easy for new businesses to simply integrate them into their businesses, rather than creating new APIs from scratch. This saves time and reduces unnecessary expenses. Hence, the upcoming and current fintech startups and businesses will keep using APIs in 2023 and many more years to come.
Major fintech predictions by experts for 2023
The above fintech trends are going to disrupt the financial ecosystem in 2023. However, there are some expert predictions for 2023 that will provide you with a better understanding of what's coming next in the fintech industry. These predictions are as mentioned below: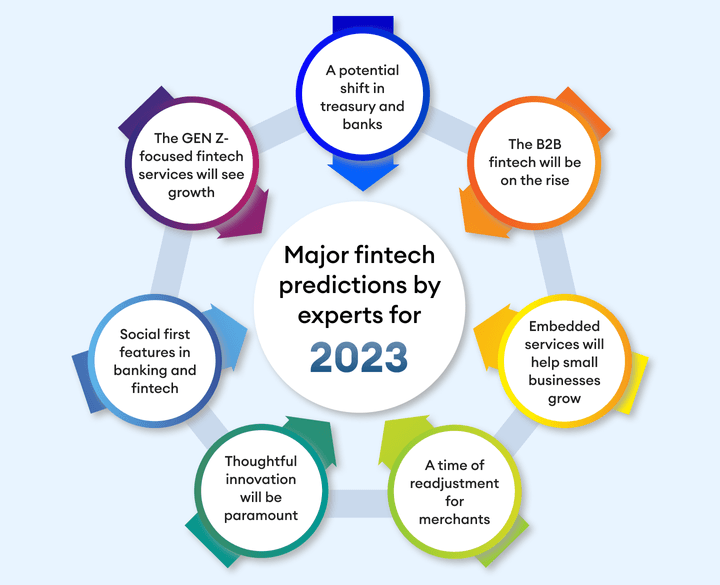 The B2B fintech will be on the rise
The CEO and Co-Founder of Dreams Technology, Mr. Henrick Rosvall, predicts that the B2B fintech companies will experience an evident surge.
According to him, the extensive rise in fintech has led banks to move even faster toward digital transformation. In that process, the banks and fintech are collaborating on the next levels.
In 2023, these collaboration numbers will increase even more. This rise in partnerships between banks and fintech will give an automatic rise in the B2B fintech market. The investors will begin to find B2B fintech companies/businesses an attractive deal to be a part of.
Embedded services will help small businesses grow
The chief growth officer of Xero, Mr. Chris O'Neill, predicts that small non-financial business infrastructures will increasingly use embedded finance to extend financial services to their customers and increase their customer base over time.
Here, businesses do not even need to redirect their customers to traditional banks or financial institutions. This is the primary reason for embedded finance becoming popular among small non-financial e-commerce businesses. Hence, embedded finance will remain prevalent in 2023.
A time of readjustment for merchants
The chief commercial officer at Devidebuy, Teresa Byrne predicted that with fintech services becoming prominent, the merchants would look forward to readjusting themselves into the payments environment. The merchants ultimately want to drive customers and their loyalty toward their business.
For this purpose, the merchants will consider the various discounting techniques and alternative options for payments for the customers to increase their customer base and profitability. Many merchants have started taking help from third-party payment service providers to be at the top of their game.
Thoughtful innovation will be paramount
The Co-founder at Enfuce, Denise Johansson, predicts that because of too many fintech companies coming into the picture, it would become paramount to be innovative at another level.
The main point of being an innovative business is to solve a problem along with adding value and creating a positive impact on the customer's life. A thoughtful innovation can do wonders and will be widely adopted in the fintech ecosystem.
She also adds that the fintech solution should be such that it helps with ESG, financial inclusion, mindful financing, & social mobility and have a positive impact on the wider society.
Social first features in banking and fintech to become prevalent
The CEO and Co-founder at Shares, Benjamin Chemla says that the banking and investment apps have started looking forward to social media. Taking inspiration from it, they are working on adding social first features to connect and attract a younger audience.
Social first features allow businesses to interact and connect directly with the audience just like social media. The business can build groups, chats, and social feeds to keep customers engaging with the community.
For example, Robinhood is an app where users can buy and sell stocks. Here, the social feeds features are available, which helps the customers to see the trending buys & sells, and chat features are available where customers can interact with each other as a community.
The GEN Z-focused fintech services will see growth
The COO and Co-founder at Cheddar says that the GEN-Z has seen a serious shift in finance with the pandemic, lockdown, financial crises, and digital transformations happening right in front of them. In 2023, the fintech companies will see an increased innovation of services specially focused on Gen-Z.
Looking at competitions adopting it, every other fintech will have to work on improving their services while keeping GEN-Z in mind. Thus, for fintech, 2023 will be a Gen-Z year and will promote mindful spending and wishful savings.
A potential shift in treasury and banks
The EVP, in treasury and capital markets at Finastra, Wissam Khoury says that the treasury and banks will be adopting the ongoing digital transformation in 2023 to flow right into the fintech market. Also, banks are slowly coming out of the old systems and moving towards the new cloud tech as a step towards digitalization.
Moreover, the treasury and banks are now moving towards 'buying' from 'building'. They are potentially buying services from fintech to extend their services to more and more customers. This shift has been beneficial for them and will continue in 2023 as well.
Concluding Thoughts
The fintech sector keeps evolving and innovating. With these trends, the fintech industry and its services will only become more robust and useful. These trends will result in better transparency, faster transaction processing, improved customer experience, and enhanced availability of financial data.
So, the fintech companies adopting any of these trends will see potential growth and success in their business. Moreover, the expert predictions mentioned can have a noticeable impact on the fintech and banking sectors.
The FinTech revolution is gaining tremendous traction with each passing day making the future of Fintech brighter than before. And with these trends and predictions, the fintech sector is all set to disrupt the banking and payments industry.