With digitalization, digital payments are increasing rapidly, resulting in a widespread adaptation of the current digital environment. One such adaptation is the rise of virtual cards.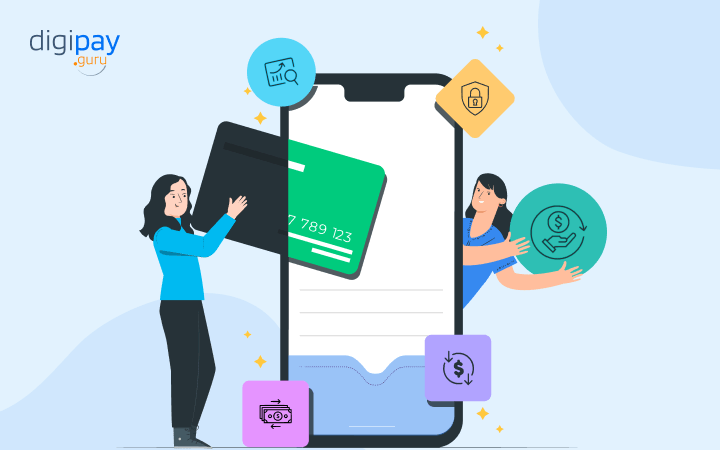 According to a study by Allied Market Research, the global market size of virtual cards was $281.22 billion in 2021. And by 2031, it is expected to grow up to $1893.08 billion, with a CAGR of 21.3% from 2022 – 2031. It suggests a potential growth of virtual cards in the coming future.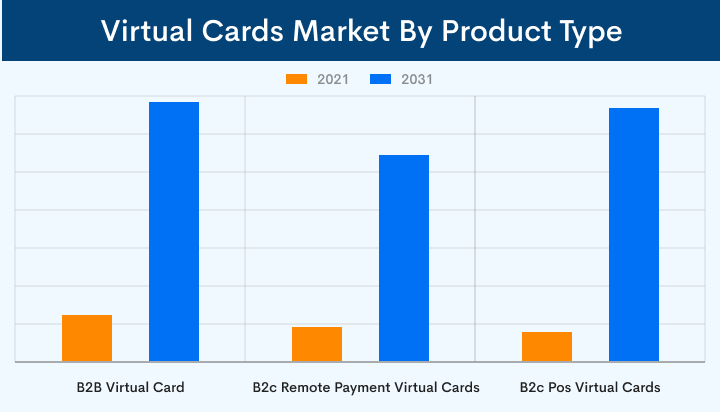 Moreover, when physical cards pose a big concern of theft and security breaches, virtual cards solve these concerns by allowing safe and secure online payments. In this article, we will learn about virtual cards and how it empowers the business world.
What are virtual cards?
A virtual debit or credit card is a modern cashless payment solution that doesn't require a physical card for making payments. These virtual cards are issued digitally through an app or a website and can easily be stored on smartphones.
A virtual card looks similar to a physical card with its 16-digit card number, expiry month & year, and CVV. The only difference is that it is in digital form and may or may not have similar numerical values.
One can use these cards to make instant payments, buy subscriptions, or for online shopping. In addition, in the B2B world, virtual cards are the electronic payment method with the quickest growth potential.
These cards are secured with encryption and can offer secure and convenient mobile payment solutions. Some examples of virtual cards are Us Unlocked and Netspend.
There are two major types of virtual cards:
Single-use virtual cards
The physical bank issues this type of card in virtual form. The user can generate these cards multiple times but they will carry different numeric details each time. Each of these cards is for one-time use only.
Just like a physical card, it has a 16-digit card number, expiry month & year, and CVV, but with different numeric details. For example, if a physical card has the card number "1234567891011121", the virtual card may have a numeric value such as "5049484746454443".
Also, these cards are used only for a limited prepaid/credit value. Once you use this prepaid/credit value, the card and its details become useless. For example, if the user generates a virtual card with a $450 value, it will be revoked after use.
These cards are generally debit or prepaid virtual cards. They are most commonly used for paying claims and warranties, shopping, and retail purchases. Businesses use this kind of card for extra security in their transactions.
Read More: Redefining the shopping experience with advance solution
Multiple-use virtual cards
Multi-use virtual cards are a replica of the physical cards but in a virtual form. Both the cards have the same 16-digit card number, expiry month & year, and CVV. The banks issues these virtual cards for contactless payments and secured transactions.
For businesses, their customers can change from time to time. But with the multi-use virtual card, you can move an active card from an old customer to a new one. You can also use the same card for multiple payments. For instance, you may keep different virtual cards on file for each supplier.
How do virtual cards work?
We keep our physical cards in our physical wallets. Likewise, we can keep a virtual card in our digital (virtual) wallet and use it to make a purchase. You can add money to your card from the wallet and from your wallet to the card. These cards perform a transaction just like physical cards but with a more secure process.

A virtual card functions similarly to a physical card. Users get a 16-digit number, an expiration date, and a card verification value (CVV) in digital form, which is occasionally connected to your local payment options (wallet) or a debit/credit card to facilitate easy funding and withdrawal from the virtual card.
A virtual card contains the account details in encrypted form (token). And while making an online payment through a virtual card, this information is securely passed to the payment system. The payment system then sends this information to the bank to verify the data and finish the transaction successfully.
How do virtual cards empower businesses?
Virtual cards are becoming the talk of the business world. Many businesses have started incorporating them as advanced mobile money solutions to drive business growth and success.
Here's how virtual cards are empowering businesses:
Safety and security enhancements
Nowadays, along with the threat of card theft, the risk of hacking or misusing personal and bank account details is also increasing.
In the case of single-use virtual cards, the card is safer and more secure than physical cards. It is because of the pre-setting feature of this card. You can pre-set the card with a maximum spending limit for any time duration you need.
You can cancel the card anytime. Hence, there is no risk of data leakage and loss of money. You can set these cards for your suppliers.
Additionally, for every virtual card, there is a single-time use card number, expiration date, and CVV instead of the exact same card details for every transaction. It adds an extra security layer to every payment you make with this card.
Read More: Secure your online payment system for protect your customers
With these cards, it is quite impossible to perform account theft because criminals cannot access your bank details just by stealing your physical card.
In the case of a multi-use virtual card, the card does not have a magnetic stripe, and the card number is not visible. Thus, your card details remain safe and secure.
Prevent digital payment frauds with DigiPay's secure payment solution
Convenient to use
Customers always want better and more convenient ways to make transactions. Virtual cards make it possible for them by simplifying the payment process for your businesses and customers. You only need to set up an account that accepts virtual cards. And customers can make payments directly through their smartphones.
Also, it eliminates the hassle of carrying a wallet stuffed with physical cards when your customers want to make a purchase. Thus it becomes more convenient and seamless for your customers to make payments.
Besides that, virtual cards allow your account payables department to concentrate on more crucial financial matters, allowing you to focus on running your business. So, virtual cards make an effective payment system for merchants.
Reduced costs and expenses
In the case of single-use virtual cards, you can reduce the extra expenses by setting spending limits, and purposes for card usage while customizing the cards based on the user's requirements. You can also revoke the transactions if they cannot be verified or are found suspicious.
Sometimes the virtual card may not cost you anything because of the cashbacks on the virtual payments. Furthermore, as all the transactions pass through online mode (virtual card payment), the operational costs are also decreased.
Cash flow management
Managing a business's cash flow and financial needs can be challenging. They are required to make timely payments to their suppliers and vendors. And trying to determine the funds available in the Accounts Payable division can be a little ambiguous.
With expenses surging from all directions, a business can struggle to monitor the cash flow. Virtual card payments allow them to view all the cash flow directly on their PCs or smartphones. So you can have better internal transparency and efficiency in the payment processes.
Also, there are extra features like allocating the virtual cards to various vendors or suppliers according to your preference. It helps you to keep every transaction in sync so that the account payable department does not have to keep tracking the cash flow.
Data analysis for improved performance
Virtual payment cards can generate robust data for data analytics with every transaction. By utilizing this data, the financial team can learn a lot about businesses' operations and can work on improving the business process.
Data analytics can also help uncover the most profitable demographic markets where businesses can close a successful deal. This analytics indicates that virtual cards can not only benefit large businesses but can also be an effective online payment solution for small businesses.
Conclusion
Virtual cards are the business revolution for security and convenience in the payments industry. With a card on your phone, you can conveniently make payments anytime and anywhere without the need to carry a physical card. And with a more secure virtual card with end-to-end encryption, you don't need to worry about card theft and data breaches while making payments.
Virtual cards have a bright future as a secure, convenient B2B payment technique, even when compared to debit-based ACH, which currently leads the electronic payments space. In addition, the undeniable adoption of digital business processes and virtual card payments indicate a promising future for virtual cards.