Did you know that electronic payments can be traced back to the 1870s when the Western Union started electronic fund transfers in the year 1871? Then came the telegraph for money transfer by a federal reserve of America in the 1910s. In the 1950s Diners club invented the first credit card followed by American Express.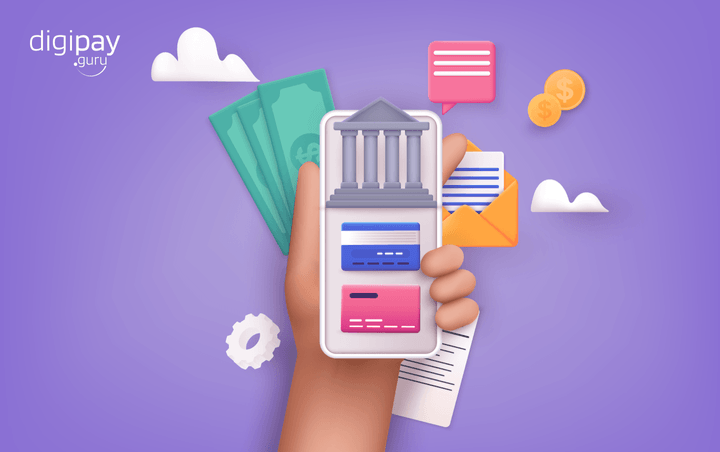 In 1972, ACH was introduced for large-volume payments. And the bigger change began when in the 1990s internet banking commenced. Then with the advent of the first eCommerce website, Amazon, for online purchases in 1994, our online buying and payment journey took an interesting turn.
According to a study by The Business Research Company, the global electronic payment market was around US Dollars 96.19 billion in 2022. This figure is expected to rise to US Dollars 111.11 billion in 2023 at a CAGR of 15.5 percent.
From the above stat, it can be interpreted that electronic payments have only grown every year. And now it is on astounding growth with the penetration of smartphones and internet availability worldwide.
In this blog, we will discuss and learn what electronic payment systems are, how they work, their major types, benefits, and how to enhance their security.
What are electronic payment systems?
Electronic payment is the process where customers make payments by using electronic methods. Whether you want to pay for your favorite food or make a payment to your nearby retailer, you can do it easily via electronic payment solutions.
Today, all businesses have realized the importance of electronic payment system and are using some payment solutions for accepting payments. And if you are looking to set up an online business, then you need electronic payment software for accepting payments. You can hire a software development team or you can assign your payment app development task to remote developers.
But before you start developing an e-payment system for your business, you first need to know how it works.
How does an electronic payment system work?
If you want to implement electronic payments in your business successfully, you first need to acquire information about its process and the participants. The participants may include the cardholder, the merchant, the processing bank, the issuer, the acquirer, and the payment gateway. The involvement of all the above factors is necessary for a successful electronic payment.
Electronic payments are further divided into two categories: single-time vendor payments and recurring customer-vendor payments.
In single-time vendor payments, the cardholder enters card information at the time of checkout to authorize the payment to the merchant's account. Whereas, recurring payments are offered to customers who make regular payments. However, one has to specify that the payment occurs for a specific period.
Major Types of electronic payment systems
Credit/debit cards
These are electronic payments made using a consumer's credit or debit card. The payment is processed through a card network such as Visa or Mastercard, and the funds are transferred from the consumer's bank account to the merchant's account.
These electronic payment systems can be used in brick-and-mortar stores by swiping the card at POS and for online shopping by adding card details on the payment page.
E-wallets
These are digital wallets that allow consumers to store their credit/debit card information, as well as other personal information, in a secure online location. Here, the payment is made by adding funds to the wallet from the user's bank account linked with the wallet. It could be a wallet-to-wallet transfer or a wallet-to-bank transfer.
Online banking
Online banking is an online portal of a user's bank account created by their respective banks. Through this portal, the user can make direct bank-to-bank transfers within the same bank or to other banks as well.
Another version of this solution is the mobile banking app which performs the same functions as the online portal. Looking at the increased internet and smartphones, banks came up with this solution.
QR code payments
QR code payments are made by scanning a Quick Response (QR) code, which is a type of barcode that can be scanned by a smartphone camera. The QR code contains information about the transaction, such as the merchant's account information and the purchase amount. These payments can be done through a wallet or banking app. It is one of the most popular payment systems in the world.
Read More: All you need to know about QR code payments
Contactless payments
Contactless payment is a way of making payment by using NFC and RFID technology. In this method, one needs to tap the payment device or card near the POS terminal. These contactless electronic payments are also known as tap-and-go payments.
There is no need for swapping cards or entering any kind of PIN while using contactless electronic payment devices. When the merchant's system prompts, the customer needs to bring his device or card closer to make payments. Then the information gets transmitted from the magnetic chip to the bank.
Many businesses use this electronic payment system for convenience and faster transactions. While customers find it very easy to use and convenient at the same time.
ACH payments
ACH payments, or Automated Clearing House payments, are electronic payments made through the ACH network. This network is used to process financial transactions, including direct deposits, bill payments, and e-checks. ACH payments are less expensive than card payments and can be used for both debit and credit transactions.
It is important to note that ACH payments are not reversible, so it's important for consumers to make sure they have enough funds in their accounts to cover the transaction.
International remittance
International remittance means the transfer of money by a foreign worker to their family in their home country. In many countries, international remittance possesses a large amount of GDP.
Nowadays, mobile wallets have made money transfers easy with international remittances. It offers multiple features to make the transfers easy, speedy, and secure. By using mobile wallets, you can set fixed exchange rates for transferring money. You can also let your customers determine their exchange rates beforehand.
Read More: International Remittance trends, challenges, and opportunities
Peer-to-peer payments
Peer to peer payments allows the transfer between two parties by using credit cards or debit cards through a payment e-wallet app. To set up a P2P payment, you need to sign up with your bank account linked with a credit card or debit card.
After setting up your account, you can start transferring money to your friends and family. The time for money transfer in peer-to-peer transfer differs from one service provider to another.
Apart from the above-mentioned major electronic payment systems, there are various other systems like wearables, biometric payments, payment using AI, cryptocurrency, virtual cards, and so on.
Benefits of implementing an electronic payment system
Now that we have discussed what e-payments are, how they work, and their types, let's take you through the benefits of electronic payment system. They are mentioned below: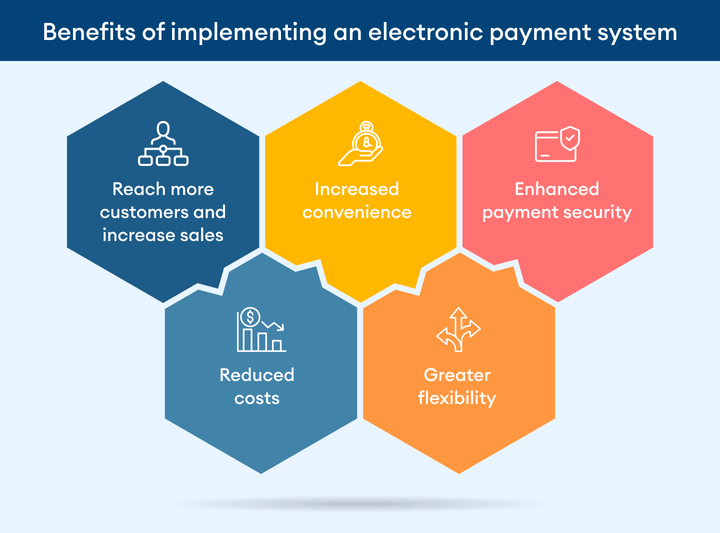 Reach more customers and increase sales
Electronic payment platforms allow you to explore the markets. And today, more and more people have started online shopping due to the inception of e-commerce websites. As per statista, the number of online shoppers was around 268 million in 2022. So, you just have to install an e-payment system into your business to grab this opportunity.
Moreover, through electronic payment systems, it becomes easy for the merchant to reach more customers across the globe. And the increased traffic of online shoppers brings higher sales. These increased sales will ultimately result in profitability and business growth.
Increased convenience
Electronic payment systems allow consumers to make purchases quickly and easily without the need to carry cash or credit cards. As a result, customers do not have to wait in long lines to purchase products or services. This convenience of purchasing can encourage your customers to buy more from you. The repeated purchase would result in retained customers and growing profits for your business.
Additionally, electronic payments can be made remotely, such as online and through mobile devices, which increases flexibility and convenience for both consumers and merchants.
Enhanced payment security
The transfer to the electronic payment system has increased the number of financial frauds. But many e-wallet payment solutions use enhanced security measures to prevent data breaches and frauds, such as two-factor authentication, biometrics, AVS, 3D secures, and following the security standards of PCI DSS.
All these measures and standards help in reducing fraud and security risks efficiently and effectively.
Reduced costs
Electronic payment systems can reduce costs for merchants by eliminating the need for cash handling and reducing the risk of fraud. Additionally, electronic payment systems can reduce the need for paper checks and other traditional forms of payment, which can save money on printing and mailing costs.
Greater flexibility
Now you can offer discounts, cashback, and promo codes to your customers with an e-payment system. Also, you can change your prices quickly according to the latest marketing insights. By doing this, you can easily increase your current sales.
Are electronic payment systems secure?
The answer is yes! It's undeniable that electronic payments are prone to fraudulent and criminal activities as it is done over the internet. But, today if technological advancements can develop electronic payment systems, they can also develop advanced security measures and tools.
Also, the fintech companies that use payments and technology to create online payment solutions create inbuilt security features like biometrics, encryptions, tokens, and many more for providing security for payments.
Moreover, customers need to feel secure about transacting online, or else the electronic payment systems will fail dramatically. So, electronic payments are made secure with constant efforts and security measures by the solution providers.
How to make your electronic payment systems more secure?
Payment security is a top-notch priority for every business. But it becomes paramount when using an electronic payment processing system in your business. Also, there are many security measures and protocols for securing your payment systems.
Here are some ways of securing your electronic payment system:
Get informed of the Secure Electronic Transaction system
Firstly, you need to get in-depth information about the Secure Electronic Transaction (SET) System. SET is a standard for secure electronic commerce transactions developed by Visa and Mastercard to provide a secure way for consumers to make purchases over the internet. SET uses a combination of encryption and digital certificates to ensure the security of online transactions.
SET uses public key infrastructure (PKI) to provide authentication and encryption for online transactions. When a consumer makes a purchase, their browser encrypts the credit card information and their digital certificate which is sent to the merchant. The merchant then uses their digital certificate to decrypt the information and validate the transaction.
Ensure your system is PCI compliant
When you choose an electronic payment system for your business, you have to ensure that it is PCI-compliant. Payment Card Industry Data Security Standard (PCI DSS) is a list of payment system standards for securely accepting, storing, and processing payments as well as protecting against credit card fraud.
Set up digital signatures
The digital signatures connect a cardholder with the online payment. These signatures are the public key for ensuring the transaction. That is why you need to set up digital signatures to strengthen the security of your payment system.
Use SSL and TLS encryption
A Secure Socket Layer or SSL is a security protocol that meets multiple security protocols, such as authentication, end-to-end encryption, and integrity. SSL encryption ensures that the transactions made on your website are safe and secure.
Transport Layer Security (TLS) is a security protocol used to encrypt and secure communication over the internet. It is nothing but an upgraded version of the SSL protocol.
Implement Two-factor authentication
Two-factor authentication (2FA) is a security process that adds an extra layer of protection by requiring the customer to provide two forms of identification to access the system. The first form is a password or PIN. The second is generated by a device or service the user has physical access to, such as a One Time Password (OTP) or a fingerprint.
Moreover, there are several other security measures such as Regularly updating the software, Monitoring suspicious activities, using biometrics systems, tokenizations, 3D secures, Address Verification Services (AVS), and many more. By implementing all these security measures, you can make your digital payment service even more secure and difficult to breach.
Want a top-notch electronic payment system for your business?
DigiPay.Guru is embarked on a journey to empower banks, financial institutions, and fintech companies across varied industries with its advanced electronic payment systems including digital wallet solutions, international remittances, agency banking, and electronic merchant solutions.
If you are looking for creating a top-notch electronic payment system for your business, you have landed in the right place. Get in touch with our experts today, so that we can discuss your requirements & provide you with the best-tailored solution for your business.