DigiPay.Guru has celebrated its team expansion event in splendid style. All the members of the DigiPay.Guru family had decided to make it memorable by organising a grand event. They took part in the fun and team-building activities of this event with full excitement.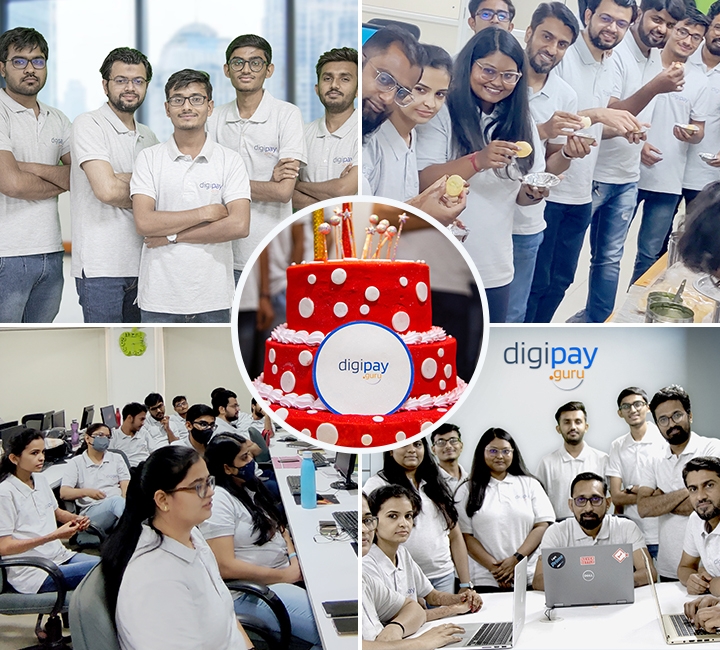 All the members of the DigiPay.Guru team took part in it with great enthusiasm, fun and frolic. The energy and excitement level of DigiPay.Guru team members was quite evident in this event. The entire DigiPay.Guru management team graced the occasion and gave it a headstart.
Sales Head Speech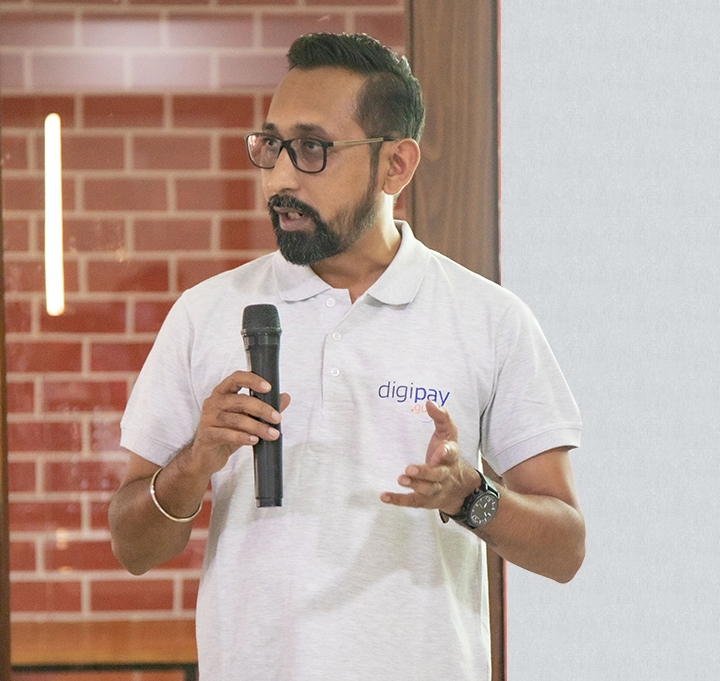 Our Sales Head Rahul Patel started the event with a speech. In which he shared his experience of working with DigiPay.Guru. Furthermore, he discussed the statistics of DigiPay.Guru's overall sales. Also, he shared the future strategies of growing DigiPay.Guru's sales in the future.
Speeches by Srishti and Nikunj on DigiPay.Guru's roadmap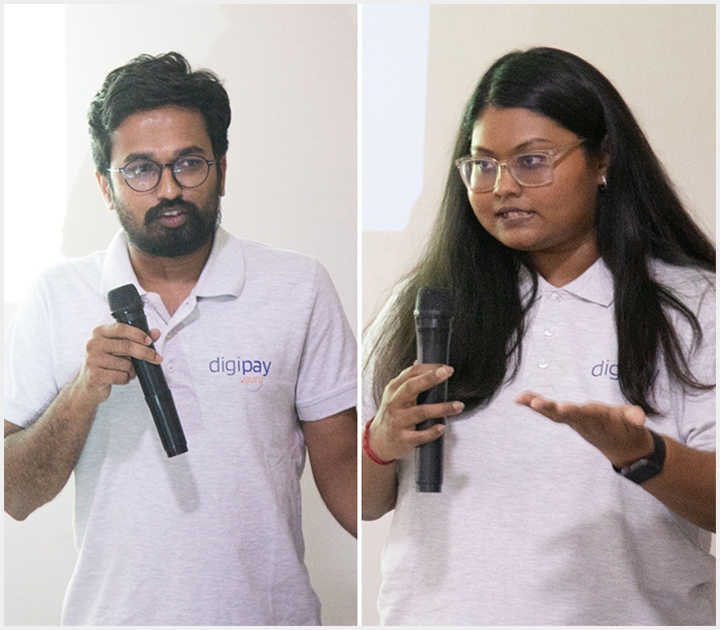 Then, DigiPay.Guru's Product Manager Nikunj Gundaniya and Sr. Business Analyst Srishti Dey explained how DigiPay.Guru has emerged as a global leader in delivering world-class FinTech solutions.
They further added that DigiPay.Guru has successfully delivered digital financial solutions, international remittance solutions, mobile money solutions, dynamic wallet management, agency banking, etc.
Soulful Shayaris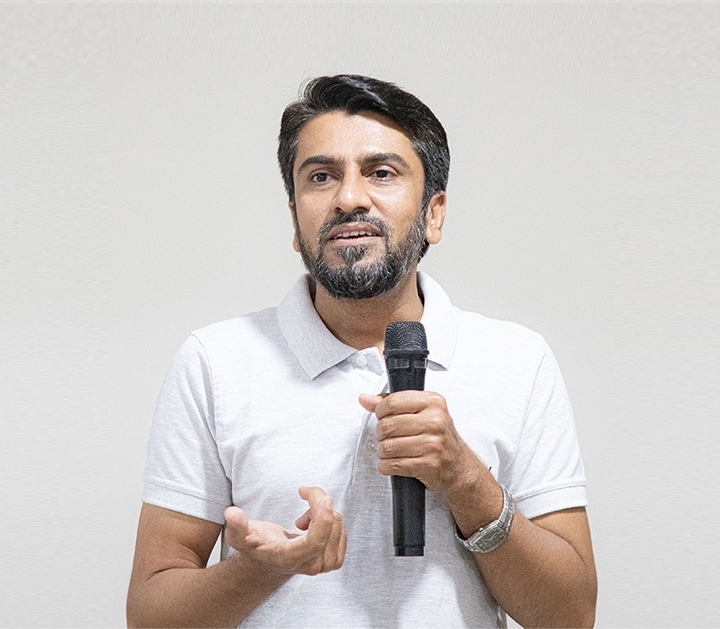 After this, DigiPay.Guru's FinTech Consultant Aakil Khan Pathan started his speech by reciting a few Shayaris. After that, he talked about DigiPay.Guru's journey till date. He also discussed how DigiPay.Guru has helped a lot of clients by providing them with top-notch digital payment solutions. Also, he had discussed the future plans of DigiPay.Guru.
Mesmerizing Magic show!
Now, it was the time for Sohel Vora to mesmerize the audience with his astonishing magic tricks. In this trick, he picked a few volunteers from the audience and told them to lift Rajesh Yadav and Mushahid Khatri. All the team members tried a lot to lift them, but they were unable to do that. After then, Mr. Vora used his trick and all the members successfully lifted Mr. Yadav as well as Mr. Khatri with just their two fingers!
Exciting Quiz
Then our HR Ms. Sagathiya did a fun quiz. She had asked some tricky riddles and funny questions to the audience. All the DigiPay.Guru's family members have participated in this quiz by answering the questions in a fun way. After this, our Business Development Executive Hina Patel sang a classic Bollywood song.
Fun-Filled Standup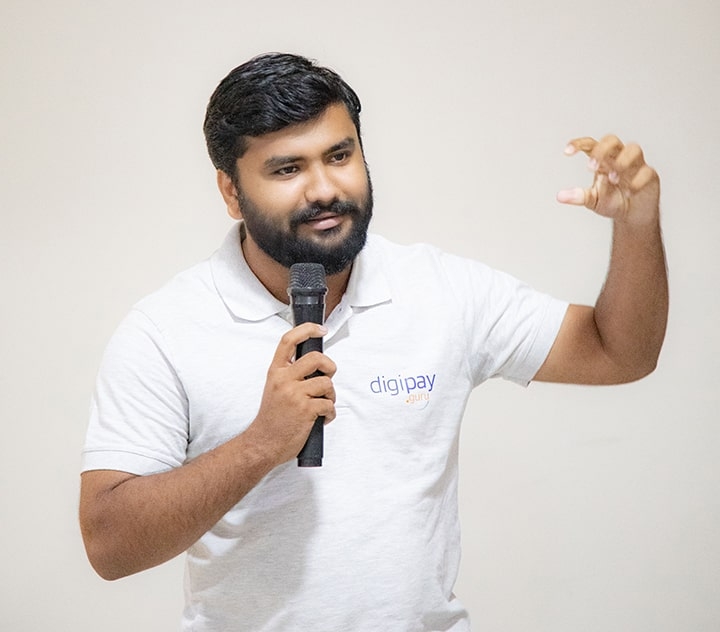 After the games, there was a stand-up comedy performance by Bhavyadeep Singh Rathod. He shared some funny jokes on monitors, school teachers, HRs, TV ads and Bollywood movies. This standup act had lightened up the mood of all the DigiPay.Guru family members.
Let's cut the cake
Then it was time for the cake cutting. All the DigiPay.Guru family members cut a three-floored velvet red coloured cake with DigiPay.Guru's logo.
Also, a beautiful candle indicating DigiPay.Guru's team expansion event had been put in the centre of the cake. Our sales head blew the candles and cut the cake along with all the team members. All the DigiPay.Guru family members happily welcomed the cake cutting.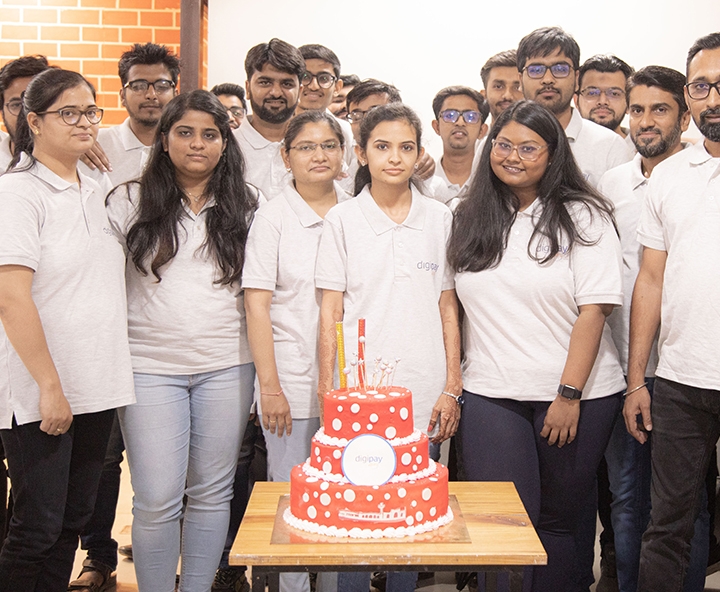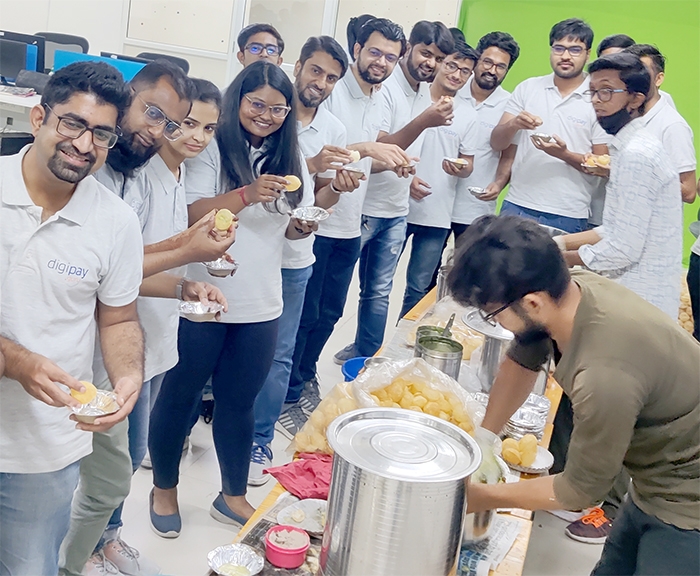 Also, there can't be a good time to have snacks when everybody is having fun at the event and that is why DigiPay.Guru family offered Paani-puri to all its family members along with the cake.
Click, click
After the cake cutting session, a photo session was organised for all DigiPay.Guru's family members. For this session, DigiPay.Guru had specially designed an off white t-shirt with its logo for all its family members.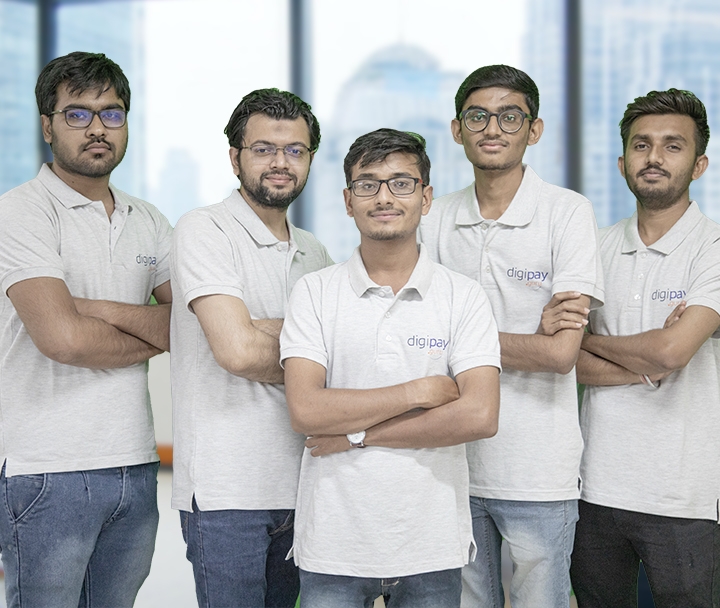 DigiPay.Guru's employees were posing cheerfully for the photos. All the members had posed in a fun way. Photos of the office premises were also clicked along with the team's photoshoot.
This team expansion celebration had created great camaraderie among all the members of the DigiPay.Guru family. This evening gave us some worth remembering moments for our whole life.