DigiPay.Guru has always believed in contributing to the fintech and digital payments industry. We are always on the lookout for global events to participate in for gaining perspective and challenges that we can solve with our solutions.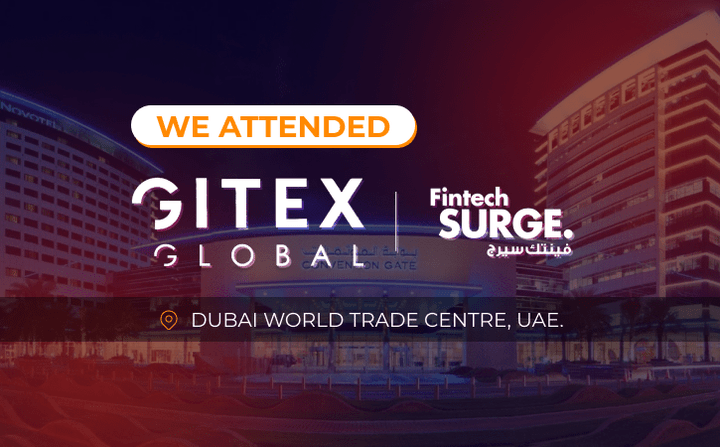 DigiPay.Guru is thrilled to be back from Fintech Surge at the GITEX Global Week, having met industry leaders, and attended sessions of tech giants from different parts of the world.
DigiPay.Guru actively attends tech and finance events around the world such as the Seamless Series, Money 20-20, ADGM, Singapore Fintech Festival, AfriCom Event, FinTech Festival India, among others. It has significantly contributed to reshaping the future of finance, technology, and digital transformation.
About Fintech Surge at GITEX Global Week
GITEX Global Week is organizing Fintech Surge, MENA's most impactful and visionary event that will redefine the fintech ecosystem. This event will see the fintech industry's biggest path-breaking sessions and talks hosted by speakers from some of the most well-known companies in the world.
Major celebrities and speakers are all coming together to create a pathway for digital banking, paytech, insuretch, and wealth and asset management. Some of the major organizations in attendance are STRIPE, Bank of Dubai, Red Hat, HSBC, Mastercard, Bahrain Fintech Bay, etc.
The event is power-packed with a Digital Banking Summit, a workshop, a Supernova challenge, and an investor's program. Over 80+ leaders will be speaking live on digital trends across banking, payments, and e-commerce.
About DigiPay.Guru
DigiPay.Guru is a globally growing tech solution provider, delivering digital wallet and payment solutions. It is committed to offering white-labeled solutions that are multi-tenant and are adaptable to multi-currencies.
The solutions can be smartly integrated with various platforms that in turn helps you in reducing the go-to-market time.
DigiPay.Guru at the event
DigiPay.Guru attended Fintech Surge at the GITEX Global Week from 17th to 21st October 2021. The event was attended by over 45000 people from around the world.
We had the opportunity to interact with industry leaders of more than 25 different companies and organizations representing fintech products and services like:
Cybersecurity
Credit scoring
Buy now pay later
Blockchain in AML
AI in AML
Few of the African and Ethiopian banks that we had a chance to interact with, expressed some of the challenges that are faced in their regions. There are issues of connectivity as there is still no internet connection available in remote locations.
Also, there is less adaptability to technology and the usage of smartphones and mobile gadgets and devices is very low. There is a long time before there will be digitization of all services where the usability of technology is low still.
What we understood from the challenges expressed by our Middle Eastern counterparts, we recognized the concerns regarding open and paperless banking.
Some of the things here that we learned through our interactions and are looking forward to adding to our future roadmap are:
Financial inclusion in areas with network constraints
Increased tech adaptability
Open and paperless banking
Conclusion
DigiPay.Guru is always excited and ardent to add and deliver value to the businesses of its client. Be it any event that is held in any part of the world, we are super active and seek the opportunity to grab to provide highly secure digital wallet solutions and help banks, financial institutions and businesses provide seamless payment solutions to their end-user. We actively participate in event that is relevant to FinTech. The new event that we are going to participate in is Seamless Middle East 2022 in Dubai. Here is a glimpse of the event.
DigiPay.Guru is going to Seamless Middle East 2022 which is organized at the Dubai World Trade Center from 31st May 17, 2022, to 1st June 2022 for the future of Payments, FinTech, Identity, Retail, and eCommerce.
A global 2-day conference with over 300 speakers
A free to attend the multi-brand exhibition
A dedicated networking lounge and guest buyer program to meet the brightest and the most innovative minds in person.