Keeping the commitment and vision at the center of "endeavoring financial innovators", digipay.guru has again moved one step forward towards the vision by adding the three most awaited features which are "Split payment, Schedule payment, and Sub wallets".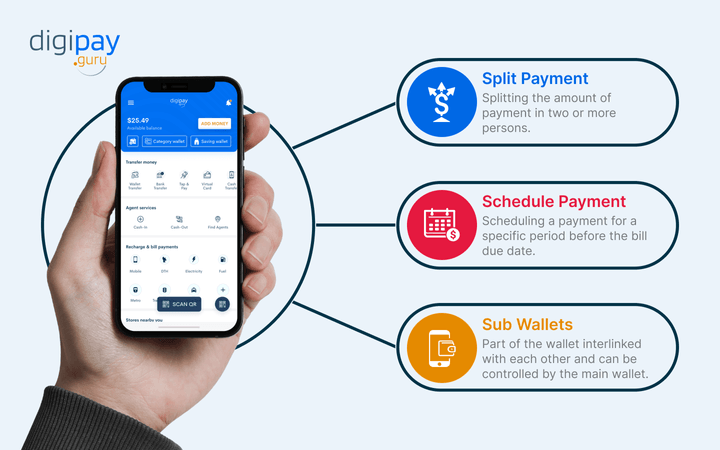 As one of the leading digital wallet services providers, we believe it is our duty to keep accelerating the digital wallet revolution. By keeping the focus on the accelerator, our team is striving to bring innovative features, and once again they have come up with exciting features that will make your users feel special while using the app as well as a strong reason to use your e-wallet service.
Each new feature has its importance, uses, and benefits. In this blog, you'll discover all in detail about each 3 of them.
Without any more ado, let's jump in.
Split Payment
Split payment is the financial term for the act of splitting a single and full amount of payment in two or more simultaneous transactions made by different users.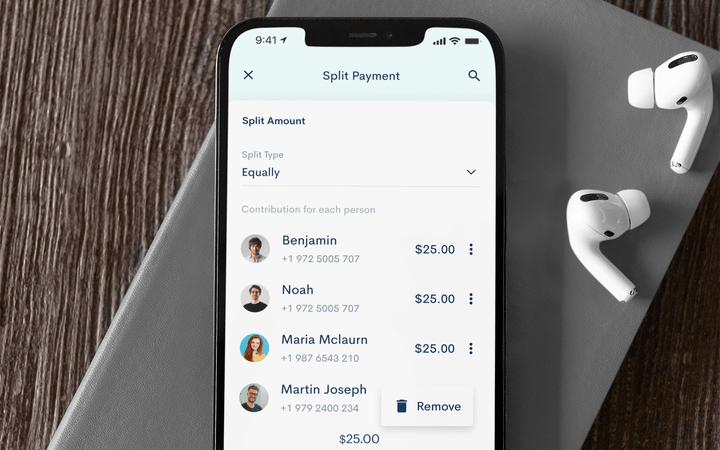 For example, a Split payment of $100 to a retail shop can be done when the two customers pay $50 individually. This feature can also be normally seen in a restaurant setting or a ride-share service program.
Split payments enable a group of people dining at a restaurant to receive one bill. Each member of the group can then pay their portion of the bill with their wallets using the app installed on their mobile devices.
It is not the problem of one user but almost every user experiencing shared purchase. It is difficult for the majority of users to manage expenses of share purchases and keep track of all the payments to be split.
Digipay.guru's Split Payment allows individuals to easily calculate and split bills for restaurants or other shared purchases. It allows the user to easily keep a track of all the pending requests. Users will be able to send a reminder to the member who didn't pay the share.
Consumers can split payments by tapping the Split Payment button. They can select the users among which they want to split by either selecting it from their phonebook or by entering their phone number manually.
The amount can be split in two ways, equally and unequally. When displayed against each user's name, the total amount will be automatically divided equally. Whereas when it's about unequal distribution, the user needs to manually enter the contribution amount against each user.
Schedule Payment
Scheduled Payment is a term used in the finance or banking industry which means scheduling a payment for a specific period before the bill due date. The date of a scheduled payment can be changed if you have an emergency or change in the plan or salary date arrival before the previously fixed scheduled date. You can also cancel the scheduled payment if the bill is paid using any other payment mode.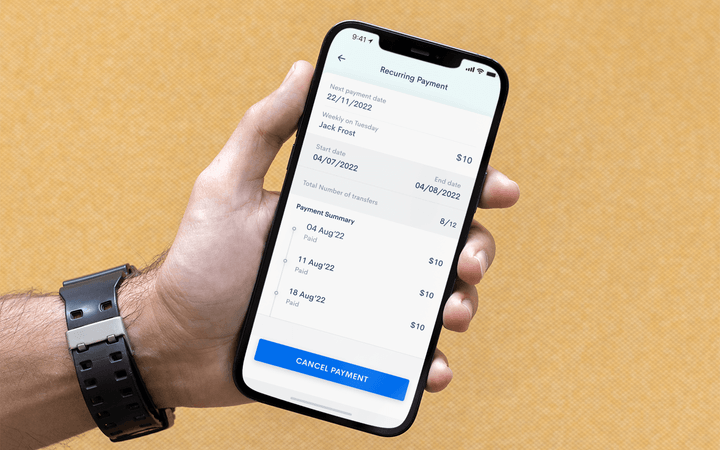 Who likes to pay? All want to save or see the numbers in the bank account or wallet increasing. But it's a duty as well to pay for the services consumed. Hence, it is said, payments are never fun, especially when there are a bunch of bills to be paid and issued every month on a fixed date. And issuing them all at a specific time in this digital era is a daunting task.
Hence, digipay.guru has come up with the schedule payment feature which makes the process much more efficient and seamless. When you have a long list of payments to pay, this feature can help you perform this daunting task easily without making you miss any bill if you have scheduled it properly and have funds in the account.
Many miss paying the payment on time and even several miss paying credit card payments on time which later affects their credit score. Missing other services bills as well cost the discontinuation. And keeping these factors in mind, our feature enables the user to set a date and time for the payment, and select the merchant (receiver), and duration (daily, weekly or monthly).
Users can also define what number of installments to do because there has to be an end limit and protection from a security threat or any fraudulent transaction. Once everything is set, the amount will be deducted from the account and will be credited to the receiver's (merchant's) account.
Sub Wallets
Sub-wallets are part of the wallet interlinked with each other and can be controlled by the main wallet. It is similar to the main wallet but can be named category-wise. Users can transfer and save funds in the sub wallets from the main wallets.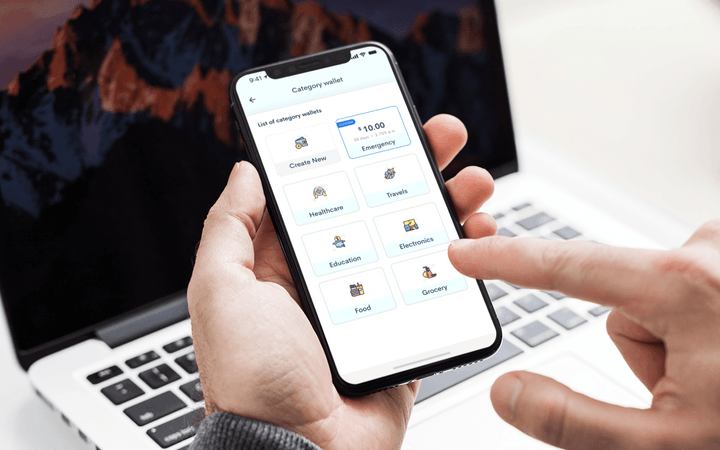 To organize the savings and set clear goals by separating funds for different expenses like - Luxury purchases, vacation, savings, travel, shopping, medical emergency, and so on. Sub-wallets allow users to distribute and managing consumers' money and categorizing their spending. There are different types of sub-wallet but the one that we implemented in our solution is category wallets.
In digipay.guru, the sub-wallet feature is easy to use, operate and manage. Admin can create as many categories of sub-wallets that can be used by consumers. Also, there is an additional option for consumers to create their own custom sub-wallet.
For example, the user can separate the travel expense when he/she plans to travel by simply transferring the funds from the main wallet to the sub-wallet categorized by the name travel. There are many more that a user can experience using the app and especially this feature.
Conclusion:
The team is not stopping here. From inventing these 3 unique features to planning and meeting many more evolving demands of the customer and market, digipay.guru's technical team is having the brains busy always in finding creative solutions and features to add and make the solution not just powerful but also engaging and attractive that our client's competitors desire to own.
The motive of adding these features is to give our clients a reason to stand tall and firm in the market and also help their users to leverage the features in it and save time and unwanted involvement. These features are designed to make the user smart and save time and unwanted involvement. We will bounce back with even more unique features. If you have any suggestions after reading and knowing these features, we are open to receive.