The COVID-19 pandemic has impacted the world in an unprecedented manner. It has put breaks on most of our economical activities due to which all the businesses in the world are suffering. Other than that it has forced most of the consumers to opt for digital payments. With social distancing becoming the new normal in times of COVID-19, consumers have no option other than going for contactless and digital modes of payments.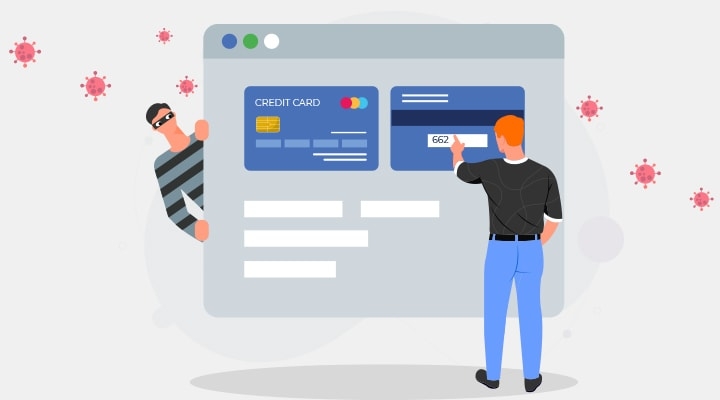 But with this rapid increase in the use of digital payments comes the fear of digital payment frauds. It's important to note many people were already sceptical about the security of the digital payments in past. And digital payment frauds are not even a new thing as we see these frauds on news very often.
But now, with almost everyone using digital mediums for payment, the question arises is that if the digital payments are safe? Especially, when fraudsters and hackers have become active in times of COVID-19?
In this article, we will talk about digital payment frauds in the times of COVID-19 along with possible solutions that can battle these online payment frauds.
First, let's understand why a pandemic is a perfect time for scammers and fraudsters?
The situation of panic and uncertainty created by COVID-19 is suitable for frauds because of the following reasons:
As the demand for certain services and goods increases, the customers often tend to be less cautious in its procurement.
COVID-19 has created a situation of panic in many parts of the world. This situation causes lower confidence level and higher anxiety thus making the consumer more susceptible to these frauds.
Vulnerable customers are more prone to fell prey to frauds as they are forced to use new payment methods. Moreover, they are also asked to trust and rely on third parties.
Now, let's see what are the different types of digital payment scams and frauds occurring all over the world.
Increasing incidents of digital payment frauds in times of COVID-19
Ransomware attacks
New data from Coveware suggests that there were 33% more ransomware payments made by businesses during Q1. According to the firm's report, the ransomware attackers benefitted from the market's volatility and corporates' dependency on remote staff.
According to Covewave "Spam attacks related to the outbreak surged and seldom-used 'work-from-home' network configurations led to increased ransomware attacks across the board,". They also found that the average ransomware payment made by the company was about $111,605 in the first quarter of 2020.
Banking Trojans
Banking Trojans have targeted around 35 per cent of Kaspersky users which are corporates. Kaspersky describes this spike as the usual rate which is of 25%. Kaspersky also warned that Russian corporate accounts were nearly one-third of the total global accounts that were targeted by these banking malware attacks. Germany and China were the other two countries that followed Russia.
PPP loan fraud
As per the recently-filed charges of the U.S. Department of justice, two individuals allegedly fraudulently applied for PPP loan funds worth $543,881. The department of justice is accusing these two business owners of forging and inflating their payroll figures to get the Paycheck Protection Program (PPP) funds. Moreover, the analysts have already warned of more such similar cases may appear in the near future.
According to the assistant attorney general of DOJ's criminal division, Brian A. Benczkowski, "Every dollar stolen from the Paycheck Protection Program comes at the expense of employees and small business owners who are working hard to make it through these difficult times."
Bulk orders and alternative payment methods
As per Sift's Digital Trust & Safety Index, the value or quantity of a fraudulent purchase is generally three times higher than that of a legitimate order. Due to COVID-19 pandemic, people are indulging in panic buying which usually comes in the form of bulk orders.
The phenomenon of panic buying has created an atypical purchasing climate which is facilitating the fraudsters to push the boundaries even further for making even bigger bulk orders. Not only are fraudsters making massive purchases but also are continuously changing their payment methods from gift cards to digital wallets like Google Pay, Samsung Pay, Apple Pay, and PayPal.
These payment methods are more prone to frauds as consumers have turned towards online and mobile shopping. Merchants can prevent these frauds by manually reviewing the high-value transactions and reaching out to the buyer directly in case of any suspicion or doubt.
Buy online, pick up in-store frauds
To maintain social distancing customers are rapidly adopting shopping options that have minimal human contact. Even businesses are responding to these demands by foregoing signatures and IDs. In such times, consumers are leveraging "buy online, pick up in-store" (BOPIS); however, this method is also prone to frauds as scammers can exploit the influx if they are facing fewer security hurdles.
Fraudsters can hijack credit cards and credentials and add their own email addresses to place orders and thus increasing the account takeover (ATO).
Phishing scams
In these scams, scammers will send you unauthorized payment links through SMS that look identical to the original URL. If you click on that link in hurry, then that will direct to your UPI payment app and ask you to select the app for auto-debit. Once, you give permission for auto-debit, the amount will be automatically debited from the UPI app.
According to Rajesh Mirjankar, CEO & MD, Infrasoft Technologies, "Customer should not click on links in any SMS, especially those from unknown agencies. It could be an attempt to skim money from your account via UPI app.
Also remember, the name is not everything on the Internet. For example, www.my.banker.com is not the same as www.mybanker.com. Make a note of the official website and official email ID of your banker, stockbroker, etc., directly from their representatives or official website."
Moreover, clicking on fake URL could also infect your phone with malware/virus which is created to steal financial information from the device.
Scams through UPI PIN and OTP
Fraudsters are now using UPI to scam people. In this, the hacker first sends a "request money" link to the user. The moment the user clicks on this link to authorize the transaction thinking that they would receive the money, the amount gets automatically debited from their account.
OTP is another way fraudsters are scamming people. It's important to understand that while making transaction through your UPI app, you either require a UPI PIN or one-time password (OTP). For the OTP, your bank sends you the OTP number on your registered mobile number via an SMS. The transaction only takes place once the OTP is verified.
Scammers know this well and that's why they try to convince their prey to share their OTP over the phone. Once they get the detail, they can easily authenticate transactions and steal money from the user's account.
Top 5 payment innovations to fight fraud
If there are scams and frauds that can con customers then there are also security measures powered by cutting-edge technologies to stop them. Let's have a look at them one by one.
Artificial intelligence and machine learning
Transaction monitoring can be crucial in preventing digital payment frauds. With cutting edge technologies like AI and machine learning, one can identify fraudulent patterns in the history of transactions and then later apply them to check the authenticity of the current transactions.
These technologies help FinTech firms to take preventive actions in real-time which include informing the concerned party or to block the transaction entirely in an extreme scenario.
Network tokenization
Network Tokenization is a technological measure in which a card number is shielded when it's replaced by an exclusive series of numbers called token. This substitution of unique token takes place for each merchant transaction. The substituted token has no value outside the merchant channel thus making the entire transaction secure.
Biometric authentication
Biometric authentication has emerged as an effective way to eliminate digital payment frauds. Application of biometric authentication like finger, voice, eyes biometrics on the digital payment channels can easily identify fraudsters from that of legitimate users by recording and mapping pre-saved unique physiological characteristics.
Sound wave technology
Sound wave is another disruptive technology that is proving to be effective against digital payment frauds. This technology uses sound as a medium to perform transactions.
The soundwave-based payments are safe as the merchant's device can transmit encrypted data via a unique sound wave that can be obtained and validated by the customer's phone in real-time. Soundwave technology offers high security and cost-effectiveness which is why many believe that it can create massive transformational disruptions in eliminating frauds from the digital payment space.
Blockchain
Blockchain is another cutting-edge technology that can help in eliminating frauds in digital payments by augmentation of real-time transaction data sharing and by establishing an agreement of all parties.
Already 32% of anti-fraud professionals have planned to use Blockchain technology. Moreover, they have also distributed ledger technologies to fight against the frauds in the year 2019. This number is all set to rise as the digital payment frauds increases in the times of COVID-19.
Conclusion
Frauds are the unwanted byproducts of digital payments which we must minimize and eliminate completely as soon as possible. Especially with the COVID-19 era where we all are dependent on digital payments, the space of digital payments must be made safe for both customers and merchants.
In this article, we saw various kinds of digital payment scams that fraudsters are using to trick and con people. We also saw how many FinTech firms are adopting cutting-edge technologies like machine learning and Blockchain to combat these frauds.
Maybe the COVID-19 could be blessing in disguise for digital payment space where we develop top-notch security measures that can eliminate all kinds of frauds thus ensuring a safer digital payment space post-COVID-19.