Remittances are monetary lifelines that allow certain overseas individuals to send money to their near and dear ones who live in their native country. Cross-border remittances flows are crucial to many families as well as countries.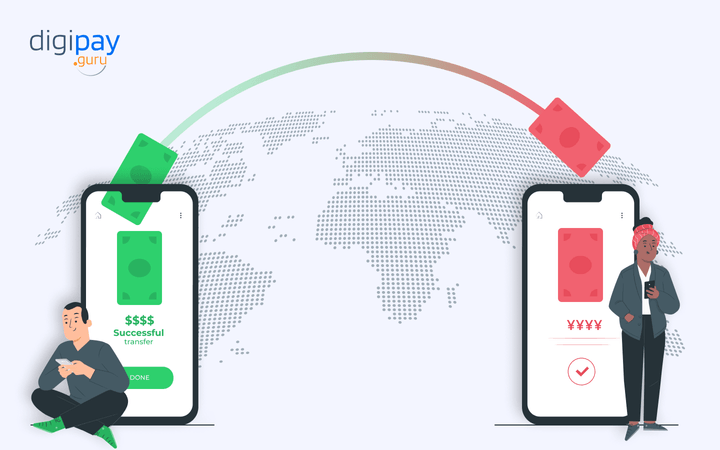 Traditionally, the high cost of sending remittances, commercial monopolies, and opaque transfer records are the common challenge that gives rise to the need for digital international money transfer solutions.
The fintech industry has seen remarkable growth since the turn of the century. The rise of internet usage and digitization of money are two major opportunities that are broadly changing the way we manage and move our money.
The present generations are increasingly preferring secure, quick, and convenient money transfer solutions. Thus, you can provide them with a custom solution with the best remittance & money transfer software for cross-borders having the latest trends, features, and benefits which we will discuss in this blog.
How is the market evolving for international money transfer businesses?
International remittances have been transforming towards the digital world for several years and you have an opportunity to provide customized money transfer solutions to your customers. Digital and mobile money remittance are an essential form of capital flow.
Traditional money transfers have relied on cash transactions which have been overshadowed by new-generation contactless payments solutions, including mobile-wallet services, which have emerged in recent years.
According to Statista, the digital remittances segment transaction value is projected to reach $127,262 million in 2022 and projected to $166,373m by 2025 with a CAGR 2022-2025 of 9.34%.
Thus, digital remittance providers are of great benefit in financially developing as well as developed countries. The rising popularity of cross-border digital money transfer software among low-wage migrant workers, small businesses as well as big enterprises.
They use money transfer services to send money overseas to their families and clients, is compelling several governing bodies to pay attention to and regulate the digital remittance industry could be an in-time opportunity for you to step up in this business.
Traditional methods of sending or receiving cross-border remittances have been replaced by digital methods worldwide. It's just a one-tap solution for digital wallets which not only proved to be convenient and efficient but also saves transaction time.
The international money transfer space is evolving quickly to include trends in the digital payment industry of neobanks and fintech, who are emerging as key players.
Digital payment services are adapting to customers' needs and hence promote financial inclusion in both rural and urban areas of both developing and developed countries.
The pandemic has highlighted the new forms of electronic payment solutions and transactions including mobile wallet software, account transfer, and all other modes of contactless payment systems. In our next section, we will discuss the impact of COVID-19 on remittance flows.
How COVID-19 is accelerating the shift of international remittances to digital?
The pandemic has dramatically catalyzed the shift to digital remittance. With the impacts of lockdowns during COVID-19, the consumers quickly shifted to online and mobile banking solutions to send money internationally.
Some of the largest money transfer organizations like Venmo, PayPal, and WorldRemit reported triple-digit growth in digital remittance transactions and a good rise in customer acquisitions.
If you are also planning to enter the digital international remittance market, explore the following benefits of digital money in cross-border custom remittance software.
Benefits of digital money in international remittances for your business
Mobile money transfer across borders offers several advantages for your business over traditional money transfers methods. It has changed customers' experience as it is more transparent and quick.
With the latest electronic payment solutions and money transferring trends, you can achieve great benefits with your money transfer software. A brief overview of the benefits of digital money transfer are as follows:
Digital money brings down remittance costs
Mobile money transfer using digital wallets software or other electronic payment system is the cheapest method of sending remittances worldwide. Thus integration of mobile money transfer software brings your remittance cost down.
Digital money transfers also remove many unnecessary layers from the value chain involved in sending traditional cash-based remittances. Your money transfer software allows your customer to send digital money directly from their mobile wallets without involving sub-agents.
Only sending and receiving agents and RSPs are being involved. Hence, it is becoming a popular and profitable fintech ecosystem.
Mobile money can improve financial inclusion among rural areas
Digital remittances have shown drastically improved financial inclusion in rural areas and developing countries. Unlike traditional banking methods, you can easily reach areas that cover potentially enable significant unbanked populations to access required financial services.
By creating strong digital payment solutions in your money transfer software, you can convert a new type of your target audience that could help you to drive an increase in accounts and generate good sales and ROI.
Digital money increase transaction transparency
Transparency is one of the most important factors in building customer trust. Digital payment and mobile money transfers in your custom remittance software solutions enable tracking payments, creating transparency about costs, and de-risking the fraud. This will help you build trust with your users and break down one of the challenges of money remittance.
Money transfer trends in the digital payment industry in 2022
We are now going to take quick notes on some of the latest trends in the digital payment industry that can help you build more versatile money transfer solutions and are currently reshaping the money transfer industry:
Contactless payment methods are revolutionized
When both sender and receivers are activated, NFC-based payment methods allow users to make transactions avoiding contact with surfaces. With the use of smartphones, computers, and laptops, encrypted payment can be done where the sender, as well as receivers, feel secure and safe.
Smart Speaker Payment
There has been a massive rise in the smart speaker as a biometric authentication method, especially with the advent of the COVID19 situation. With the launch of Amazon's speaker in 2014, smart speakers become a popular way for shopping simply through voice commands.
Increase use of mobile wallets
Mobile wallet has played important role in international money transfer. Consumers find mobile wallet solutions extremely secure, fast, and easily accessible among all the banking solutions. Integration of mobile wallets software in your money transfer apps will be beneficial for your business for seamless transactions and operations.
Establishing partnerships with MTO and fintech
Money Transfer Operators (MTO) are showing great partnerships with fintechs to discover better ways to improve their data-driven and tech-driven services. MTOs are showing open arms to collaborate with other businesses at affordable rates.
Result-Driven Steps for your International Remittance Business
After gathering the above information about the latest trends in the international remittance market, it is better to have some important considerations when you are planning to create a money transfer app or software for your business.
There are two basic steps for this: 1. Know the type of money transfer software you are going to integrate 2. The important features for your money transfer software.
1. Type of international money transfer software you need
The money transfer solution can be categorized broadly into the following types. You should understand the types and make a choice carefully for the mobile payment solutions for your business.
Mobile-to-Mobile transfer (M2M): Mobile-to-Mobile transfer (M2M) is a P2P payment software that enables one person to transfer money to their family and friend from their mobile phone using the app or software. The receiver can receive the transferred money directly into their e-wallet account. The M2M payment system is most popular for its global coverage, fewer transaction fees, and 24/7 availability.
Money-to-bank transfer (M2B): In this type of international money transfer, the senders can transfer the amount from their mobile phone directly to their family or friends' bank account after a few applicable charges. You can perform this action in your custom remittance solution in two ways, either by providing direct API integration of the receiver's bank or by any 3rd party switch that allows all the international money transfers.
Mobile-to-Cash transfer (M2C): In this type of international money transfer solution, the senders can send the amount through their money transfer app from their smartphones and the receiver can collect it in the form of cash from IMT (International Money Transfer) partner agents. For cash withdrawal, the receiver has to produce a security code to the IMT transfer agent and the sender will receive a confirmation message as a receipt of transaction completion.
2. Important features for your money transfer software
When you can choose the type of your money transfer software solution, you keenly have to focus on all the important following features to be included in your custom remittance app solution:
Faster transaction processing: The transaction speed is the most important variable of your service. Always define your transaction speed for international money transfer solutions to both sender and receiver. Option to incur extra charges for quicker transfer of the transaction funds should be there.
Limit order: With this feature, you can enable your users to select fixed exchange rates as per their choice and transaction will take place when that fixed rate has been achieved.
Offer great exchange rates: You should offer great exchange rates to your customers which can please them. Also, allow setting dynamic exchange rates using Yahoo, Google Finance, XE.com, etc.
Option to set transaction limit: Allow your customers to set the maximum and minimum transaction limits from various transactions mediums.
High-security features: Security is the first concern when money is involved. Add highly secured features like two-way authentication, biometric authentications, OTP generations, notification on transfers, etc. in your international mobile transfer software to make it more secure and versatile.
Collection of KYC data: Through the easy registration process, collect KYC data of both sender as well as receivers which could further help you in building marketing and operational strategies.
Earning opportunities and rewards: Rewards are like by all. You can provide opportunities to earn by offering some cash-back bonuses, forwarding reference bonuses, loyalty bonuses, etc.
All the above features when integrated into your international money transfer services, will be highly beneficial for your business and your users. A good custom remittance software could help you to be flexible in your operations and create a hassle-free process for your business.
Conclusion
Fintech and the digital transformation of financial services are transforming the foundation for future mass adoption. Digitization is replacing the traditional methods in the fintech industry and international money transfer is one of its modules.
Worldwide people are migrating from traditional money to digital money and this is the right time for your business to adapt to new scenarios and skim all the cream.
Digipay's remittance solution can help you to provide a platform with robust, easily accessible, less expensive, and secure money transfer services that help your user for seamless money transfer and boost your economic growth.