eWallets services have been quite popular in developed countries like the US for almost the last 20 years. However, they have slowly started to gain popularity in the developing countries which are 2 decades behind the developed countries in terms of the IT infrastructure.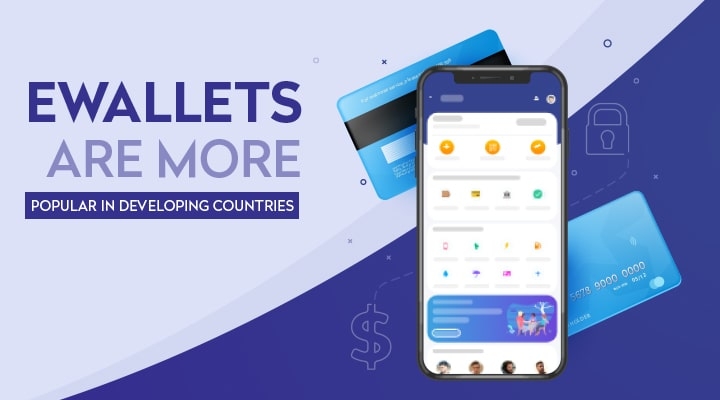 same reasons; however, the context is different in both the cases. In this article, we will discuss how eWallets play a different role in developing economies as compared to the developed ones. We will also discuss the fact that why contactless eWallets and mobile payments have had greater success in developing countries. So, without any further ado, let's start.
Mobile phone compatibility
Smartphones are important for a person in the US as well as for someone living in an African country. However, it won't be wrong to say a smartphone has a greater impact on the life of the latter. It's because nowadays, the advancements in the smartphones are bridging the gap between a laptop and a phone.
So, it's safe to say that smartphones are just small computers. However, these are the only computers which are easily accessible to the people in developing nations. Smartphones cost less as compared to a tablet or a laptop. Moreover, its compact size makes it easily portable and easier to protect against theft.
People in developing countries have lower disposable income as compared to people in developed countries. That's why an affordable smartphone with a great amount of memory and a strong battery becomes a perfect choice. Moreover, the smartphone also offers access to a variety of applications that can be used for monitoring health information, finances, personal to-do lists, and many more.
According to the Economist, Kenya, Tanzania, and Zimbabwe are the top three developing countries that spent most amounts on mobile money. The mobile money expenditure accounts for massive percentages of GDP of these countries. The percentages are 55%, 65%, and 21% for Kenya, Tanzania, and Zimbabwe respectively. Even in Afghanistan, mobile money has a significant 18% of its total GDP.
These numbers are the testimony to the fact that how significant is the smartphone technology to these developing nations and how the eWallet services can ramp up the economy of a nation.
Accessibility to the global marketplace
People in developed nations like the United States use e-wallets to purchase things which are not available in their city. However, people in developing countries use e-wallet services to buy things that are not available in their entire country.
In countries like Kenya, if people want to purchase something that is not distributed in the country then they simply log in to any global eCommerce site and place their order. The same process goes for those products whose manufacturers don't have access to any of the vendors in the country.
It's true that receiving online order is still a problem that many countries like Kenya are facing. However, once these countries fully establish their participation in the global eCommerce along with the global eWallet services, then this problem can be solved. In coming years we will see these countries doing better in that field by improving their shipping systems to meet the demand of their citizens.
Safer than paper money
People in developed nations prefer to use digital money over cash as it can't be stolen. People in developed nations are trying to save money from the criminals who can go to any lengths to dupe authorities. However, the case in developing countries is different as there sometimes the authorities are the criminals.
Many developing economies are unable to pay their law enforcement officials with adequate salaries. This often leads these officials to compromise or evade their legal obligations. This leaves common people with two choices either pay a bribe willingly or have the money extorted by force or a threat.
Read More: Moving towards a Cashless society: Types and major benefits
Now, eWallets solutions are not totally immune to cops; however, the idea of stealing digital money is less attractive as that of cash as it creates a digital record of the bribe or theft. Moreover, digital money is not suitable for criminals to purchase illegal products or services as that can be easily tracked down.
Advanced-Level eCommerce security
There are a few developing countries that offer the services of a nationally-based eWallet. However, these eWalllets have below standard levels of eCommerce security. In the past decade, global eWallet providers have emerged that has maintained PCI DSS compliance. These compliances are one of the highest security standards for all the eCommerce transactions taking place in the world.
Earlier, people were highly sceptical of making eCommerce purchases with eWallet. And they were right so as there was a high probability of them giving away their account information into the wrong hands. However, with the cutting-edge cybersecurity technology and infrastructure of global PCI DSS compliance, the eWallet providers can easily eliminate the above scenario.
Moreover, eWallet providers have done an exceptional job of making eWallet services popular in developing countries. They have set and provided high-security standards for all the domestic eWalllet services of the countries that are gaining traction in the global marketplace.
Now let's have a look at few eWallets that have gained immense popularity in various developing countries.
Top 5 mobile wallets in developing countries
Below is the list of mobile wallets that are popular in developing countries. These mobile wallets are known for managing finances and converting cash into digital money. They can perform all these functions without any dependency on banks.
M-Pesa
M-Pesa was a very first system to embrace mobile payments in developing countries. In 2007, Kenyan telecommunications company Safaricom developed a system that can transfer micro-credits through cell phones which are supported by a network of various agents.
Initially, the system was intended for local development and its prime objective was to reduce the funding costs. However, it found its niche for its easy payment options.
How does it work?
Only Vodafone customers are eligible to use the M-Pesa service. To register the account, the user must contact the M-Pesa agent. Various functions like account replenishment and deposits are carried out with the help of an agent. The customer gives the amount of cash to the agent that he needs to store or transfer. Then the agent sends the money from his account after deducting his fees.
The service also has some new features like contactless payments and QR codes. The user can also link NFC or a card to their mobile phone account.
Alipay
Alibaba was searching to find a way for their customers to pay for various services and goods. In this pursuit, they came up with their own solution. Alipay has been immensely popular in China. Since 2015, almost 77% of the mobile payments in China has been made using the Alipay platform. However, it's also true that the rapid emergence and development of WeChat Pay as reduces the Alipay's monopoly.
How does it work?
The first step is to download the application, and then the user has to log in and top up his Alipay account by using credit/debit card or bank account. To use the Alipay's services, a user must have a Chinese passport, Chinese mobile network operator number, and a local bank account.
Alipay's user can also use its services abroad in countries like Singapore, Japan, Canada, USA, European countries (around 100 states).
WeChat Pay
How does it work?
To use WeChat Pay, the user must have the WeChat account. The user can then top-up their WeChat Pay balance by using their credit/debit card, cash, and bank account. In this, a user who is going to purchase something scans the QR code to make the payment.
WeChat Pay users can also use this service internationally. Chinese tourists can use this service in 25 countries in 13 currencies. Moreover, the company is also aiming to make the service available to foreign customers. Since Jan 2018, the service is supporting Visa, JCB, and Mastercard.
Paytm
Paytm was launched in the year 2010 as a prepaid mobile recharge platform. In the year 2014, it implemented the Paytm wallet for the very first time and as of now, there are almost 7 million merchants in India that accept payments via Paytm.
How does it work?
First, the user has to download the application followed by signing in by inputting the mobile number. Once done, the user can top-up his wallet via cash or bank account.
The year 2017 came with another milestone for Paytm as it became a bank and all its wallet users became the clients of the Paytm Payments Banks Limited. With this users can either pay offline or online via their wallets or choose to open their bank account to receive interest.
GrabPay
GrabPay came into existence in 2012 when two Malaysian Harvard Alumni decided to take on Uber for the local people with their ride-hailing company called Grab. In the year 2016, they came up with a mobile wallet based on their ride-hailing service. This service was initially started for enhancing user experience. However, with time it became popular and various stores started to accept GrabPay.
The developers of GrabPay have huge ambitions of running the service in the entire region. Majority of people in Southeast Asia don't use their bank accounts for making purchases of goods and services. The cash is still the preferred mode of payment in that region. Stats tell us that only 27% of the people have bank accounts and only 9% of people use bank cards.
GrabPay has received support from major brands Cathay Cineplex, Singapore Airlines, Starbucks, Deliveroo, McDonals, etc.
How does it work?
The wallet is a part of the cab service app. The user can link his bank account to the wallet like in the case of Uber. He can also choose to top-up his account with cash in the taxi. The cab driver receives the cash and sends that amount to the client's account.
Conclusion
eWallets and mobile payments have proved to be a powerful tool to empower the unbanked and illiterate population of the developing countries. With these tools, we are witnessing unprecedented results as far as digital payments are concerned.
In future, these services will become better on various grounds like security, connectivity, and accessibility. The improved mobile payment and eWallet services will result in further unlocking of the digital payment potentials of the developing countries.