FinTech or Financial Technology has been a game-changer for the payment industry. Over the years, it has successfully transformed the payment industry's offerings and customer-experience for good.
FinTech has satisfied the growing populations of developed countries which use cutting-edge technologies and electronic devices to manage their daily affairs.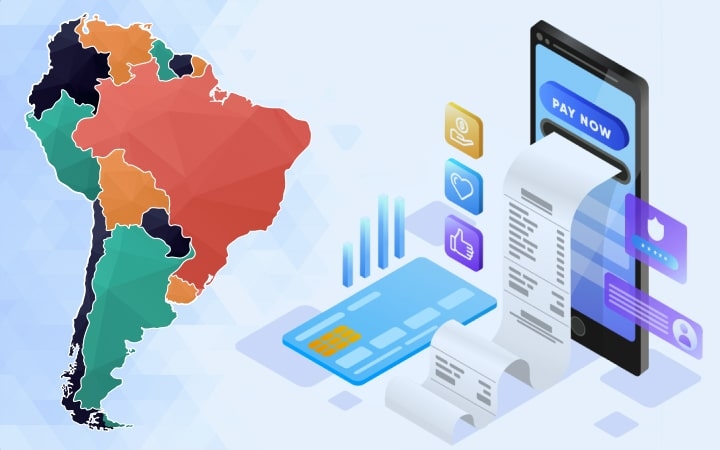 And now FinTech is doing the same thing in many developing nations. The African continent is a prime example of that. However, over the years, Latin America has also emerged as the land of new FinTech opportunities with several FinTech start-ups and enterprises trying to bring a digital payment revolution there.
The entire region is experiencing a push toward innovative and upgraded technologies and payment options. Even the stats indicate the same.
FinTech start-ups in Latin America have received over US$ 600M in VC funding for the year 2017 alone. It's interesting to note that 56% of the companies out of these were remittance and payments start-ups.
In the following year, 25% of all VC investments were FinTech related. Talking about Latin American FinTech Start-ups, Mexico is leading the race with 394 FinTech start-ups followed by Brazil with 380 start-ups.
FinTech stats and forecasts
If the above numbers are not enough then let's have a look at some more astonishing FinTech stats and forecasts for the Latin America region.
FinTech development trends in the Latin America region
Mobile usage in Latin America is on an all-time rise. Economic growth in the region has boosted this growth. The total number of smartphone owners in the region was 61% of the total population in the year 2017. And as per the prediction of the Association for Private Capital Investment in Latin America (LAVCA) this number will increase to 76% by the year 2025.
This increased number is a big indicator that Latin America is becoming a paradise for FinTech startups. And that's the reason why FinTech start-ups and enterprises are looking to grab the opportunity of becoming a leading FinTech name in the region.
Many Fintech developments have already taken place in Latin America; let's have a look at them one by one.
Diverse mobile payment options
An increase in the number of mobile phone users also means that there will be an increase in mobile payment options too. For an instance, QR code payments are slowly gaining popularity in the Latin American region.
Argentine multinational MercadoLibre launched an online payment system MercadoPago which is experimenting with QR payments.
PayPal has also invested a huge amount of USD 750 million in the company which clearly signifies the company's success in the Latin America region.
When it comes to loan seekers and Blockchain users, Ripio Credit Network is a company from Argentina which enables its sellers and buyers to make transactions in cryptocurrency via their mobile wallets. It's also important to know that this also involves lending currency.
Mexico's Clip is a versatile platform which offers its user to provide payment plans that are interest-free. It also holds partnership agreements with around 16 banks along with accepting all the credit cards.
Neobanks
Neobanks which is sometimes also referred to as digital challenger banks are the banks that operate 100% online and allowing users to access and transact funds. These banks also enable users to use mobile credit cards even if the user doesn't have a formal account in the local branch.
Neobank start-ups have started to emerge across Latin America countries such as Chile, Argentina, Brazil, Mexico, etc. Even the governments of these countries are motivating the growth of Neo banks by reducing banking sector regulations and bringing down the licensing costs.
Nubank is one such example of these banks which is gaining popularity across various countries like Brazil and Mexico. Nubank enables its customers to manage their financial business entirely online. Around 13 million people have requested Nubank's free mobile credit card.
Similarly, Albo is a Mexican company that enables its customers to connect to the Global Mastercard network and empowers them to make payments via its online application.
The development of these neo banks is also boosting financial inclusion in many untapped regions of Latin America. These services are offering banking services to the unbanked and the underbanked via their easy-to-access services.
The rise in electronic invoicing
The rise in electronic invoicing is playing a major role in increasing the adoption of digital payments. To get a clearer perspective let's take the example of the United States. In the US, there are more than 150 service providers which offer automated e-invoicing solutions. However, only 38% of all US organizations use electronic invoices.
If we compare these stats with the countries in Latin America, then you'll find that the e-invoicing rates have gone over 90% in the countries like Chile, Mexico, and Brazil.
e-invoicing in Chile is quite impressive since the country had implemented mandatory e-invoicing back in 2003. Currently, in Chile, more than 97% of billing is filed electronically.
The scenario of rising e-invoicing is interesting because despite Latin America being behind in the digital payment rates, it is emerging as a global leader in e-invoicing. This signifies that the region is experiencing a FinTech boom and it will cause a trickle-down effect that will encourage people to adopt digital payments fully.
Digital wallets facilitating online retail
Brazil contributes around 42% when it comes to Latin America's B2C retail transactions. Furthermore, the retail scene is expected to grow by around 39%.
Here, mobile wallets enable users to make automated purchases. Apps like Mercado Pago and Allied Wallet offer a secure way for people to save their details pertaining to account on their phone.
Adoption of digital payment solutions in the region
Digital payments are on the verge of a boom in the Latin America region due to the rise of neo-banks, e-wallets, e-invoicing, etc. The increased demand for digital payments from both consumers and businesses is boosting the growth and adoption of digital payment solutions.
However, there are also some challenges associated with their growth. Digital payment frauds and lack of trust are some of the major hurdles in the growth of digital payment adoption. These are major reasons why many users still use traditional banking.
Read More: Why eWallets are more popular in developing countries
Safety measures are taken to mitigate frauds. For example, many Latin American governments are using biometrics to enhance transparency and decrease frauds. Even online payment solutions are taking preventive measures against cyber-attacks and phishing.
The FinTech boom in Latin America can also be indicated by the high rate of cryptocurrency adoption. Many countries like Venezuela, Brazil, and Argentina are offering an alternative way of transferring money, paying for goods, and investing.
Data and payments
The line between data and payment companies is blurring with each passing day and Visa's tempted acquisition of Plaid is just the beginning of it in the Latin America region. Furthermore, Brazil's Open Banking laws and instant payment system have finally made it a reality in the year 2021.
This phenomenon is not just limited to Brazil as API payments have become a common practice in Mexico with Open Banking and CoDi. In the coming days, we might see your buying ability and transactional data coming down to a few companies which provide a one-click payment experience.
What's the future of payments in Latin America?
As we earlier discussed, the digital payments opportunities in the Latin America region are immense. This is the reason why companies that are already offering digital payment services to their customers are most likely to see a boost in their profits.
Analysts across the world are having a keen eye on how the financial institutions in Latin America are adapting. They are keen and encouraged to see that both established and National banks are adopting agile practices to motivate customers to sign up for their services.
Read More: Top Digital payment trends for 2021
Many small companies have started to take the benefits of cost-effective distribution and relationship models. These models help small companies to overcome the scaling challenges. The best example of this is the partnership of digital-only businesses and FinTechs with retail firms to create a shared distribution network.
If we discuss this on a technical level, then businesses must focus more on tokenization in digital payment systems. Daniel Cohen, who is the head of emerging payments for Latin America at MasterCard, told that tokenization is going to emerge as the key factor for the growth in the region. He also added that implementing tokenization will enable both banks and companies to adopt similar systems across the globe.
Conclusion
Latin America has certainly become a hotspot for FinTech players across the globe. There couldn't be a better time for a FinTech start-up or enterprise to move into the financial service sector of this region.
It's because everything is in place for a successful FinTech business in this region. First, the governments are working to attract FinTech players across the globe to their respective countries. Secondly, banks are looking for innovative, inventive, and reliable finance companies that can collaborate to enhance their customer's banking experience.
There are a plethora of FinTech business opportunities present in Latin America and DigiPay.guru can help you to grab those opportunities with industry-first FinTech solutions.
DigiPay.guru is a leading Fintech solution development company that has a range of digital payment and Fintech solutions. These solutions can fulfil any complex FinTech business requirements with ease.
So, what are you waiting for? Take the first-mover advantage in the Latin America region with DigiPay.guru's next-gen FinTech solutions.