We all remember those childhood days when landlines and mobile phones used to be a big deal. The technology which enabled us to talk with our friends and loved ones anywhere and anytime was perceived as a huge upgrade from writing letters that would take days or even weeks to reach to the receiver.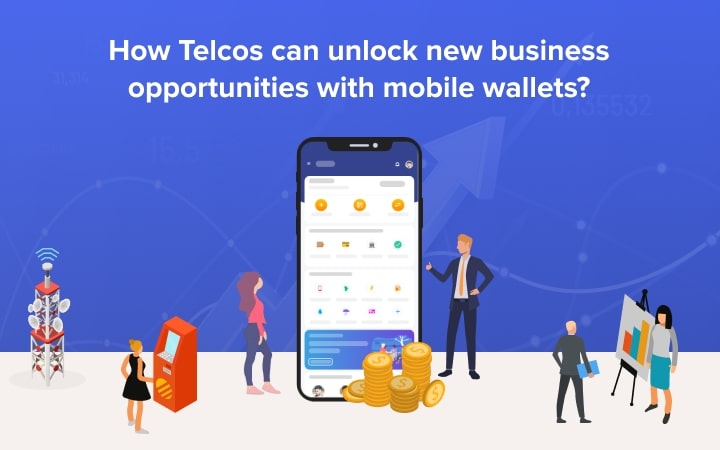 This was precisely the reason why the telecom industry emerged as the most powerful force of transformation. To give you the perspective, it would be safe to say that it was as powerful as today's cutting-edge technology like Artificial intelligence, IoT, Banking APIs, etc.
Cut to the current times, when telecom infrastructure is no longer an attractive marketing proposition. It's because connectivity and communication have become a necessity rather than a luxury.
As per Statista, there are around 4.66 billion internet users across the world. According to the International Telecommunications Union (ITU), around 97% of the world's population has the access to the mobile cellular signal.
These stats clearly show that the telecommunication industry has a humongous reach around the world. However, it also shows that this industry is now on the verge of saturation as new telcos are emerging in various parts of the world.
Other than that, the telecom industry is also facing two major issues. First, the declining revenues from the voice call. Second, the emergence of a strong competitor in the form of OTT services.
The saturation and dip in the industry can be clearly seen from the fact that the CAGR (Compound Annual Growth Rate) projected by McKinsey & Company is only at 0.7 per cent for the year 2020. Another stat from GSM intelligence shows that the global mobile revenues are estimated to stabilise at $1.1 trillion beyond 2020.
These stats look grim for the telecom industry as a whole. However, in some past years, mobile wallet platform for telecom companies have emerged as a saviour. But how? In this blog, we are going to discuss the same.
We will discuss as to why digital wallet solutions for mobile operators have become a must in today's day and age. Furthermore, we will also discuss the benefits that telcos can leverage by having their own mobile wallet solution.
FinTech and Telcos: A symbiotic relationship for future
There's no doubt that telcos are going through tough times despite having a tremendous user base and a wide reach across the globe. On the other hand, FinTech is an industry that has shown tremendous potential and is slowly gaining traction.
If these two industries can find a way to merge or collaborate, there can be numerous advantages and benefits for both the industries respectively.
Let's see how?
As mentioned earlier, Telcos have a massive reach and coverage throughout the world. Now, it's quite obvious that Telcos would leverage this reach for other business opportunities other than communications.
If Telcos offer FinTech functionality on their network then they can unlock humongous business opportunities for both the industries. This partnership can also prove to be beneficial for the people as they can use their normal regular feature phones as a telecom mobile wallet to perform various functions like paying utility bills, money transfer, P2P transfers, redeeming rewards, and many more.
This can also be a boon for those unbanked and underbanked people who have restricted access to the banks or are simply not willing to deal with complex bank procedures.
Not only this, but telcos can also leverage the mobile payments model to make some profits on a currency conversion, processing fees, and geo-targeted ads.
Telcos and FinTech are natural allies since they have so many things in common.
Let's have a look at these similarities one by one.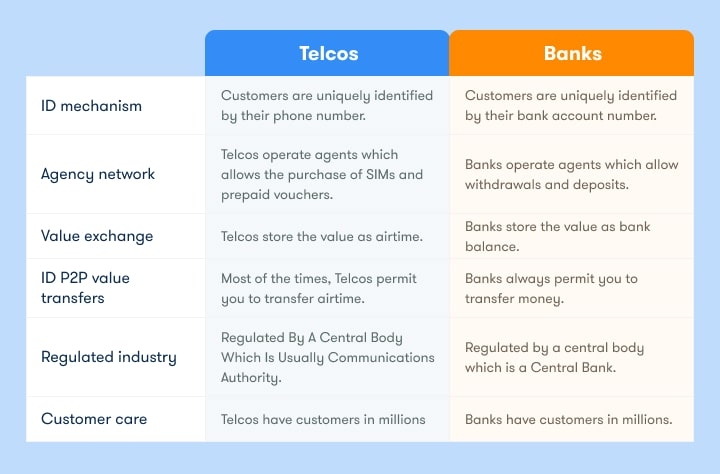 Your phone is also a wallet
The merger between Telcos and FinTech industry would be beneficial if we look it from the user's perspective. Just imagine, users using their regular feature phones as their e-wallet for online banking and many other banking functions even in the areas that have either extremely slow data transfer speed or no data connectivity at all.
Users can enjoy several benefits when they use mobile wallets by telcos such as setting up a user account with only a few clicks, eliminating the need of a physical card, top-grade security with the use of multi-layer authentication system, and last but not the least all the payments can be directly processed from the single mobile wallet app itself.
Furthermore, a mobile wallet app can also offer additional features like in-built hotel & flight booking tools, integrated loyalty program, P2P transfers, etc.
One must remember that there can be a significant variation in the implementations of the mobile wallet platform for telecom companies depending on factors like usage context and type of phone. For example, M-Pesa is a renowned mobile banking system which is based on SMS messaging. M-Pesa has seen huge success in Kenya and other African countries.
Similarly, there's another prominent service known as BibiMoney which offers country-agnostic mobile banking services. They call it "SIM skin" or "thin SIM" technology. This solution offers users with an ultra-thin SIM card which is applied over the existing mobile SIM card to enable users to access a variety of financial services.
Another example is where MTN and Orange have collaborated to create FinTech product which makes telecom mobile payments simpler by connecting various mobile payment providers. This product is named Mowali and it is launched for interoperable mobile payments. It's designed to empower over 338 million existing African mobile money accounts to be used simultaneously along with making real-time payments.
Why Telcos must focus on mobile wallets?
According to a study by Juniper Research, the total number of people using digital wallets is going to increase from 2.3 billion to nearly 4 billion by the year 2024. This increase in the number of users will also increase the transaction values by over 80%.
So, this is the first big reason as to why telecom companies must focus on digital wallets. However, this is not the only reason. Let's have a look at the major reasons as to why mobile wallets for Telecom industry has become a prerequisite for success.
Tap new revenue streams
Digital wallet solutions for mobile operators enable telcos to build effective business models and to tap new revenue streams. Let's discuss these various revenue streams one by one.
Loan origination
In this, the banks pay commission to the telcos for using their loan services. This is a mobile money lender model which involves mobile network operators (MNOs) to offer mobile money loans to the users. For this, MNOs use the mobile data of users for scoring.
Tala serves as a good example of this. It's an online lender in Kenya whose algorithm is known to scrape roughly 10,000 data points from the phone for analysing and scoring customers. With this, they kill two birds from one stone as they not only gain commissions by offering the transaction data to the banks but also offer loans to lives of thousands of people who badly need it.
Currency exchange
Digital wallet solutions for mobile operators such as Curve, Monese, and Revolut charges around 0.5% fee for currency exchange outside the foreign exchange market hours. If we take an example of a telecom company, then A1 is a telco whose digital wallet charges 2% of the total amount exchanged.
Create a closed-loop
As mentioned earlier, telcos are facing stiff competition from new players and OTT services. Due to which, telcos are now looking to create an ecosystem which can create a closed-loop of loyal customers. Apple is the best example of this as they have been quite successful in forming a closed-loop.
It's because Apple offers TV & music service payment subscriptions along with credit card and smart speakers. What Apple is trying to do here is to entice its users in every area of their lives via digital solutions.
This strategy is fool-proof as it keeps the customers hopped in the ecosystem thus making it hard for them to leave once they enter.
Telcos like Vivacom and A1 are also following the same strategy in which they are making their users so much invested in their mobile wallet services that they then refrain themselves from leaving their services.
M-Pesa offered by Vodafone in Kenya is another example which offers TV subscriptions and digital wallet services. With this strategy in place, the telcos can offer their digital payments services through various areas such as entertainment like TV subscription, transportation tickets, bill payment, online shopping, buying food, hiring a vehicle, etc. Not only this, but it also includes additional perks such as loyalty cards.
With this strategy, you build a habit for your customers to use your digital wallet services in all areas of life. And this habit is very tough to break. That's the reason why customers think twice before uninstalling your app.
Integrate wallet into messaging platforms
Messaging platforms have emerged as a popular and convenient form of communication. You can leverage their popularity by integrating your wallet functionality in them. You can enable your customers to send payment links from their mobile wallet to another user's mobile wallet.
You can also embed the link so that the user doesn't have to switch between apps. This strategy will surely enhance user satisfaction and increase customer loyalty.
You can also go one step further by taking inspiration from iMessage which allows users to select directly from the shortcuts. Another example is of ING bank which enables its users to use a shortcut for sending money directly from the iMessage without any need of opening the bank app. Telcos can also benefit from building a similar kind of shortcuts.
Conclusion
Telcos across the world are facing cut-throat competition across the world in an already saturated market. That's the reason why they are now venturing into the realms of digital payments. Telcos won't find it that much difficult as both the industries are quite similar which would assist in the seamless merger of both industries.
Companies like A1 have already integrated digital wallet by buying an existing payment infrastructure. And in coming years, we'll see many other telecom companies following this path. However, there's also another way. Apart from building your own wallet or buying an existing payment infrastructure, telcos can also get ready-made and white-label digital wallet app solution.
DigiPay.Guru is a reputed digital wallet solution provider which has empowered several FinTech startups and enterprises across the world. If you're a telecom company who is looking to secure its future with your own telecom mobile payment solution then DigiPay.Guru is your best bet. You can just contact DigiPay.Guru to get more details about the same.