The financial industry and its transactions revolve around payments. And fintech revolution has increased the need for real-time electronic payments thereby leading to the emergence of ISO protocols for real-time payments.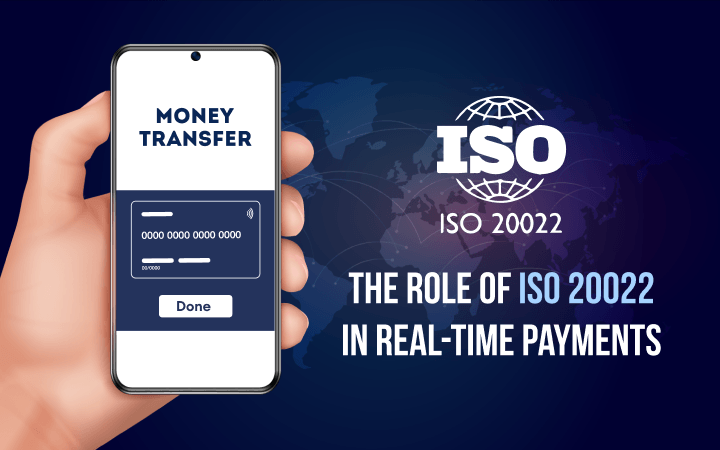 According to a study by Allied Market Research, the global market for real-time payments was $13.8 billion in 2021 and is expected to reach around $123 billion by 2031. With the increasing demand for real-time payments, the need for data communication to improve the payment process is also increasing.
And the ISO protocol 'ISO 8583' was the widely adopted standard for improving payments and data communications. But recently, the ISO protocol 'ISO 20022' has been gaining significant popularity. Not just that, but 70+ countries have already adopted it so far, and the number is increasing.
But why is that? What's so new about ISO 20022? What's making everyone adopt it? This article will go through all the aspects of ISO 20022 such as what ISO 20022 is, its models, its role in real-time payments, and some extraordinary use cases.
What is ISO 20022?
ISO 20022 is the international standard designed to simplify financial business communication. It is considered an open standard for financial information and is a formula for making financial messaging standards.
The ISO 20022 standard includes the business messaging standards created by using a common business dictionary for financial services. These messaging standards allow all businesses to understand the data exchange, thereby making communication between people and financial systems very easy.
Before the launch of ISO 20022 in 2004, ISO 8583 was widely in-practice in the financial industry. The protocol covered simple data communication (through messaging standards) only for all card transactions like ATMs, online shopping through cards, card swipes at POS terminals and many other such use cases. As a result, so many financial transactions were uncovered.
Thus, owing to the need for a common language of messaging for all financial services and solutions (including card transactions), ISO 20022 was launched. So, ISO 20022 can also be referred to as an updated version of ISO 8583.
Models of ISO 20022
One of the most important aspects of the formula of ISO 20022 is the models it functions on. There are 3 major models of ISO 20022.
Business Concepts
Every messaging standard under ISO 20022 is defined clearly into defined messages for understanding each term easily. These defined messages are then consolidated together to create a data dictionary. These are called business concepts.
Business Transactions
Business transactions are the flow of messages going through different processes. It includes ISO 20022's fully defined business elements and relationships between these elements.
Business Domains
Business domains are the areas of the finance industry in which these business concepts functions. For example, the business domains can be payment securities, card payments, and cash management.
The Role of ISO 20022 in Real-Time Payments
ISO 20022 has played a significant role in real-time payments. And it is, by all means, beneficial to real-time payment systems.
Provides Enhanced and Enriched data
ISO 20022 enables more enhanced and richer data as opposed to the old standards as it has the ability to carry more data in a detailed and structured manner in the payment messages. This data will help the receiving parties in the process to decipher the payment messages in a better way and give enhanced responses.
Facilitates Improved and Faster Data Analytics
ISO 20022 provides enhanced richer, and more structured data. This data can be used to get better analytics of the market and customers for the growth and success of the organization through improved and faster delivery of the services.
Promotes Global Adoption
Nearly 70+ countries have already adopted the ISO protocol "ISO 20022". Not just that, around 200+ market infrastructures have already implemented or are thinking to implement the ISO 20022 protocol for secured and structured payments. This indicates that ISO 20022 is globally acclaimed for real-time payments.
Increases Automation and Efficiency
ISO 20022 increasingly uses modern technology to provide a standard messaging format for payments. The application of these standard messages, helps financial institutions to maintain a consistent and automated operation and process. Also, the XML tech used by the FIs enables efficiency in the integration process.
Protection Against Financial Crime
The more structured and richer data helps businesses to get detailed insights on payee and payer transactions, making it more secure. Hence with ISO 20022, there are lesser chances of any financial crime during the payment process.
Also, under the ISO 20022 protocol, not all payments are stopped in the way just based on fraud possibility. So, genuine payments are processed smoothly. Due to this, it becomes easy for businesses to find and focus on real crime-related problems, thereby saving their time and effort.
Better Cash Management
ISO 20022 provides granular data, faster payment processes, and settlements. This facilitates improved visibility of payment flow (in and out). Hence, the businesses can have a clear picture of cash flows which in turn helps them in better cash management.
Real-Time Cross-Border Payments
For Cross-Border Payments, ISO 20022 has the potential to revolutionize the way of cross-border payments. It will provide better-quality data along with improved interoperability in cross-border payments.
In addition, ISO 20022 will play a vital role in creating a space for real-time money transfers for international payments. This standard aims to make payments in lesser time (10 secs) and act as an alternative to the time-consuming, expensive, and complex payment methods of cross-border payments.
Read More: Overcoming the challenges in cross-border payments
Use Cases
Now that you are familiar with ISO 20022, its models, and its role in real-time payments, some positive use cases will definitely help you gain a better understanding of it.
CITI Bank
Citi is the early adopter of the ISO standard ISO 20022. Since 2012, Citi has worked collaboratively to innovate with its network of internal staff, governing bodies, and corporate clients. With the adoption of ISO 20022, Citi is helping in creating an effective cross-border payments system for real-time transfers.
In addition to that, Citi explores the best ways to execute the benefits and efficiencies that ISO 20022 can provide. The objective is to migrate towards an updated data model that can be beneficial for quicker payment processes and can support upcoming digital business models.
HSBC Bank
Since 2003, the HSBC bank has been offering ISO 20022 XML products and solutions which has yielded an increase in customer demand for it. In Hong Kong, HSBC has recently been in a partnership with SWIFT to define a common standard for APIs with the help of ISO 20022.
The real-time payments received great attention from HSBC. And the implementation of ISO 20022 has helped HSBC in creating a better customer experience through enhanced data and improved products and solutions. ISO 20022 also helps HSBC to be more transparent with customers and provide them with richer information about their payments.
Deutsche Bank
Deutsche bank is leading its way by supporting ISO 20022. The bank has made significant investments in enabling the new standard owing to its benefits of richer and quality data. For Deutsche Bank, the adoption of ISO 20022 streamlined the processes, brought richer data, and made real-time tracking of cross-border payments possible.
With ISO 20022 and its rich end-to-end remittance fields, the complex reconciliation of credit transfer messages become simple and automated. Also, ISO 20022's adoption puts the foundation for refining the payments ecosystem.
Concluding Thoughts
The adoption of ISO 20022 is already happening! ISO 20022 is an upgraded version of the old ISO 8583 standard in literal terms. As SWIFT says, "Quality data means quality payments", ISO 20022 provides structured and enriched data as a common language to exchange information for all banking services and solutions.
The ISO 20022 standard is essential for real-time instant payments and plays a significant role in the complete modernization of the payment process. And with the worldwide adoption of this standard and so many real-time payment solutions coming into the market, there has been a positive impact on the financial institutions, corporations, and businesses in financial services along with the large value payments industry.