Did you know that NFC (near-field communication) technology emerged from RFID (radio frequency identification) technology? Since 1983, RFID was used for tracking the products of stores through tags. NFC technology became common in the 2000s when in 2004, Nokia and Sony collaborated to form an NFC forum facilitating its usage for a wider audience.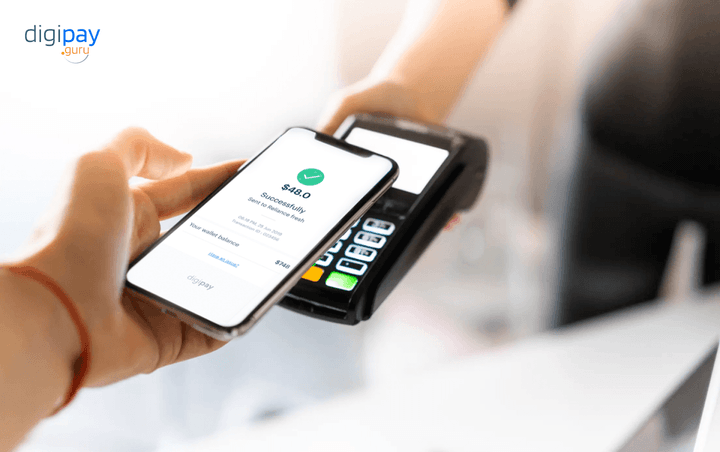 In the same year (2004), the NFC, or contactless payment was first introduced in the USA as contactless cards. Eventually, in 2008, Visa, Mastercard, and American Express introduced contactless credit cards. Till 2011, digital wallet solutions like Google wallet and Android Pay started offering contactless payment (NFC) services through smartphones. And today, NFC-enabled payment systems can be seen almost everywhere in the world.
In this blog, we will discuss what NFC payment is, how it works, the devices and businesses it supports, the leaders in NFC payments, and the major benefits and drawbacks of NFC payments.
What is NFC payment?
NFC stands for Near Field Communication. NFC payment is a contactless payment system that allows users to make transactions by holding their NFC-enabled mobile device, close to an NFC reader at a point of sale.
NFC payment system communicates with the payment terminal wirelessly over a short distance (usually 4 cm) using its technology. The aim is to secure the transmission of users' payment information.

How does NFC payment work?
When both reader and payment devices are close together and activated, the exchange of encrypted data from both the NFC chips takes place, which completes the payment.
This process makes the checkout process lightning-fast, thus making NFC payments one of the most secure and convenient payment methods. This is the reason why NFC-powered payments in apps such as Android Pay and Apple Pay are becoming a preferred payment option for consumers.
The contactless connection between the two devices is created with the help of radio waves similar to RFID labels used in warehouses, stores, and other wireless tracking applications. NFC chips use a specific RFID frequency of 13.56MHz that works only when both chips (based devices) are placed very close to each other.
How to pay via NFC (as a customer)
As a business, you must be aware of how customers can pay via NFC so that you can guide the new NFC users and stay aware of the features and updates in the same.
To make an NFC payment as a customer, the user will need a compatible smartphone or a card and a merchant that accepts NFC payments. To pay with NFC a user needs to:
Look for the NFC symbol at the point of sale or ask the merchant about the same.
Open their mobile wallet app, such as Google Pay or Apple Pay, on your smartphone or use NFC enabled card. In the case of a smartphone, make sure that NFC is turned on.
The user needs to hold his smartphone or card close to the NFC reader. The device should be within a few inches (4 cm)of the reader for the payment to be successful.
The payment will be processed within a few seconds.
How to accept payments via NFC (as a business)
NFC technology is beneficial for businesses as it allows them to accept customer payments quickly without the need for cards or employees to swipe cards for payments. NFC mobile payments are a great option for accepting payments from businesses like retailers, restaurants, departmental stores, and professional service providers.
As a business, to accept NFC payments, you need to follow the steps mentioned below:
Choose the right payment processor.
Find a suitable NFC-enabled POS.
Install the POS into your store/shop/business premise.
Connect POS to the internet.
Set up a merchant account payment acceptance.
Start accepting the payments.
Once a user uses an NFC-enabled mobile device to make payments, as the user brings the phone closer, the purchase amount gets deducted from their account and directly settles into the merchant's account. Hence, the process remains swift and smooth.
Devices that support NFC payments
For businesses, it is paramount to install an NFC reader-based POS solution or an advanced mPOS solution to start accepting NFC payments. Moreover, businesses can accept NFC payments through a limited set of devices used by customers. These devices include: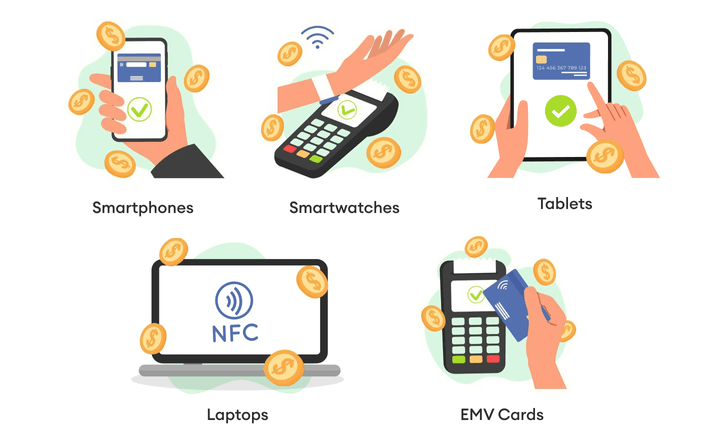 Smartphones: Smartphones are the most common device used to make NFC payments. These payments are done through a wallet app with an NFC feature in it. For example, Apple Pay, Google Pay, and Samsung Pay.

Smartwatches: The wearables, mainly smartwatches have become quite popular in NFC payments in the last couple of years. For example, Apple Watch and Google Wear OS Watch.

Tablets: Similar to smartphones, tablets can also perform NFC payments. For example, iPad Pro, Google Pixel Slate, and Lenovo Thinkpad.

Laptops: There are several laptops that come with in-built NFC features to accept payments and other laptops that can be used by connecting to an NFC-enabled card or device. Some examples of laptops to make NFC payments are Microsoft Surface, Asus Expertbook, and HP Elite Dragonfly.

EMV Cards: Almost all credit and debit cards have an EMV chip supporting NFC in them. This is the second most used NFC payment mode.
Businesses that use NFC payments
NFC-payments have made it easy for businesses to receive instant payments. Customers also prefer NFC payments because of the convenience it provides. So, it's a preferred payment method for so many businesses. Some are mentioned below:
Retail stores
Many retail stores, including department stores, clothing stores, and mobile stores, are using NFC payments to allow customers to make purchases quickly and easily. Customers can simply hold their NFC-enabled payment card or device near the NFC reader on the point-of-sale (POS) system to complete the payment.
Restaurants
Many restaurants are using NFC payments to streamline the payment process and reduce the risk of handling cash. Customers can use their NFC-enabled payment card or device to pay their bill at the table, removing the need to wait for a check or a card reader.
Business events
NFC payments can be a convenient option for businesses that host events, such as concerts, festivals, and sporting events. Customers can use their NFC-enabled payment card or device to purchase tickets or pay for food and other items at the event.
Healthcare services
Doctors and other health professionals like dentists, psychologists and many more can use NFC payments to facilitate payments for the patient's family members or the patient himself. This allows the professionals to fully focus on the treatment process only and not the payment part of it as it is fully automated with NFC.
Fitness businesses
The businesses like gyms, yoga studios, and physiotherapy centers can use NFC payments for receiving payments from a large number of individual customers. When integrated with fitness software, NFC payments offer a convenient and secure way for clients to settle their bills, making the overall experience smoother and more efficient.
Apart from these businesses, the payments via NFC can be used in grocery stores, gas stations, cafes & bars, hotels, and transportation businesses (trains, buses, taxis).
Leading NFC payment applications
Google Pay
Google Pay is an NFC payment app for Android-powered smartphones. With this application, users can tap and pay and make in-app payments in stores and vending machines. Moreover, users can also send money to their friends and family.
This application also allows users to use most of the debit and credit cards of major brands such as Discover Cards, American Express, and many more. Moreover, the user can also use cards issued by prominent banks like Citi, Bank of America, and Wells Fargo.
Apple Pay
Apple Pay, introduced in 2014, is available for iPhone 6 and later versions along with iPad (iPad mini 3 & iPad Air 2 and later) and the Apple Watches, which allows customers to make 'contactless' payments at stores.
The Touch ID function increases the security of this application. Apple Pay also comes with tokenization, which means that the iPhone transmits a token to the merchant instead of card details like the card number.
So, even if the attacker succeeds in stealing the token from the merchant's payment system, he won't be able to decipher the card information.
LifeLock Wallet
LifeLock Wallet is one of the best NFC payment apps that help users to store credit, debit, insurance numbers, ID, and loyalty cards. Moreover, it also has an identity theft protection service built into the app.
It scans more than a million transactions per second to detect and notify the user of any potential threats to their identity. It also provides an identity restoration specialist for the user who becomes the victim of identity theft.
MasterCard PayPass
PayPass is the payment feature available in the banking card -MasterCard. With this card, users can tap and pay to make purchases from the merchants that have the PayPass terminal.
All the payments have unique electronic encryption that reduces the risk of theft or loss of cards and protects data. Moreover, the automatic check eliminates all the possibilities of payment duplication caused due to accidental touch.
Visa payWave
Visa payWave is a secure payment technology that reads and receives credit card information. With this technology, the user can make quick and secure purchases at all the stores that accept the Visa payWave card.
This Contactless payment system has an integrated computer chip that sends the payment information to a secure point-of-sale reader. The contactless payment made by Visa payWave is as safe as the payments made by magnetic stripe. Moreover, its control over the payment device reduces the fraud risk to a great extent.
In addition, there are various other popular NFC payment apps like Android Pay, Samsung Pay, Squareup, Zelle App, Venmo, PayPal and Circle Pay.
Major benefits of NFC payments
Provides enhanced payment security
Using NFC-enabled mobile wallets is a more secure option than carrying physical cards. It's because digital ewallet apps like Apple Pay encrypt all your bank details into tokens that can't be accessed or manipulated by fraudsters.
So, even if your mobile phone gets stolen, all your credit cards and other valuable details stay protected. In addition, as these tokens change for every NFC transaction, it is nearly impossible to decrypt them.
These apps also come with fingerprint technology which adds an extra layer of security to the NFC payments to save the user from fraud.
Faster and simpler payments
Compared to payments made by cash, chip, PIN cards, or other digital payment solutions NFC payment systems are a lot faster. It's because of the simplicity of payment where the user has to tap the NFC card or place the NFC-powered smartphone near the reader. It's also the most popular merchant payment solution as it is convenient for the merchant as they don't have to wait for the customers to enter their PIN or search for cash.
With NFC tech, the user can make payments within seconds, and the merchant receives payments directly into their account.
Improved convenience for customers & business
One of the greatest advantages of NFC payments is convenience. NFC technology has made it super-easy for users to make payments via their smartphones and tablets. The overall process of payment is also easy to use & understand and has eliminated the use of physical cash or card. With this, the user can make transactions with a simple touch or a few taps on the smartphone.
Also, the businesses accepting payments can smoothly receive payments in their account without hassle or extra efforts of card swiping or extra processing time.
Versatile in varied industries
NFC is versatile in nature as it covers a wide range of industries and services. NFC allows users to make payments at various places. A few of them are:
Fuel pumps
Parking garages
Movie tickets
Tollbooth
Merchant payments
Rewards
Banks cards
Transit tickets
Efficient conservation of battery
Many technologies other than NFC allows devices to communicate with the point-of-service (POS) system, such as Bluetooth. However, the main advantage of NFC is that it requires less power to complete the transaction.
This benefit makes NFC a better choice for merchants worried about their wearables and smartphones getting drained off due to numerous transactions.
Enhanced checkout experience
Long lines at a store have an adverse effect on the customers as they might leave without purchasing anything. If a shopper finds long queues every time he visits the stores, then he might label the store as crowded and go somewhere else.
NFC technology can boost the speed of the checkout process for all customers through its short-distance automatic payment system. This makes the queues shorter and enhances the experience for both store owners and customers.
Drawbacks of NFC payments
Could be too expensive for some businesses
NFC technology has a plethora of benefits. However, these benefits come with a cost, which means that the cost of installing an NFC reader and POS is difficult to afford for some companies, especially new startups or small businesses.
For example, a big company like Starbucks has successfully integrated NFC technology into its system. But, for smaller companies, the NFC integration can cause difficulty in maintaining their turnover and increasing their profits. It's because the cost of installing software & hardware with hiring technicians is very high.
The risks still persist
NFC payment technology is surely more secure when in comparison to credit card technology. Yet, it's not completely free from risks. We have often seen that rapid innovation and evolution in technology have come up with both positive and negative consequences.
Mobile phone hacking has become a common phenomenon, and hackers are coming up with new ways to trick customers by gaining access to their financial data. This risk makes the entire system prone to fraud and scams, which discourages customers and merchants from using this technology for payments.
However, customers and merchants can take a sigh of relief as security measures like encryption and tokenization make these payments safe from online fraud. Furthermore, these measures will only become better in the near future.
Lack of availability
Lack of availability is probably one of the biggest drawbacks of NFC payment technology. Apple Pay and Google Pay are indeed gaining immense popularity. But it's also true that many retailers aren't that excited about it. Due to this, NFC technology is not available in many stores, which makes it difficult for an NFC payment user.
Want to accept NFC payments?
DigiPay.Guru provides advanced and foolproof contactless payment solutions while adding quickness and convenience to your business. With DigiPay's NFC payments (Tap and Pay) service, you can take your business to the next level of success and profitability.
If you are a business looking to accept NFC payments from your customers through an advanced NFC payment solution, you are at the right place. Connect with our experts today to discuss your requirements and integrate the NFC solution into your business.