With each passing day, we are moving towards a cashless society, where all kinds of payments are made digitally. Today making digital payments for all our daily tasks has become the new normal and in coming years we might totally depend on it thus eradicating cash payments.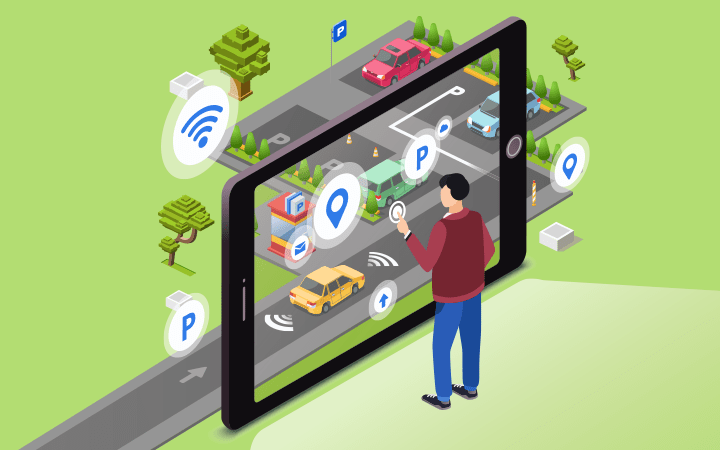 The evolving payment infrastructure and various FinTech innovations are unlocking numerous digital payment avenues which were earlier untapped. In recent years, parking payments is one such avenue that has drawn the attention of many FinTechs and digital payment solution providers. Making digital payments at parking garages might sound fancy to many.
But in reality, users and parking space owners are embracing this idea with their both hands. In this blog, we will discuss in detail about the rise of digital parking solution, it is working, and its multiple benefits for both users and parking space owners.
Rise of digital parking
As the city authorities take crucial steps to achieve their smart city vision, it's also transforming various traditional infrastructures including that of traditional parking. In many cities, traditional parking is now being evolved into digital parking as universities, city garages, shopping malls, and airports already embracing this technology.
As of now, the digital parking has rendered positive results by improving quality of life for many several residents. Even stats are in favour of digital parking.
In the UK, only a minor portion of 16% of drivers prefer payments by cash, whereas, the remaining portion prefer making parking payments via contactless methods, website, app, or by card. These stats almost reverse when the age group is of 50-64 or 65+. These stats also vary depending upon the household income.
Digital parking payment solution leverages real-time information that enables users to get the list of unreserved and reserved parking spots. The main objective behind employing digital parking payment solution is to assimilate automation in the parking lifecycle. Digital parking ensures that there's no wastage of time when a user is searching for a parking spot.
Digital parking is a win-win situation for both parking space owners as well as the ones searching for the parking spots. But before looking at its advantage let's have a look at what is really a digital parking payment solution is.
What is a digital parking payment solution?
A cashless parking payment solution is a payment system that doesn't require any physical money for making transactions pertaining to parking. It's a quick and foolproof way to make mobile money payments for parking.
Digital parking involves payments via credit card, debit card, and e-wallet. This makes digital parking easier and convenient for users where they can make payments on the spot without the hassles of keeping cash.
How does it work?
Digital parking is generally enabled by smart parking mobile applications where a user has to complete a registration process. In this registration process, the user also registers his vehicle. Once the vehicle is registered, the user can search for all the nearby parking garages.
After selecting the parking garage, the user can set select the parking duration and then start the payment process. The user can make payments via various modes like debit/credit cards, e-wallets, NFC, RFID, and by scanning QR-code.
The user receives a payment confirmation notification once the payment is completed. Moreover, the user also is also reminded when his parking session is about to complete. The user can then top-up their session for parking directly from their smartphone without returning to the car.
Benefits of digital parking
Fast
One of the major benefits of digital parking is that it's lightning fast as compared to the traditional parking system. Digital parking payment solution effectively eliminates wastage of time when the user is looking for the right change to make payment at the parking spot. It enables users to leverage their smartphone to make quick payments.
Cost-effective
In traditional parking system, the parking staff manages money, thus there are chances of frauds and accidental mishandling. Many a time, the counterfeited currency has also been used to make payments. All the mentioned mishaps can be easily avoided by installing digital parking payment system.
The digital parking system also leverages cutting-edge technologies like payment gateways and smart parking sensors that eliminate human intervention, thus reducing human errors as well as saving labour costs.
Convenience
Nowadays, people are used to the convenience offered by digital payments in all walks of their life. They expect similar convenience in parking too. This is where digital parking payment solution comes into play.
Digital parking is extremely convenient for the staff and the users as it enables the user to make quick payments via an online portal that don't require any cash or currency, instead, it directly debits the amount from the user's account or wallet.
Secure payments
All the payments in digital parking are made via cashless gateways that are secured with the latest technologies like encryption. This motivates the user to utilize digital parking payment systems more. Moreover, with the A-grade payment security, it also makes the user stress-free.
Enhances user experience
A digital parking payment solution offers improved user experience as it blends the entire user experience into joint action. The digital parking system comes with an excellent user interface.
Moreover, with ticketless and cashless parking, the users don't need to carry small parking tickets which are prone to lose. All the processes like payment, time notifications, location search, spot identification, etc run smooth and become a part of the entire parking experience.
Read More: DigiPay builds a user-friendly e-wallet for its South African client.
Explore and boost revenue streams
Digital parking system enables you to monetize a free parking space. Moreover, you can offer a stress-free experience to your users which motivate them to park their car for a longer time.
The users already know that they can easily top-up their parking session at any time. This stress-free approach results in boosting your parking revenue.
Parking space optimization
In traditional parking, there used to be a massive amount of resources and time consumed in parking. However, with digital parking in place, the parking spaces are filled quickly and more efficiently.
This ultimately saves time, resources, and efforts. Moreover, it also ensures parking space owner doesn't invest in the newer parking structures as his existing parking spaces are optimized.
Reduced traffic
Mismanagement in parking also means that drivers are on the road in search of a parking spot. This can cause massive traffic flow and congestion. However, with digital parking, drivers can easily search for their parking spot without causing traffic jams.
Reduced pollution
Apart from causing traffic jams, search for parking spots also burns a huge amount of fuel and the emissions increases air pollution. The digital car parking solution reduces the driving time which ultimately reduces the daily vehicle emissions and its carbon footprints.
Boost brand image
Smooth user experience in parking can play a significant role in boosting your brand image whether it's of a corporate or commercial entity. No matter, if it's a corporate office, airport, or a retail store, your visitors will be thoroughly impressed by the cutting-edge parking facilities.
Real-time trend and data insights
A digital parking system can offer you real-time data and trends associated with parking lots and users. These trends and data can offer parking owners with some insights along with leading them to make appropriate adjustments and improvements.
Increased safety
Apart from convenience, digital parking also ensures increased safety. This is because the system provides security guards and employees with real-time data of parking. This helps them to prevent parking violations or any other suspicious activities.
Moreover, the digital parking system comes with recognition cameras that can take a pertinent image of license plates.
Conclusion
Digital parking payment solutions have made their mark and it is here to stay for a long time. As of now, the young generation seems to enjoy this latest way of making parking payments. But in future, this might become the norm.
This means that there lies a massive opportunity for both parking space owners and parking solution providers. If both of them play their cards well, they might end up with a sustainable enterprise that would generate a mammoth amount of profit.