Customer acquisition and retention are two of the most difficult things to achieve for any business. Especially, in the current times when the competition is so cut-throat. Like every other business, fuel retailers also face this very problem.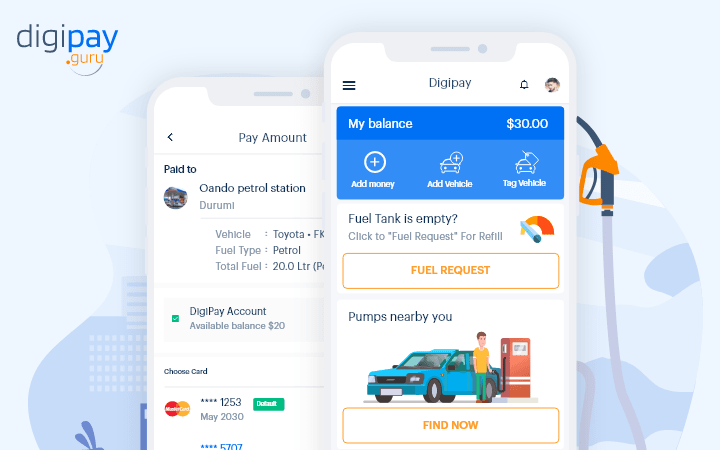 The advent of digitization is also impacting fuel businesses and making it difficult for traditional fuel retailers to stay in the competition. This is mainly because customers face a lot of trouble and hurdles while fuelling their vehicles in traditional fuel pumps.
These hurdles and challenges associated with traditional fuel retailers are the very reasons that make customer acquisition and retention difficult. If these challenges are resolved then even traditional fuel retailers can stay in the competition. But what are these challenges? Let's have a look.
Challenges associated with traditional fuel retailers
Prolonged waiting times
One of the major challenges that users face at the fuel station is of prolonged waiting times. During rush hours, there are many people who queue up at the fuel station to refuel their vehicles.
This causes a lot of congestion which can frustrate and annoy the users. Furthermore, cash-based payments might also slow down the process as the fuel attendant might face problems of providing change to the users.
Inconvenient payment methods
Inconvenient payment methods are another problem that users face on a daily basis at fuel stations. This is because while fuelling, they must keep cash or card handy for payments. Sometimes users forget to bring cash or credit card in their wallets which stops them from refueling their vehicles.
Lack of trust and transparency
Trust and transparency are something that traditional fuel stations haven't been able to gain over the years. This is because customers are always in constant suspicion that they are being cheated and the amount of fuel refilled is less than what they ordered. This suspicion is also because many fuel station attendants have been caught indulging in fuel malpractices.
Fuel expenses tracking hassles
With ever-rising prices of fuel, it becomes difficult for customers to keep a track of their fuel expenses. It also becomes quite tedious since they have to manually enter and maintain the record for each transaction for all of their vehicles on their own.
DigiPay.Guru's Fuel retail solution helps you to overcome all these challenges
DigiPay.Guru's fuel retail solution is a state-of-the-art solution that offers fast, simple, and secure fuel payments for all the customers. It offers a top-notch customer experience by leveraging cutting-edge digital payment technologies.
DigiPay.Guru's fuel retail solution also deals with customer anxiety, stress points, and inconveniences by making sure that every customer can drive in, refuel, and drive out without much of a hassle.
DigiPay.Guru's fuel retail solution is also a perfect solution for your fuel business in case if you're struggling to attract new customers and retain existing ones. Let's see how DigiPay.Guru helps you in gaining new customers and retaining the existing ones.
Acquire new clients
Customer acquisition is one of the major challenges that every fuel retail business faces. Cut-throat competition makes it difficult for these businesses to get new customers.
This is where DigiPay.Guru's fuel retail solution steps in. Our solution makes fuelling a pleasant experience by eradicating major problems faced by customers such as long queues, inconvenient payment methods, and many more.
Our solution enables customers to make payments directly from their phones without getting off their vehicles. They can make payments either by scanning QR codes or via RFID tags. This cashless payment mode eliminates the issues of change and hence makes the payment process faster and more convenient.
Furthermore, with our solution, customers can either enter the amount or quantity of the fuel directly from their app thus makes the fuelling process more transparent and convenient.
Establish a stronger relationship with the existing customers
Apart from customer acquisition, the other major problem that fuel businesses face is of establishing stronger relationships with their existing customers. Establishing such strong relationships with customers is important because if you don't then you might lose them to your competitors in no time.
DigiPay.Guru's fuel retail solution helps you to establish this relationship by enabling you to offer a rich customer experience. With our solution, you can offer value-added services to your customers. For an instance, you can enable customers to buy vehicle accessories, service oil, and other items available at the convenience store.
To make buying experience even richer, you can enable them to order their purchases online and then pick them up from the fuel stations without having to get out of their cars.
Retain customers
Customer retention is perhaps the toughest task that every fuel business tries to accomplish. DigiPay.Guru's fuel retail solution makes this task easier for fuel businesses. This is because it enables fuel businesses to integrate various types of loyalty and rewards programs.
With this, fuel businesses can offer various discounts, promo offers, rewards, loyalty points, and many more. These loyalty programs keep the customers satisfied and engaged with your offerings thus strengthening your customer retention ratio.
How does it work?
The workflow of DigiPay.Guru's fuel retail solution can be of two types:
Semi-automated
Fully-automated
Let's have a look at the following steps to know how both the workflows operate.
Add money
The first step is to add money to the mobile wallet. The customers can load their wallet by credit card, debit card, or directly from their bank account.
Add vehicle
Once you load your wallet, the next step is to add the details of the vehicle on the app. You have to add the vehicle number, model, etc.
Enter fuel amount/quantity
After that, the customers have to either enter the fuel amount or fuel quantity which they want to refuel into their vehicle.
RFID tag/QR scan
This is the step where there's a clear bifurcation between the semi-automated and automated flow. Let's have a look at them one by one.
Semi-automated: In this workflow, once the customer enters the fuel amount or quantity, a dynamic QR code is generated which is then scanned by the fuel attendant. After that, the fuel attendant enters the details manually and starts fuelling. Once the fuelling is finished, then the amount is directly deducted from the user's wallet.
Fully automated: In this workflow, first the customer has to put an RFID tag on their vehicle. Then they have to enter the fuel amount or the fuel quantity. Then on reaching the fuel station, the fuel attendant will keep the fuel nozzle near the RFID tag, and all the fuel order information will be transferred to the fuel dispenser.
At the same, time the fuel dispenser will be set a zero automatically. Once the fuelling is done, the amount is automatically deducted from the user's wallet.
Invoice
Once the payment is successfully made, the user will receive an invoice in their app which will show all the details pertaining to the fuel order.
Other key benefits of DigiPay.Guru's fuel retail solution
Apart from customer acquisition and retention, there are many other reasons why you must go for DigiPay.Guru's fuel retail solutions. Some of the reasons are mentioned below:
Digital-first strategy
With DigiPay.Guru's fuel retail solution, you can unlock the frontier of digital technology services which includes mobile wallet payments, RFID technology, QR codes, and many more. This will not only make your entire process streamlines but will also offer your customers a top-notch user experience.
Increase revenue
DigiPay.Guru's fuel retail solution is also a great way to increase your revenue. First, it increases your revenue by attracting more users and retaining the existing ones.
Read More: How can it increase revenue and customer satisfaction?
Secondly, it enables you to expand the customer lifecycle and value by getting extra revenue from the merchant offers and the in-app services. Furthermore, it also enables them to offer value-added services which again increases the overall revenue.
Decreased cost
Apart from offering all the above top-notch benefits, DigiPay.Guru's fuel retail solution is also budget-friendly. With DigiPay.Guru in place, you don't have to invest in building infrastructure or maintenance as it's a ready-made wallet solution that can be seamlessly integrated into your existing fuel business.
With our white-label solution, you can integrate your logo and company branding without any kind of hassles.
Conclusion
In today's digital era, customer acquisition and retention have become extremely difficult especially if your fuel retail business lacks a digital solution.
DigiPay.Guru understands the plight of these fuel retail businesses and that's why it has come up with an advanced fuel retail solution whose cutting-edge features not only resolve all the challenges faced by traditional fuel retail businesses but also transform their entire business digitally to offer top-notch customer experience.
If you're also a fuel retail business owner who is looking for an advanced digital fuel retail solution to boost customer acquisition and retention then you must go for DigiPay.Guru's fuel retail solution.