A massive number of 100 million poor people across the world receive government-to-person (G2P) payment. This huge number in itself shows how important G2P payments are especially for the poor segment of the world population.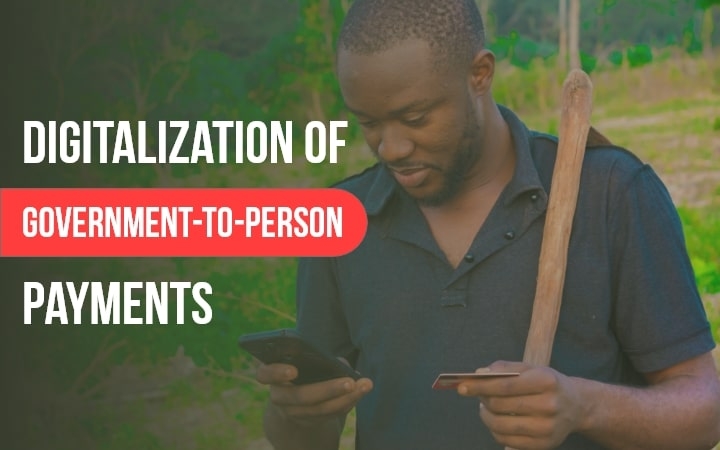 G2P payments which are also referred to as government social protection payments are the payments made by the government authorities to the people for their welfare. These payments include government transfer payments like social benefits, pensions, and unemployment benefits. It also includes government wages and tax refunds.
G2P payments are done across the world; however, the way it's done differs in various countries. For example, in 90% of the developed nations, G2P payments are done digitally. Whereas, in more than half of the developing countries, G2P payments are made via cash and checks. But in recent times, governments are moving from a cash-based system to a fully digitized G2P payments system.
The COVID-19 pandemic has also been a major reason behind this shift. It's because the pandemic has increased poverty across the world which in turn has catalysed G2P payment measures taken by every country for the welfare of their citizens.
As of May 2020, almost 190 countries have planned to launch their G2P payments but with one major modification. Most of these countries are now planning to digitize their G2P payment system which was earlier cash-based.
But why? Read this blog where we will discuss the importance of G2P payments. We also discuss how digitizing G2P payments can benefits recipients and governments.
Importance of G2P to the National Payment System
Government-2-person payments are an important element in the National Payment System. Let's see the below reasons to know why:
G2P is a very crucial tool for promoting financial inclusion. This is because it extends cashless and non-cash electronic instruments to the unbanked population of the country.
Digitalizing the G2P payment system means the use of cashless and electronic payment instruments for all the various government payments. This also means that there could be a significant improvement in the cost savings across the different levels of the national economy.
The importance and huge scale of government payments can play a critical role in encouraging innovation and growth in the country's retail payment infrastructure.
G2P payments are done on a large scale. Such large scale government payments projects play a major role in establishing cooperation and coordination between the government authorities and financial service providers to come up with an efficient process for the delivery and disbursement of payments to a large population.
Read More: Contactless payments have become the new normal for the retail industry.
Why digital G2P payments are preferred over cash-based G2P payments?
Governments across the world are rapidly shifting from cash-based to digital G2P payment systems. It's mainly because cash-based G2P payments are highly prone to frauds, corruption, and other higher degree of associated crime. These risks are termed leakages.
Whereas, digital G2P payments are known to reduce these leakages to a significant extent. Let's have a look at all the benefits that digital G2P payments have to offer to recipients and the government.
Benefits for receivers
Digital G2P payments are a boon to the recipient as it reduces their time and cost to receive the amount. Furthermore, it also offers utmost convenience as compared to the cash-based G2P payments.
Lower cost for recipients
Generally, recipients of cash payments from the government have to face many difficulties to claim their money. First, they have to travel long distances to reach the bank or government offices which are generally located in the region's capital. This long-distance travel can cost recipients both time and well money.
But with digital G2P payment solutions, the time and cost to recipients can be lowered considerably. But how? The randomized control trial in Niger serves as a good example. In this, it was found that disbursing social transfers to the beneficiaries through mobile transfer cut the cost to recipients by almost 25% as compared to the cost of collecting manual cash transfer.
Not only this, but it was also recorded that the time required for travelling to the cash-point was reduced by 40 minutes. Also, this eliminated the average three hours of waiting time that was needed to receive the manual cash transfer.
These savings are really huge. If we consider the average agricultural wages, then these savings can be translated into a large amount which is more than enough to feed a family of 5 people for a day.
Reduced delays and uncertainty in payments
Cash is difficult to manage and transport over long distances in G2P payments. It's because there could be factors like bad weather, road infrastructure, etc. that can cause delays in the delivery of money.
Apart from the delays, uncertainty in payments also causes a lot of stress since the users have no idea when the next payment will arrive. Digital G2P solutions can reduce uncertainty and enhance the reliability and predictability of payments which in turn could enable people to plan and invest properly.
Greater access to financial products and services
Digitized G2P payment solutions are also a great way to ensure increased financial inclusion. It's because it allows users to access financial products like loans and saving products. This is precisely the reason why G2P payments are called the gateway for financial inclusion.
Flexible payment modalities
Digital G2P payment solutions are known for increasing the flexibility of G2P payment modalities in terms of both timing and the value of the payment. Another major advantage of digitized payments is that they can be easily disbursed incrementally over time and in lump sums.
Even the payment timings can be easily adjusted in the case of digital G2P payment systems as compared to that of physical cash-based form.
Furthermore, it's also possible to execute various schemes on top of G2P payment which can ncourage users to adopt healthy financial habits and behaviours. Labelling of accounts serves as a good example since it's way easier to implement digitally as compared to the physical form. One study also shows that it has directly resulted in the long-term saving behaviour.
Benefits for government
Digital G2P payments are a win-win for both recipients and government as it offers numerous benefits to the government as well. Let's have a look at these benefits one by one.
Reduced leakages and improved transparency
Digitizing G2P payments are also known to increase transparency by ensuring that only eligible people receive social transfers and wages. This wasn't the case with cash payments due to transactional anonymity. Cash payments are highly susceptible to ghost or fake recipients and leakages (payments that do not reach the recipient in full amount).
Digital G2P payment systems improve the traceability of the entire payment process in two ways. First, each recipient gets a digital record of the amount that they are supposed to receive. Also, the number of potential leakage points are reduced by limiting the number of people through which the payment goes before reaching the recipient.
Second, in comparison to cash payments, digital payments generally need stricter identification documentation of the recipient. This makes it difficult for the ghost recipients to go undetected.
When India made their social security pension (SSP) payments digital then they saw a 1.8 percentage point of bribe demand incidence. This was quite low as compared to the 3.8 percentage points for manual cash payments. Moreover, the ghosting incidents also fell by 1.1 percentage points.
Effective monitoring
Effective monitoring is what government authorities get with the digitization of G2P payments. Furthermore, it also enables the authorities to make real-time decisions on the basis of incoming data.
Accurate data collection and improved monitoring can also play a major role in improving targeting. G2P payments can also help in identifying the eligible recipients through a strong digital ID. This can form a digital footprint that can help in linking individual's information across departments. With this, authorities can get a better picture of the individuals, especially the ones who are most vulnerable.
Challenges associated with Digitizing G2P Payments
The benefits of G2P payments are immense; however, it does come with its own set of challenges. Let's have a look at what these challenges are:
The Physical Payments Infrastructure
It's true that G2P payments can be cost-effective in the long term; however, it takes a huge amount of up-front investment to build a physical infrastructure that can offer a reliable digital payments experience.
Developed countries might not face this problem since they already have a physical payment infrastructure in place. However, developing countries might struggle since an adequate physical payments infrastructure is only present in the urban areas of the country. So, they find it difficult to build to payment infrastructure such that it delivers digital payment services to each and every corner of the country.
Read More: Why eWallets are more popular in developing countries?
The increased penetration of mobile phones in developing countries suggests that it has become easier to provide digital payments via mobile transfers. However, the reality is quite different. It's because there are significant infrastructure challenges when it comes to reliable payments through mobile money accounts.
Serious issues like lack of cell towers, electric supply, and IT infrastructure of payment system are proving to be major hurdles for the expansion of digital payment services in developing rural areas.
This is quite evident in the case of Kenya, a country that is known for its mobile money infrastructure. Even Kenya failed to develop a mobile money-based solution from 2010 to 2012 due to issues like network connectivity.
Legal and regulatory environment
Private sectors need space to build innovative payment products for providing digital payments solutions. It also means that there should be a regulatory environment that recognizes the contributions of every non-bank financial player like payment service providers and mobile network operators. These players play a crucial role in providing digital payment services to the financially underserved population of the country.
A clearly defined and functional legal and regulatory framework ensures that there is a level playing field for new players and other different actors who are part of the digital payment space.
Regulators must also define who can act as an agent and who can provide financial services. Regulators must also strike the balance between promoting interoperability and allowing the market to foster a digital payments ecosystem.
Political economy issues
As we already discussed earlier, cash payments are highly susceptible to corrupt activities like ghost recipients and other leakages. Politicians and bureaucrats gain hefty benefits from money transfer schemes. Thus, these political powers might cause obstruction in the seamless shift to digital G2P payments.
Conclusion
There's no doubt that digital G2P payments are the future. More and more countries are adopting digital G2P payments to reap its astounding benefits. Many experts believe that digital G2P payments are soon going to eliminate cash-based G2P payments since it reduces the cost, establishes transparency & reliability, increases efficiency, and helps recipients in developing familiarity with digital payments that can further boost financial inclusion.
Governments across the world are looking for a robust digital G2P payment solution that can enable them to digitize the entire G2P payment ecosystem. So, if you're a FinTech entrepreneur then don't miss out on this golden opportunity to build an advanced Digital G2P Payment Solution. For more guidance on Digital G2P Payment Solution, you can contact DigiPay.Guru which is a leading FinTech solution development company.