According to a report by the World Bank, around 1.7 billion adults in the world remain unbanked as they don't have a bank account. Back in 2014, this number was 2 billion. To fight this grim reality the governments of many countries have started to aggressively focus on financial inclusion.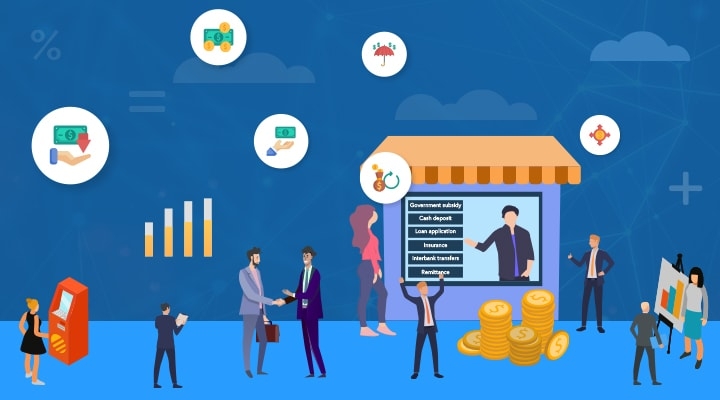 At the same time, it's also important to understand that availing banking services is not easy for all. Almost 59% of unbanked adults have stated the lack of affordable banking service as the major reason for them to not have an account. In addition to that, the exhausting documentation process makes the matter worse for the unbanked people. But with the latest FinTech developments, banking is all set to change forever.
The combination of internet and smartphone penetration has served well for the financial industry, especially the banking sector. It has empowered banks to offer their services to a person irrespective of his location. This new phenomenon is called branchless banking or agency banking. In this article, we will see what agency banking is and how it is impacting banking all over the world.
What is agency banking?
Agency banking is a type of branchless banking that allows the traditional banks to extend their network of branches and services in a cost-efficient manner through authorized agents. Agency banking is gaining popularity due to various reasons like product availability, risk management, improvement in financial inclusion, and many more.
Components of agency banking
To understand the working of the agency banking, it's important to first understand the participants of the agency bank ecosystem. Here we'll discuss each participant one by one.
Agent banking service provider
Agent banking service providers are responsible for managing various banking agents. They are also responsible for operating service, marketing, cash handling, branding, and many more.
Banks/Financial institutions
Banks and financial institutions are the hosts that comprise both consumer and agent accounts. These are entities through which the actual cash flow takes place.
Read More: What is Fintech and what is its impact on banking?
Banking agents
These are the retailers that are authorized to perform various banking services on behalf of the banks and financial institutions. They are responsible for banking services such as:
Cash-in
Cash-out
Balance inquiry
Generate mini statements
Collection of document
Microloans
Airtime purchase
Bill payments
P2P transfer
Super/sub-agents
Banking agents can also form other agents under them and get an additional commission for every transaction that they make.
Mobile operators
Mobile operators offer their network to facilitate mobile transactions, USSD connectivity, SMS, bill payments, and many other processes that take place over the mobile phone.
Consumers
Consumers are the ones who are the end-users of agency banking. These are generally those people who don't have a bank account but have access to mobile phones.
Now that we have seen all the participants, let's have a look at how it works.
How does agency banking work?
To provide agency banking services, the banks need to have an advanced agency banking solution that facilitates seamless banking experience to the customer along with establishing smooth coordination among all the components of agency banking mentioned above. Below are the steps as to how branchless banking works.
Get authorization as a banking agent
In the first stage, the retailer gets authorized as a banking agent by his respective bank or financial institution.
Create mWallet
Once the authorization process is completed, the banking service provider creates mWallet for the banking agent. Once the mWallet is created, the banking agent deposits a prepaid balance in it.
Customer opens his bank account
Customers can open their bank account by simply visiting the nearest banking agent with a valid ID.
Cash in (deposit money)
To deposit money, customers have to pay cash to the banking agent. The banking agent then transfers the same amount of money from his mWallet to the customer's account.
Cash-out (withdraw money)
Customers can transfer money from their account to the agent's mWallet by using the USSD menu on their phone. Afterward, the agent pays the same amount to the customer in the form of cash.
The banking agent can access various banking services and perform different actions via a user-friendly agency banking solution.
Advantages of agency banking for banks
Reduce costs
Agency banking is a very cost-effective way for banks and financial institutions to extend their services in the areas that have lower penetration of banks. With agency banking, banks and financial institutions don't need to set up a physical branch thus reducing operational, infrastructure, maintenance, and other high-capital investment costs.
With agency banking, the banks can kill two birds with one stone. First, they can save the cost required to set up a new physical branch as maintaining a physical branch on average is 25% costlier than managing the network of agents. Second, they can increase their profitability by driving business from the areas which were previously untapped.
Increasing customer base
With the help of banking agents, the banks and financial institutions can finally offer their services to the large section of unbanked and untapped customers. This huge surge in the number of customers increases the profits of banks in many folds.
Similarly, with agency banking, the banks can have a large number of agents under them which can, in turn, bring more customers to the bank and financial institutions.
Asset quality maintenance
Banking agents are usually familiar with the clients as they have good relations with them. Agents are aware of their repayment capacity, financial stability, and many other factors that help banks to make decisions on loan lending. With such key insights, the banks can maintain their asset quality.
Build trust and awareness
Banking agents provide a human touch to the formal banking system. Users find comfort in interacting with someone they know. That's precisely the reason why users trust agents more than the formal branches.
With such comfort and convenience, clients feel safe to perform all the financial operations that they need. Such trust in banking agents encourages the whole community to utilize agency banking in their regions.
Enhanced customer experience
Agency banking provides users with enhanced customer experience. Branchless banking has brought banks to the doorsteps of users. Now, instead of traveling and waiting at the bank branch for hours, the clients can simply visit their agents which are located at their proximity.
Users can perform various banking operations through their agents such as withdrawing/depositing funds, paying bills, loan payments, and many more without any formal ID or biometric.
Agency banking is an easy platform for the users as it delivers various banking solutions for the unbanked populations with the use of phones, card readers, POS (point-of-sale) terminal, and many other cutting-edge technologies for processing real-time transactions.
Supports various types of transactions
Agency banking supports different types of transactions such as:
Top-up prepaid voucher sale
Voucher-less prepaid top-up
Merchant's services
Loan repayments
Balance inquiries
Cash deposits
Cash withdrawals
Bill payments
P2P transfer
Utility bills
Taxes
Government fees
High security
Apart from convenience, agency banking also provides top-notch security. The clients can issue a magnetic chip card/stripe and a bank pin which they can later use at the agent's terminal for carrying out transactions. Bank pins and magnetic chip card/stripe are way more secure as compared to cash management.
Read More: DigiPay: A foolproof platform for digital transactions
Agency banking facilitating financial inclusion around the globe
One of the major hurdles that banks faced was of providing banking services in rural areas. It's because to open a branch in the rural area, one needs high OPEX/CAPEX; however, there's no certainty that the branch would return enough return on investment (ROI). This is one of the major reasons why banks have been unsuccessful in reaching rural users. Also, rural users are not habituated to using mobile financial solutions.
But now with agency banking, the banks have reached the rural areas and have provided banking services to a large section of the unbanked population throughout the word. Here we'll discuss the impact of agency banking in a few countries.
Kenya
As per the special report by Helix Digital Finance on Agency Banking in Kenya, Agency banking has grown at the fastest rate in terms of agent share. Equity Bank has bounced ahead of Airtel Money Kenya to become the second biggest in terms of agent share at 11%. Safaricom M-Pesa, which is the market leader, is facing a drop in its share of agents from 90% in 2013 to 79% in 2014.
Talking about financial inclusion, the FinAccess household survey in 2019 in collaboration with FSD Kenya, Kenyan National Bureau of Statistics, and Central bank of Kenya shows that 82.9% of the adult population now has access to at least one financial product.
Kenyan marketplace is a spawning ground for FinTech companies as it has 150 FinTech firms that provide services that range from remittances to credit entities.
India
The Government of India recognized the potential of a branchless banking model way back in 2006 when they started their initiative of business correspondents. Like banking agents, these business correspondents too bridged the gap between banks and the unbanked population.
Moreover, with the Pradhan Mantri Jan Dhan Yojana (PMDJY), more than 28.38 crores of new accounts were opened as of date April 2017. This was a major decision as there is a large section of the population in India that is devoid of any financial services.
Now let's have a look at the stats that show the growing numbers of business correspondents (BCs) in India and the number of deposits made via them over the years.
Congo
In the Democratic Republic of Congo, Papersoft has partnered up with Equity Bank Group and EcoBank as the technology partner to boost financial inclusion via hyperlocal agents. Similarly, FINCA is operating a network of banking agents in the country since 2011. These agents consist of shopkeepers and local merchants of the areas that are devoid of FINCA bank branches. Around 20% of the agents serve in rural areas.
There are many agents who perform a high volume of transactions. For example, a banking agent's pharmacy in Kinshasa is responsible for affecting around 100 transactions per day. Such banking agents are playing a huge role to fight financial exclusion.
Conclusion
Agency banking offers a seamless solution for banks, retailers, and customers. It allows banks to expand their services in the remote areas where they previously wouldn't have been able to reach. Similarly, it benefits banking agents as it allows them to earn additional income; moreover, the additional walk-ins also increase their sales. And last, the unbanked customers get easy access to the financial institutions located near them.
Agency banking is transforming banking all around the world. It will be interesting to see how much impact will it have on the banking industry in the near future.