Online shopping is no longer the only place where digital payments are accepted. Even in offline stores, customers can make digital payments as it has steadily increased over the past few years. Even simple money transfers between two parties using digital payment are evolving and becoming the new norm.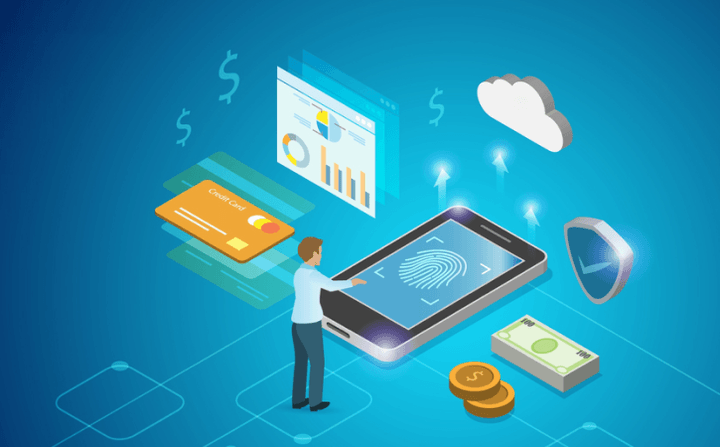 Brick and mortar stores have seen a significant drop in customer visits due to the pandemic's limits on mobility throughout the past year. As a result, there are now fewer cash transactions taking place in stores on a regular basis. This has also directly contributed to the rise in digital cloud technology in the payments industry and transfers.
The number and turnover of digital payments have immediately increased as a result of touch-free QR code payment scanners being readily available in practically every store. Non-banking payment service providers like GPay, Paytm, Phonepe, Apple Pay, Samsung Pay, and others have increased over the past few years.
Below you will get a clear view of how cloud technologies can provide future-proof digital payments:
What is Fintech?
Businesses that employ technology to enhance or automate their financial services are referred to as Fintech. It essentially combines the words finance and technology. With companies making advances in practically every aspect of finance, from loans and payments to credit scoring and stock trading,
Fintech is one of the digital areas that are growing fast. Cloud computing in Fintech will work with traditional financial sectors to make it manageable, safer, and quicker by integrating technologies such as AI, data science, and blockchain.
22% of financial applications have cloud as their platform.
Around 24% of CAGR is expected in the fintech market, likely to reach $123 billion by 2025.
Cloud computing's importance for Fintech's rising in modern times
The significant impact of cloud computing is primarily fulfilling the various needs of the financial sector and is what is causing this trend to accelerate. In a variety of areas, including security, service, innovation, and scalability, the financial industry has greatly benefited from the cloud.
So why is cloud computing so important to financial services? Fintech start-ups and financial institutions are competing to offer their clients and end-users a variety of digital products and services that are faster, more reliable, and available 24/7. All of this is made possible by cloud computing, which is also more secure when regulatory compliance is becoming more demanding and expensive.
Why cloud is the future of Fintech?
Over the past 50 years, finance technology has undergone a substantial transformation, and the most recent wave of innovations shows that more change than ever is on the way for the rest of 2022 and beyond.
New security features
When implementing new technology, security is always at the top of the list for fintech providers. The cloud technology in financial services has shown to be quite secure if the proper precautions are taken, despite early worries about security and data protection. In recent years, cloud security has risen due to zero-trust verification and encrypted data.
The cloud proves to be no riskier than conventional IT infrastructure settings when combined with safeguards like employee training and access control, among others. Thus, it is essential to ensure your systems have adequate measures in place
Get a top-notch security framework that facilitates secure fund transfers
Progressive Innovation
The agility that cloud computing technology brings to the table has helped the fintech industry expand. Financial institutions can create and promote products more quickly due to cloud computing in the Fintech industry, and they can also react quickly to changing consumer needs and new trends.
Additional payment options
People are switching to digital payments as a result of the rapid rise in the digital wallet app development companies. Instead of using cheques to pay their bills now, credit cards are used to buy expensive items. As an outcome, they have more options and freedom when it comes to making payments that suit their needs and interests.
In order to attract new customers, many existing payment providers are currently fighting to upgrade their basic systems or overhaul their entire payment process. The development of APIs that connect different systems and share data to enhance the delivery of goods and services may be simplified by cloud computing.
Enhanced customer experience
Since the outbreak, numerous clients now like using digital wallet solutions to pay for goods and services. A frictionless payment experience is now widely regarded as significant to customer retention by all parties involved in the payment ecosystem. Many banks updated their online and digital presence as a result of some major financial institutions starting to close branches.
Read More: Increase revenue and customer satisfaction with mobile money
Greater scalability and flexibility
One of the fastest-growing segments in the online industry, cloud computing for the Fintech industry, recognizes the need for safe online financial transactions among consumers. Therefore, they require a supportive atmosphere and infrastructure to reach their long-term business goals without creating pointless restrictions that limit their ability to advance.
Fintech and cloud technology works quickly to scale up the business while saving money on the costs of setting up on-premises equipment and its updating and maintenance.
Current challenges that banking and FinTech are facing
Missed revenue objectives, protracted fund-raising cycles, and rising losses are some of the most common problems facing the fintech and banking industries. The improper management of the lending lifecycle is primarily responsible for this. The problems that FinTech and banking face are as follows:
Security problems and user privacy
These days, businesses and organizations need to be more careful when it comes to security. FinTech and digital payment frauds are the most targeted victims of cybercrime, which is on the rise. Fintech companies must protect more valuable data than ever before.
Keeping up the pace with modern technologies
Organizations using outdated company management cloud-based apps and other systems won't be able to stay up with a world that is becoming more and more dependent on digital technologies.
Quality of Software
Financial institutions that adopt advanced technology, especially cloud apps, get an advantage in the fight for digital transformation and can innovate more quickly. Without competent IT personnel, successful FinTech companies cannot survive.
Industry Regulations
The most frequent difficulties are from industry regulations since FinTech and the banking sector faces challenges as a result of the massive rise in regulatory expenses.
Create a data infrastructure to help your tech
The data architecture you lay the groundwork for will serve as the foundation of your innovation activities. Within the limitations of your technology, you will need to analyze, combine, and transform all points of reference into useful information.
Then you can establish digital payment services products with built-in cloud technology strategies to achieve goals and identify important data outputs that are beneficial to the entire company. You should remember that collaboration only succeeds when all teams transparently exchange data.
Scope of cloud computing in banking and Fintech space
The banking sector must address the rising data input requirements. So that infrastructure can be upgraded without causing any disturbance, it is necessary to investigate systems that do not rely on like-system migration. Due to concerns about security, legal, and dependability hazards, banks have been slow to adopt cloud-based core banking platforms. Cloud computing is transforming how customers engage with banks, but slowly.
Cost saving benefits
The IT infrastructure of conventional banks is highly capital-intensive. Due to their larger capacity compared to server-based applications, cloud services allow cost savings.
Decrease in the risks
One of the additional uses of cloud computing in banking and Fintech is that it helps banks reduce capacity, redundancy, and adaptability concerns. They have the ability to identify numerous risks in the payments technology with the Cloud.
Increase in flexibility
Banks can shift resources from IT management to variation by moving to the cloud. They will consequently develop more prolific and adaptable internal and external processes. Cloud-based digital payment providers give banks a wider range of options for transformation and meeting client demands.
Productivity
When it comes to productivity, cloud computing means that all the extra time spent racking and stacking data in banks is eliminated. Boosting output is in the cloudification of payments. All information-related tasks in the bank will be handled by software using cloud computing
Innovation
One of the most useful things that fintech organizations can profit from in the upcoming years is the agility of the payments system through the cloud that is available to be utilized. The cloud enables financial organizations to launch their products more quickly, adjust to new market demands or trends, and even change their strategies in response to major global events.
The cloud is fundamentally a dynamic technology, and without this agility, some of the most recent developments in the financial sector as a whole would not be possible.
Read More: Digital payment trends that will shape in upcomming years
Cloud technology benefits in digital payments ecosystem
Every business that relies on computer technology seems to have embraced the cloud to varying degrees. The world of digital payments is not different. Applications for payments innovation with cloud technology in e-commerce now offer the possibility of scaling up services and customer experience. As a result, there are now more digital payments. The main driving forces that allow cloud technology to future-proof the digital payments sector are listed below.
1 Scale-up on the fly
The power to scale up a cloud-based server cluster generally contains load balancers and an e-wallet payment system. The task of routing traffic to servers with sufficient bandwidth to fulfill the request is handled by load balancers. Additionally, cloud service providers can quickly add new servers to the infrastructure to match the rising demand from any application.
2 Reach the destination faster
Traditional online payment and transfer methods are famously slow, largely because of a third party called a correspondent bank that requires a direct connection between the banks in the sending and receiving country. Most banks rely on correspondence banks for foreign transfers since there is no way for all banks in the world to connect directly with one another.
Improve your cross-border payment process with automation
The correspondence banking approach is being replaced by cloud technology due to the advancement of technology, a worldwide payments network. The cloud payments transfer trace becomes longer as a result. Also no longer necessary are the onsite payment technologies used by the Financial Institutes. The popularity of cloud solutions for digital payments service providers will only grow as a result of this trend.
3 In-built security
Many cloud computing service providers, including AWS, Microsoft Azure, Google Cloud, IBM Cloud, VMware, etc., include built-in security features. Because of this, the cloud infrastructure resembles a digital fortress.
To keep up with the growing risks, many digital finance solution service providers regularly upgrade their security systems. Because of this, financial institutions and digital payment service providers may concentrate on meeting their core functional requirements while leaving security-related concerns in the lead position.
4 Sophisticated monitoring and alerting
The cloud service providers that the digital payment systems employ have sophisticated monitoring systems built into them that continuously track how the payment systems are being used and take any necessary preventive or corrective action. For instance, the monitoring tool alerts the cloud system to add more CPUs immediately whenever it detects that the CPU usage has reached 70%. In this manner, significant downtime is avoided.
5 Interesting dashboards and reports
Any digital payment system can be improved using statistical analysis of how well it performs in various areas. Statistics that reflect the operational aspects of a digital payment system, such as transaction volume, net value, success rate, region direction, etc., are typically developed as reports by the companies that offer digital payments.
Cloud computing offers many created dashboards and reports from a hardware perspective in addition to these useful reports. This enables the FIs to evaluate the reliability of their infrastructure for digital payments and take any necessary preventive and corrective measures.
6 Next-gen technology
The cloud payment providers looking to stay up with changing data needs and expectations find the cloud quite attractive due to its connectivity with API ecosystems and powerful data management and analytics capabilities. For payment service providers, this makes it considerably simpler to comply with open banking requirements.
7 Improve speed to market for new products
The accounting mentioned above and management software, as well as cloud-based, can all be combined with a single integrated cloud payment system. As a result, while bringing products to market, managing the supply chain, inventory, and product information is more effective. The benefits of data integration also include reducing the time it takes to market items.
Good practices for cloud adoption in Finance
Most sensitive financial data is created, stored, shared, and handled, making cloud migration in banking and Fintech explicit. Here are the things you need to consider:
Encryption and access control
With the help of your cloud service provider, choose the most practical encryption strategies and procedures to guarantee the security of all incoming and leaving financial data.
Compliance
A consistent authentication of the cloud administration must be provided by cloud service providers, according to finance executives' requests.
Data isolation and management
Cloud services thrive on shared resources, but financial firms may need a combination of the advantages of shared resources and the increased security provided by information isolation.
Disaster recuperation plan
The best cloud service providers typically have it set up, so it is important to get a complete disaster recovery plan and make sure your digital infrastructure can support all of that.
Bottom Line
The Fintech sector benefited from the cloud technology of old system processes by creating a more adaptable and customer-centric business model to generate revenue and support growth.
Today, cloud computing extends its influence to the fintech sector by developing and offering advanced products and services, establishing smooth client interactions, and raising revenue through partnerships with linked businesses. Businesses that use cloud technology in their operations benefit from higher levels of security, dependability, scalability, efficiency, and a number of other advantages.
Want to Accelerate And Secure your Real-Time Payments with Cloud Technology