Digitization is starting to pick up and gather pace among all sectors, promoting no-contact transactions, which raises the demand for digital banking services. As all small and large businesses and e-commerce businesses are keen to accept digital payments, digital banking has gained popularity among consumers.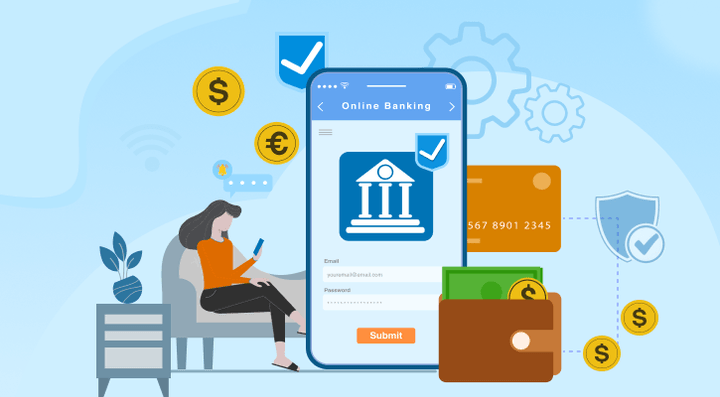 Digital wallets solutions are the most widely used solutions in this pandemic era. In this "cashless" era age, individuals prefer to shop online for all their day-to-day needs and look for options that are not only convenient but also provide security and robustness. Digital wallets are one of the proven pillars that come into this role.
Digital wallets are apps that are directly linked with customers' accounts and provide all the ease to transact like receiving or making payments from their smartphones or laptops. In this blog, we're here to understand digitalization in the banking sector, how digital wallets play a vital role in e-payment methods and explore its significant benefits in our digitally changed life.
Consumers are looking for convenient options of banking services and digital banking showed remarkable choices for the last few years. The following are some statistics that emphasize the need for digital banking in today's technical era:
As per the Global FinTech Index Report survey report, 96% of the customers have already used the online fintech services to transact at least once.
According to Statista research analysis, 66.7% of the senior banking professionals agreed that non-traditional financial firms dominate digital wallets and mobile payments.
Also, Worldpay's Global Payments Report represents more than half of all e-commerce transactions made globally are expected to be made with a digital wallet by 2023.
The Evolution Of Digital Banking Services
Digitalization has empowered all the sectors and banking is one of the very first sectors that witnessed this widely. We have seen many improvements crawling over the past few years, and digitization has helped a lot in the banking sector.
As per the Global Market Insights, the digital banking market size has exceeded USD 8 Trillion in 2020 and it is projected to gain around 5% from 2021 to 2027. In 2020, the total digital payment value is accounted for USD 750 Trillion with digital transactions exceeding 900 billion in volume globally.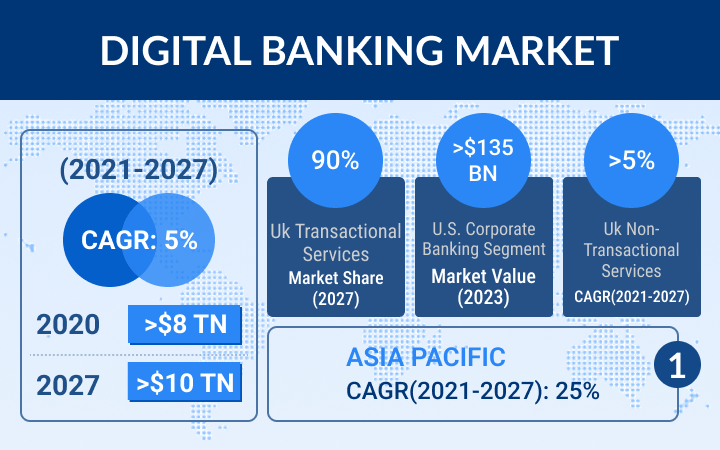 With the increased use of mobile devices and e-commerce by consumers to perform their daily financial transactions, the digital wallet is one of the top digital payment trends that become popular and convenient choices among consumers.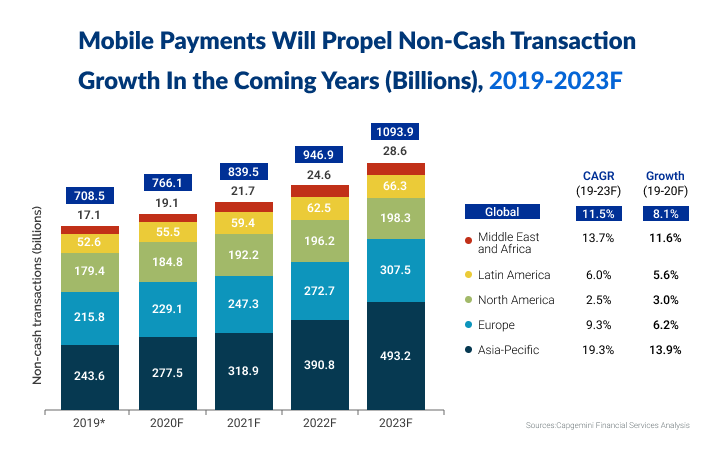 According to World Payment Report 2020, the growth of digital wallets users will increase from 2.3 Billion in 2019 to approx. 4 billion in 2024 and global non-cash transactions will incline from 708.5bn in 2019 to nearly 1.1tn in 2023.
How Mobile Wallet is the future of Digital Banking
With the advent of pandemics, contactless payment methods have been gaining popularity among both merchants and consumers. Cashless payment solutions are the current demand of the situation and digital wallet is the future of e-payment solutions.
As per the demand of the situation, all the businesses whether small or big had to digitally transform themselves to keep up with this contactless way of functioning. This leads most businesses to follow online banking services for making e-payments.
Not only credit and debit cards are things one can keep in a digital wallet but can store gift cards, membership cards, loyalty cards, coupons, event tickets, flight tickets, and more. Also, one can use a digital wallet to transfer money from one person to another.
Digital Banking services widely accept digital wallets worldwide. Digital wallets provide a rich portfolio of digital financial services including cardless transactions, P2P payments, contactless payments like NFC and QR coding, rewards, cashback, coupons, budgeting, and plannings.
Digital wallets solutions are more flexible, complete, and robust mobile wallets services or platforms that help their consumers in better financial experiences and respond to ever-changing market demands. The following are the reasons how digital wallets can offer many benefits to banking services
Encourages Sales and Client Database
Digital wallets speed up the checkout process and hence more clients are attracted towards it. Digital wallets apps have easy registration and login process and users can conveniently create their account without any hidden charges.
This raises the client's interest in digital banking and helps to build client databases. This also facilitates the financial institution's data-driven decision making, helps to gather the customer's demand and experiences more progressively and productively.
Increase customer's loyalty
As Digital Wallet offers a more secure and safe option for digital banking, and hence it helps to increase customer loyalty. Loyalty is the most important factor in the banking sector. Banks are nowadays focusing on more innovative solutions and helping their clients to provide more security features to reduce stress. Hence, digital wallets come into important roles as it takes care of many security measures.
Read More: Boost your profits with customer loyalty and rewards solutions.
Builds the brand value
A Digital wallet allows the customers to continue to connect with a brand. Thus it helps banks to build brand loyalty with their customers.
As mobile wallets have made it more convenient to check account status, transfer money from one account to another, pay bills, shop online, digital banking has become more prominent. Customers are not restricting themselves with their traditional banking processes.
In fact, they are more open to new banking relationships. Now consumers can choose to engage with their banks according to their brand values.
Convenient solution for all
Digital banks have become a boon at a time when traveling to the bank for the simple task of transferring funds was a challenge. Digital Wallet software also proved a highly convenient solution for working-class, elderly people, and physically challenged people to do all their banking work from their smartphones.
People nowadays are more comfortable with the one-click solution provided by digital wallets. Digital wallets provide a frictionless customer experience as it enables smooth payment options all the way.
Timeless Solution
As a Digital wallet is a timeless solution, customers involved aren't bound to time constraints. They can register themselves once and can engage lifelong with digital wallet apps. No time limits or renewal policies are being involved with digital wallet apps. Also, they can be accessed 24/7 which makes them more flexible to use.
Management of virtual card operations
Digital wallets provide provision to the user to store credit and debit card data, which could be helpful to make money transactions at any point in time. Hence, mobile wallets simplify the consumer's finances more conveniently and aggregate all the card information in one central space encrypted with high-grade security features.
Read More: Brief introduction of Virtual prepaid card
Paperless Banking
Traditional banking meant visiting the banks for every transaction and keeping track of the account history through all paper statements. Now, you have the option to go paperless and get all your transaction history on smartphones.
Accessibility in Rural Areas
Digital banking has helped rural areas tremendously. Now rural people don't have to worry about traveling long distances just to get to the closest bank especially during any financial emergencies.
The rural population has shown keen interest as they have access to the simplest of banking transactions just with one touch from their smartphones. Digital Wallets help to reduce the boundaries and provide an integrated solution in remote areas also.
Essential features of Digital Wallet helps in your Banking Solution
Instant and easily accessible payment between wallets
Digital Wallet is very easily accessible as it can be easily downloaded as an app on a smartphone. It makes it more convenient to use. Digital wallets can store a user's credit/debit card data, which can be used to make money transactions at any time.
Digital wallets also simplify the user's finances conveniently aggregating all their cards and required details in one central space. Transactions from Payer wallet to payee wallet take a few seconds and this makes digital wallet apps more instantaneous. Unlike traditional banking, people don't have to wait in long queues even for small transactions, which only costs lots of time and efforts.
Easy Bill Payments
DigitalMobile Wallet solutions facilitate bill payment services whether pre-paid or post-paid bills effortlessly. This is the mobile generation where everyone wants to pay their bills including fees, rents, tickets, and other utilities with a single click on their smartphones.
Enhance simplicity In Money Transactions
With a single tap of a smartphone screen, digital wallets can make payments easily and quickly from one person's account to another. This simple process of transaction makes digital wallets more robust.
One can also make payments via these apps at online stores as well. In the case of traditional card payment, small details like CVV information, expiry, etc. have to be entered by the user, which is not required in the case of mobile wallets.
Split Bill Payments
Split bill payment services allow two or more users to divide the bill or reimbursement into parts for shared service. Splitwise payment is one of the most versatile features of mobile-wallet payment services as it allows multiple payment sources to settle the whole cost in a single transaction.
Offers its User a lifelong usage
Unlike traditional card systems, digital wallet apps do not impose any time constraints. The user has to register once with the digital wallet service, link it with the bank account, and can use it lifelong. This association is not limited to any time constraints. Users can also have the privilege to stop using it at any point in time.
Various Offers, Discounts, And Rewards
Several discounts and rewards are being offered by various digital wallets. It gives users a habit of transacting more with their digital wallets. Loyalty programs, cashback, and gift cards add scope to offer additional services for customers that extend beyond payments.
Merchant Payment through contactless payment methods
To facilitate security and ease of payment, digital wallets allow users for using various technologies like Near Feild Communication(NFC) and QR-Codes to make payments. Contactless payment solutions have been more emphasized with the new norms of social distancing and to make most of the payments contactless.
NFC is a contactless payment method that works within some close defined distance with secure payment technologies like POS devices and smartphones.
QR Codes are quite similar to barcodes where the user can easily scan them with the help of a camera on a smartphone. The smartphone then interprets it and opens the related app to proceed with the payment.
With the consideration of ever-increasing demands for contactless transactions, QR code payment is the most essential feature of digital wallets.
More Secure User Transactions
Mobile wallets coupled with cutting-edge security to protect customers' information, making all transactions very safe. Digital wallets are encrypted with more security features like transaction pins and patterns to prevent unauthorized access. Most digital wallet provides the following methods for highly secured digital transactions
Biometric authentication
Digital wallets implements the biometric payment system that uses biometric authentication limits the risk of data fraud and extortion. It includes various technologies like Fingerprint Recognition, Facial Recognition, and Iris/Retina Scans.
OTP authentication or tokenization
Digital Wallets can be secured by using encryption methods like OTP passwords and tokenization. It provides two-factor authentication to validate the transaction and hence reduces the probability of hacking. It makes it more than other traditional banking methodologies.
Voice activated payments
This is also one of the security features digital wallets use and make it safe for users. A voice-activated message is performed after all the transactions and notifying the customer about the transaction.
Conclusion
Digital banking remains a steadfastly popular choice in today's time as customers continue to look for convenient options. With all the above features and advantages kept in mind, we can conclude that a digital wallet can entirely improve the client's experience and can help banking services to keep existing customers, raise brand awareness, entice new customers, and improve the ways you interact with your audience.
Digital wallets are growing in popularity among all generations as it is easy to transact, simplify and speed up the buying process and promotes contactless payment options. At DigiPay.guru, we provide the best digital wallet solution which helps their user to perform all the versatile mobile finance services.
Its e-wallet payment solutions empower businesses to deliver robust, secure, and faster services to their customers. As the future of digital banking is continuously revolving around mobile money payment solutions, DigiPay.guru rigorously works for better clients satisfaction and experiences.