The popularity of digital payments and the convergence of innovative technologies play a significant role in digital wallet development. Mobile phone is a major driver of this fundamental shift in customer experience. Your customer has switched their behavior from swapping payment cards to tapping on their smartphones.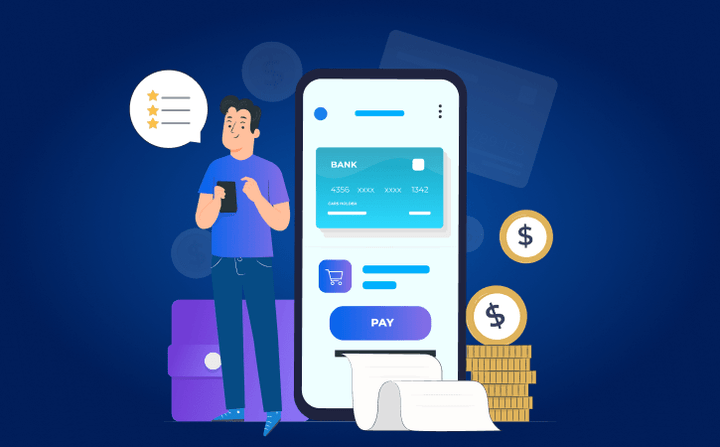 All the businesses are embracing the change in customer behavior. Contactless payments solutions and convenient payment mechanisms provide you an opportunity to address the needs of your consumers.
Here is a chance you can eradicate the need to carry cash, queue in shops for paying bills, remember the number of PINs and passwords.
Your digital wallet payment solution can be integrated with some unique features which we are going to discuss in this blog to make the checkout process quick and seamless.
In the era of mobile payment services, your consumers are expecting the smarter and quicker way to pay and hence giving you an opportunity to capitalize on creating a memorable customer experience.
There are three pillars on which you can make your business strategy for digital wallet development or integration in your business. They are- Customer Experience(CX), Technology, and Services.
Improving your customer experience (CX) not only positively impacts your business but also streamlines your operations. While integrating digital wallet software in your business you should make it more customer-centric.
Visually illustrates customer perception for your digital wallet app and envision your future customer experience.
This kind of mapping will give you a better understanding of your customer experience and can find the opportunities and issues from the customer's point of view.
Digital payment made easy with digipay mobile money solution
Evolutions in Mobile Payment Market
The rise in digitization, penetration of smartphones, and adoption of innovative technologies is the reason behind the evolution of digital wallets and mobile payments over the last few years.
According to Verified Market Research, the digital wallet market size was valued at $0.98 Trillion in 2020 and is projected to reach $15.69 Trillion by 2028 at a CAGR of 41%.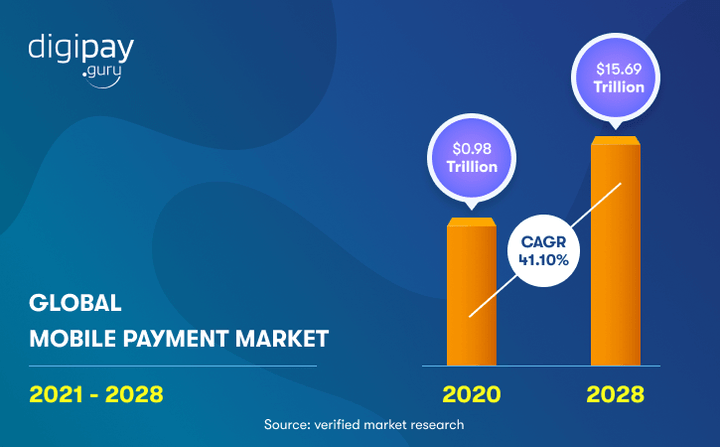 Digital wallet solutions are the most promising alternative methods over traditional payment systems where people transact with cash, cards, and cheques. Cashless payment solutions provide a convenient way to make purchases of goods and services.
There are various technologies involved in digital wallets systems that you can adopt for your business such as NFC payments, Mobile web payments, SMS or direct carrier billing, and many more.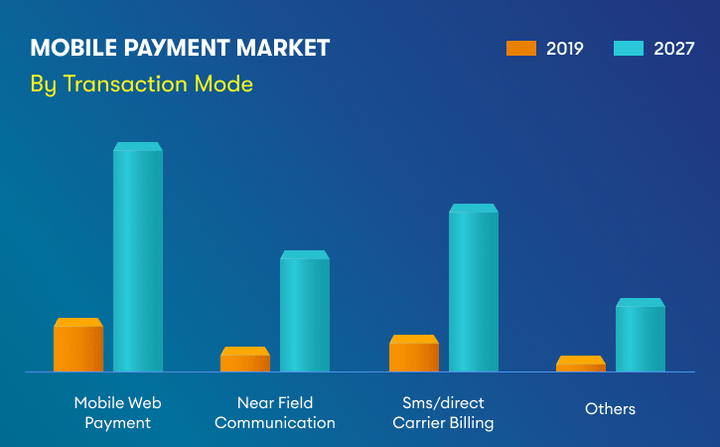 According to the above research of Allied Market Research, mobile payments has shown the most promising growth among all the sectors by the year 2027. Though, NFC Contactless Payments (Near Feild Communication) is projected as the most lucrative sector in digital payment solutions.
Digital wallet solutions are revolutionizing the digital payment system in the most effective way. The demand for faster and hassle-free transaction services and the rise of the COVID19 pandemic have boosted the use of digital wallets in the past two years.
Let's discuss why do your customers want to adopt digital wallets over traditional banking in our next section.
Read More: Future of Digital Banking with Digital Wallets Solution
Why Digital wallets are the talk of the town?
Digital wallets have eliminated the need of carrying physical wallets stacked with cash and multiple credit/debit cards. Your customers need not worry if they forget their wallet at home as your digital wallet allows them to spend and purchase the goods and services they want to. The following are reasons why digital wallets are becoming the talk of the town: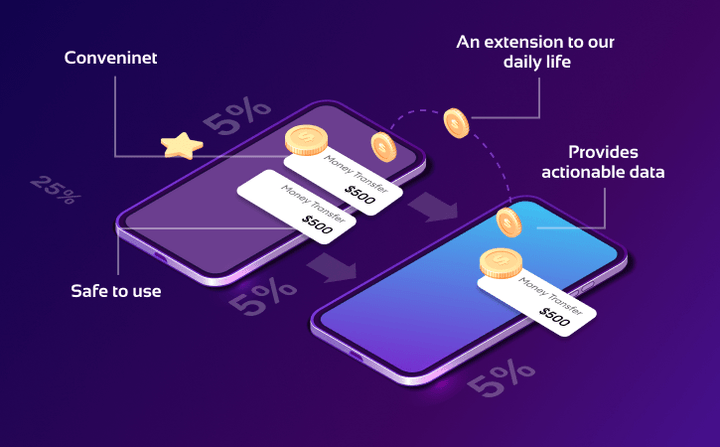 Digital wallets are convenient
Digitization has changed the customer's mindset and your customers are looking for more convenient options. People wouldn't like to carry their physical wallets full of cash and cards.
Digital wallets are more convenient and accessible. You can integrate digital wallet solutions in your business for great customer service.
Digital Wallets also proved a highly convenient solution for working-class, elderly people, and physically challenged people to do all their banking work from their smartphones.
Mobile wallets are safe to use
Mobile wallets solutions are quite safe as they can be easily locked which prevents them from unauthorized use of others. You can use biometric authentication and password protection methods in your digital wallet to make it more secure and safe to use.
They are extensions of our daily life
Digital wallets are making new waves now as they are becoming an inseparable part of our life very soon. The mobile wallet software is taking a primary role in revolutionizing the way your customers want to make payments.
You can't ignore the important features in your digital wallet to make it more effective acceptance by your customers.
Digital wallets provide actionable data
Digital wallet software can provide very relevant and useful data about your customer's preferences which can be further helpful for your business in making new strategies and plans.
It's the best time for you to have a digital payment app development if you already don't have or upgrade the old version of your digital wallet solution with some unique features we are going to elaborate on for you in our next section.
This will not only enhance your customer engagement but also provide the best user experience for your business.
Mobile Wallet Features to Keep Your Customers Satisfied
Your digital wallet should have some unique features according to your customer satisfaction. People want fast, easy-to-use, frictionless payment methods that allow them to safely pay for their purchases. Here, we are sharing some insights and features on what's important for boosting financial inclusion through your mobile wallet:
Convenient account opening within seconds
Digital Wallet self-onboarding allows your users to create their accounts within a few seconds. The future of customer onboarding in banks can be simplified with your digital wallet solution.
Simplified access and Instant KYC reduce the time and effort of your users. All the important information can be fetched from your customer's digital banking account easily and required information like card details, transaction pins can be saved in their digital wallet solution.
Instant KYC compliance offers many benefits in your digital wallet app such as providing higher load and spend limit, higher bank transfer limit, higher P2P transfer limit, and adding more beneficiaries.
Account-to-Account (A2A) payments
P2P payments solution (peer-to-peer) is a simple but effective solution in your digital wallet that allows your customers to non-instantaneous money transfer between two devices with just a few taps. Your customers can pay and send money to their family and friends from their phones and computer instantly.
Ease of use & seamless transaction
Processing payment through mobile wallets is quite easy and frictionless. Your customers can save the required credit/debit card with a valid document once in their e-wallet payment solution and can perform seamless transactions anywhere and anytime in the world.
Digital wallet allows multiple payment methods like mobile money payments, QR code scanning, direct billing, etc.
Users can perform multi-day transactions and instant payments 24/7/365. The flexibility and availability of digital payment services can keep your customers adopting this ecosystem quickly and wholeheartedly.
Payments to and from bank accounts
Your digital wallet software should have a variety of options for sending or receiving personal or business money transfers with just a few clicks wherever your customer wants to.
Your e-wallet should allow your customers to transfer money to and from any bank, including their own accounts in the same bank as well as transactions to another person in some different bank.
Going beyond payments
Digital wallets are not just meant for a money transfer but can perform more than that. Your customers can pay their bills and recharge, utilities, loans, rent, mortgages, etc with their mobile wallet solution.
Digital cash is everywhere nowadays and hence mobile wallets services are becoming an integral part of daily life.
Scheduled payments
With the scheduled payment feature, your customer can transact money from a single account to multiple recipients with bulk transfers. This feature is also helpful for business transactions, salaries transfers, and other planned payments in a more streamlined and efficient way to process bulk payments.
Monthly and annual payments are recurring payments that can be easily scheduled and bring a level of convenience for your customers and help to grow in your business.
Merchant payments via contactless technologies
Digital wallet system enables digitizing merchant payments through various contactless methods like Near-Field communications(NFC), static and dynamic QR code, EMV, and many more.
Merchants especially grocery and medical retailers are broadly using contactless payments in the time of the COVID19 pandemic for the free flow of their business operations.
Acceptance of these technologies is really commendable among merchants. Collecting payments with QR codes is one of the most used features used by top digital wallet companies.
Merchant auto bank settlements
Your merchant partners should be enabled to transfer the payment received from their customers to their bank account using the Auto Settlement feature from your digital wallet app.
Auto bank settlement reduces the time and efforts of merchants as they don't require to initiate manual transfers every time and same-day transactions could help them to monitor their financial analysis with more ease.
Give your customers the best payment experience with a merchant payment solution
Management of physical and virtual card operations
Mobile wallets store your customer's physical cards such as credit and debit card details which can be used to make any transactions at any point in time. We can say, the e-wallets system aggregate all the information required for money transfer in a centralized space.
Your mobile wallet software should manage multiple card information like PINs, passwords, account limits, and blocking/unblocking of cards at one place with high-grade security.
User Loyalty programs
Mobile wallets allow you to digitize your loyalty programs and turn the paper and plastic coupons into an easy-to-use mobile experience. Consumers would love to use and redeem the loyalty rewards and mobile wallet enables multiple brands to communicate with.
Introduce better customer loyalty programs in your mobile wallet services to engage more customers and brands in your business.
Customer loyalty programs can be dynamically updated in real-time through your digital wallet solution that allows multiple brands to showcase special events and promotions.
Did you know?
According to The State of Mobile Wallet Marketing Report, 73% of mobile wallet consumers are likely to join consumers loyalty programs if loyalty points and rewards get automatically updated in their mobile wallet.
Budgeting and Planning
This feature allows your users to plan their finances in smarter ways. Your digital wallet can act as a financial planner for your end-user as they can set the budgets for each category of expenses.
The feature of sending reminders when the user is too close to exceeding their budget can be the most desirable feature of your mobile wallet app.
Spending analysis could be an additional tool that you must incorporate into your digital wallet solution that encourages users to plan spending in a better way.
Analytical Dashboards and Diagrams
Analyzing and tracking personal and business financial health is really important for every consumer. Monitoring weekly, monthly, and annual financial statuses with clear visual charts and diagrams allows your customers to plan their personal financial operations.
This can also help your customers to make better decisions and can build trust in your mobile wallet app and foster loyalty.
Timely notifications and alerts
This in-app feature in your mobile wallet software allows your customers to monitor all their financial activities and safeguard them from any fraudulent transactions. Real-time alerts of all transactions, low-balance notifications, overdraft protection, scheduled payment alerts, and spending limits provide your customers stay on top of their financial activities.
Money transfer to a non-register user
Digital wallet allows transferring money to those who don't have bank accounts or non-registered users but have access to mobile phones. This can be possible through agents in your mobile wallet. The e-wallets are more popular in developing countries because of this agent solution.
For non-registered users especially in rural areas, your customers can deposit money to pay cash-in to the mobile wallet agents which that agent can transfer to their respective account through his mobile wallet.
Similarly, your customer can transfer money from their wallet to an agent's mobile wallet and the agent will the pay the cash-out using the app or USSD menu on their phone.
Split payment
This modern feature of splitting the bill can boost your digital wallet to another level. Split payment allows your users to split the bill with friends or family members within your app and pay as wholesome together to the service provider.
This feature has competitive advantages as it eliminates the need to manually calculate the bill of how much each person has to pay.
Launch multilingual interfaces
In order to acquire more regional customers, your e-wallet should support a multilingual interface. This helps you to focus more on consumers, payments, and commerce widespread.
Your business can take the multilingual route so as to enable your customers to transact in their own native and regional languages. Multi-language support will help to the adoption of more wallet services and hence plates an important role in the expansion of your business.
Trustworthy security features
Last but not least is the security and privacy features of your mobile wallet. Though consumer experience has tremendously improved towards digital wallet services but privacy and security concerns are still top of mind with customers. Integration of security features in your wallet can help your customer to feel safe and secure.
To provide peace of mind for your end users you should integrate the PINs and Transaction Password features along with biometric authentication.Biometric Authentication enhances the security of digital payments and it may include fingerprints, face recognition, and voice recognition. These ways can limit the risk of fraud and extortion.
Also, include alerts and notifications in every step of financial transactions so that your user can track the financial activities easily.
All the above features encourage your customers towards digital wallet solutions and consequently increase your business opportunities. Digital payment is a market that shows no signs of stopping and this revolution can boost your wallet solution in a more innovative way.
Conclusion
Customers always expect their merchants to have more innovative and flexible solutions that improve their buying experience. Thus, you should keep all the required features in your mind as you move forward in the era of digital payments.
There is no doubt that digital wallets are the future and here to stay for a long. So, the right time for your business to leverage mobile payments and digital wallets is now!
Digipay's mobile money solution is an advanced mobile money solution for your business that comes with top-notch security and feature-rich money transfer solutions.
Equip cashless payment solutions to benefit your business and customers in the most modern way