Today, the world has become digital. Our daily life cannot function without digital stuff around us. The most popular digital advancements are the internet and smartphones. Its usage has increased so much that the majority of the world's population is comprised of internet users and smartphone owners only.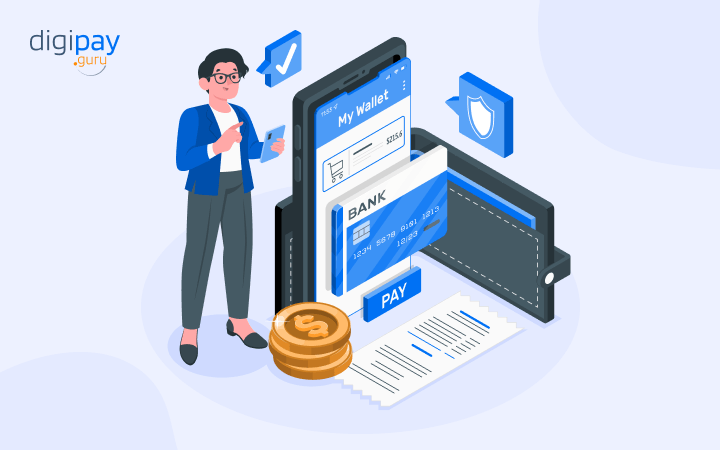 To back this point, a study by DataReportal says that as of October 2022, there were around 5.48 billion people who own a smartphone. Out of this number, around 5.07 billion people use the internet.
Digital payment trends gave rise to smartphones & internet, which in turn increased the demand for both online payments as well as digital wallets. A study by Juniper Research has discovered that around 60% of the global population will be using digital wallets for online payments by 2026. This indicates that digital wallets play an important role in the online payment market.
But how to make online payments through digital wallets? This article will help you get the answer to this, along with a better understanding of digital wallet models and their advantages, with some live examples.
Online Payments and Digital Wallets
Online payments refer to the electronic exchange of money for purchases made. The online mode of these payments makes them cashless and convenient for users. There are various online payment solutions such as banking cards, USSD, Bank prepaid cards, internet banking, digital wallets, micro ATMs, and Mobile banking.
Whereas, digital wallets are digital payment platforms used to store credit and debit card information in them, to facilitate online payments through a smartphone or a desktop.
Nowadays, digital wallets are considered one of the most popular and effective ways of online payments. Digital wallets can be used for online payments like shopping, bills, bulk payments, recharges, top-ups, and many more.
Digital Transformation with top-notch payment solutions.
How Do Online Payments Through Digital Wallets Work?
Digital wallets are easy to use and come with security frameworks. To make online payments via digital wallets a user needs to follow these simple steps: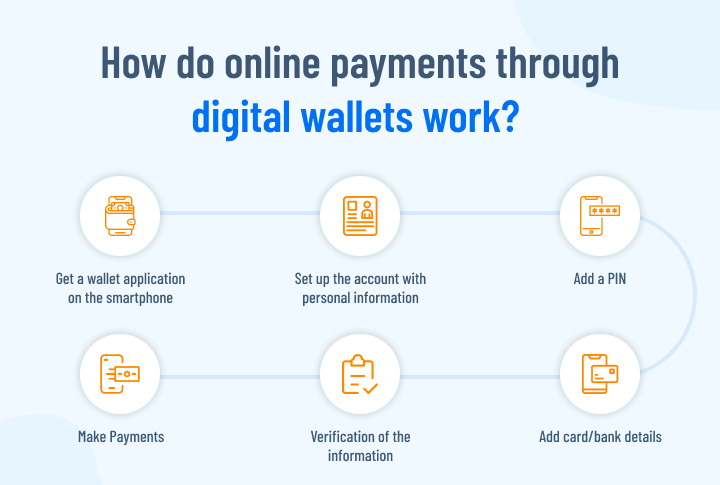 Get a wallet application on the smartphone
The user needs to download the digital wallet on their phone. It can also be an in-built wallet available on a smartphone, such as Apple Pay or Samsung Pay.
Set up the account with personal information
Once they have the digital wallet on their phone, they need to open it and set up an account by registering with personal information like KYC, name, email, address, or other such information.
Add a pin
As the account is set up, the user will be asked to set up a PIN and the user can use it to make payments. This PIN helps the app to authenticate the user's identity while making a payment.
There can also be a biometrics option in your wallet app where instead of remembering the PIN you can just use your fingerprint or scan your face ID to make payments.
Add card/bank details
After PIN or Fingerprint setup, the user can add their card details or bank details to the wallet. They can add multiple cards or bank details to the wallet app.
Verification of the information
Once the card/bank details are added to the wallet, the user details are sent for verification by the app by sending a one-time password to the user. As the user adds the OTP, the card/bank details are verified and the wallet becomes ready to use for the users.
Make Payments
Now, as the user data is verified, the users can make online payments and enjoy the services of a digital wallet with ease.
Increase customer loyalty with our advanced wallet solutions.
Different Modes of Digital Wallet Payments
Now, that you know how digital wallets work, you should also have an understanding of various modes of Digital Wallet payments. These modes can add extra value to a digital wallet by making online payments more convenient and secure.
QR Code Payments
Quick Response or QR code payments for wallets are device-agnostic (compatible with every device and browser) & cloud-based two-dimensional codes. The users can scan this code and make real-time online payments on the POS terminals. Almost every wallet app has a QR code scanner and generator in it. One of the best examples of such an app is Google Pay.
Device-centric mobile proximity payments
Device Centric Mobile Proximity is one of the technologies of payment in a digital wallet. Through this technology, a user can make an online payment just by keeping their mobile device in close proximity to the POS terminal.
Generally, this model uses NFC (Near Field Communication) technology to make payments and can be used only if the user's card supports NFC technology. These card-based payments can be a great way of making instant payments for in-store purchases.
Read More: All you need to know about NFC payments
Card-Not-Present (CNP) Payments
In card-not-present payments through wallets, the card details are stored and saved, so the user can make payments without having to input the card details every time. This model is generally used in online payments like shopping.
For example, a user buys products from amazon and checks out for payment. The user can get an option to select the saved card information to make a payment. Once they select it, they only need to enter the CVV. After that, the payment is processed successfully.
Device-centric mobile in-app
These are the mobile wallet solutions used to make in-app card-not-present mobile purchases. Here, the wallet uses EMV payment tokenization for payments. The credentials of this tokenized payment are stored in the mobile phone or a cloud.
Advantages of Digital Wallet Payments
Contactless payments
Digital wallets do not require cash or a physical card to make payments. So they are both contactless as well as cashless payment solutions. The wallets make it easy for users to make payments hassle-free and conveniently. The transactions can also be completed with just a finger touch, face scan, or PIN.
Security and convenience
Digital wallets secure your online payment system by providing advanced security to the users. There is no risk of a card being stolen, data leak, or identity theft in it as the card details and related information is stored in the wallets.
Digital wallets allow users to make instant payments in real-time with just a few taps on their smartphones making it very convenient to use with increased customer loyalty.
Better customer experience
Digital wallet solutions allow users to jump through the lengthy checkout processes and finish the transaction at a faster pace. This makes the payment process convenient for the customers and facilitates an amazing customer experience. A better customer experience is beneficial for businesses in increasing their overall revenue and profits.
Discounts and Offers
Among customers, discounts, and offers are one of the favorite features of digital wallet solutions. Digital wallets provide so many discounts, cashback, offers, incentives, gifts, and reward points from time to time.
This keeps customers engaged with the wallet. The users can also earn loyalty points under the loyalty reward program of the stores just by making a purchase through the digital wallet.
Wide range of applications
Digital wallets provide users with a wide range of payment uses. The users can make payments for groceries, tickets, recharges, bill payments, online shopping, store tickets & coupons, installments, EMI, Investments, Loan Repayments, and many more. Digital wallets also enable users to make many different types of payments from just one wallet.
Some Examples of Digital Wallets
Google wallet
Google Wallet or Google Pay is a faster and easier way of making online payments. By adding cards to google pay, the users can tap and pay where google pay is accepted. The users can send and receive money with zero fees and directly from their bank account. Also, they can shop, recharge, pay bills, book tickets and earn endless rewards.
Apple Pay
Apple pay is the wallet service available for iOS users. It is available in-built on apple phones, watches, macs, and ipads. Through the Apple pay wallet, users can send and receive money online with better security and ease. It also has Apple Cash, a digital card in the wallet.
Venmo
Venmo is a wallet service by PayPal. The users can make and get payments, split the bills, send gifts, earn rewards, spend for shopping, buy crypto, and much more. The payments can be made from nearly anywhere.
Amazon Pay
Amazon Pay is the wallet launched by Amazon for easy processing of payments for users. It aims to provide an easy checkout process for purchases made from their favorite online stores.
Conclusion
Digital wallets are revolutionizing the payment world by offering so many benefits under one umbrella. Compared to other online payment methods, the security and convenience provided by the digital wallet are unmatchable.
Today, digital wallets are one of the most popular payment methods for online payments. And knowing how a digital wallet works can help you stand out and grow your business effectively.
In addition, various wallet models like QR codes, NFC, and Card-Not-Present can be an added advantage for the business as they will ultimately bring more customers and increase customer loyalty.