Digital and technological advancements marked the beginning of the use of technology for finance management. In 1967, the introduction of an ATM by Barclays was a step towards justifying it. As a result, the word "financial technology" (fintech) came into existence.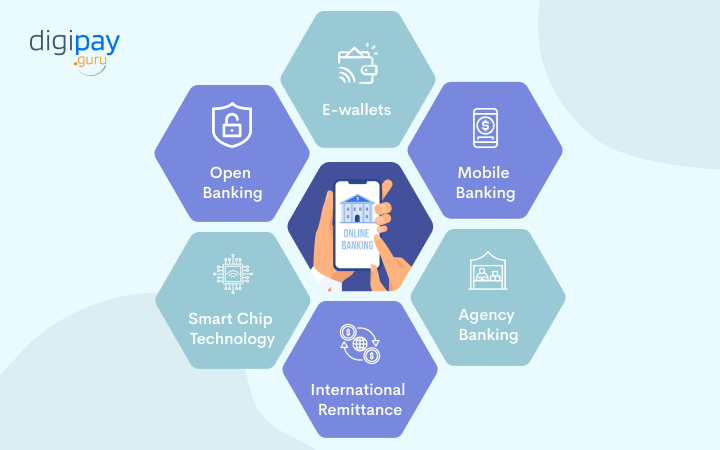 Nowadays, fintech has gained tremendous support and is widespread across the globe. According to research by Globe Newswire, the fintech market size is expected to grow from US $6588.78 billion in 2021 to US $16652.68 billion by 2028. It will grow at a CAGR of 13.9% through 2022-2028 indicating a tremendous scope of fintech.
Additionally, fintech has been a boon for banks. The banks have started adopting fintech solutions to provide the best banking services to customers. According to a 2022 study by Statista, it was found that around 91.3% of the banks consider collaborating with fintech. And only 4% considered competing or acquiring fintech as their banking business strategy for growth.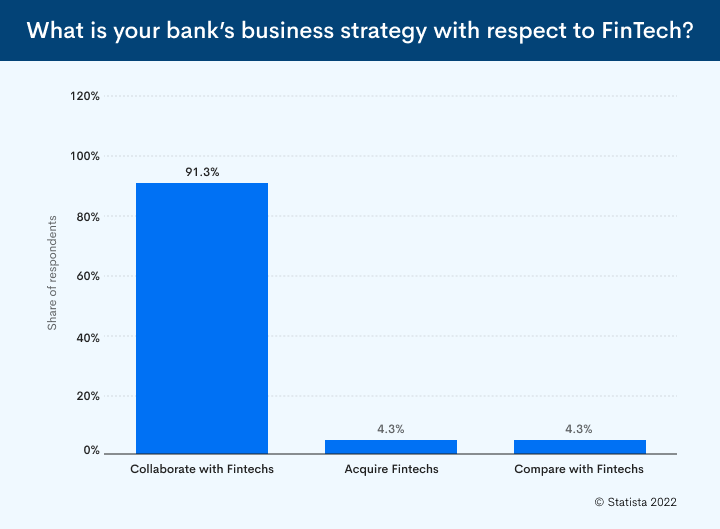 What is Traditional Banking?
Traditional banking is confined to its old money management practices which are very strict and time-consuming. They offer services that are outdated and costlier compared to the current technological discoveries.
Traditional banks show limited growth, as the structure and functions of offering services are too complex to provide a good customer experience. And a poor customer experience leads to unsatisfied customers. It also has too many risk factors like poor security, high chance of data breach, and safety of money.
While the traditional banking system is full of restrictions, there are some major banking issues that led to the fintech revolution, making fintech a household name.
Enhance the banking experience with our advanced digital payment solutions.
What are the Banking Issues that Led to the Fintech Revolution
Traditional banks have faced many challenges in the past. Then, fintech brought finance and technology together to make a positive change in the conventional banking sector.
Due to this, financial experts and startups started coming forward to support fintech. And hence, a revolution began in the finance and technology sector. This revolution is the "Fintech Revolution." With the fintech revolution, major banking issues can be resolved. And the major banking issues that led to the fintech revolution are:
High Regulations on every step of banking operations
Banks are strictly regulated by their regulatory bodies. These regulatory bodies need banks to strictly follow the legal requirements & guidelines, compliance norms, and restrictions.
The main purpose of these rules is to keep the users' money safe. So, the banks end up restricting themselves to limited customers, outdated customer services, and limited growth.
But with fintech, it becomes easy and quick to deploy changes in products/services and adapt to the customers' needs without any regulation breaches. Also, governments and regulators in most countries have started promoting technology and finance which indicates a better growth potential than traditional banks.
The Incurrence of Huge Operational Costs
Traditional banks need to have physical branches to provide their banking services to customers. It led to the creation of a massive network of physical banks across the globe. And, setting up banks at every new location requires a lot of capital and human resources.
But, with the advent of fintech, banks do not require a physical branch to provide their services. All the banking services can be accessed just with a few taps on a mobile phone using the internet.
Lack of Technological advancements in the old systems
Banks are still not up-to-date with the technology and are struggling with legacy banking systems. These systems are generally many years old, and the bank's operations and backend processes function on this system.
Legacy systems restrict the bank's ability to improve its frameworks and quickly deliver new services or products. Due to these legacy systems, the banks are still lagging.
Fintech is making banking services easily accessible to both tapped and untapped customers by using advanced technologies and automation. Fintechs also help provide higher quality services in less time and with fewer errors.
Increase in Poor Customer Experience
Traditional banks requires a customer to be present in person, to open an account, or to apply for various other financial services. With old systems and a lack of modern technologies, banks are often incapable of verifying the application details online.
As a result, traditional banking systems can be less convenient for customers and may yield an unsatisfactory customer experience.
On the other hand, fintech companies are more accessible and flexible. They function virtually, so the customers do not have to be present in person to apply for financial services. And hence, the customers find it a time-saving, easy-to-use, and more convenient option and consider it more satisfying.
Increased Concerns of Data Security
Traditional banks have primary concerns about security and transparency. The transactions are done by the people sitting at the bank counters. Hence, users fear money theft and loss of personal information as it is challenging to keep physical documents and cash safe.
With fintech and online banking, the documents and money are safe and the user data is secure with high-security standards. Also, there are various options for extra layer security, like two-factor authentication, data encryption, and biometric verification.
Owing to these banking issues and various other medium and small-intensity issues, the fintech revolution took place. With the fintech revolution, the fintech sector came up with some amazing fintech solutions which are highly recommended for every bank to use in this current financial and technological environment.
Top Must-Have Fintech Solutions for Banks
E-wallets
E-wallets are electronic wallets used to make online payments with a smartphone. The user can link their bank accounts by adding the card details to the wallet to enjoy its services.
Apart from that, e-wallets are gaining immense popularity in financial services. This indicates a major growth potential for banks. So, it is a must-have fintech solution for banks.
Read More: Everything you need to know about electronic payments
E-wallets can be used for opening bank accounts, instant cash-ins and cash-outs, payment of bills, top-ups, peer-to-peer transfers, split payments, balance inquiries, self-transfers, booking tickets, scheduling payments, and so on.
Some popular digital wallets are Google Pay, Apple Pay, and PayPal.
Mobile Banking
Mobile banking is banking done with the help of an app on a smartphone. Traditional banks must adopt mobile banking as almost every customer uses a smartphone and the internet.
The app allows the bank to provide banking services just like the traditional bank, but right through the mobile banking app. Mobile banking apps help users with convenient and seamless banking transactions. It also helps the banks in acquiring more customers in less time.
Some examples of mobile banking apps are Bank of America and Capital One.
Read More: How Mobile banking Transforming banks across the globe
Agency Banking
Agency banking is a fintech solution that bridges the gap between banked and unbanked customers. Agency banking allows the banks to extend their services into the areas where it has not yet been able to set up a physical branch, with the help of authorized agents.
Through agency banking, banks can improve customer experience and generate more customers and revenue channels. Also, agency banking helps users perform various transactions like cash deposits, cash withdrawals, balance inquiries, top-ups, loan repayments, bill payments, utility bills, taxes, and government fees.
International Remittance
International remittance is a cross-border money transfer service that allows users to make quick and easy money transfers from one country to another. This service is cost-effective for both - the sender and banks. It also increases customer satisfaction, which in turn plays a vital role in retaining customers.
And, with the growing trends of international migrations, the banks must have an international remittance service. This service will help banks as an added advantage in increasing financial inclusion, satisfying existing customers, and acquiring new customers.
Empower your business with best-in-class cross-border payment solutions
Smart Chip Technology
Smart-chip technology is a smart-chip ATM card that minimizes security risks and unnecessary misuse. This smart-chip functions on One Time Password (OTP) for every transaction. This password is valid for only a single transaction, making it more secure than the old magnetic stripe cards.
By adopting smart-chip technology, banks can make their customers feel more secure and contended while building a sense of trust and responsibility in them.
Open Banking
Open banking is the process of using APIs to share financial data and services with third parties. An open banking platform allows the banks to securely and easily share the user's banking data with third-party businesses via an API.
Also, an open banking platform is a key element connecting your bank with popular fintech apps like peer-to-peer payments, cryptocurrencies, investments, and finance management.
Fintech: Future of Banking
Today, traditional banks and Fintech can co-exist. So, the banks are in a transition stage and are transitioning from traditional banking to advanced technological ways of banking. This has become possible because of the fintech revolution.
And, once these banks fully transform and completely adopt the fintech environment, their future is going to be brighter than ever. The future of banking holds financial inclusion, advanced security frameworks, big data & cloud technologies, APIs, AI ML financial management, more contented customers, and much more.
The Conclusion
The fintech revolution has transformed the way of financial transactions. Today, fintech is more of a facilitator or a partner rather than a competitor for banks. They aim to work in synergy to bring a positive difference in the financial ecosystem.
This partnership between the banks and fintech will resolve all the issues faced by traditional banks. In addition, it will offer better solutions and skills to cater to the needs of customers in a better way. Thus, banks and fintech together will create a big impact on every individual using financial services.