Traditionally, banks and their branches spread across the globe have catered to all our financial requirements like loans, issue of credit cards, debit cards, opening or closing of banking accounts, insurance etc.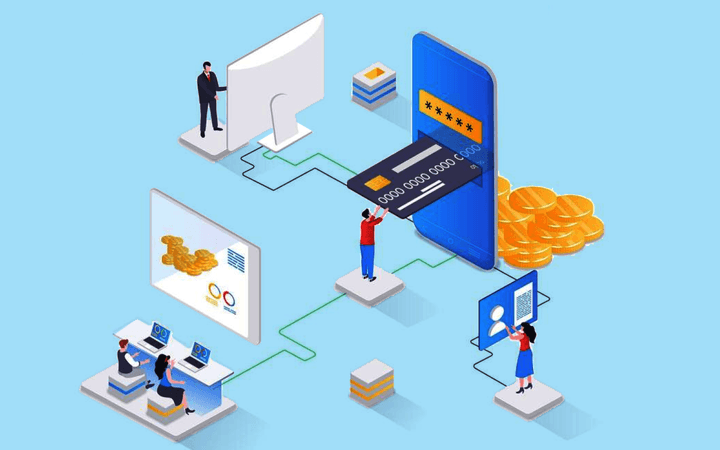 However, FinTech companies have emerged with fuss-free next-generation financial solutions by introducing neo-bank software. FinTech companies offer a wide range of contactless payment solutions by using money management apps and online payment software for their customers.
In 2021, the global neo-banking market size was valued at 47.39 billion according to grand view research data. Neo-Bank Solution will continue to grow rapidly at an annual CAGR of 53.4% from 2022 to 2030.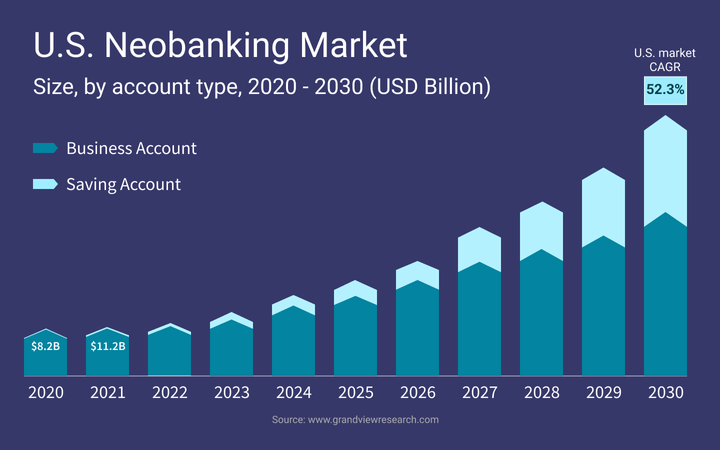 According to Statista, till 2028 the market size of neo-banks online banking solutions will enlarge at an annual average rate of CAGR 47.7% which may reach the value of 722.6 billion U.S. dollars.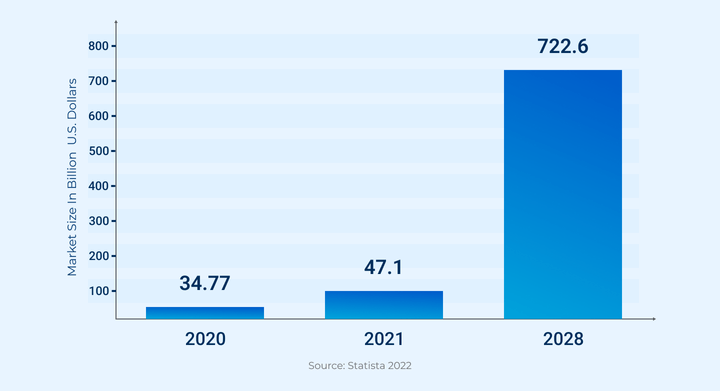 What is Neo Banking?
Neo Bank conducts all the financial operations online and doesn't have any physical branches. Traditional banks and their branches operate all the financial operations at a physical location but neo banks operate 100% digitally.
In short, Neo Banking refers to the new-age banking where all the services are provided by the bank virtually. As neo banks operate virtually, customers can perform all the banking operations from anywhere and at any time.
What are Neo Banks Solutions?
Neo banks are digital fintech software solution companies that operate solely using money management apps. In simple words, neo banks software is a kind of digital bank without any branches and provides online innovative payment solutions and digital wealth management solutions.
Neo-banks and digital banks are often used interchangeably. However, neo banks vs digital banks have a thin line of difference. A Digital bank is a subsidiary of a traditional bank or online-only bank. Neo-Bank is an independent digital fintech solution company that provides digital payment trends without any physical branch.
Read More: Everything you need to know about Neobank
Zion Market Research data shows, internationally since 2010, more than 300 neo banks are launched that renders a wide range of mobile & web wallet solutions. The intercontinental neo banks solution market size was estimated at 18,604 million US dollars in 2018. By 2026 neo banking sector is predicted to amass earnings worth 394 million US dollars which may set a record of approximately CAGR 46.5% over 2019-2026.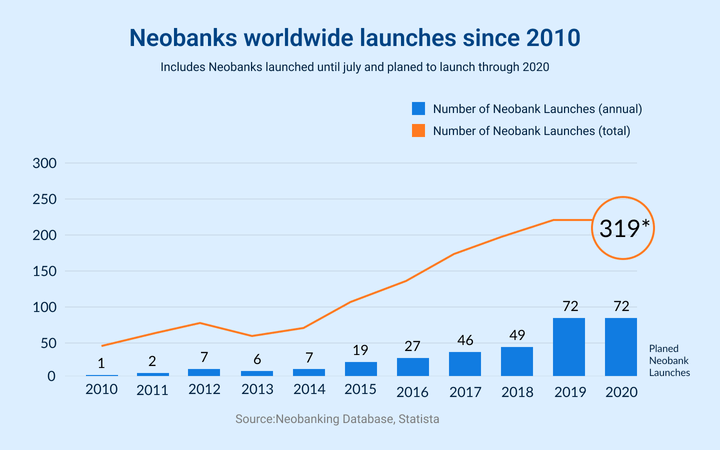 Neo Banks Vs Traditional Banks
Here are the few things that traditional banks must learn from neo banks a next-generation financial solution and digital fintech software solution companies.
Hassle-Free Process Automation
Neo Bank Software is impeding the traditional banking system by influencing technology and artificial intelligence to offer a range of online banking solutions to customers. The software for neo banks come up with an automated front and back-end process which not only reduces the operational cost of banks but also eradicates the chances of human errors.
Traditional banks follow a cross-channel banking approach which includes physical banks (bank branches and ATM) as well as digital banking using different online payment software to offer different products and services to the customers.
Flexible contactless payments solution with cloud infrastructure
Smart artificial intelligence-based cloud solutions are used by neo banks software companies can easily store and manage data whereas it is a challenge for traditional banks. A flexible infrastructure is created that allows neo banks employees to easily access the information related to customers' accounts.
This results in providing the best and most innovative payment solutions to customers and also enhances customer assistance and diminishes the risk of data getting stolen.
Elevate the customer experience
Neo Banks solution offers a wide range of digital payment trend services to retail as well as small-to-medium enterprise customers which include customer acquisition, local & international mobile money transfer, peer-to-peer money transfer apps, and personal finance.
Financial Software development companies and neo banks have managed to rapidly fascinate customers towards their digital wealth management solutions. Money Management Apps for money management provides hassle-free mobile & web wallet solutions that increase the number of online users.
As of 2020, there are approximately more than 1.9 billion customers globally who are actively using different online payment software and it is predicted to reach 2.5 billion by 2024.
Benefits of Neo Banks for your company
Neo banks are completely digital, neo banks software open a wide window for online banking solutions which gives an advantage to your customers. Here are some points that will interest you to move from traditional banking to neo banking.
Hassle-Free opening of financial account
Neo Banks Solution doesn't have any physical bank and works online, it becomes easy and swift for your customers to create or open an account. Using mobile payment management apps and following registration steps your customers can easily open an account using their smart electronic devices anytime and anywhere.
All-in-one local & international mobile money transfer apps
Software for Neo Banks provides multiple benefits of contactless payment solutions to your customers. Once the customer has the account in any neo bank, using the card details or transaction details they can easily make payments for their purchases.
Local & International money transfer or peer-to-peer money transfer becomes easy using software solutions of digital fintech even if your customer is travelling abroad. This transfer is conducted according to the money exchange rates.
User-Friendly Interface
Financial software development companies provide crisp, clean and user-friendly software for neo banks. Digital Fintech provides the software solution to creates responsive, easy-to-use and well-designed money management apps which fulfil the needs of your customer. With this user-friendly online payment software, you can provide the utmost customer experience and assistance.
Neo Bank Solution provides smart reporting
The important benefit of neo banks is smart reporting where immediate transactions are made using neo bank software, moreover, your customers can get instant transaction details and updated account balance details. All the transactions are stored safely in online payment software and your customer can check their transaction details from anywhere and at any time.
The next-generation financial solution provides your customers digital wealth management solutions where they can keep a track of their expenses, manage their savings and also can create a customized saving goal.
Wrapping Up
There is a revolution in the banking industry, where customers have started adopting digital banking services and the digitalization process has been accelerated due to the pandemic of coronavirus globally. More and more people are moving towards digital fintech software solution services that are booming in the financial industry.
Traditional banking has tedious processes starting from creating an account to upgrading the debit card to making transactions. Moreover, financial transactions are possible only when a customer visits the bank only during banking hours and this becomes a tedious process and consumes the time and energy of customers.
On other hand, Neo bank doesn't have any physical bank and they operate online, so customers can easily manage their financial transactions anytime and anywhere.
The future of neo banks solution is bright as neo banking has many advantages and comes up with various next-generation financial solutions. With software for Neo Banks, customers can get streamlined and rapid digital wealth management solutions like instant payouts, smart reporting, easy money transfer methods and best customer assistance.