The COVID-19 pandemic has created unforeseen challenges for the global economy. The sharp decline in global business, liquidity issues, difficulties in accessing credit, disrupted income streams, bad debts, and lack of access to finance. Consumers without access to basic banking services have been the most affected.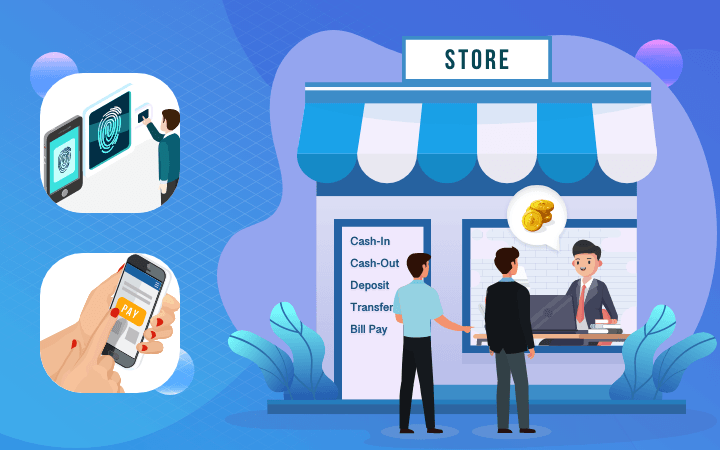 In the purview of future contingencies such as the COVID-19, banks and payment companies have adopted an omnichannel strategy, which is agnostic and can serve the clients. This is where branchless banking offers innovative distribution while seamlessly speeding up reach. But to go branchless, traditional banks have to adopt a branchless banking solution to provide best in class services to their customers.
And if you are a bank, then adoption of a branchless banking business model is the best choice for you. In this blog, we will provide you with a brief introduction of branchless banking. Also, we will show the challenges of the traditional banking system and how implementing a branchless banking solution can help you overcome it. So, let's start.
Branchless banking – A brief overview
Let's start by explaining to you what branchless banking is. In a layman's language, branchless banking is nothing but banking without going to a bank. Most rural areas are inaccessible.
Talking about the detailed definition, we can say that branchless banking consists of third-party bank outposts, for example, Your nearby retailer who acts as a "Human ATM,". It lets the customers do banking transactions via their mobile phones and then deposit or withdraw cash physically.
The major point that differentiates traditional banking from branchless banking is physical presence. It has regional headquarters and branches located across the countries where it operates.
On the other hand, branchless banking portals allow customers to view their balances, transfer money, open new accounts, and even apply for a mortgage. And the best thing is the constant availability of these features.
Opening a branch in each village may not be feasible. Moreover, the education or literacy level in such areas is not so promising. Here branchless banking comes to the rescue.
Talking about the branchless banking definition, then it is the method of delivering banking services outside conventional bank branches. This is mainly done through agency banking support. Mobile banking, Internet Banking, and Neobanking are the prime branchless banking types.
After getting a clear view of branchless banking, let us check out the recent scenario of branchless banking.
Current scenario in branchless banking
The coronavirus pandemic has made it tough for the banks to operate worldwide. As per Statista, the banking sector revenues are going to decrease to approximately 489 billion dollars in 2021 because of the economic crisis created by the COVID-19 pandemic. In such a scenario, financial inclusion is the topmost priority of any country across the world. And here a groundbreaking branchless solution can be of great help.
As per GSMA, transactions of approximately $2.1 billion daily take place across the world. Apart from this, $500 million (approx.) gets digitised by mobile banking agents every day.
Besides this, branchless banking technology enables traditional banks and finance to expand their network of branches, maximize market share and services through authorized agents in a cost-effective manner. It allows them to reach out to the unbanked population across the globe.
So this is all about the worldwide branchless banking scenario. Let us now understand how branchless banking can help you to cope up with the limitations of traditional banking.
How branchless banking can overcome the challenges of traditional banking?
Branchless banking services comprises multiple services such as easy deposits and withdrawal of money, loan management, fund transfers, account inquiries, etc. It also lets its users operate in rural areas where every bank can't reach.
Furthemore, banks can extend their service range and maximize their market share by creating a robust agency banking solution. This will promote economic growth and local development by allowing individuals and startups to access essential financial services:
Rapid financial inclusion:
Financial inclusion has always been a top priority of a majority of the countries across the globe. However, it is quite challenging to reach out to the under-banked rural population. And opening bank branches often comes with enormous costs.
In the case of traditional banking services, you need to visit the branch physically which is very time consuming. Furthermore, some traditional banks are reducing their branches because of unbearable operating costs. So, your nearest branch may get closed down or get merged because of which you have to travel a long distance to avail banking services.
When it comes to financial inclusion, banks quickly recognized the need for tapping the branchless banking potential to surge ahead in the cut-throat competition. Today, a customer can easily access branchless banking services by visiting its nearest agent. In this way, more and more customers will be able to access hasslefree banking services.
Increased adoption
Blockers to financial inclusion begins with a customer's nearest bank branch being several miles away, has timings that do not work for shift workers, or bureaucracy that is too overwhelming for the financially illiterate.
Branchless banks flatten these barriers. It encourages more and more people to set up their first bank account, create long-term investment plans, and accesses the help they need to make their lives better.
In this way, branchless banking can creates a transparent and just society that democratically disburses the highly demanded financial services.
Improving financial literacy
Rural population can only access informal financial mechanisms. Because to understand formal financial services they need to be literate first. A number of initiatives have been used by the banks to overcome this challenge and build demand for their offerings.
Besides this, the rural areas are generally inaccessible. So, opening a branch in each village is not so feasible. Moreover, the literacy level among the rural population is also not very promising. Herein comes the role of branchless digital banking.
Banks can use a network of micro and small entrepreneur agents to provide their services. They select these people from the very groups that the company wants to reach, and train them to market and sell their service.
So, this is all about how a branchless banking solution can help you overcome the traditional banking challenges. Now, let us move towards the advantages of branchless banking.
7 Surprising benefits of branchless banking
Branchless banking is heavily dependent upon the network of agents that generally consists of small retail stores, to provide their customers with access to basic banking services such as depositing, transferring or withdrawing their funds.
Apart from this, customers can easily pay bills, receive government benefits or deposit their paychecks because of branchless banking services. This gives communities access to services and benefits that are out of their reach.
Branchless banking allows you to offer banking services in unbanked rural areas outside of the traditional bank branches. Besides this, agents have been effectively bridging the gap between the banks and the unbanked masses in rural areas.
These agents can act as representatives of banks and can play a major role in promoting the financial inclusion. Lets us now look at some amazing branchless banking benefits:
Better branding in underdeveloped regions
Branchless banking offers an amazing opportunity for branding your services in such a way that it creates a familiar and a compassionate image of your business. The reason behind this image creation is that the customers' always remember the way you treat them.
You can also implement the above mentioned strategy by starting your own branchless banking services. In branchless banking, you can assure your customers of a better transparency by appointing a trusted agent whom they have known for a long time.
Highly increased customer experience
Branchless banking lets the banks to the doorstep of the customers. Now the customers don't need to wait in long lines to access banking services. Customers just have to visit their nearby agents to carry out their banking operations. Clear product presentation, rapid integration process, and demonstration of the latest features can help you to create a better experience for your customers.
Apart from this, the customer knows the agent well. So, they may not hesitate to do the banking transactions. Because of which a better trustability will get created in a customer's mind.
Top security
Branchless banking solution comes with a top notch payment security in the form of PIN or a magnetic chip. Thanks to the top-notch payment security offered by branchless banking solutions, agents can expand the existing customer base. Agents can provide several cryptos, digital identities, and financial services to their customers and expand the customer base for banks.
Easy to use
With a branchless banking application, agents can easily withdraw and deposit money out of a customer's bank account by following imposed commercial rules. Apart from this, a branchless banking platform can be used for money transfers too.
Furthermore, an advanced agency banking solution serves the unbanked illiterate population, encouraging mobile phone usage, card readers, terminals, and processing of real-time transactions.
Supports multiple transactions
Branchless banking supports different types of transactions such as voucher less top-up, loan settlements, cardless withdrawals, cash deposits, money transfers, tax and bill payments, etc.
Besides this, a branchless banking platform supports multiple cutting-edge contactless payment solutions such as NFC, QR Codes, OCR, mPOS, mobile wallets, etc. to avoid direct human contact.
Financial institutions that rely on biometric verifications should be cautious in times of outbreak. And the branchless banking app resolves this issue by using OTPs and sharing virtual transaction receipts to their customers via email or SMS.
Gathering of data
In branchless banking, agents provide an attractive opportunity to banks to get the customer data such as their frequency of transactions and purchasing habits. This data can be harnessed to make customer and specific offerings and banking products. Moreover, branchless banking solutions provide the agent with impeccable reporting and analytics capabilities too.
By using this data, branchless banking solutions can help you make your services more accessible and relevant for the customers that would eventually result in better revenues.
Personalisation
Consumers in villages and remote regions are still hesitant to access banking services. Banks should focus on developing a strong customer relationship by ensuring the payment safety of such customers. Also, banks should educate them on the usefulness of branchless banking too.
Apart from this, the adoption of agency banking services provides high personalization of service that includes customized offers, financial advice, and notifications. This will create a better relationship between banks and consumers.
Conclusion
The growth of branchless banking is gradually increasing across the globe. Innovative distribution channels with the perspective of customer convenience is going to emerge. Because of which the operators will soon compete with each other for their space in the next level agency banking space. The future looks extremely promising!
So if you are looking to launch your own branchless banking services then you must go for DigiPay.Guru's versatile branchless banking solution that comprises all the groundbreaking features that you need.
Besides this, DigiPay.Guru's has earned a great reputation in the market as the leading digital payment solution provider that makes this solution even more lucrative. So, what are you waiting for? Just contact DigiPay.Guru to transform a comfortable banking experience to your customers.