JPMorgan Chase, a leading financial services company, took the world by storm when it announced that the company is hiring 40,000 technologists and allocating a $9 billion technology budget. Before fintech (Financial Technology) became mainstream, the leading investment banking company foresaw its rising demand and decided to cater to a digitally savvy consumer base way before its competitor.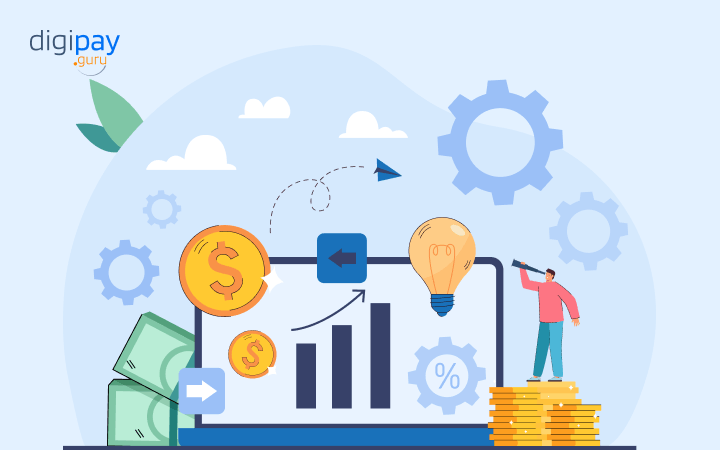 When Deloitte conducted a survey on digital preparedness of the Financial Services Industry (FSI) in 2016, 90% of the respondents believed that their industry was on the cusp of digital transformation; however, half of them also admitted that their company was not adequately prepared for the digital wave. Few, like JPMorgan Chase, equipped themselves for the surging fintech revolution.
Today, fintech (financial technology) is disrupting conventional payment and banking methods by bringing a paradigm shift to the global banking landscape.
A lot has changed in the last five years. Research by Statista suggests that the number of fintech users, especially digital payment users, is increasing by leaps and bounds. In 2021, 2.38 billion people transacted through various methods of digital payment.
Statista's outlook suggests that this number will likely cross 3.3 billion in the next four years. Along with digital payments, there is a substantial increase in alternative lending and personal finance.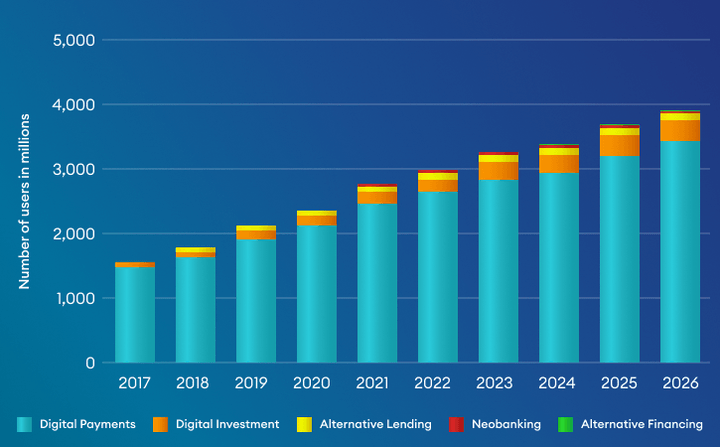 Due to several reasons, such as increasing internet penetration, pandemic-induced need for remote and touchless payment and the rise of cryptocurrency, fintech is thriving to the extent that it has become mandatory for banking and finance institutions to integrate it into their operations to survive.
This leads us to the questions like what fintech is, why it is necessary, and why companies like JPMorgan Chase are pouring billions after digital transformation.
Want to know the best product that can automate your financial operations?
What is fintech?
An abbreviation of 'Financial Technology', fintech suggests structural changes and digital transformation within the financial services industry. It redefines classic areas of banking such as lending, investment strategies and payments by digitizing processes.
Advanced fintech app refers to providing the end users with a better experience via internet or mobile apps and making processes quick and hassle-free.
Fintech makes processes fast and hassle-free. Let us understand it with a simple example. Earlier, if a customer wanted to receive funds, he would have to visit the bank branch, meet its representative, submit an application, wait for their reply, and after weeks, if it gets approved, receive funds in the bank account.
Digital transformation has eliminated the need to travel to the branch. Besides, it has made processes so fast that the customer can open the banking app, apply for funds, and the bank staff can review the application and approve or reject the request within minutes.
Read More: How fintech is impacting the banking sector.
Why is digital transformation inevitable for financial institutions?
Across the globe, traditional banks have enjoyed a monopoly for a long time. These government or privately regulated financial institutions developed extensive infrastructure and a network of branches to cater to a large consumer base. However, with the advent of technology, traditional banks faced unprecedented challenges such as-
Reduced branch traffic
Increased customer expectations
Surging competition with new entrants like Amazon and Google.
Compressed margins due to increasing regulatory pressures.
PWC conducted a detailed survey on the need for technology adaptation in the finance industry. The survey results meticulously predicted the future of banking solutions and the finance industry. It suggested-
The world will see new business models based on fintech.
Digital will become mainstream.
Blockchain will emerge as a disruptor.
Customer intelligence will determine revenue growth and profitability.
AI and robotics will influence the finance industry.
Cyber security will become one of the leading concerns.
Asia will be a global leader in technology-driven innovation.
Regulators, too, will embrace technology.
Post-pandemic, it has become evident to financial institutions that digital transformation is inevitable. Even private equity firms have realized that they must accommodate themselves with digital transformation to engage with customers, link partners & suppliers and run operations smoothly.
Here is a quick guide if you have just started exploring digital transforming solutions.
What does digital transformation mean for financial institutions?
Simply put, digital transformation refers to using the right software to boost productivity and grow business instantly.
Digital transformation changes how teams work together and financial institutions approach their customers. It demands the rewiring of organizational DNA at multiple levels.
Fundamental characteristics of digital transformation
It requires disruption of traditional structure and work practices. Digital transformation empowers employees to make decisions and contribute to growth regardless of hierarchy.
It provides an agile working environment through cloud-based services.
Digital transformation systems also include providing customers with mobile services to enhance their convenience.
It is innovative in nature and calls for experimentation across the company's functioning.
Digital transformation is not a one-time process. It demands continuously evolving with technology advancements.
It is data-driven and customer-centric. Its ultimate goal is to provide the customer better experience through tools of technology.
Leading digital transformation trends for financial institutions
As mentioned earlier, digital transformation is not a one-time but a continuous process. Therefore, if you embark on a digital transformation journey, get ready to match steps with the ever-changing technology landscape. It further means that you will have to keep an eye on the latest industry trends to integrate them into your processes and stay ahead of the competition.
Here are a few digital transformation trends that you should consider:
Paperless transactions
If someone asks- when did you last pay cash for shopping from a hypermarket? It would take most of us a long time to answer. Because, of late, most of us have been extensively using credit and debit cards to purchase things. Moreover, mobile wallet solutions have almost substituted cash, as even street vendors have started accepting digital payments.
Exceptional digital payment experience to your customers with advanced mobile money solutions.
Innovative digital payment systems and paperless transactions have become a way of life, bringing a seismic shift in consumer behaviour across the globe.
They are popular because of the convenience and security they offer. As a result, Statista foresees digital payments transaction value growing at an annual CAGR of 12.31%. As more people shift to digital payments, the value of digital payments is expected to reach $15.17 trillion by 2027.
Besides, the banking and finance industry is one of the leading industries in paper consumption. Digital transformation can help organizations considerably reduce the amount of paper moving through offices by embracing document management software and paperless communication solutions. This streamlines processes and also cuts down stationery costs.
If you plan to give your banking or finance business a digital makeover, you must keep an eye on the latest digital payment trends.
Workflow automation
Earlier, data and files were routed between people based on pre-defined business rules. The beauty of next-gen technology transformation is that it provides automated solutions for banking and finance, eliminating human intervention as much as possible. As a result, it enhances accuracy, efficiency, productivity and accountability at all levels.
Artificial Intelligence
Do you know that the leading finance companies are making important decisions like lending, wealth management and credit risk management with the help of software? Artificial intelligence has emerged as a game-changer for the fintech industry.
Analyzing a vast pool of data, it decides a fraction of a second whether the bank should land or not. It is also helping institutions in detecting frauds, insurance claim management and much more.
As a banking or financial institution, integrating AI-based solutions in day-to-day operations is pivotal for accelerating processes, improved decision making and speedy query resolution.
Artificial intelligence also enables institutions to provide customers with fast, personalized, secure services.
Cloud technologies
Cloud computing has such a stellar impact on the finance industry that even Forbes reported how it is changing the face of the banking and finance industry. Cloud-based solutions, primarily cloud-based solutions for digital payments, have almost replaced brick-and-mortar bank branches, building self-service apps.
It has also added layers of security and data protection, giving organizations the confidence to migrate to online spaces. Also, cloud applications have made data management easy for organizations.
Mobile applications
Peer-to-peer payment apps, personal finance management apps, investment apps, bill payment apps… There is a broad scope for mobile applications in the fintech industry to provide a personalized experience to the users. With more than half of the internet traffic coming from mobile phones, mobile apps have become essential for businesses to grow.
Mobile banking holds a special place in the fintech industry as it digitizes processes like money transfer, payments, tracking account activities, and receiving notifications for credit and debit, apart from providing secure digital payment solutions and trading blockchain-based assets.
Those willing to transform their business digitally should consider developing a mobile application to enhance business growth.
Cybersecurity
Cybersecurity is paramount for the fintech industry as this industry deals with sensitive financial data of clients. Security or data breaches can not only result in the losses of millions it can potentially damage the organization's reputation forever.
Also, consider that the cybercrime landscape is rapidly evolving, and perpetrators are developing more sophisticated techniques with each passing day. Since it involves more money than other industries, banking and financial institutions are always soft targets for criminals.
Therefore, if you are planning to enter the digital space with your finance business, you should be prepared to allocate an adequate budget for cybersecurity tools.
Read More: Potential security threats of mobile financial solutions.
Customer-centricity
The PWC survey also stated that customer-centricity would be at the core of the surging fintech revolution. The fundamental purpose of fintech solutions is to reduce customers' hassles and provide them with the best-quality financial services.
Giant tech companies like Apple, Netflix, Google, Amazon and Uber have won the game by providing superior customer service solutions, raising the bar for other industries.
Every day, innovators are developing technology solutions that enhance the customer's experience to another level. Therefore, you should keep track of the latest technologies that enhance customer experience and integrate them into your business operations.
Top benefits of digital transformation for financial institutions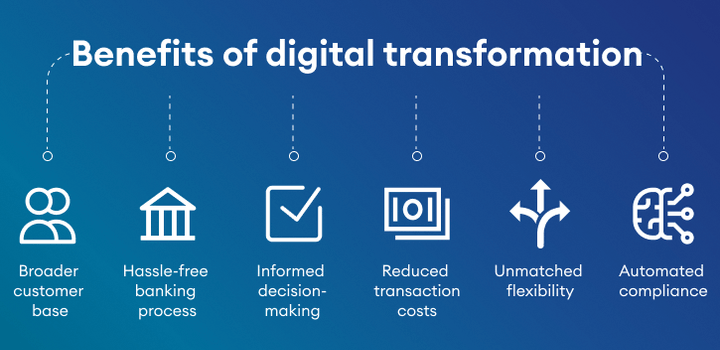 Broader customer base
Digital transformation and enterprise solutions have emerged as a smart replacement for brick-and-mortar bank branches and offices. Earlier, the bank or financial institution could cater to a limited number of customers. Now, they can reach out to a larger customer base through the mobile app and digital presence. Technology has made it easier for businesses to upscale.
Hassle-free banking process
Digital solutions replace legacy banking processes with intelligent, quick and paperless processes. Since most data and documents are maintained online, it becomes easier for even bank employees to search old data and provide relevant information to customers then and there.
Besides, since most processes can be carried out online, digital solutions considerably reduce the workload on bank branches, saving a considerable amount of customer and banker's time.
The bank staff can utilize this time for more constructive activities like reviewing fund applications. Also, online banking solutions bring end-to-end transparency in the banking processes, such as on which date the application was filed and how much time it took to resolve it, benefitting both the customers and the bankers.
Informed decision-making
Earlier, banks and financial institutions faced higher NPAs and suffered losses due to a lack of information or credit given as personal favour. Now, technologies like AI is deciding whether money should be lent or not. The technology concludes after analyzing voluminous data such as the applicant's credit history, income, banking behaviour, outstanding loans and previous NPAs, leaving a lean scope for error of judgement.
Besides, data analysis can help organizations make important decisions like whether to open a new branch or not, which area has the highest footfall, what are the highest selling products and which products need modifications.
Reduced transaction costs
Digitalization can help organizations cut their costs on stationery by making transactions paperless. Further, it automates processes and saves a considerable cost on human resources. Moreover, digital transformation enables financial institutions to forego traditional brick-and-mortar stores, saving a huge chunk spent after setting up physical infrastructure.
Unmatched flexibility
Earlier, it was impossible to transfer money during the weekends since the banks were closed. Even if you wanted to check your account balance, you had to wait for the banks to open. Technology has made digital money transfer possible.
The customer can check the balance through the finance application. There are countless ways in which technology has made the banking process flexible. On the other hand, banks are generating more business since customers can avail of their services at home throughout the year.
Automated compliance
What if the apex bank suggests changes in the savings account interest rates from the immediate effect? Will it be possible for the banks to make changes in hundreds of home loan accounts manually? Probably not.
The software empowers banks to comply with changing regulations and guidelines quickly and without errors. It also facilitates automatic deduction of EMIs to save customers from the hassle of maintaining their accounts regularly.
Conclusion
Digital transformation is not a fancy term nor a technology only available to the top player. Small or big, any financial institution, a private equity firm, or bank willing to grow a business can integrate digital transformation as a powerful business strategy to push growth. Start looking for customized digital solutions for banking and finance that cater to your diverse requirements and help you augment your business growth.